We're an affiliate
We hope you love the products we recommend! Just so you know, we may collect a share of sales or other compensation from the links on this page. Thank you if you use our links, we really appreciate it!
Editor's Review
Comfort

Durability

Stability

Breathability

Weight

Fit and Size
Summary
The dream tennis shoe that everyone has been waiting for has finally arrived. The Asics Solution Speed FF 2 has been updated from the previous version and it's designed in a way that everyone would find something useful to add to their game. 
It comes with excellent durability, stability, support and comfort. It's definitely a shoe worth a look at because of its versatility and amazing features. 
Pros
Good Stability
Lightweight
Durability
Support
Excellent Comfort
Fit all size
Cons
Breathability needs improvement
The shoe that everybody has been waiting for is FINALLY HERE. This shoe comes with a few updates from the previous version. In order words, Asics has taken a very good shoe and made it even better.
The Asics Solution Speed FF2 is already on the market and players and fans are already loving the amazing features that it comes with it. What Asics is doing with tennis shoes are remarkable and unthinkable.
A lot of the tennis shoe that they have released in the last few years such as the Asics Gel Resolution 7 and 8 were all a hit on the market. It seems that every year Asics continues to get better and better with every tennis shoe that they release.
As an avid tennis fan, I'm very happy to be writing this thorough review of the Asics Solution Speed FF 2. If you are someone who liked the previous version or you love Asics tennis shoes then you are in for a nice ride. Enough of me talking blah, blah, blah and let's dive straight into it starting with the design.
Design
Right out of the box, the design and colour scheme of the shoe is amazing looking and attractive. Despite how sleek and awesome it looks, I think the previous model looked way better than this version. That is my personal opinion!!
If you were to ask me which one is my favourite colour option for the new model. I would go for Amber/White version. It looks very bright, sleek and awesome.
If you are a player that confidence has been an issue for you in your game then wearing an awesome looking shoe like this one can help raise your confidence when you walk on the court.
Overall, the design and cosmetic of this shoe are top-notch for me. It's on the same wavelength as other shoes such as Asics Gel Challenger 12 and New Balance Fresh Foam Lav.
Upper
Now let's take a closer look at the upper. When you compare the FF2 with the previous version you would notice that they are very similar in terms of appearance. But they are very different in some ways.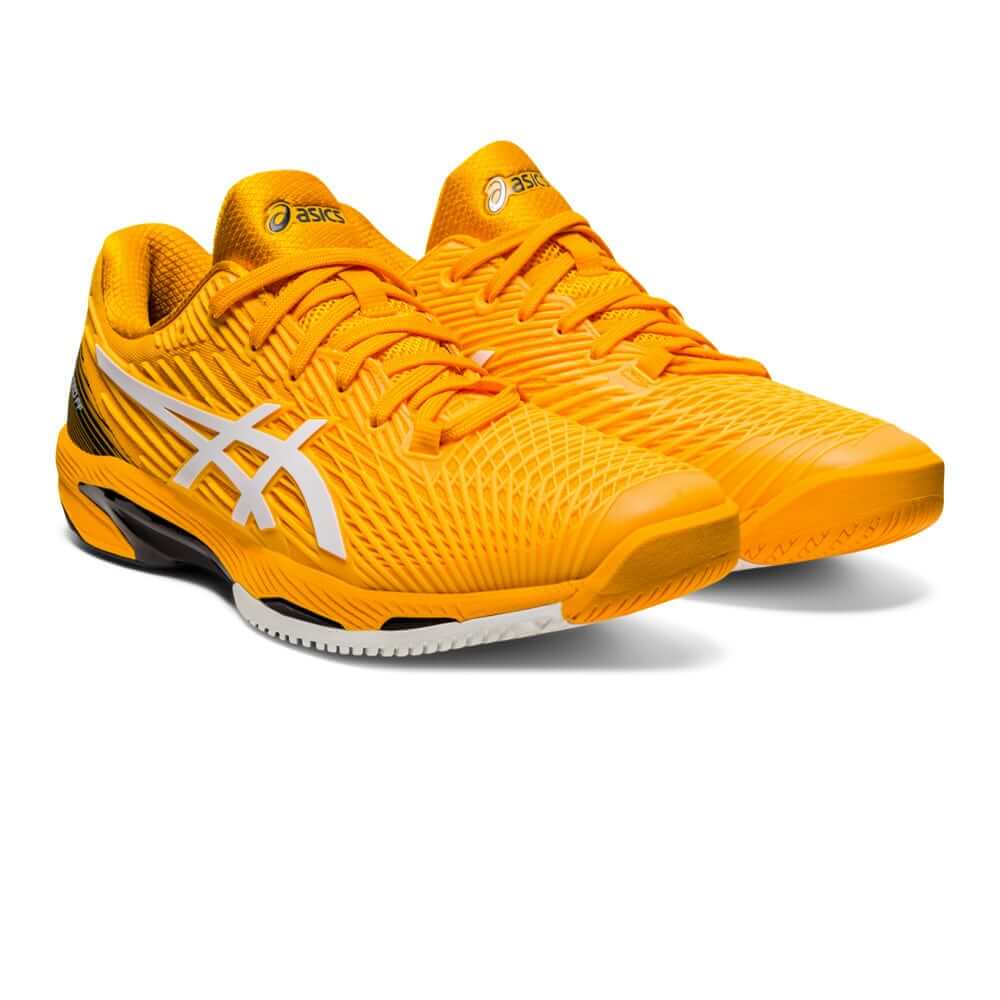 Firstly, the FF2 is made of a lot of mesh which is going to provide you with excellent comfort.
However, the breathability is not the best on the market but it's a big improvement from the previous version.
If you are a player that breathability is one of your top priority in selecting tennis shoes then I highly recommend that you check out Adidas Ubersonic 4 or NikeCourt Tech Challenge 20.
These shoes are going to allow moisture to leave the shoe quickly and bring in fresh air to keep your feet fresh throughout the match.
Secondly, it has a seamless PU construction feature which is going to provide you with an irritation-free fit. This helps to prevent you from having rubbing to ruin your day.
Thirdly, the overall upper is lightweight which is going to give you a big advantage in the game because you can move quickly on the court. In addition, the use of Flexion Fit will encase your feet very well in form-fitting comfort, without sacrificing support.
This is fantastic to have because it helps to take your game to the next level and perform very well on the court. And lastly, the upper is incredibly durable. If you are a player that is very hard on their upper and like to slid a lot on the court then you would enjoy wearing this shoe.
Toe Box, Ankle and Heel Support
The toe box is wrapped with PGuard material to enhance durability. Therefore, if you are a toe dragger or someone who likes to slide a lot then you would enjoy this shoe.
In addition, the toe area is going to fit your feet perfectly without leaving any extra room for you to feel uncomfortable. When you wear the shoe you are going to get very nice ankle support and a nice cushion.
And lastly, is the heel section of the shoe. This version comes with a lot of foam around the heel and forefoot area to provide you with good cushioning and energy return.
Lacing System and Tongue
The lacing system is well-built to provide you with stability and prevent you from getting any heel slippage. First and foremost, it comes with extra lacing holes to provide you with extra grip when needed.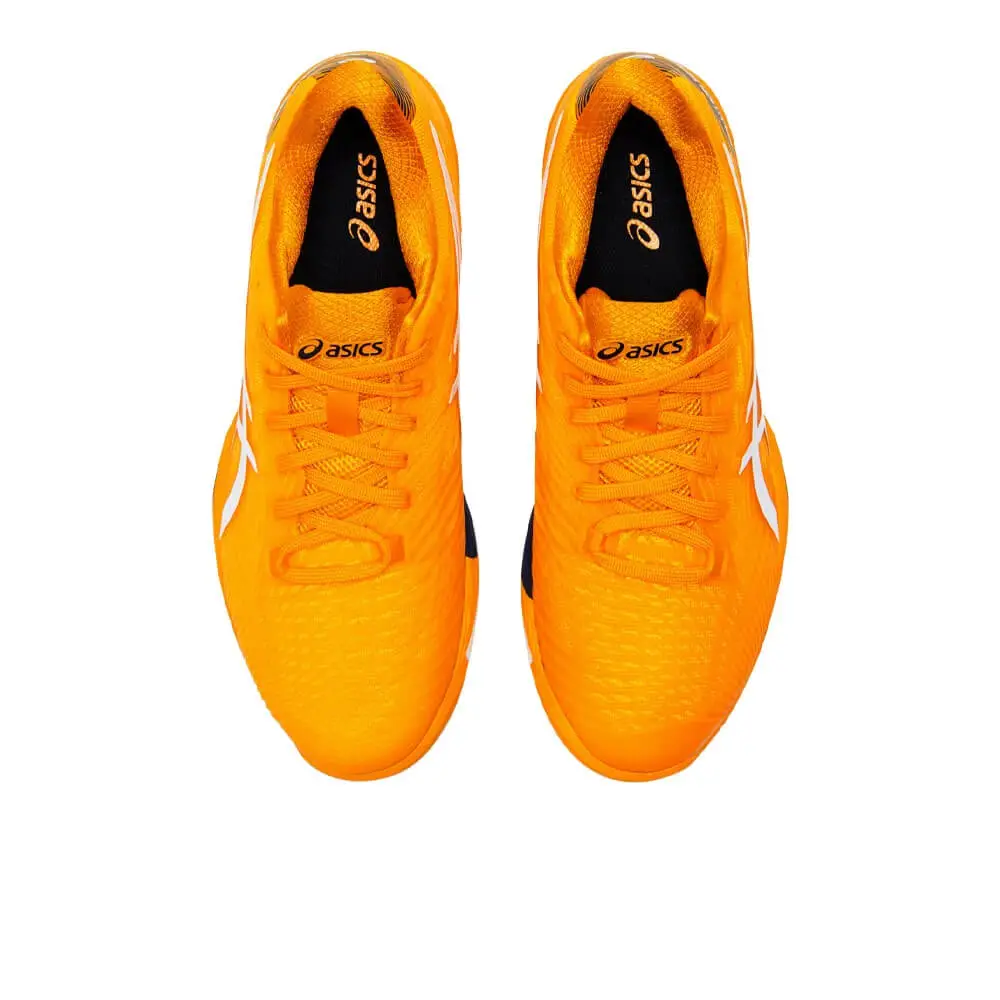 Secondly, Asics used dynarap technology in the forefoot area to provide you with excellent security.
It would allow you to move around the court with ease without experiencing any bending.
Thirdly, the eyelets which are made of rubber is connected to the upper to make it last very long.
And lastly, the tongue has one round leather to lace through. This helps to keep the tongue very stable and prevent it from distracting you during the match.
Midsole
Next up is the midsole. It is made of FlyteFoam technology which is going to add more spring to your step and make the shoe even more responsive.
If you don't know what FlyteFoam material is, it's basically constructed through a special process which increases gas content with thinner bubble walls while avoiding deformations.
On top of that, an Ortholite sock liner lies on top of the midsole to provide you with an extra layer of plush and hygienic step-in comfort. This is nice to have when playing high-intensity games or hot condition.
In addition, Rearfoot and Forefoot Gel Cushioning Systems are instilled within the innovative midsole to provide you with excellent cushioning and responsiveness.
The use of silicone-like material does a great job at absorbing shock and protect your feet from high-impact strikes, sparing your joints as you leap and land onto hard, unforgiving court surfaces.
Insole and Outsole
This FF2 comes with a removable sockliner. This is great to have because it allows you to add your own insole for the perfect and customised fit. Moreover, when you wash the shoes you can easily take the insole out for it to dry quickly.
The outsole is well constructed to use on all court surfaces. You are going to benefit tremendously on either surface you use.
The outsole comes with a multi-directional tread pattern which is going to provide you with incredible traction and durability.
Furthermore, the use of Twisstrust system helps to reinforce the arch without adding a lot of weight to it. Also, resists torsion plus absorbs shock, while allowing the foot to move at a full range without putting pressure on yourself.
Weight, Size and Fit
The weight of the shoe is fairly lightweight which is going to improve your speed on the court.
Unlike the Babolat Jet Mach II that has a limited size, this shoe comes with all sorts of sizes for you to select from. In terms of fit, this shoe can fit a narrow, medium and wide foot.
This is an all-around shoe fit for everyone and is a great option to have. On top of that, it's good for players with a flat neutral high arch and does not require any break-in period. This helps you to adapt to the shoe quickly and it's true to length as well.
Colour Options
As of now, there are not many colour options on the market at the moment. However, as the 2021 season progresses, Asics would hopefully release more colour options for players to select from. As a tennis fan, I can't wait to see the different colour options that they would release on the market.
Price
The last point that is worth talking about is the price of the shoe. This shoe is very expensive and is past the $100 price point. It may sound expensive, however, the features it comes with it can make a huge difference to your game in the long run.
If you are someone who feels that this shoe is incredible expensive then I would recommend you check out NikeCourt Lite 2 or Mizuno Wave Exceed Tour 3. These shoes are not expensive like the FF2 and it comes with great features as well.
Final Thoughts!!
As this post comes to its conclusion about the in-depth review of the Asics Solution Speed FF 2, it's very obvious that Asics took a good shoe and made it even better. Also, what makes this shoe very unique is the fact that it's suitable for every player regarding their needs.
As I have mentioned earlier in this post, this shoe is going to provide you with excellent stability, comfort, cushioning and durability. However, there are one or two things that need little improvement and that is the breathability.
Although it's a lot better than the previous version however, it still needs some improvement in the next update. With that said, this shoe is something that you can't hate because there are so many things to love about it. I would conclude by saying that if you manage to pick this shoe up I wish you a lot of success in your future matches.