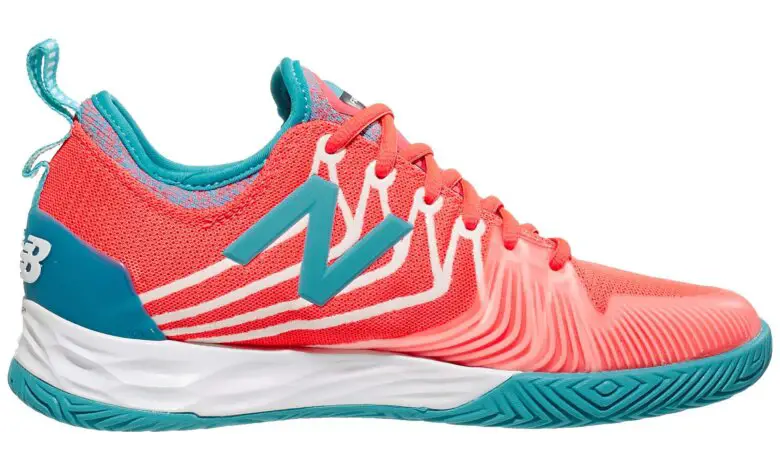 We're an affiliate
We hope you love the products we recommend! Just so you know, we may collect a share of sales or other compensation from the links on this page. Thank you if you use our links, we really appreciate it!
Product Overview
Comfort

Durability

Stability

Breathability

Weight

Fit and Size
Summary
New Balance cooperated with Milos Raonic to make the New Balance Fresh Foam Lav. This shoe is really succeeding on the market with its incredible futures. For examples, it comes with a comfortable fit, excellent breathability, lightweight and good traction. 
The only downside to this shoe is how the outsole lacks durability. Although, New Balance included a six months durability. Apart from this weakness, there are a lot of awesome benefits to enjoy from this shoe and it comes with a lot of positive reviews. 
Pros
Nice looking design
Very comfortable
Excellent breathability
Lightweight
Good traction
Excellent support and cushioning.
Cons
Not the best outsole durability but comes with a six months guarantee
Over the years New Balance has emerged as one of the best companies at making excellent tennis shoes. They are associated with making comfortable and stable tennis shoes.
On top of that, they have joined forces with other tennis companies such as Adidas, Nike, Asics and others at making the best shoes for both professional and recreational players.
Recently, they released a new tennis shoe called the New Balance Fresh Foam Lav. This update has created a lot of excitement in the tennis community because of the amazing features.
However, there are a few questions that people are still concern over such as Are New Balance Fresh Foam good for running? or Does it has good arch support? Don't worry because this post is going to give you an in-depth review of the different parts of the shoe.
If you are excited like me about this new tennis shoe then I suggest you make yourself comfortable, get a cup of tea/coffee and read on.
Background Story
To start off by reviewing this shoe, I think it would be awesome to give you a brief background story about the shoe.
This shoe is by far one of the best tennis shoes that New Balance has made up to date. If not the best they have made so far. It is loved by both players and fans. New Balance co-designed the shoe with Milos Raonic as a part of their partnership.
They did an awesome job with the shoe and created something that has benefited all types of players. The word LAV which means Lion was an endearing nickname Raonic's grandfather gave to him.
In addition, it is the moniker Milos found most fitting for the shoe. It's pretty genius right?
Design
In terms of design and colour scheme, I think it is a mater class performance from New Balance.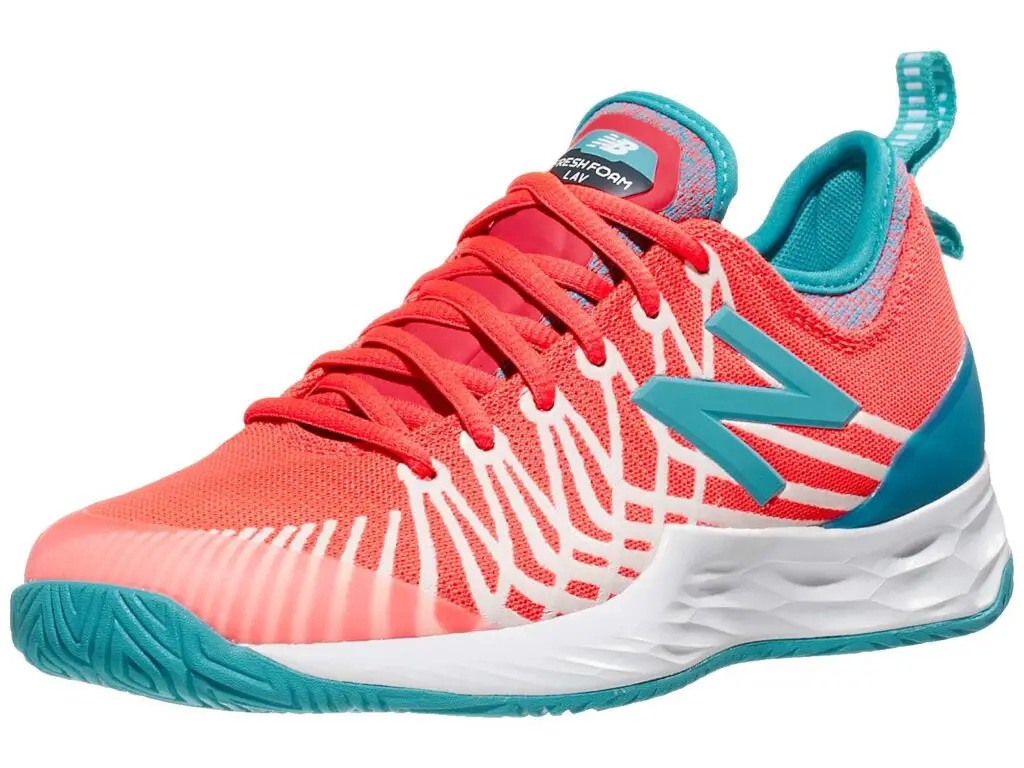 When I look at the overall colour options for the shoe especially the green colour it remains me of the Nike Air Zoom Vapor X Kyrie 5 or NikeCourt Air Max Wildcard.
It is very simple but at the same time very attractive.
This is great because having a colourful shoe on the court can really boost your confidence and self-esteem.
Moreover, the sleek-looking shoe makes it cool to wear outside of the court or even use as a walking shoe. So a big thumbs up for New Balance for producing such a fashionable shoe.
Upper
As I said earlier New Balance is known for making comfortable tennis shoes. And this shoe upper live up to the expectation.
The upper is made of Kinetic Stitch full-bootie which is going to give you a nice snug fit and flexibility at the same time. On top of that, it's super comfortable to wear throughout the whole match.
Lastly, with the upper, it is very breathable. This is a big bonus because if you are a player that ends up playing long and intense matches then you want to check this shoe out.
It's going to keep your feet fresh throughout the match without your feet getting uncomfortable.
Weight and Size
The bulky appearance of this shoe can give you the wrong impression about the weight and size of the shoe.
For example, size 10.5 weighs 15.4 ounces. It may look big but when you wear and play with it, it feels lightweight to the point that you don't even notice that you are wearing a tennis shoe.
Unlike other tennis shoes like the Air Max Wildcard that have a tricky size to choose from, this shoe is not the case. It comes in different sizes and makes it easy to put your feet through them.
Outsole
Now let's take a closer look at the outsole. Firstly, the outsole is made of New Balance's NDurance rubber.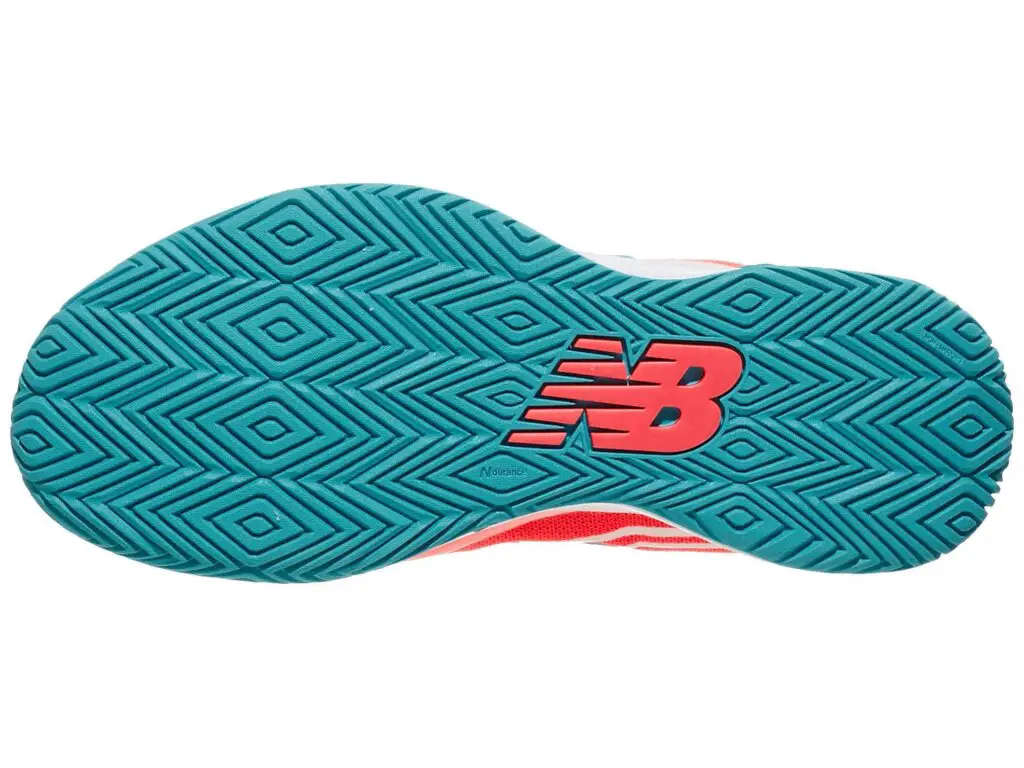 It may not be the best durable tennis shoe on the market, however, it comes with a six-month durable guarantee.
This is great for players that tend to wear their shoes quickly.
And secondly, the outsole is a little bit sticky which would give you a good grip on the court.
It is not very sticky which is great because it provides you with good support during your aggressive cuts and allows you to turn extremely well.
Midsole
The midsole area is one of the key areas that make this shoe very unique from other tennis shoes. The midsole is made of fresh foam which provides you with excellent support and cushioning.
The is such a great feature to have because it helps to maintain your balance during rallies or when you are making quick turns.
Lacing Structure
The lacing structure of the shoe is very similar to the Adidas SoleCourt Tennis Shoe. It is very easy and simple to lace.
In addition, the lacing structure is stitched as part of the shoe to give you a glove-like fit. This makes it easy to put your feet inside them and provide you with excellent cushioning and comfort.
Toe Box and Heel Section
The toe box is beautifully constructed because it's going to provide you with protection when you hit against something. However, the drawback is that it lacks durability just like the outsole.
On the other hand, the heal area is designed with an external TPU heel counter. This is great for keeping your feet stable and at the same time protecting them.
FAQ
What are the most comfortable New Balance shoes?
By far the New Balance Fresh Foam Lav is the most comfortable New Balance up to date. You are going to have a really good time wearing them because it's going to give you a snug fit.
Which is Better New Balance or Asics?
I feel that both companies are good in their own ways. However, I would give Asics the slight edge over New Balance because they have made awesome shoes consistently over the years.
How long should New Balance shoes last?
New Balance shoes don't tend to last long however, some of them do come with six-month durability like the New Balance Fresh Foam Lav.
Are New Balance Fresh Foam good for running?
New Balance Fresh Foam tennis shoes are not specifically designed for running. However, they do help increase your speed on the court as you chase the ball up and down.
Final Thoughts!!
In conclusion, I hope you really like the New Balance Fresh Foam Lav. This shoe is well built to provide you with good design, cushioning, and stability on the court.
However, the outsole needs a little improvement with durability. Apart from that, I feel that the New Balance did their homework very well at providing awesome tennis shoes for all types of players.