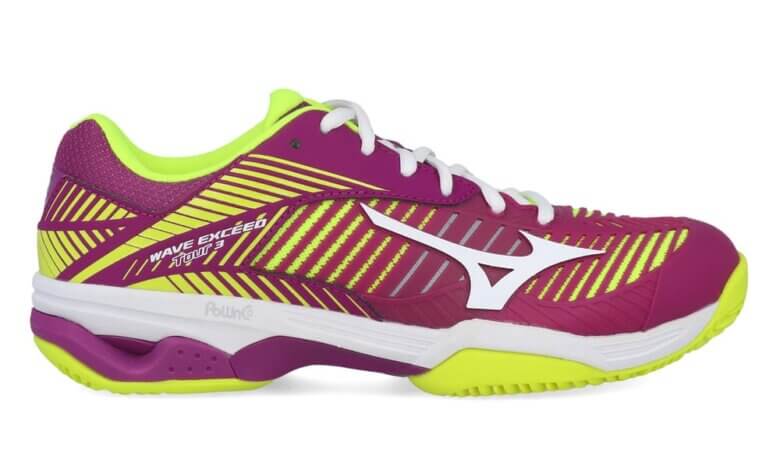 We're an affiliate
We hope you love the products we recommend! Just so you know, we may collect a share of sales or other compensation from the links on this page. Thank you if you use our links, we really appreciate it!
Product Overview
Comfort

Durability

Stability

Breathability

Weight

Fit and Size
Summary
The Mizuno Wave Exceed Tour 3 is suitable for players with a narrow and long foot. It's going to provide you with good comfort, traction and stability. On top of that, the lightweight of the shoe is going to improve your speed on the court and move better. 
However, you are likely to experience heel slippage with this shoe, so it's important to watch out when you play in this shoe. Apart from that, it's a fantastic shoe from Mizuno. 
Pros
Lightweight
Good comfort
Excellent traction
Nice stability
Cons
Likely to experience heel slippage
Not suitable for wide feet
When it comes to making high-quality performing tennis shoe brands such asNike, Adidas and Asics are at the top of the list. They continue to take tennis footwear to a new height and amaze us.
However, there are small brands that are growing at a steady pace in the market and are trying to catch up with the big boys. An example of some of the small brands includes Mizuno which has recently gotten into the tennis footwear industry.
They have made different shoes over the course of their tennis footwear career. One of them is the Mizuno Wave Exceed Tour 3 which in this post I'm going to provide you with a thorough review.
Already this shoe is getting a lot of traction on the market because it's worn by some ATP players. Enough of me talking too much and let's get into the real meat.
Design
Right out of the box the cosmetic of the shoe looks great and simple at the same time. Mizuno did a fantastic job with the colour selection and how they combined it effectively.
Personally, if you were to ask me what is my favourite colour I would say the combination of purple and yellow. Although it is the ladies version however it still looks awesome.
If you are a player that is struggling with a little confidence or self-esteem then maybe wearing nice looking shoes like this can help you out.
Upper
Now let's talk about the upper and the materials used. Just like the Mizuno Wave Exceed Tour 4, this shoe is made with a 3D-Solid upper. This is going to provide you with the highest level of softness and durability on the court. This means that if you are an aggressive mover or someone who slide on the court then you would enjoy using this shoe.
In terms of breathability, I wouldn't say it's the best but it is a lot better than the 4.
If you want a very good breathability shoe, then I would suggest you check out the Adidas Ubersonic 4 and Adidas SoleMatch Bounce.
These shoes are fantastic at allowing cool air to circulate, removing uncomfortable heat build-up. This is great because your feet can thrive inside of the shoe.
Heel Area and Insock
The way the heel area is design is likely to lead some players, especially with a more wide foot to experience heel slippage. It would be good to see Mizuno improve this issue in their next version.
And lastly, a high-grade removable insock is also included in this shoe's midsole to offer extra cushioning and comfort which some of us may require for those longer game days.
Lacing System
The shoe comes with a traditional lacing system with extra lacing holes for a more secure and stable fit. As we tennis players know having a stable shoe is key therefore we don't want any loose laces to be disturbing us during the game.
On top of that, the tongue has a leather hole connected to it. This allows you to lace through it and it's a good way to keep the tongue stable.
Outsole and Midfoot
The outsole of the shoe is made of an extremely durable carbon rubber which is known as X10 which is going to provide you with excellent court traction.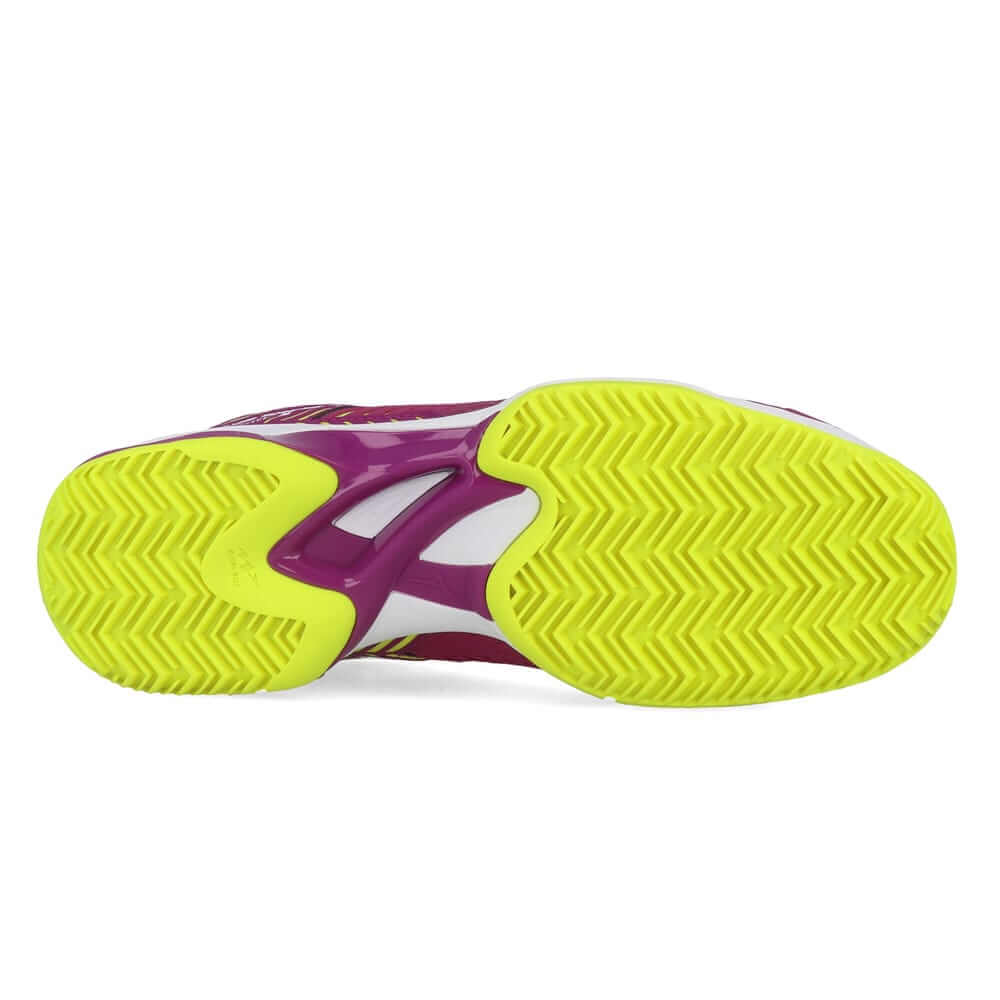 The drawback to this shoe is that it's not the best durable outsole on the market.
If you are a player that is very hard on your outsole then I would recommend the KSwiss Hypercourt Supreme which has excellent durability.
In terms of the midfoot, it is specifically engineered with a diagonal groove which is known as D-Flex Grooves.
This feature specifically allows you to turn at a maximum speed and power by efficiently transferring natural body movement and change in direction.
Weight and Fit
Coming at a weight of 13.3 ounces, this shoe is in the lightweight category. This is fantastic for your game because you would be able to move quickly on the court and play with more ease.
In terms of fit, this shoe is more suitable for players who have a narrow or medium foot. In addition, it fits true to size and you are going to have a good time wearing it if you have a narrow foot.
If you have a wide foot don't get discouraged because you want to check out these best tennis shoes for both men and women. You would really find it useful.
Midsole
The midsole is made of PoWnCe which is going to offer you excellent comfort and resilience whiles playing on the court. This is great to have as a player because you would be able to withstand the pressure and toughness of the rallies in the game.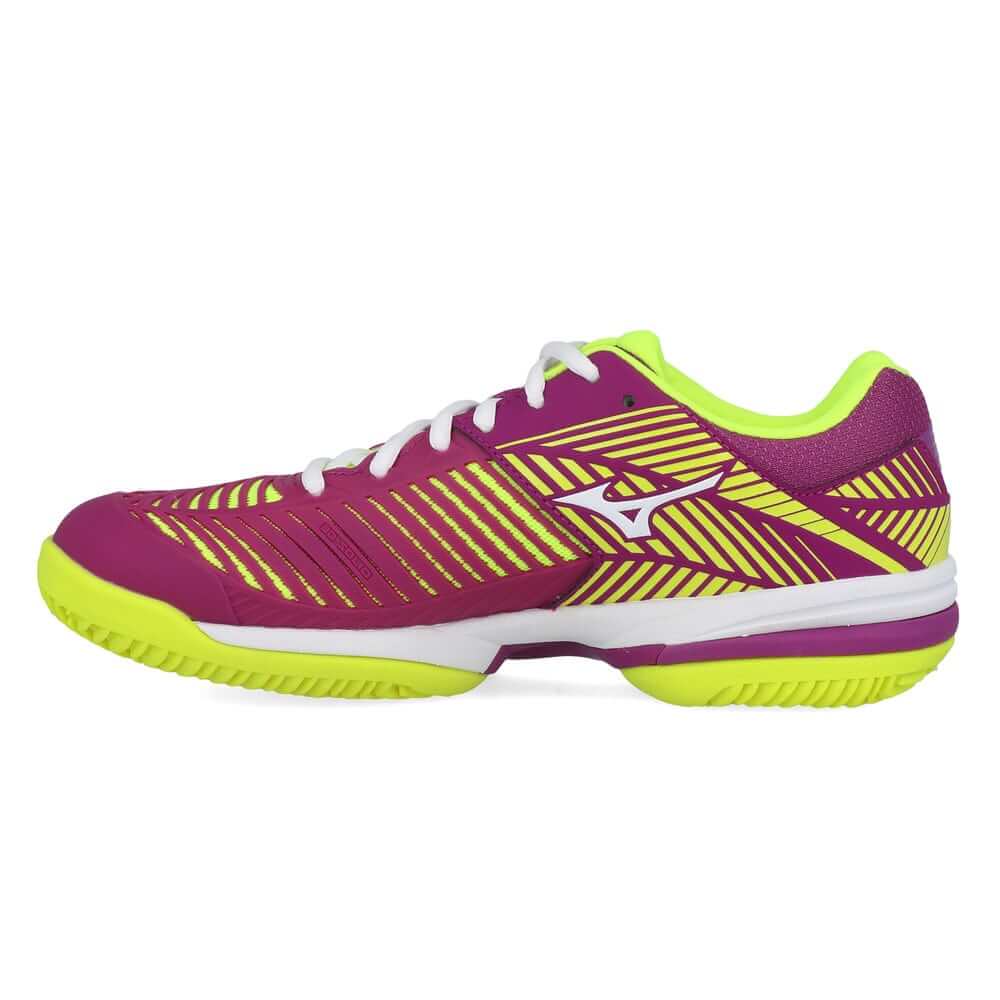 Secondly, a Sr-Touch material is used in the midsole to make the shoe lightweight. Also, it does a good job at absorbing shocks and help to keep the transition smooth and fast due to its quick rebound properties.
Furthermore, the midsole technologies used in the shoe work really well to absorb the shock and impact forces that occur during the heel strike phase of the gait cycle.
In addition, the midsole would harness the energy created during that phase and transfer to the forefoot area where that same energy is used to push you off into your next step.
And lastly, the Mizuno wave resides in the midsole. The wave technology uniformly disperses shock throughout the sole, providing excellent cushioning and enhanced stability. This makes it great when playing on hard-court surfaces and sliding on it.
Colour Options
Just like the 4, this shoe comes in a variety of colours which is good to have. It's worth taking a look and seeing which one suits your taste and interest.
Price
In terms of price, this shoe is around the $100 mark. You may even get some that are below that depending on where you are buying it.
This is a deal when you compare it to some of the tennis shoes that are very expensive to afford like the Air Zoom Vapor X Kyrie 5.
Final Thoughts!!
As this post comes to its conclusion about the Mizuno Wave Exceed Tour 3 in-depth review, I hope you have found it very useful. As you can tell from some of Mizuno's first few starting shoes in tennis, they are not doing a bad job overall.
This shoe is going to provide you with lightweight, good comfort and excellent traction on the court. However, there are some areas that need improvement such as heel slippage issues and the sizing is only suitable for narrow feet.
With that said it's not a bad start from Mizuno as they venture into the world of tennis shoes. It would be exciting to see some of the shoes they make in the coming years. I would conclude by saying that if you manage to pick this shoe up I wish you a lot of success in your future matches.