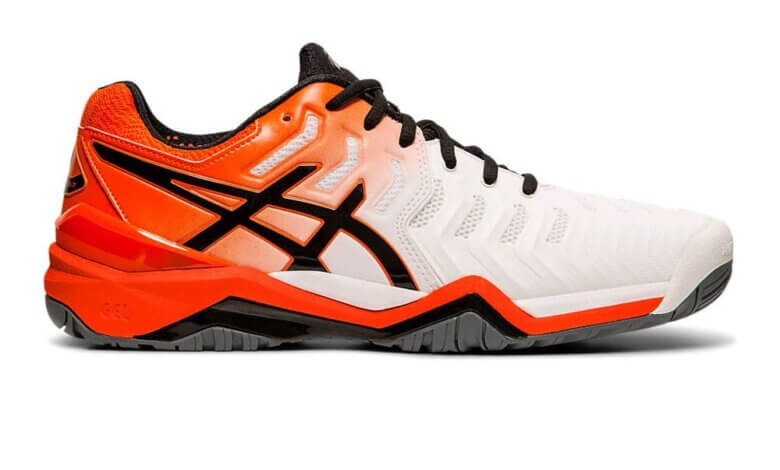 We're an affiliate
We hope you love the products we recommend! Just so you know, we may collect a share of sales or other compensation from the links on this page. Thank you if you use our links, we really appreciate it!
Product Overview
Comfort

Durability

Stability

Breathability

Weight

Fit and Size
Summary
The line of Gel-Resolution continues to get better and better every year when Asics release a new version. This shoe is going to provide you with nice cushioning, comfort and durability.
The only weakness I can find on this shoe is how it's not ideal for a wide foot. Apart from that, it's a fantastic tennis shoe to have and it would really benefit your game a lot.  
Pros
Nice design
Durability
Good protection
More colour options to choose from
Support
Cons
Not suitable for wide foot
The Asics Gel Resolution line of tennis shoes are becoming an iconic shoe in the world of tennis. It reminds me of the Barricade series when it was the benchmark of making high-quality tennis shoes for more than a decade.
Unfortunately, Adidas stopped making the Barricade series which was a big BLOW for both tennis players and fans. However, the good news is there are still awesome tennis shoes to replace them.
Asics never fails to disappoint us when it comes to the Gel Resolution series because they always deliver a shoe that is stable, has more cushioning and durability.
The Gel Resolution 7 is an updated version of the 6 which has flexibility, stabilising support and premium cushioning at its very core.
In this post, I'm going to provide you with an in-depth review of the different parts of this shoe and help you to conclude if this shoe is worth your money. Let's start with the design.
Design
If you know me, I love colours and the design of a tennis shoe. From my perspective, Asics did a very good job with the design. The design reminds me of the New Balance Fresh Foam Lav or NikeCourt Air Max Wildcard.
These shoes have one style in common and the colours used are very few yet it's very attractive. You can't resist looking at these shoes because they are very good looking.
On top of that, wearing this kind of shoe onto the court is going to help boost your confidence and self-esteem. You would definitely enjoy wearing this kind of shoe.
If you are to ask me which one is my favourite colour I would say the black/yellow and white/orange. With that said all of them look spectacular.
Upper
Now let's take a closer look at the upper because this area is one of the key changes from the old version.
The Gel Resolution 7 upper is made of new polyurethane upper material which is similar to that on the Solution Speed 3. This does a great job at encasing each foot in durable comfort.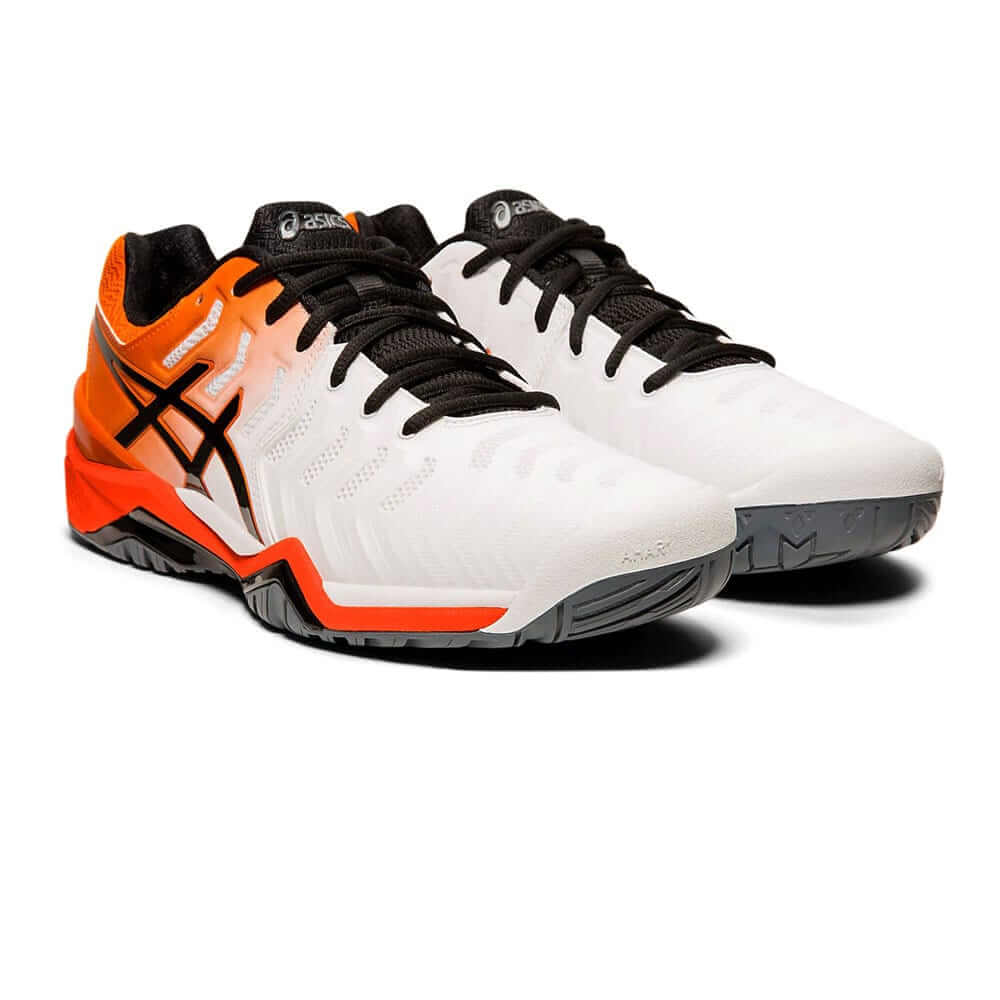 Also, it has a mesh element to it which is going to make the upper more breathable and give it a smooth feeling.
Good breathability upper means that fresh air can flow easily into the shoe and let moisture out quickly.
This is going to be very useful because it would keep your feet fresh throughout the match.
If you are a player that plays for long and intense matches in hot conditions then have no fears because this shoe got you covered.
Heel Counter and New Technology
There is a Flexion Fit vamp inside of the shoe to provide you with protection during movements. Also, the use of no-sew PU construction does a great job at defending your feet and even the shoes during lateral movements with adding weight or compromising flexibility.
In terms of the heel counter, there are overlays unite to help keep your feet in perfect lock-down. This, as a result, helps to anchor you to the midsole and improve stability whilst reducing in-shoe slippage.
In addition, there are two layers of memory foam line in the heel collar to mould your foot for a perfect fit. It also has a contoured cradle which is going to provide you with more stability during lateral movements and even reduce your chances of you getting a serious injury.
Midsole
Let's talk about the midsole because there are a lot of things going on in there. Firstly, it has a ComforyDry sockliner at the top of the midsole to provide you with an extra layer of plush and even make your feet more hygienic when you first step in.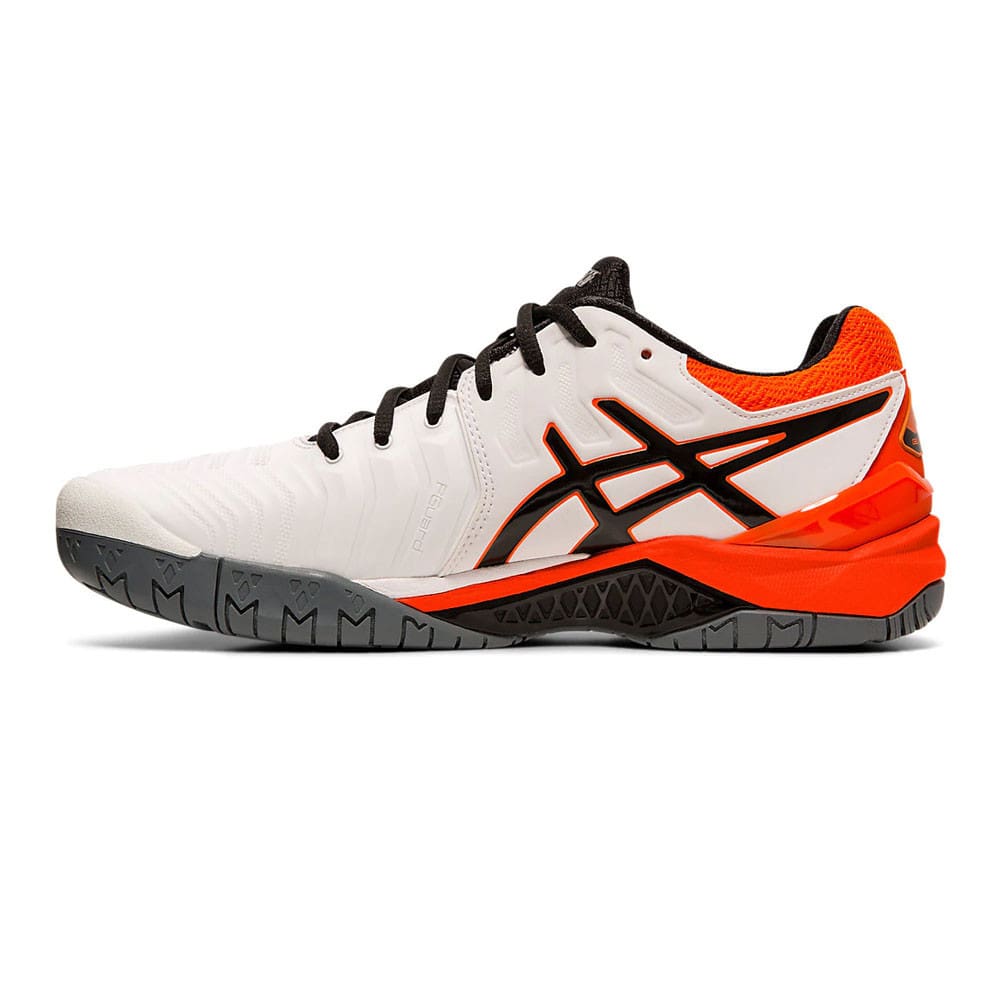 Secondly, it has antimicrobial properties and moisture-management to provide you with excellent breathability and comfort during high-intensity matches.
This is very useful for you because your feet are going to stay comfortable throughout.
Thirdly, the midsole has SpEVA to make the shoe more lightweight and cushioning. This material is 20% more responsive when you compare it with the standard EVA. This is because the foam compound boasts is extremely resilience which makes it perfect for tennis games.
Fourthly, it has a Rearfoot and Forefoot Gel Cushioning Systems. This silicone-like material which does a great job at absorbing shock and protects your feet from high-impact strikes. This way your joints do not hurt you when you leap and land very hard on rough surfaces.
Lastly, the use of Dynamic Duomax Support System on the medial side helps to control pronation and enhance stability.
Toe Box and Tongue
The toe area of the shoe is covered with PGuard which is a rubber and resin compound which does a great job at wrapping your toes for protection.
Also, if you are a toe dragger you would surely enjoy wearing this type of shoe because the toe box is durable and it's going to take some time for it to wear out.
The tongue on the other hand is an anti-gravel material which is going to prevent debris from entering the shoes. This is very useful because it prevents you from getting distracted.
Outsole
The outsole is one of the key strengths of the Gel Resolution 7. It is made of AHAR+ and pivot points to help you with quick transitions and stops. Also, the use of a non-making grip makes it great to use on indoor and outdoor surfaces.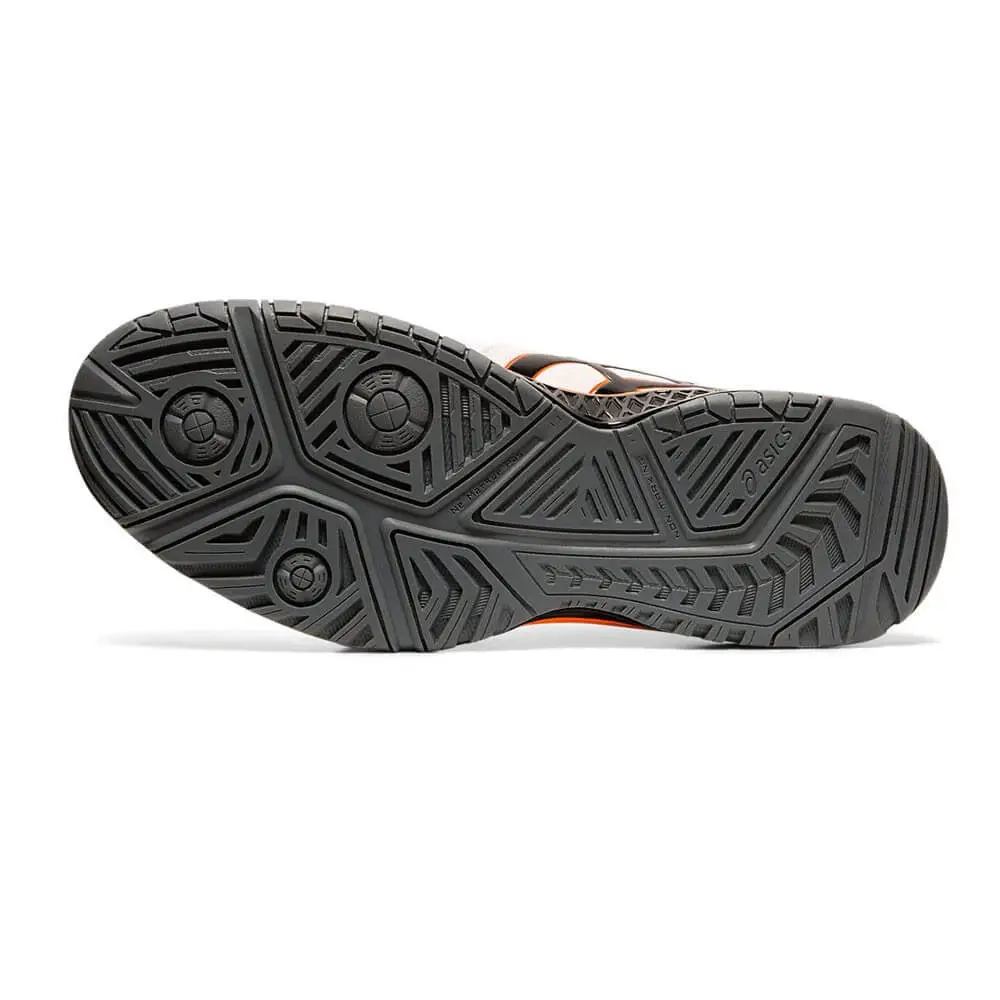 Furthermore, Asics included Trusstic System underneath the arch area to provide you with good stability on the court.
Also, it strengthens the middle part of the sole, stopping it from twisting excessively.
This is great because it prevents you from rolling over and lower your chances of getting an injury.
And lastly, it comes with a six months warranty which is wonderful because if something happens to the sole you can return it.
Weight and Size
Coming at a weight of 13.4 oz with size 9. This wouldn't be classified as lightweight but it's not heavy either. I would say it's in-between them.
Also, it's not going to slow down your speed that much as you play on the court. In terms of size, this shoe comes in all different sizes and it's true to size and length.
Fit and Lacing System
In terms of fit, this shoe is more suitable for players who have a narrow and medium foot. In terms of the lacing system, Asics made it very simple to lace and it's going to keep your midfoot stable throughout the match.
Also, it has extra holes on the side to give you the opportunity to tighten your shoes even more if you want to. And lastly, it has a small hole at the middle of the tongue to prevent the tongue from moving side to side.
Colour Options
Unlike other tennis shoes such as the Adidas Ubersonic 4 and NikeCourt Tech Challenge 20 that have limited colour options. The Asics Gel Resolution 7 on the other hand comes in varieties of colours.
This is such a good news because it gives players the options to select which colours they like and suit their tennis outfit.
Price
The cost of the shoe is below $100 which is a bargain for most players. It's such a good price range for most players because the shoe comes with awesome features.
Conclusion
In conclusion, I hope you enjoyed reading this post about the full in-depth review about Asics Gel Resolution 7. As you can see this shoe is amazingly built by Asics and you are going to enjoy wearing it.
The upper, outsole and midsole are well-built to help you perform really well on the court. Honestly, I find it very difficult to criticise this shoe because it's well made in every area of the shoe. I would end by saying if you manage to pick this shoe up, I wish you a lot of success in your future matches.