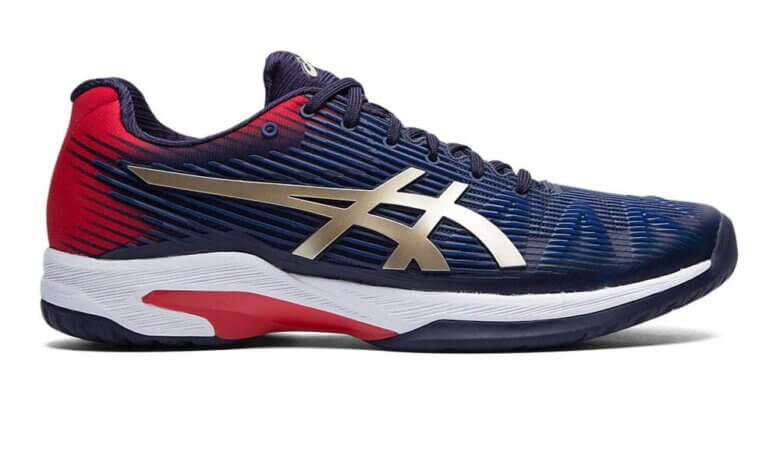 We're an affiliate
We hope you love the products we recommend! Just so you know, we may collect a share of sales or other compensation from the links on this page. Thank you if you use our links, we really appreciate it!
Product Overview
Comfort

Durability

Stability

Breathability

Weight

Fit and Size
Summary
Asics continue to do the impossible when it comes to making some of the best tennis shoes on the market. The release of the Asics Solution Speed FF has taken tennis shoe on a different level that is mind-boggling. This shoe is incredibly lightweight, very comfortable and has good traction. 
The only major downside to this shoe is how it lacks some durability. Apart from that, it's a world-class tennis shoe to play in it. 
Pros
Nice looking design
Excellent comfort
Lightweight
Variety of colours to choose from
Good traction
Cons
Not the best durable outsole on the market
Are you a big fan of Asics tennis shoes? Or are you a player looking for a lightweight, comfortable and stable tennis shoes? If you answered YES to both of them or either one of them then you have arrived at the perfect place.
In this post, I want to share with you Asics Solution Speed FF because it has become very popular on the market and comes with amazing features. If you are excited like me, I suggest you get yourself a cup of tea/coffee because you are in for an amazing ride. Ready, Set and Go with the design first.
Design
Overall the design of the Asics Solution Speed FF is great and attractive. You can't help looking at it and it can be a great way to boost your confidence. For me personally, I love the navy blue because it looks amazing and sleek at the same time. Good job to Asics for doing their homework very well.
Upper
The upper of the shoe is made of flexion fit. This material does a great job at encasing your feet in a form-fitting comfort without sacrificing support. This is great because it gives you everything you need to prevail in a zealous game of tennis.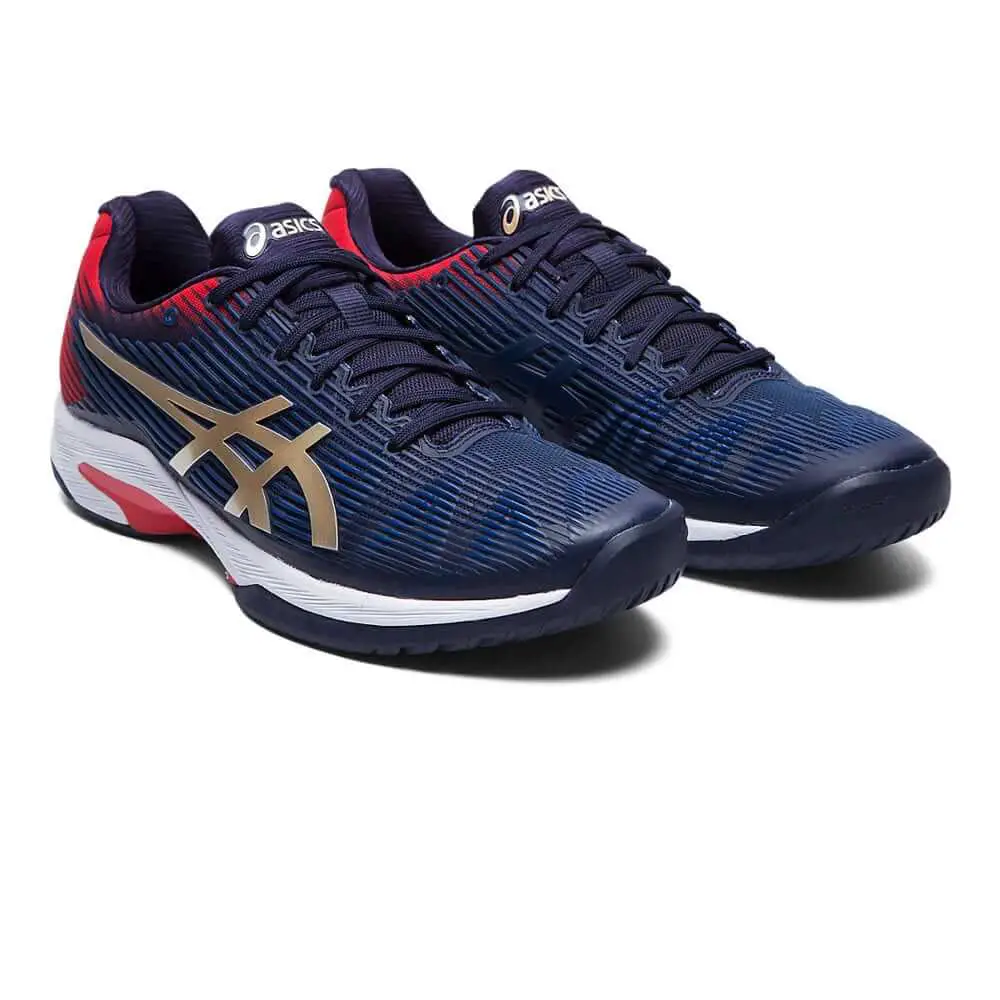 In addition, the seamless PU construction features an irritation-free fit to help you avoid certain things like rubbing on the court.
In terms of breathability, this shoe is at the top of the categories with other shoes such as New Balance Fresh Foam Lav.
It's very breathable that the air flows and exit easily which maintain the temperature of the feet whiles keeping it comfortable at the same time.
Lastly, the moisture from sweat is able to escape from the shoes easily. This is really great for players who play for long and intense hours.  
Toe Area and Arch Area
Are you a toe dragger? If you are then no need to worry because with the help of the PGuard toe protector you are going to have good protection. On top of that, it enhances the overall durability of the shoe.
Now let's look at the arch support. The shoe is made of Twisstrust system which reinforces under the arch without adding too much weight on your ankles. In addition, it resists torsion and absorbs shock while allowing your foot to move at a full range.
Outsole
The outsole is made of AHAR which is three times more durable than the Asics standard rubber.
Although it may not be the best durable shoe on the market, it does a great job to help you accommodate quick transitions and maintain your movements on the court.
Furthermore, the traction of the shoe was spot on by Asics. It's going to provide you with excellent grip and help you to slide on the court with ease.
Lacing System and Tongue
To be honest the lacing system is not that great. It looks thin and can be very difficult to lace them at times.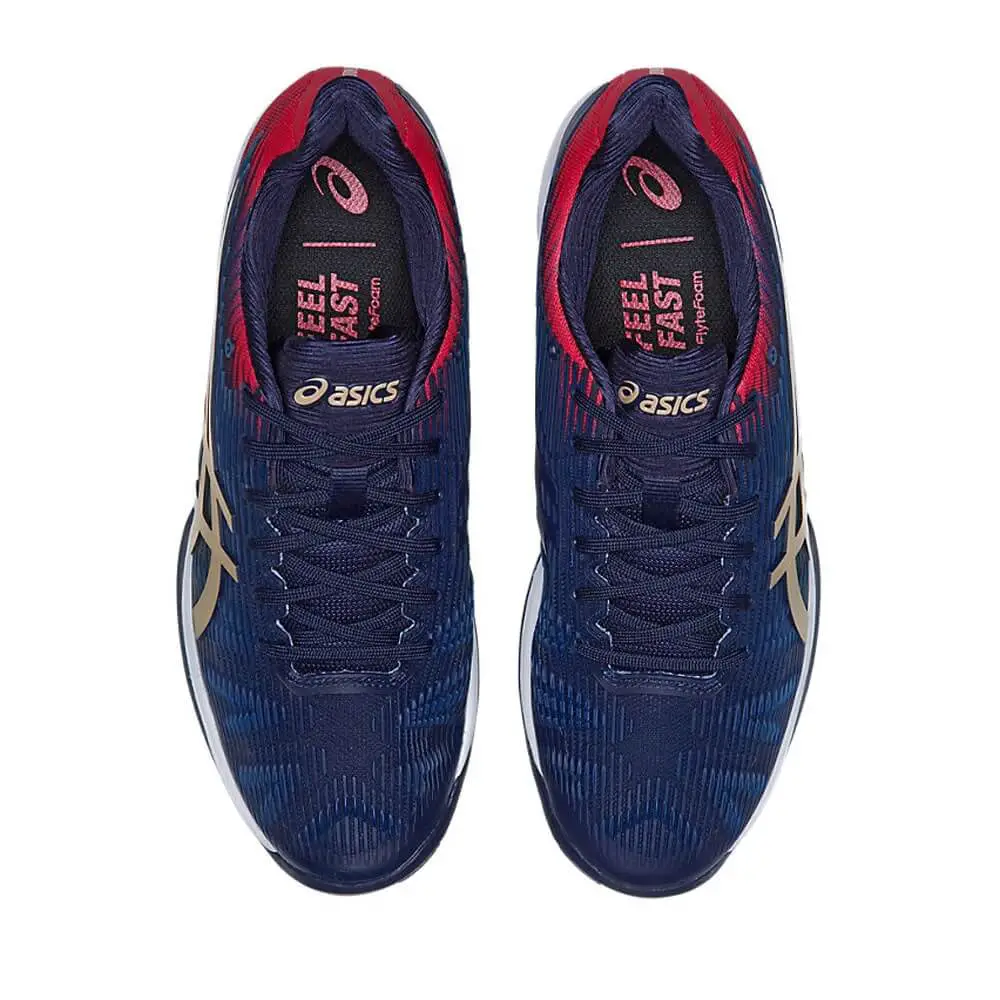 My best recommendation is to purchase better laces when you buy one of these shoes because it would make your life a lot easier.
The tongue is fairly okay but it does a great job at keeping your foot stable with the help of the extra hole at the top of the lacing system.
Lastly, the lacing system has extra holes to give you extra support and stability on the court.
Colour Options
This shoe comes in a variety of colours unlike other tennis shoes such as Adidas SoleMatch Bounce that has few options.
Having many colour options is great for players because it helps them to select the colours that suit their tennis outfit and even boost their confidence and self-esteem.
Midsole and Insole
The midsole is made with FlyteFoam technology which does a great job at adding a real spring to your step and make it a more responsive shoe. The amazing thing with the FlyteFoam is how it's made of organic super fibres which prevent you from seeing the packing which happens with softer and lower density foams.
If you thought that was cool then check out the Ortholite sockliner. This material lies atop of the feathery midsole as an extra layer of plush and hygienic step-in comfort.
The is awesome to have because during intense matches your feet is going to have nice breathability and moisture-management.
Embedded within this innovative midsole platform, and complementing its responsive nature, are the Rearfoot and Forefoot GEL Cushioning Systems. In addition, the silicone-like material effectively absorbs shock and protects you from high-impact. And from joints, as you leap and land onto on the court surfaces.
Lastly, it has a removable sockliner in the shoe which enable you to add your own insole for the perfect, customised fit. Also, you can take it out to dry after cleaning the shoes up.
Weight and Size
In terms of weight, this shoe weighs 12.3 ounces which is one of the best lightweight tennis shoes you could ever get on the market. Not only is it lightweight but you would be able to move quickly and smoothly on the court.
When it comes to size, this shoe is true to size and requires small to no-break-in period. You would enjoy wearing them and benefit from the comfort of the shoe.
Asics Court FF2 vs Asics Solution Speed FF – Which One Is The Best?
There is a lot of debate in the tennis community surrounding the topic is Asics Court FF2 better than the Asics solution Speed FF. This debate is difficult to answer because both shoes are really good in their respective areas.
For example, the Asics Court FF2 has a better upper, midsole and even price range than the Solution Speed FF. If you are someone still struggling to select which shoe to choose then read my full review on it.
Cost
Something that is worth pointing out is the price of this shoe. To be honest, this shoe comes at a reasonable price and it's not very expensive like other shoes like Air Zoom Vapor X Knit.
Final Thoughts!!
As this post comes to its conclusion about the Asics Solution Speed FF, it is pretty clear why this shoe is very popular on the market and loved by players.
Big credit to Asics for doing their homework very well. This is because the shoe has a nice design, the upper and midsole are all spot on. However, going forward it would be great to see that Asics improve the durability and lacing structure of this shoe.
With that said I would consider this shoe as one of Asics all-time best tennis shoes. I would leave you by saying that, if you manage to pick this shoe up then I wish you a lot of success in your future matches.