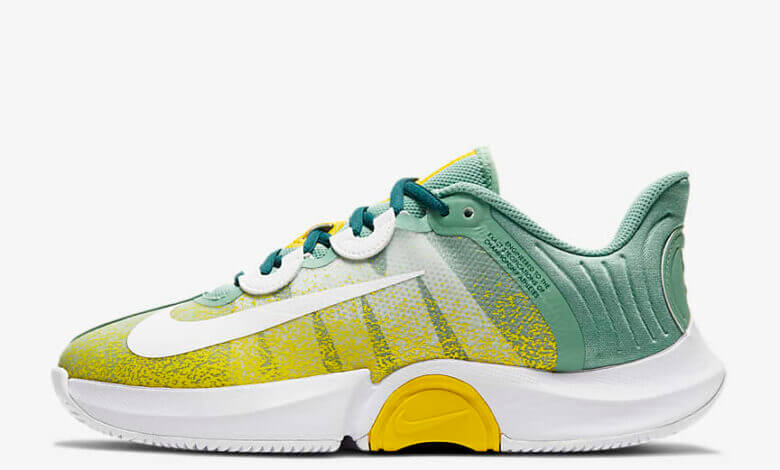 We're an affiliate
We hope you love the products we recommend! Just so you know, we may collect a share of sales or other compensation from the links on this page. Thank you if you use our links, we really appreciate it!
In the last two posts, I talked about some of the best tennis shoes for both grass and clay. This included both men and women. In today's post, however, I'm going to talk about 10 best tennis shoes for hard-court in 2021.
On the ATP and WTA tour, hard-court is the most surface played on when compared to other surfaces such as grass. Although, each hard court surface is different such as slow, medium-fast and very fast to play on.
For examples, Cincinnati Open and Indian Wells are some of the fastest hard court surfaces whiles Maimi Open and Rogers Cup are some of the slowest hard courts.
In order to be very successful on the hard court you need to be mentally strong, play with the right strategy and have good equipment such as tennis shoes.
Choosing the right hard court shoes can be very confusing, so to make your life easier I have created this post to show you 10 amazing hard court shoes on the market.
Hopefully, by the end of this post, you would find the perfect shoe for yourself. If you are excited like me, let's begin with the Nike Court Air Zoom Vapor X.
Nike Court Air Zoom Vapor X
Lightweight and Stability
If you are a player and wants a lightweight, stable and responsive hard court shoe, then the Air Zoom Vapor X is the perfect one for you.
This tennis shoe allows you to run, jump and slide with total freedom and comfort. The nearly updated outsole keeps the weight of the shoe minimum and at the same time durable.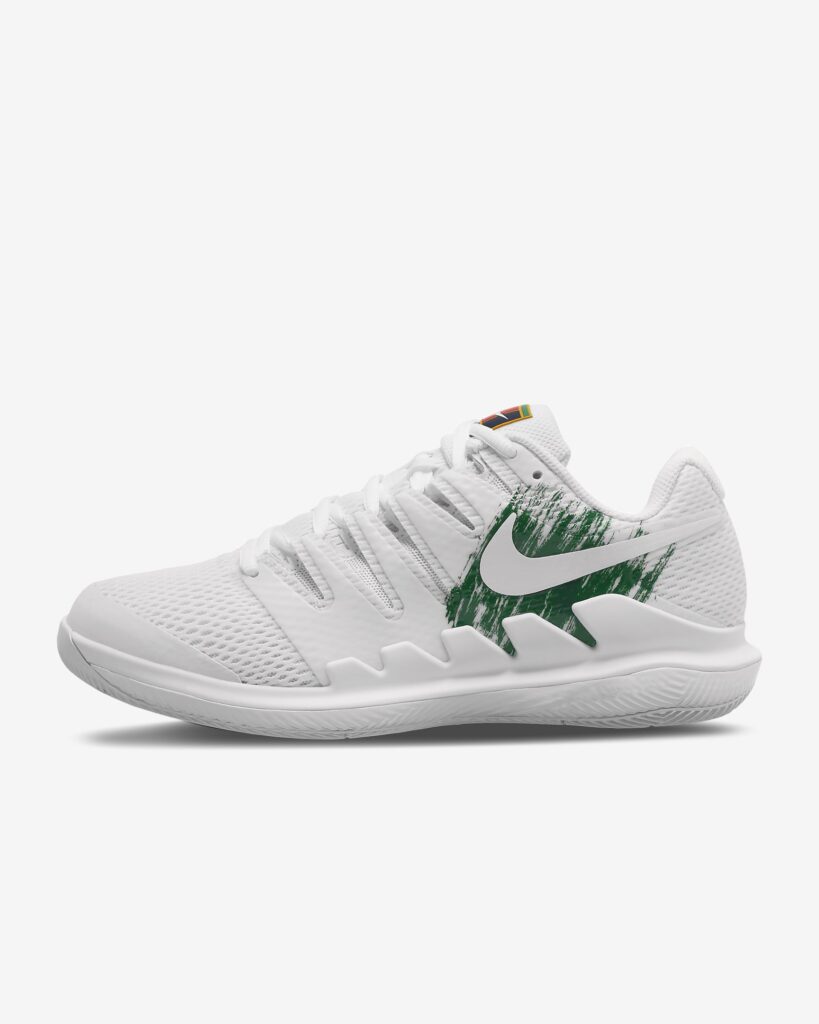 Cushioning
The midsole is designed with a Zoom Air unit which places your feet in a perfect position while moving around the court.
Moreover, it provides you with good cushioning and comfort whiles running up and down the court.
Dynamic Fit System
This hard court shoe has a dynamic fit system to give you glove-like fit support when running and sliding.
Also, a full-length foot frame is used on each side of the shoe to give you stability. Especially when you make a quick turn and stop frequently.
Breathable Comfort
Lastly, a lightweight mesh is included in the shoe to help your feet stay cool. And a padded foam collar creates an extra comfortable fit. This is super useful if you are going to play long matches.
Air Zoom Vapor X Knit
Breathability and Lightweight
The Air Zoom Vapor X Knit is similar to the first one in many ways. However, what makes this stand out is how breathable and lightweight it is.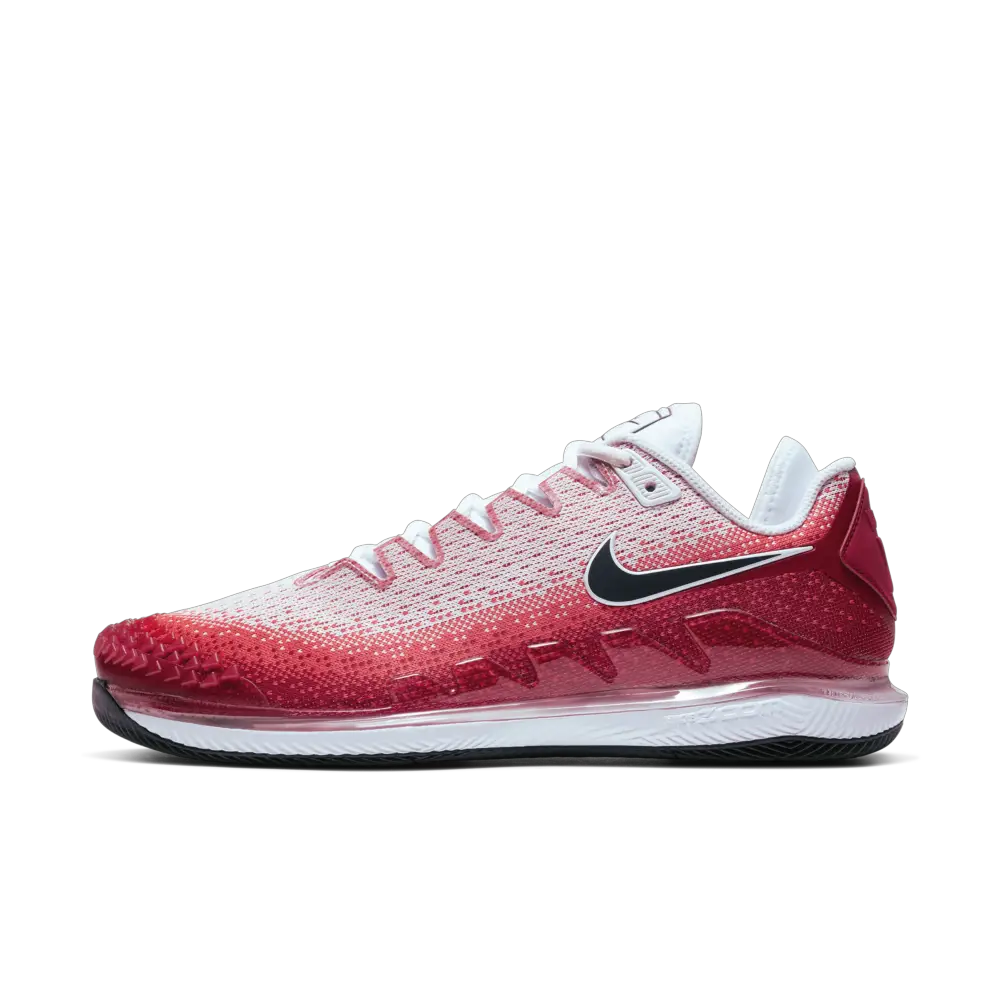 A supportive knit and synthetic upper is combined to secure your foot in an intense movement and rallies in the match.
More Added Material
Furthermore, a circular-knit material is used to add more breathability and lightweight.
Also, high-strength yarns help support your foot while you run the court.
Comfort and Cushioning
The midsole has a soft foam Zoom Air unit to place your heels in a perfect position and give you excellent cushioning. Adding on to that, a stretchy internal sleeve hugs your foot in a sock-like fit.
Air Zoom Vapor Cage 4
Durability
This tennis shoe is made after the Kind of Clay Rafa Nadal. It is one of the popular hard court shoes on the market for both men and women with great reviews. The Air Zoom Vapor Cage 4 is all about durability. The updated design and material used makes the shoe flexible and can withstand long matches.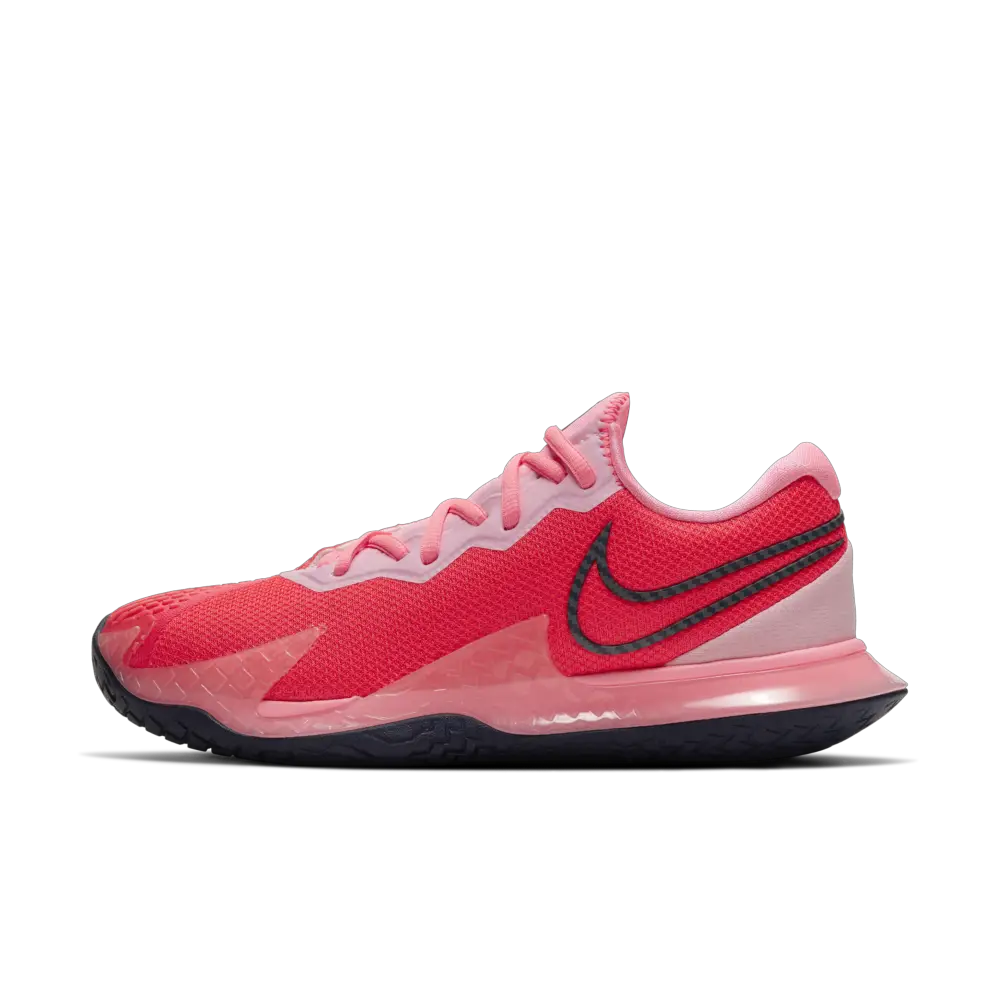 Cushioning
It has Zoom Air unit beneath your forefoot to create a springy sensation with every step. This creates shock absorption and keeps your feet dry.
Moreover, the unique lacing structure keeps your laces hidden for more durability and keep your feet stable whiles sliding.
Outsole
The way the outsole is designed is quite unique. The outsole material wraps over the midsole on the medial side for extra durability. This is great for aggressive players because it's not going to wear out quickly.
Colour Options
This shoe comes in a variety of colours which is great for players because you can select which one that suits your tennis outfit.
NikeCourt Lite 2
Cushioning
This is another popular hard court shoe with excellent reviews. And the cool thing is the price is decent or even cheaper depending on your budget.
It is specifically designed to give you good cushioning and support both playing and training. In addition to that, the unique outsole gives you grip and stability as you run.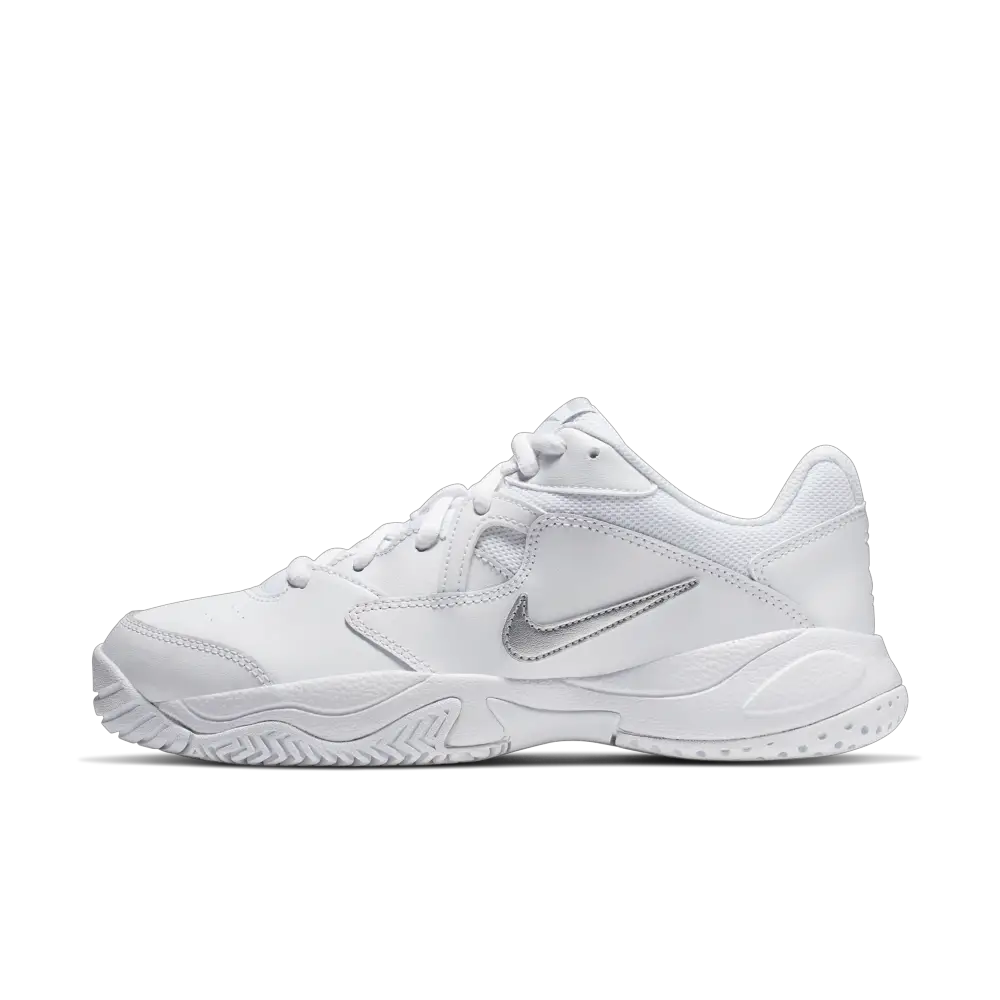 Durability
This hard court shoe may look bulky, however, the synthetic and leather material is used to make it lightweight and durable.
On top of that, the padded collar and tongue add comfort around your ankles.
This means you are assured that you are going to be comfortable even when the match goes long. A foam midsole is even used to add more cushioning in every step you take.
Tongue and Collar
I think Nike did a great job both with the tongue and collar. They instilled a pad around that area of the shoe to provide you with excellent comfort around your ankles. This is a nice feeling to have when run up and down the court without experiencing much discomfort.
Traction
The outsole has 5 visibly distinctive patterns which represent 1 of the 5 fundamental movements that new tennis players learn. This is such a beginner-friendly shoe and gives you good traction on the court. If you like this shoe make sure to read the full review.
Asics Gel-Resolution 8
Comfort and Durability
If you Asics tennis shoe then you would love this one. This one is made of flexion fit upper with mesh elements. This is going to provide you with excellent durable comfort and enhance your ventilation to keep your feet cool. If you are someone who plays long and aggressive matches then you would enjoy this shoe.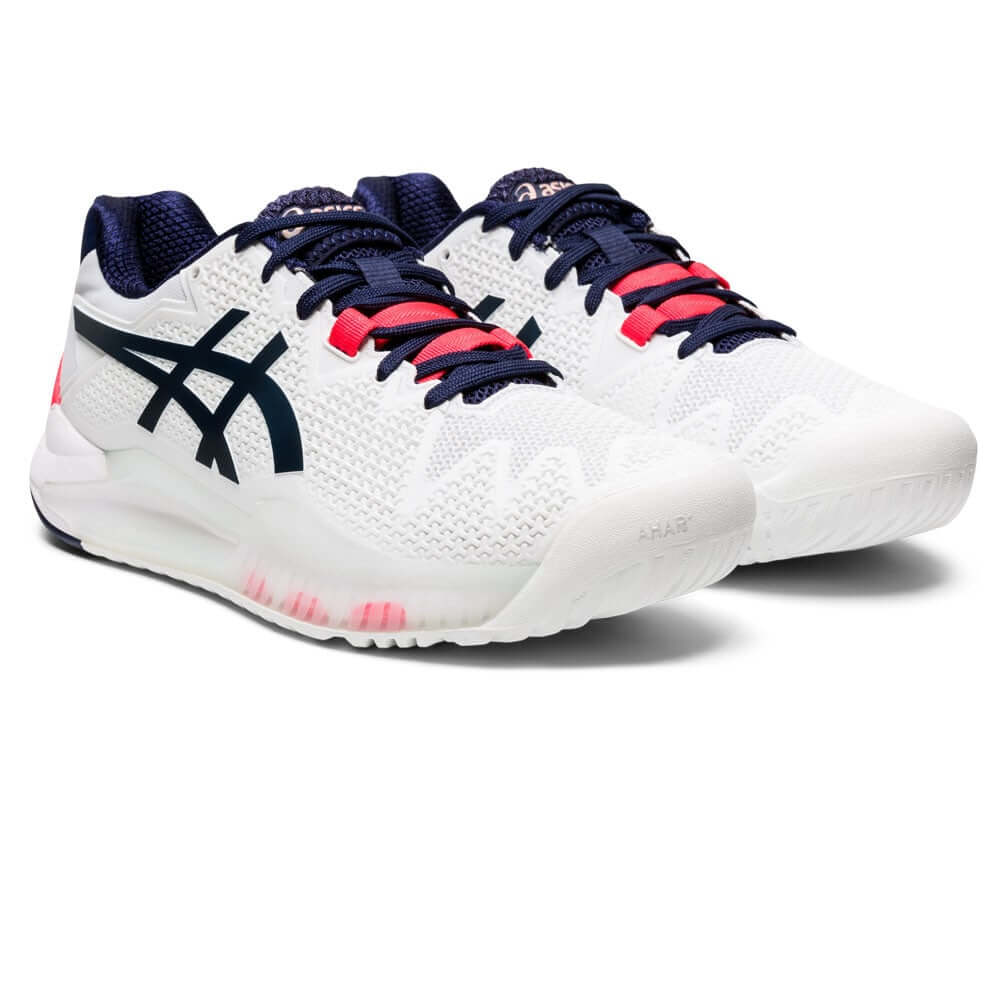 Toe Cup and Tongue
This shoe has PGuard to protect your toes and make it durable during the drag.
The tongue has anti-gravel to kick dirt and debris out. Furthermore, a pivot point is included to accommodate quick transitions and sharps with hurting yourself.
Midsole and Outsole
The midsole is made of SpEVA. This makes the shoe lightweight, durable and responsive cushioning. The outsole, on the other hand, is made of a trusstic system to increase torsional rigidity without adding weight.
Asics Gel-Resolution 7
Heel Counter and New Technology
If you liked the Gel-Resolution 8 then you should check out the 7 versions. There is a Flexion Fit vamp inside of the shoe to provide you with protection during movements.
Also, the use of no-sew PU construction does a great job at defending your feet and even the shoes during lateral movements with adding weight or compromising flexibility.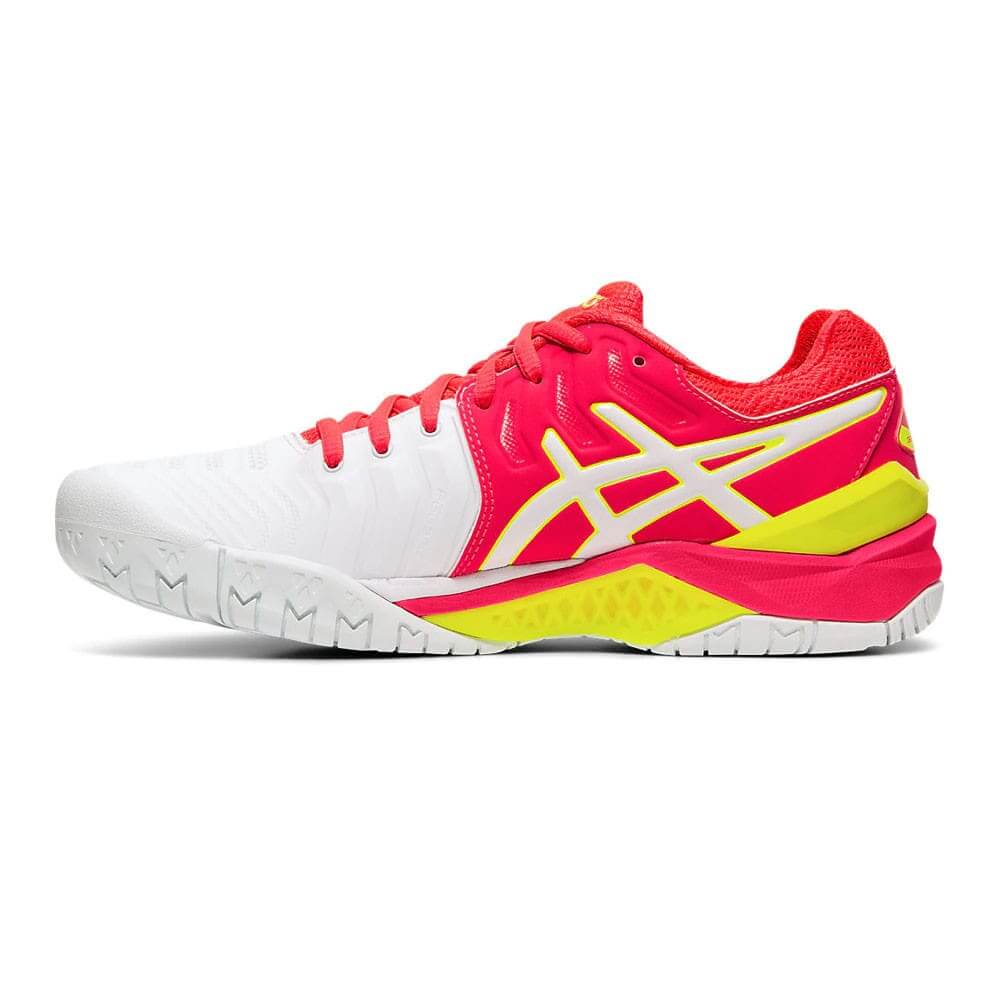 In terms of the heel counter, there are overlays unite to help keep your feet in perfect lock-down. This, as a result, helps to anchor you to the midsole and improve stability whilst reducing in-shoe slippage.
Toe Protection
The toe section of the boot is made of PGuard which protects your feet from toe drag. If you are a toe dragged then you want to check this shoe out.
Outsole
Now let's talk about the outside. An AHAR+ outsole is included to help with quick transitions and comes with a non-marking grip on the court.
A Trusstic System stretches out under the arch to increase stability. Furthermore, it strengths the middle of the sole to prevent it from twisting and causing injuries.
Midsole
This shoe has a Solyte midsole to make the shoe very lightweight and add cushioning. This keeps your feet fluffy and humble on the court. Moreover, a ComfortDry sockliner is used to add an extra layer of plush and hygienic step-in comfort. If you like this shoe make sure to read the full review.
Air Zoom GP Turbo
New Technology
This hard court shoe is very new to the market and it's built to last. The Air Zoom GP Turbo is designed with full-length Zoom Air unit to make your feet stay fresh throughout the match.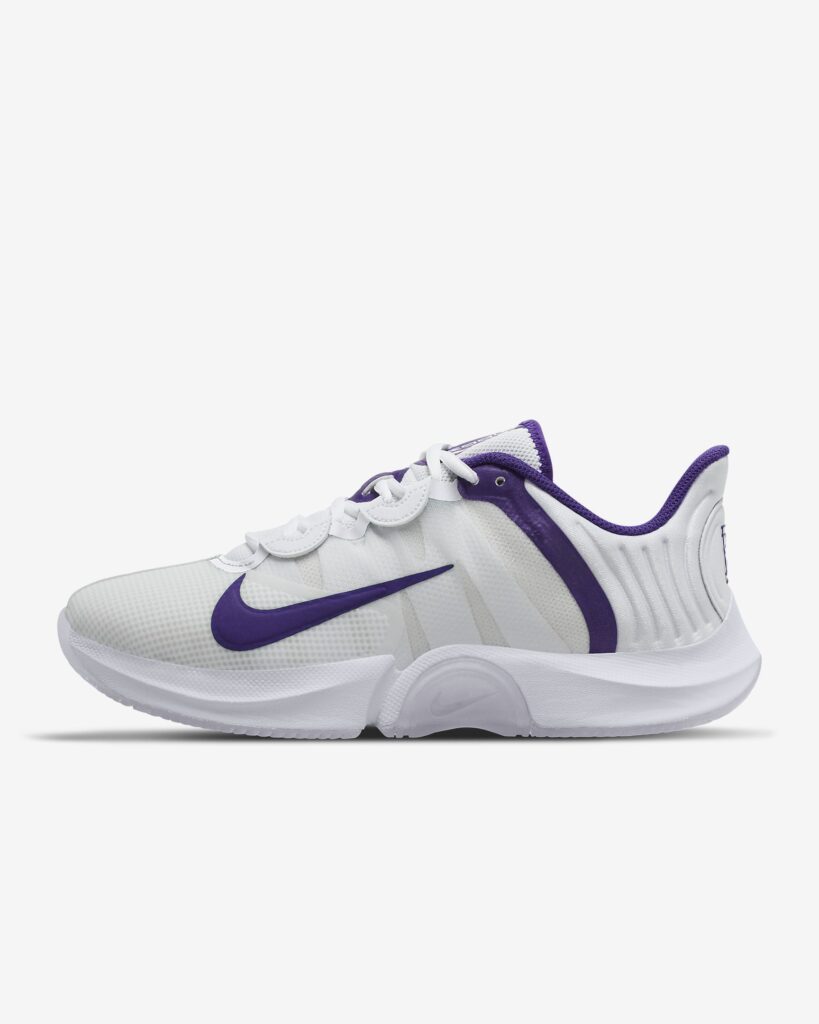 Furthermore, the full-length Zoom Air unit is sewed with the upper to give you good cushioning as you move around the court.
Breathable Support
In addition, a translucent textile is used to give you the opportunity to make quick cuts and fast volleys without hurting yourself.
Toe Box
The toe box is very fascinating because it features an anatomically designed which act as a reinforcement on the medial side for added durability while sliding.
Moreover, the overlays are cut out in key places to enhance flexibility and breathability for an extra comfortable fit. If you like this sure make sure to read the full review.
Adidas Stycon
Laceless Tennis Shoe
This tennis shoe is not like your normal tennis shoe. The way it is design and function is completely different. For example, this shoe comes with a laceless structure.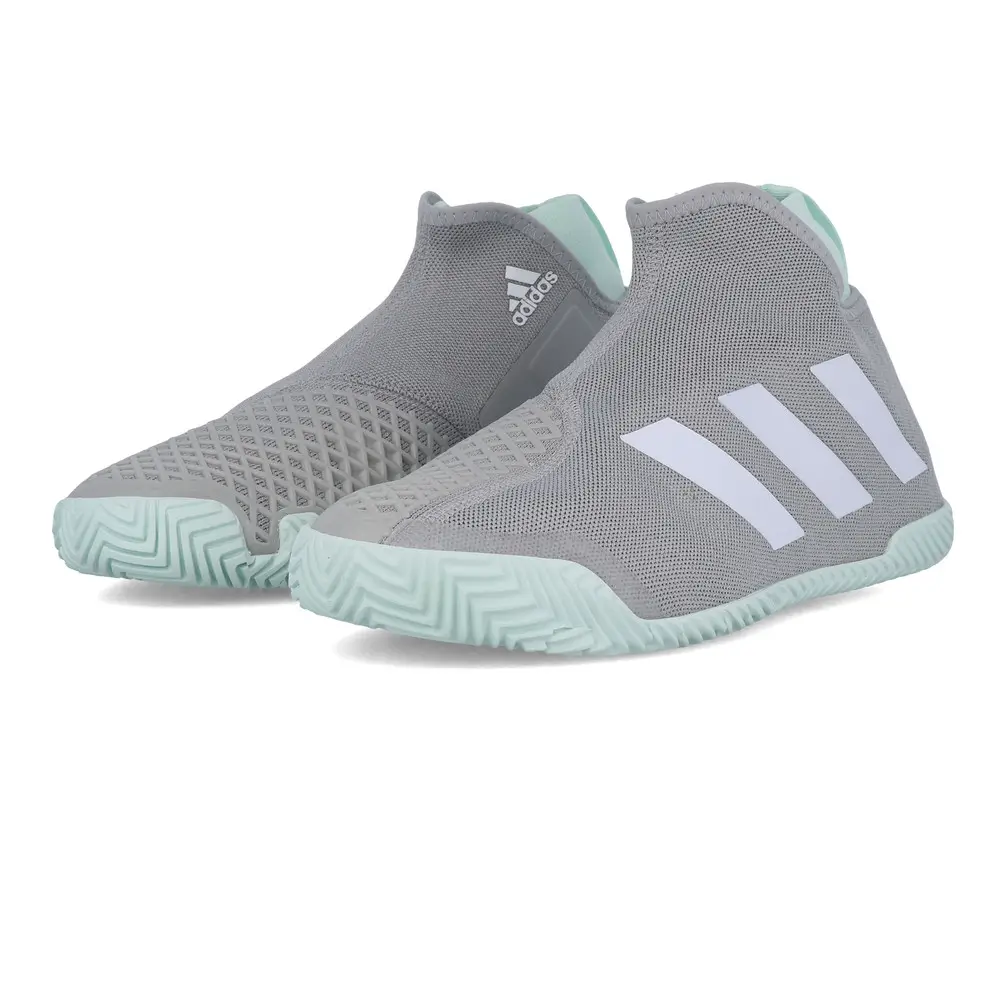 This makes it super comfortable and distraction-free fit to wear.
However, the downside to this laceless structure is how it can be very difficult to put your fit inside the shoe.
Fit
The inside of the shoe has an internal fit system which provides optimal fit and firmly locks your foot in place.
Comfort
This shoe has a multi-layered EVA to provide you with maximum comfort, cushioning and stability. Moreover, multi-directional Grooves helps support your foot in perfect position.
Energy Return
Despite how lightweight, this tennis shoe is it gives you excellent shocks absorption and rebound of energy to play long rallies and matches.
Asics Solution Speed FF
Design, Comfort and Cushioning
This is one of the tennis shoes that is popular on the ATP tour. Firstly the combination of colours, design and style looks amazing and perfect for hard court.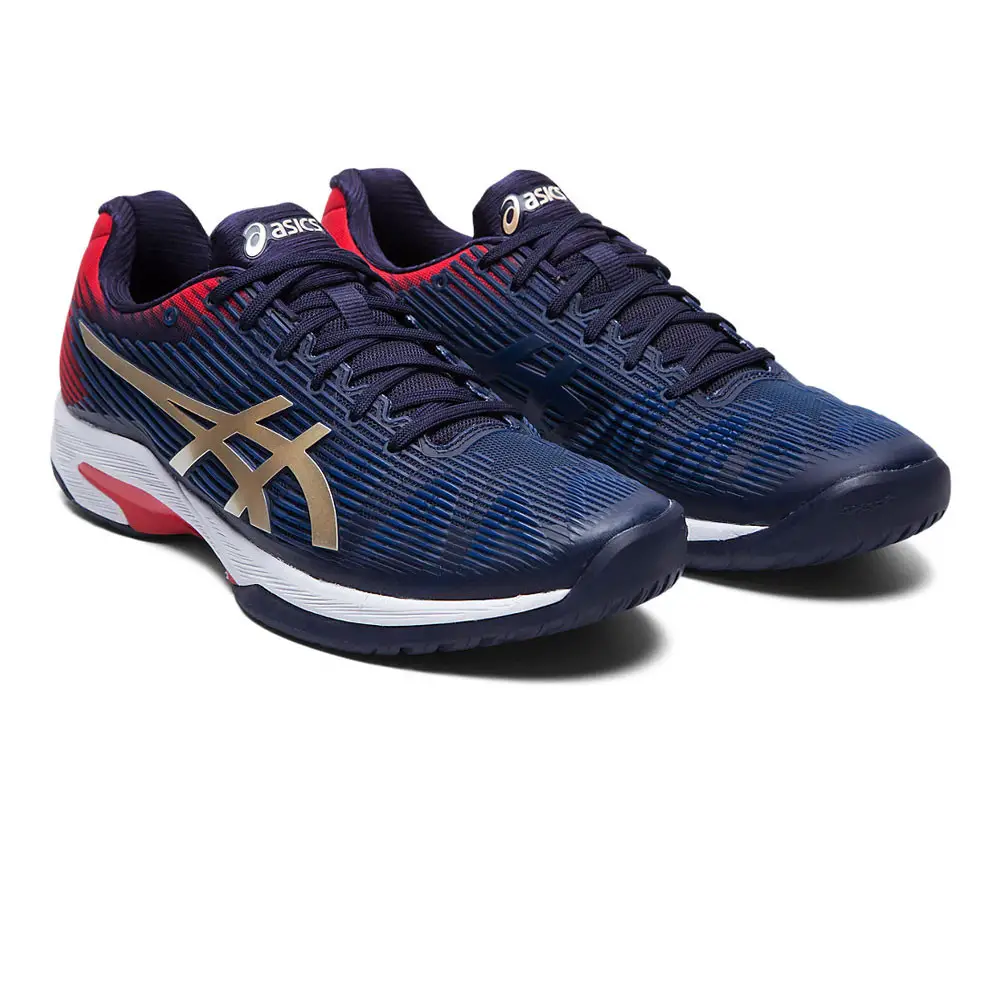 Also, the flexion fit upper provides form-fitting comfort and cushioning. Seamless reduces the risk of rubbing and discomfort.
New Technologies Included
The flyte foam technology and ortholite sockliner are used in this shoe to give you lightweight, cushioning and excellent moisture-management.
Moreover, the removable sockliner allows you to add an insole and the AHAR outsole provides a durable grip on the court.
Toe Area and Arch Area
Are you a toe dragger? If you are then no need to worry because with the help of the PGuard toe protector you are going to have good protection. On top of that, it enhances the overall durability of the shoe.
Now let's look at the arch support. The shoe is made of Twisstrust system which reinforces under the arch without adding too much weight on your ankles. In addition, it resists torsion and absorbs shock while allowing your foot to move at a full range. If you like this shoe make sure to read the full review.
Nike Court Zoom Cage 3
Lightweight and Mobility
And lastly, the Nike Court Zoom Cage 3 which is used again by Rafa and has high ratings on the market.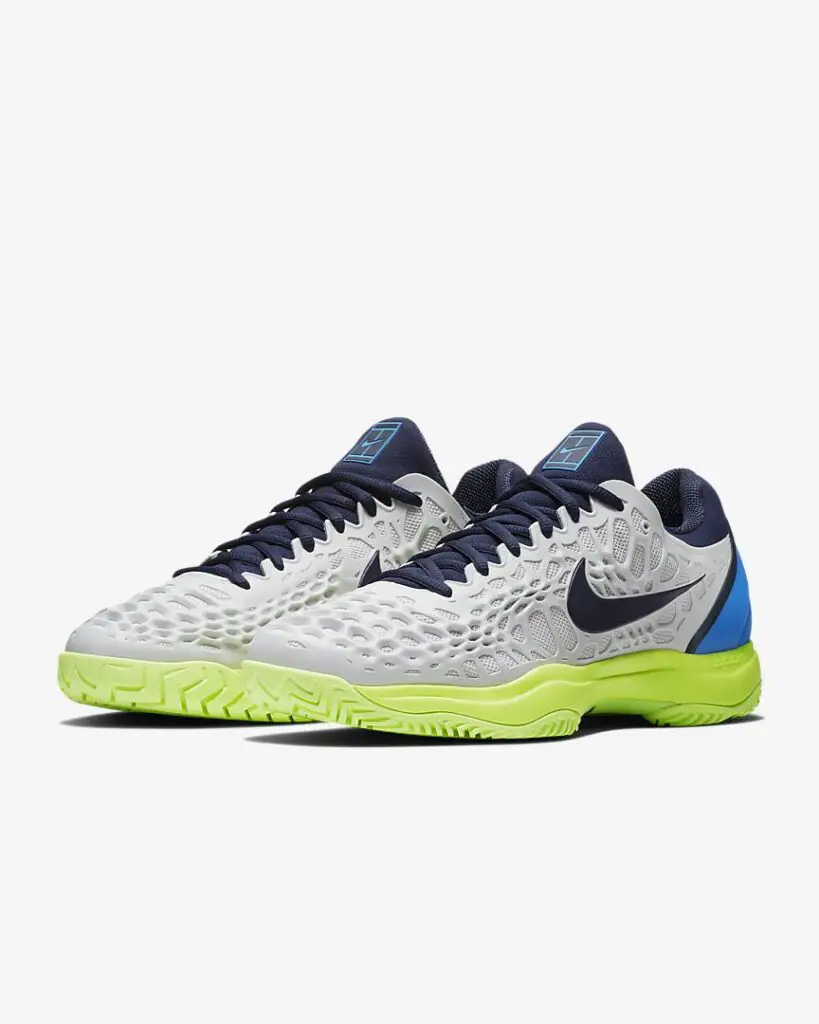 The pliable overlay makes the shoe durable and with the Zoom Air unit, the heel delivers a low-profile ride.
Midfoot
An external TPU shank is used in the midfoot area to provide lightweight torsional stability.
Furthermore, the XDR outsole makes the shoe more durable and have a herringbone outsole to give you a better grip on the court.
Heel Protection
The heel area is moulded is ergonomically shaped to secure the heel. This makes your heels feel comfortable and stable during rallies.
Final Thoughts!!
In conclusion, these are the 10 Best Tennis Shoes For Hard Court In 2021. If you made it to the end of the post, BIG UPS to you.
I hope you found this post very useful at helping you to select the perfect hard-court tennis shoes for your style of play and feet size. I would end by saying if you manage to pick any of these shoes up, I wish you the very best in your future matches.