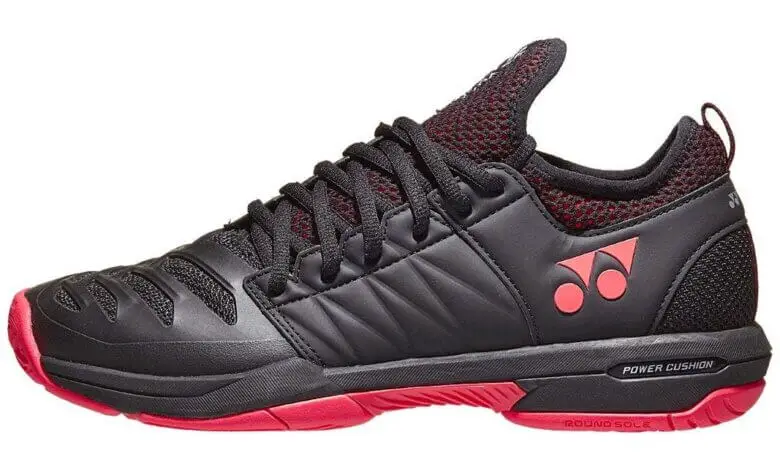 We're an affiliate
We hope you love the products we recommend! Just so you know, we may collect a share of sales or other compensation from the links on this page. Thank you if you use our links, we really appreciate it!
Editor's Review
Comfort

Durability

Stability

Breathability

Weight

Fit and Size
Summary
Yonex has released the third version of the Yonex PC Fusion Rev 3 and it's a lot better than the previous versions. This shoe is going to provide you with a glove-like fit with a speedy feel. You would enjoy the support, stability and durability of this shoe. However, the downside to this shoe is how it's not suitable for players with a wide foot. If you have narrow feet then it's worth checking this shoe out.
Pros
Good Stability
Durability
Nice Support
Very Speedy
Good Cushioning
Cons
Lack of colour options to choose from
Not suitable for a wide foot
As Yonex continues with the Power Cushion Fusion Rev series, they have released the third version and made it even better than the previous versions.
For example, the refined version is going to provide you with excellent support, stability and speed. If you are a player that is looking for these features in a tennis shoe then you have arrived at the perfect place.
In this post, I'm going to provide you with a thorough in-depth review of the Yonex PC Fusion Rev and help you decide if this shoe is perfect for your game. If you are ready let's start with the design and cosmetic of the shoe.
Design
Unlike the Yonex Power Cushion Eclipsion 3 that wasn't the best design, I have seen from Yonex. I would say that the PC Fusion Rev 3 is ten times better than the PC Eclipson 3 in terms of design.
Right out of the box the PC Fusion Rev looks sleek, simple and attractive. If you are someone that loves design when selecting a shoe then this shoe is worth looking.
Personally speaking, if you were to ask me which of the shoe is my favourite colour I would say the men's red. The women's purple also looks superb.
If you are a player that is lacking with confidence on the court at the moment then wearing a good looking shoe like this could boost you up a lot.
Upper
Next up is the upper. It is made of PU wrap around a Double Russell Mesh layer. If you are someone who is not familiar with these materials then let me help you out.
Basically PU leather stands for polyurethane which is an artificial leather made of thermoplastic polymer used for making furniture or shoes. An example would be a sofa.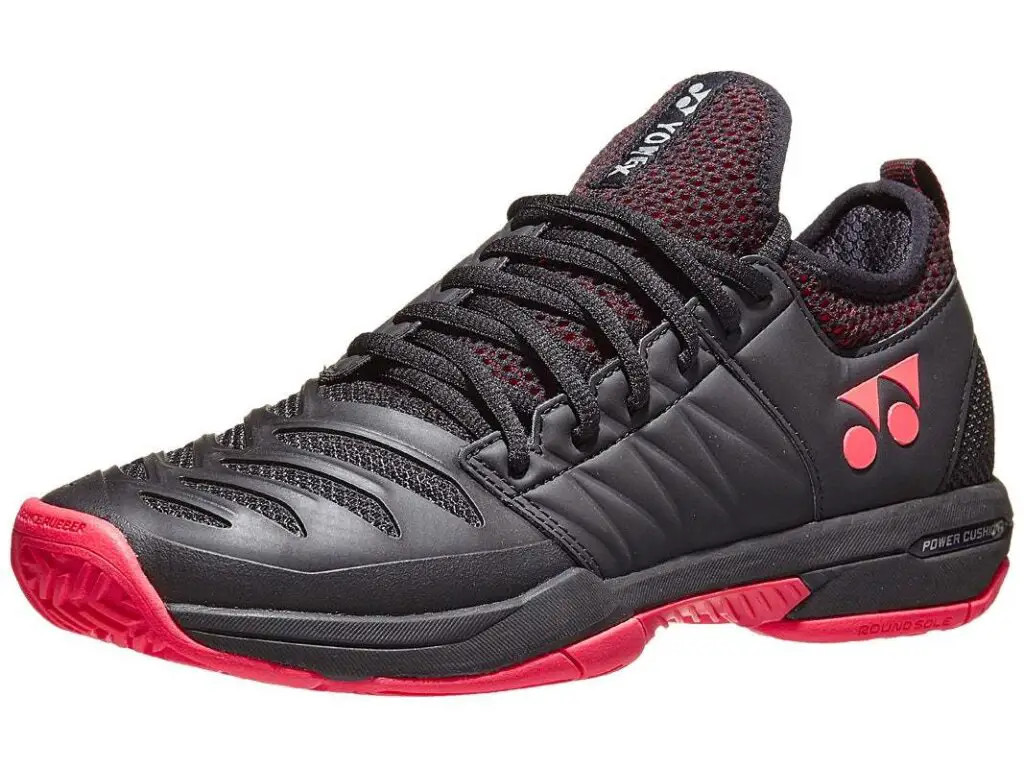 Whiles Russell cord material is a finely corded fabric, generally constructed with a cotton warp and worsted weft. I hope these explanations help.
The use of both PU wrap and Russell Mesh layer is going to provide you with good support, comfort and breathability.
This is very useful to have if you are a player who tends to play in very hot weather condition. Moisture would easily leave the shoe and allow fresh air to come inside.
Toe Box, Medial Side and Ankle Support
Are you someone who is a toe dragger? If you are then this shoe has got you covered. The toe box has got extra rubber on it to make that area durable and protect you as you drag your toes.
The medial side is well constructed to protect you as you slide and move around the court. Moreover, the use of full-bootie construction would secure your foot when moving naturally. 
And lastly is the ankle support. You are going to get a glove-like fit and comfort around the ankle area when you wear the shoe.
Tongue and Lacing System
I really like how Yonex made the tongue. They made it connected to the shoe which is great because it stops it from moving around and distracting you as you play on the court.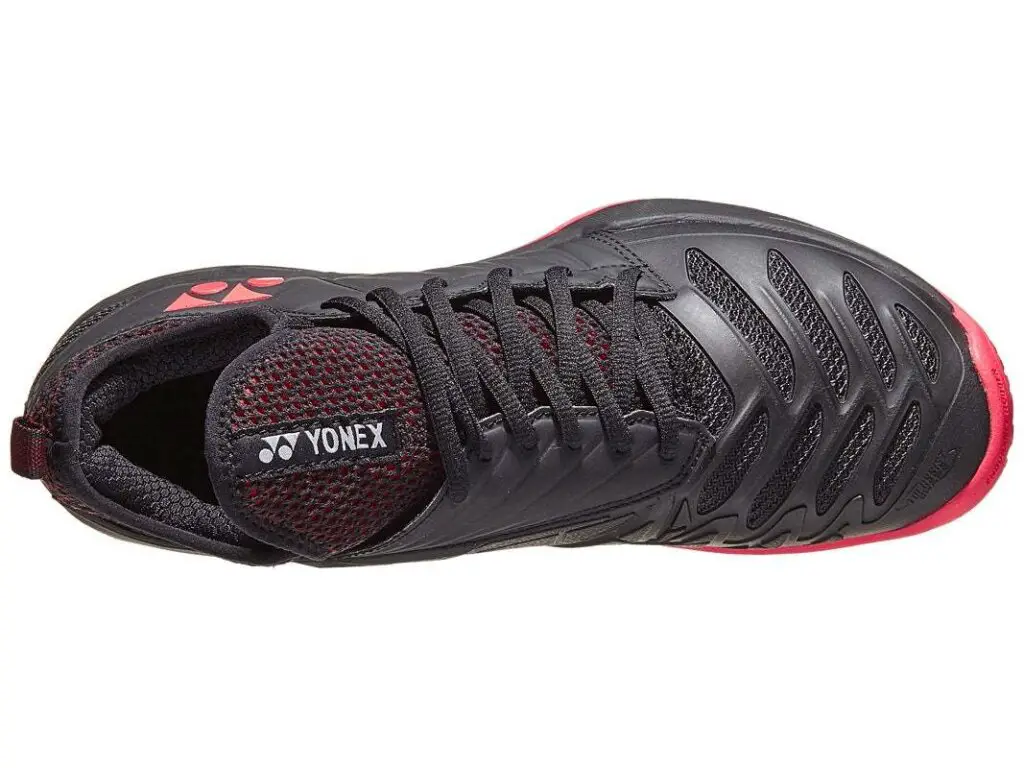 The lacing system is very fascinating with the way Yonex made it. First and foremost, you would notice that the lacing system is designed towards the left side of the shoe.
This may look weird when you compared it to how normal lacing systems are made.
However, this so-called 'weird-looking' lacing system is going to give you a stable and secure fit. One drawback to the lacing system is that it does not have extra lacing holes for extra grip.
Lastly, the lacing holes are woven into the upper of the material. This makes the lacing holes durable and easy to lace.
Heel Counter and Midsole
There is nothing peculiar about the heel counter when you compared it to the PC Eclipsion 3 which had a hard plastic material with an outer hard shell.
Despite nothing special about the heel counter for the PC Fusion Rev 3, it's still going to keep your heels in perfect position and stable. This would really benefit your game when sliding and moving aggressively on the court.
Now let's take a closer look at the midsole. A Power Graphite Drive sheet is used at the mid-foot area to provide you with excellent stability by resisting unwanted twisting.
In addition, the use of Power Cushion technology is going to offer you with exceptional cushioning, shock absorption and energy return with each step.
Weight and Size
The PC Fusion Rev 3 comes at a weight of 13.1 ounces with a size of 10.5. As you have already guessed it, the shoe is lightweight and it's going to improve your speed on the court.
This is a big advantage to have on the court because you would be able to react quickly in the game. Also, the low to the ground feel and the snug fit put these shoes on the same level as the Asics Solution Speed FF.
Unlike the Babolat Jet Mach II that does not have any size bigger than size 10. This shoe is not the case. It comes in different sizes which is very nice to have because you can select which one that suits your feet comfortably.
Fit
This shoe may need some break-in period. I would say a few hours to a couple of days should be enough to break-in the shoe.
Ideally, this shoe would suit players who have a narrow and medium foot. If you have a wide foot and want some awesome shoes to wear then I would recommend that you read this post. You would find it very useful.
Outsole
Another selling point of this shoe is the outsole. It is made of endurance rubber which is going to provide you with excellent durability on the court. If you are someone who is very hard on their outsole then you would enjoy wearing this shoe.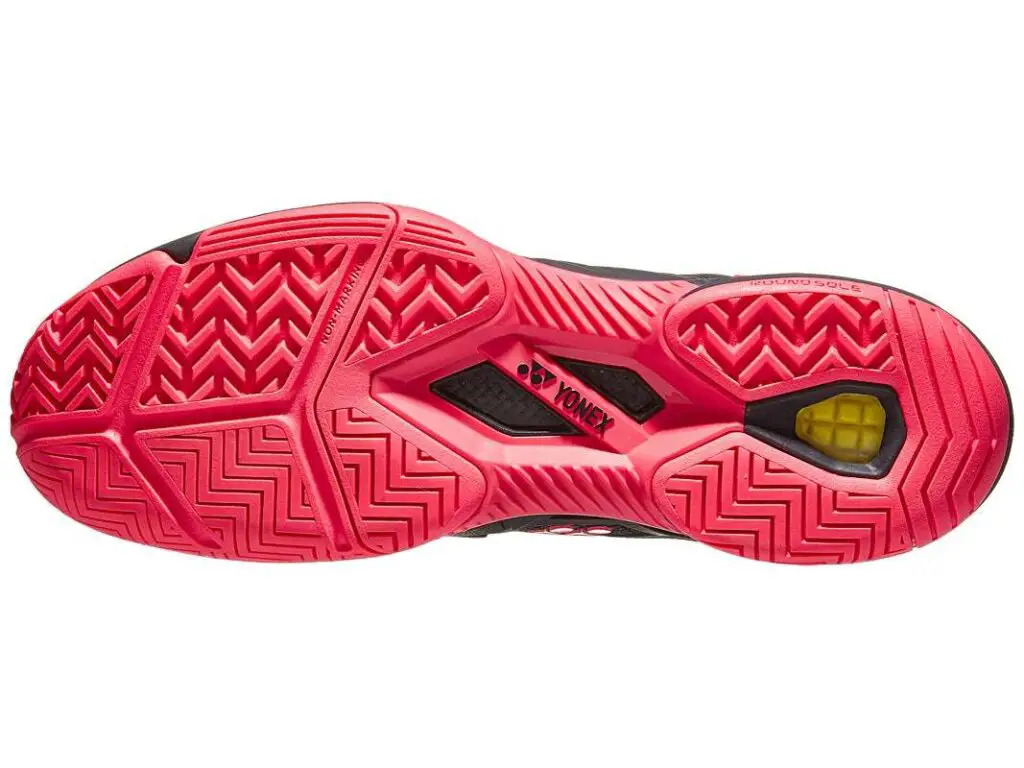 The outsole has two parts. The first section has a modified dense herringbone tread pattern which is going to provide you with excellent traction on hard court surfaces.
This makes it great to use on all court surfaces. Also, a griper herringbone pattern is used to provide you with an excellent grip on clay courts.
And lastly, you would notice a small gap in the outsole. This helps makes the shoe lightweight and allows air to flow inside of the shoe with ease.
Colour Options
Just like the KSwiss Hypercourt Express 2, this shoe comes with limited colour options. Personally, as someone who loves design and colour options, I would like to see Yonex release more colours to choose from.
Not only that but players would enjoy the luxury of selecting which colours they prefer and select which ones that suit their tennis outfit.
Price
The last point to talk about is the price. It's above $100 which sounds expensive for a lot of people but the features you get from it is awesome. For examples, stability, support and speed.
However, if you are a player on a lower budget and think this shoe is expensive, then I have some good recommendations for you. You could try the NikeCourt Lite 2 or Mizuno Wave Exceed Tour 3. These shoes are not expensive and the great thing is they have similar features to the Yonex PC Fusion Rev 3.
Conclusion
As this post comes to its conclusion about the Yonex PC Fusion Rev 3, I hope you have found it very useful and informative at helping you decide if it's worth your hard-earned money and suitable for your game style.
This shoe is going to provide you with great benefit on the court such as durability, stability and support. Despite how fantastic this shoe is there are some drawbacks that need improvement. For example, the shoe is not suitable for wide foot and the colour options are limited.
However, the positive and benefits of this shoe completely outweigh the negatives. On top of that, a lot of people like the shoe and it comes with a lot of good reviews and comments.
It such an awesome shoe to have and add to your tennis shoe categories. If you manage to pick this shoe up I wish you great success on the court.