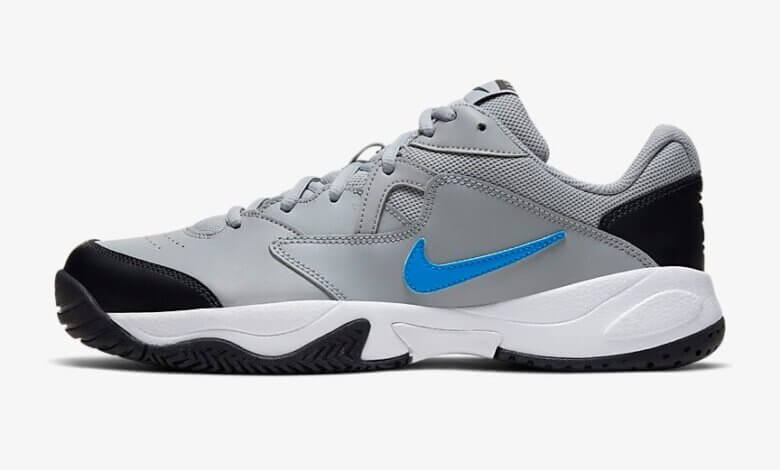 We're an affiliate
We hope you love the products we recommend! Just so you know, we may collect a share of sales or other compensation from the links on this page. Thank you if you use our links, we really appreciate it!
Product Overview
Comfort

Durability

Stability

Breathability

Weight

Fit and Size
Summary
The Nike Court Lite 2 is designed in a simplistic way to provide you with good stability, excellent breathability and nice comfort. Also, the outsole is uniquely designed to visually outline 1 of the 5 basic movements new tennis players learn. This makes it great for beginners and recreational players. 
However, it would be great to see Nike improve the design of the shoe and make it more attractive. And also, provide more colour options. Apart from that, it's a fantastic tennis shoe to have and it comes with great reviews. 
Pros
Good stability
Durability
Nice comfort
Well-structured lacing system
Padded tongue and collar
Cons
The design needs some improvement
Needs more colour option
Are you a tennis player looking for a comfortable and supportive tennis shoe? If you are then you have arrived at the perfect place. When it comes to Nike tennis shoes they never fail to disappoint and they didn't either with the new Court Lite 2.
The Court Lite was a great tennis shoe however, Nike has even made it better with the new Court Lite 2. In this post, I'm going to go in-depth of the different parts of shoe and see why this shoe is so great.
I suggest you make your self comfortable by getting yourself a cup of tea/coffee because you are in for a ride. Let's start with the design and aesthetics of this shoe.
Design
The design of the shoe may not be the best on the market when you compare it with New Balance Fresh Foam Lav or Nike Air Zoom Vapor X Kyrie 5.
Although I would say the men's grey version looks sleek and simple. However, it would be great if Nike can improve the design for this shoe in the future. Improving this area of the shoe would make it more attractive and colourful to wear.
Upper
One of the key updates of the Court Lite 2 from the previous version is the upper.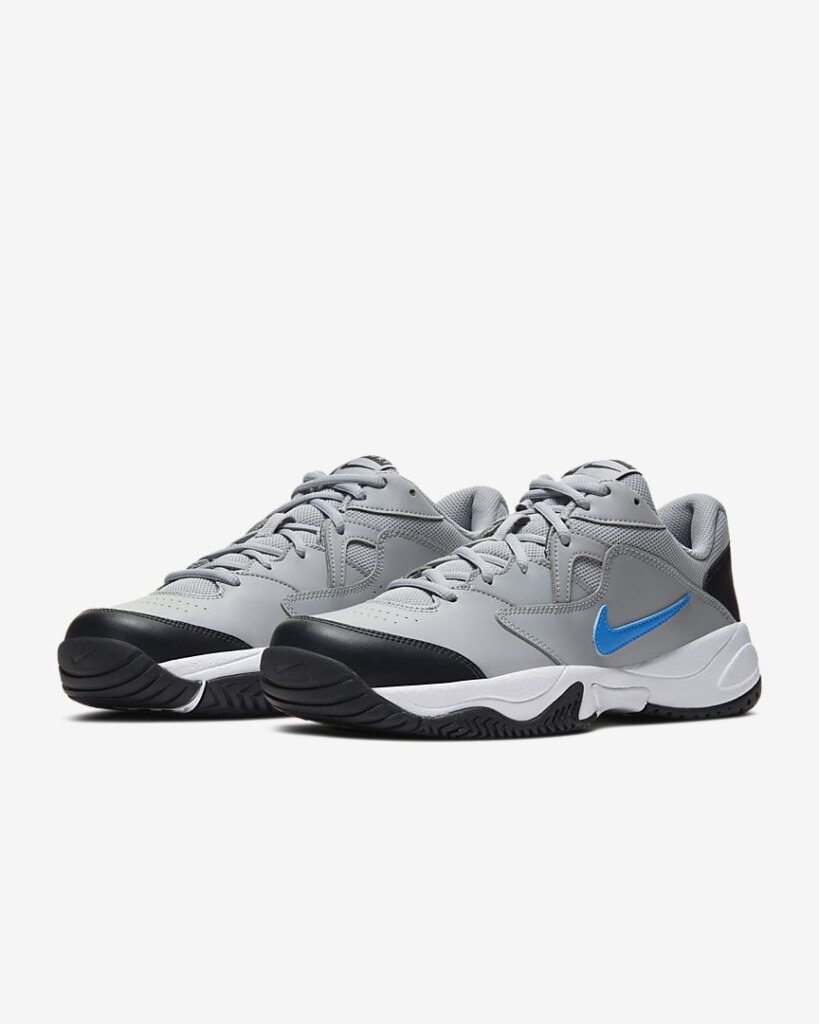 The upper is made of synthetic and leather materials. The changes are great because firstly it's going to provide you with a nice fit when you wear them.
Secondly, it makes the shoe durable. This is great for aggressive players and players who play very long matches.
Lastly, both synthetic and leather materials make the shoe breathable and provide you with nice support.
This is amazing because you are sure that your feet are going to stay fresh throughout the match and be able to deal with hot conditions because of the nice ventilation.
Insole
The shoe comes with a removable insole. This is great because you can replace it when it wore out. Moreover, the insole is nicely made to keep your feet comfortable and well cushion on the court. Lastly, since it's a removable insole you can take them out to dry quickly when you wash or clean them.
Midsole
Now let's look at the midsole. The midsole is made of lightweight Phylon that's made out of EVA foam pellets. Most of you are probably thinking what is that?
Basically they are small participles that are compressed, heated, and formed using a mold. 
This helps cushion your foot during toe-offs, lateral movements and landings. This is very helpful at preventing you from getting injuries. And lastly, it is assembled with a raised heel for improved rear end cushioning. 
Lacing System
The lacing system is nicely built and is design to give you good cushioning, comfort and stability on the court. Let's dive in to learn more about the lacing system.
Firstly, it has small holes which makes it easy to lace your shoes very quickly. Also, the extra hole helps you to tighten the shoe to give you a nice grip on the court.
Secondly, it has two triangular holes beside the whole lacing system to help keep your feet stable. Overall I think Nike did a great job with the lacing system.
Tongue and Collar
I think Nike did a great job both with the tongue and collar. They instilled a pad around that area of the shoe to provide you with excellent comfort around your ankles. This is a nice feeling to have when run up and down the court without experiencing much discomfort.
Outsole
The outsole is very unique because it features five distinctive patterns that are going to provide you with good traction on hard court surfaces. Also, it's going to give you a nice support and stability when sliding up and down the court.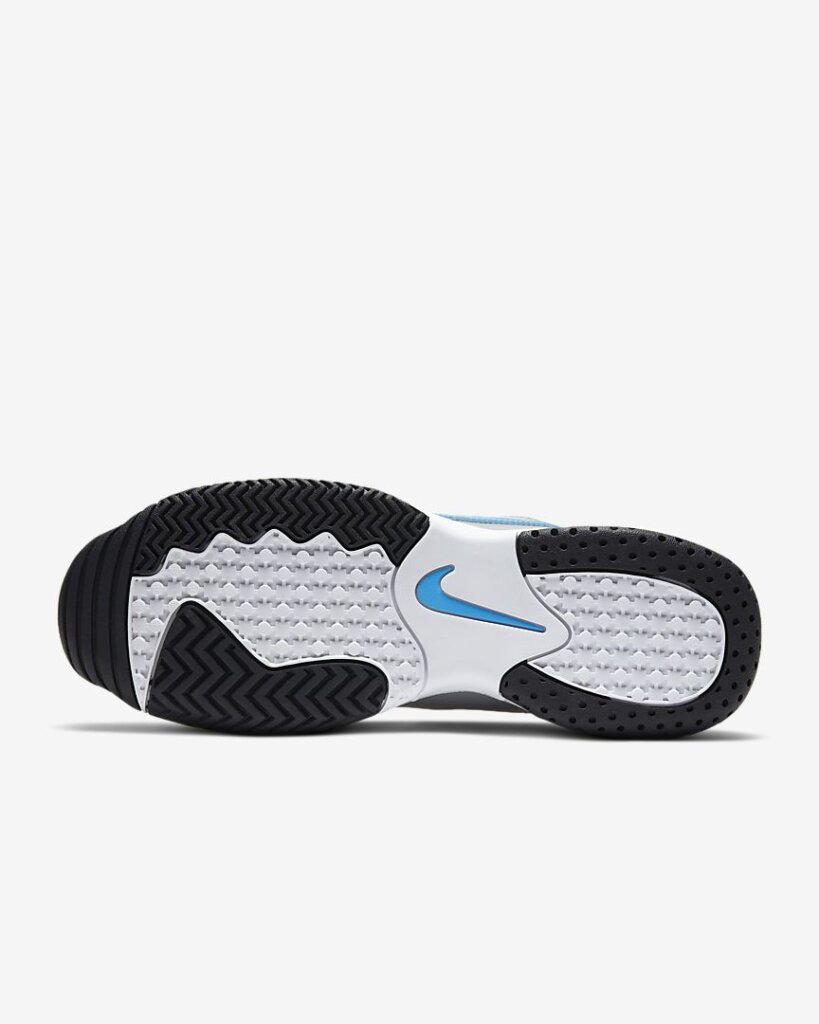 Moreover, each pattern is designed to visually outline 1 of the 5 basic movements new tennis players learn. This makes it perfect for using it for both practices and matches.
In addition, it's perfect for recreational players or newbies. Lastly, the outsole is very durable.
If you play very long matches you wouldn't see much impact on the outsole surface. This is very good for players who drag their toes because the underfoot rubber runs up the tip of the shoe as an added support feature.
Weight and Size
With a weight of 12.49 oz / 354 g at size 8.5, I wouldn't class this shoe as a very lightweight shoe or a bulky one either. I would say the overall weight is decent and most players can handle it on the court and still maintain their speed.
In terms of size, this shoe comes in a variety of sizes which is great for players who have either a narrow or wide foot. Furthermore, they run true to size so you don't have to worry about going half a size up. However, it may require minimal break-in for some people.
Colour Options
Another drawback to this shoe is the limited colour options it has. Unfortunately there are about two colour choices for men and only one for women. This is not good for players who wants different colours to choose from and match their tennis outfit.
Price
The Court Lite 2 is one of the cheapest tennis shoes you could have on the market. It is below $100 and yet the features it comes with it is amazing.
If you are someone who is on a tight budget then you would want to consider checking this shoe out. It is a great shoe at a low price.
Final Thoughts!!
As this post comes to its conclusion about the Nike Court Lite 2, it's pretty obvious that the shoe is well-built to provide you with durability, comfort and stability.
However, there were a few drawbacks for Nike to improve on such as the design, and provide more colour options for players.
Despite a few weaknesses they excelled in many areas of the shoe such as a well-structured lacing system, durable outsole and comfortable tongue and collar.
On top of that, the pricing of the shoe is a bargain for the quality of this shoe. Lastly, if you manage to pick this shoe up then I wish you a lot of success in your future matches.