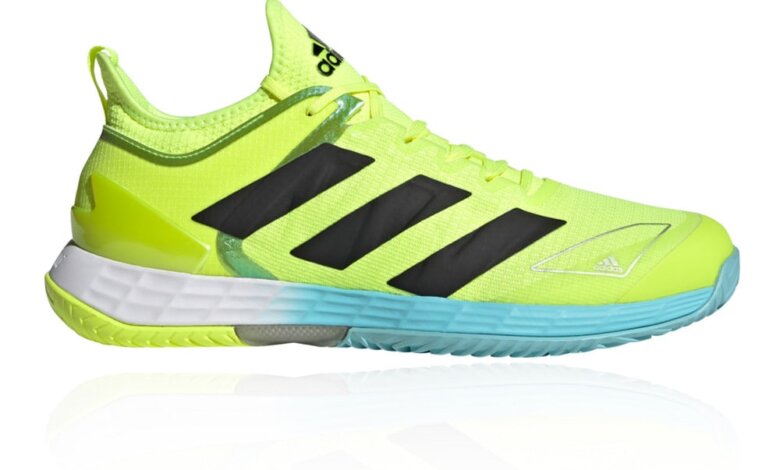 We're an affiliate
We hope you love the products we recommend! Just so you know, we may collect a share of sales or other compensation from the links on this page. Thank you if you use our links, we really appreciate it!
Product Overview
Comfort

Durability

Stability

Breathability

Weight

Fit and Size
Summary
There is a new edition added to the Ubersonic series and it's called the Addidas Ubersonic 4. This shoe comes with a lot of interesting updates that would help you take your game to the next level.
It's going to provide you with excellent stability, lightweight and nice-looking design. If you are a big fan of Adidas or liked their previous Ubersonics then you would really enjoy wearing this shoe. 
Pros
Superb design
Lightweight
Fit all size
Excellent stability
Good breathability
Cons
Not suitable for players who have a very high arch or forefoot pain
The Adidas Ubersonic 4 is FINALLY HERE after all the wait and hype. The Ubersonic 2 were great and the 3s were fairly okay. Now the big question is can this Ubersonic 4 live up to the hype and is it worth the price?
In this post, I'm going to give you an in-depth review of this shoe and help you to decide. If you are excited like me, I suggest you grab yourself a cup of coffee/tea and make yourself comfortable because you are in for a nice ride. Let's start, shall we?
Design
Oh boy, oh boy, the design of this shoe looks amazing and attractive. The awesome design of this shoe reminds me of the Air Zoom Vapor X Kyrie 5. Although it may not have the same colour design both appearances look unbelievable amazing.
Also, the design is similar to the skin of a Zebra which is very cool and cute. As a player wearing this can of a shoe can really help you to boost your confidence and self-esteem.
Upper
The upper is made of seamless Primeknit sock-like construction. This material is going to provide you with nice flexibility and comfort when moving around the court.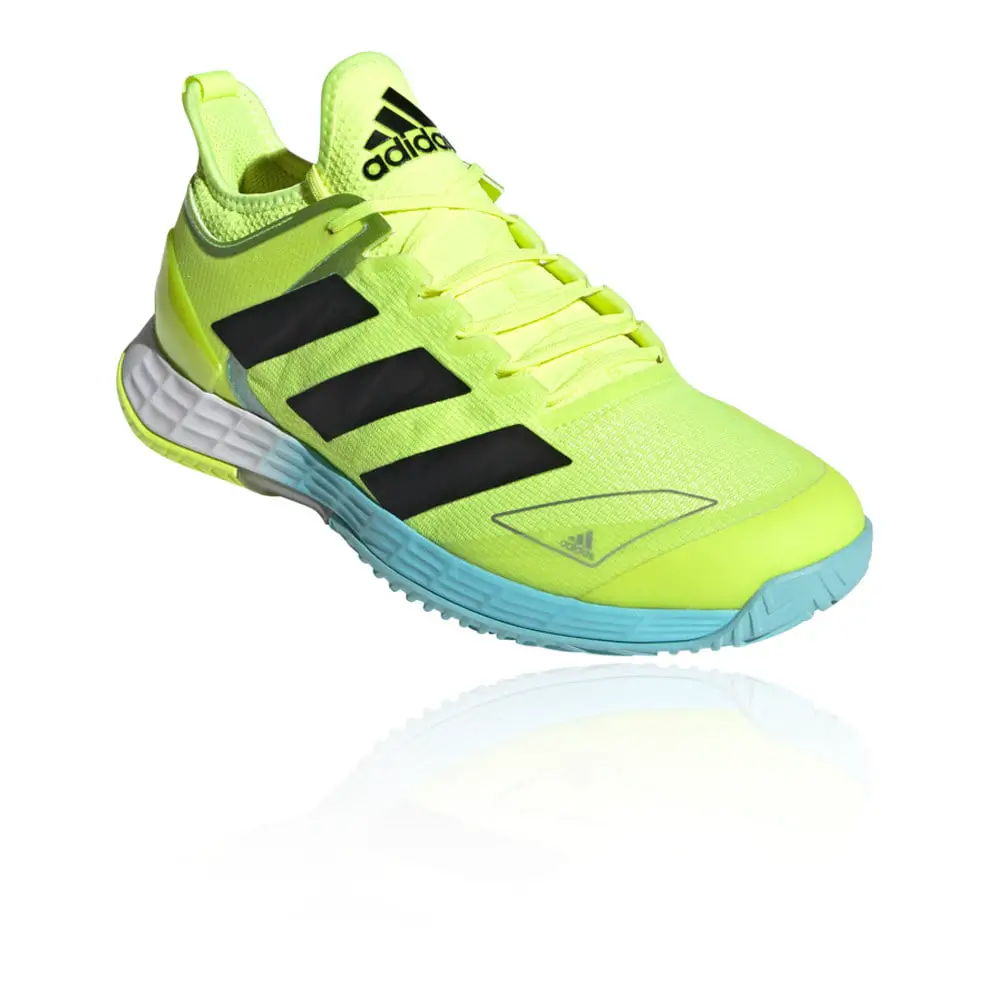 On top of that, the use of the second layer of woven Primegreen material is used to provide you with good stability when making quick turns and stops.
In addition, the durability of the upper material is top-notch from Adidas.
If you are an aggressive player or toe dragger you would definitely enjoy wearing this shoe because it would keep you going for a long time.
Lastly, the upper is breathable which is a big plus to have. You are going to enjoy the fresh air coming inside of the shoe whiles the moisture leaving quickly. This makes it perfect to use for long matches in hot conditions.
Tongue and Lacing System
The tongue is very thin even more than the Ubersonic 2. I would say the tongue is closer to the 3s. Moreover, the tongue is attached to the shoe which is going to give you a snack fit when you put your feet inside.
The lacing system is neatly done and it's even better than the previous versions. They included an integrated shoelace eyelet system which is similar to the Vapor. The shoe lacing system is built into the upper with winglets into the midsole which is going to keep your feet stable throughout the match.
Heel Counter and Toe Box
The heel counter is beautifully made. It is high and has a pad on it too. This is awesome because it's going to give you a snug fit and comfort. On top of that, it holds your feet very well even better than the 3s. This is going to be useful for players who have any ankle issues.
Moreover, the Ubersonic 4 has a dual outrigger and intrinsic heel counter. This is really going to give you more stability on the court.
The toe box is well built. It's going to protect you from potential injuries and it's very durable. Also, if you are a player that slides a lot you wouldn't have an issue with this shoe.
Midsole
The midsole is made of light strike midsole foam which makes it spongier than the previous models.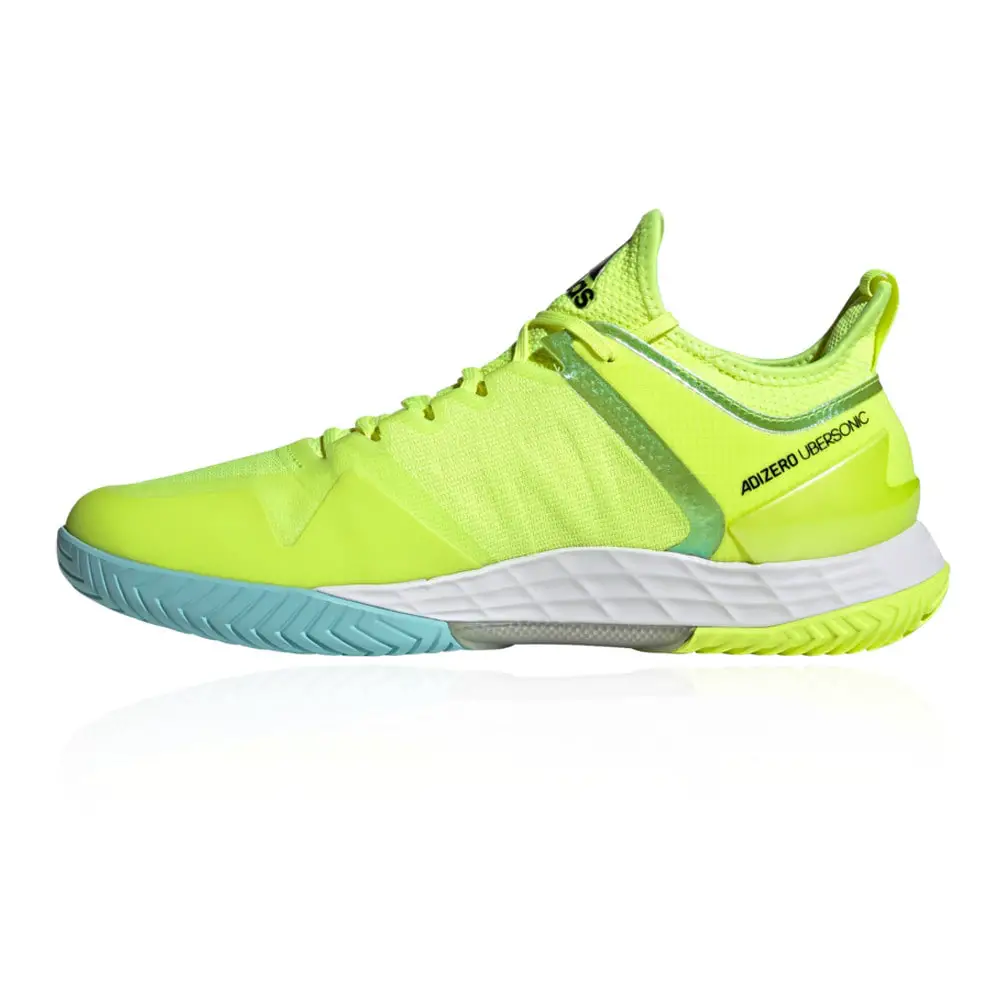 Also, it's a little bit stiff but the arch support area is fabulous when you consider how lightweight it is.
Another great thing about the midsole is how Adidas kept the huge polypropylene shank which is going to provide you with excellent support, stability and at the same time keep it lightweight.
However, the midsole has a lateral flange which is not very sharp but it's broad and wide. The good thing is it's going to provide you with more stability on the forefoot.
Insole
The shoe comes with a removable insole which is great because you can take it out to dry when you wash it. Or replace it with a new one.
Also, the insole which has a padding feel is going to make your feet comfortable. The drawback with the insole is how it's likely to wear out quickly because of the spongy foam around it.
Outsole
Now let's take a closer look at the outsole. The outsole is a mixture of different design such as contrasting herringbone tread, flat racing skid herringbone and so on.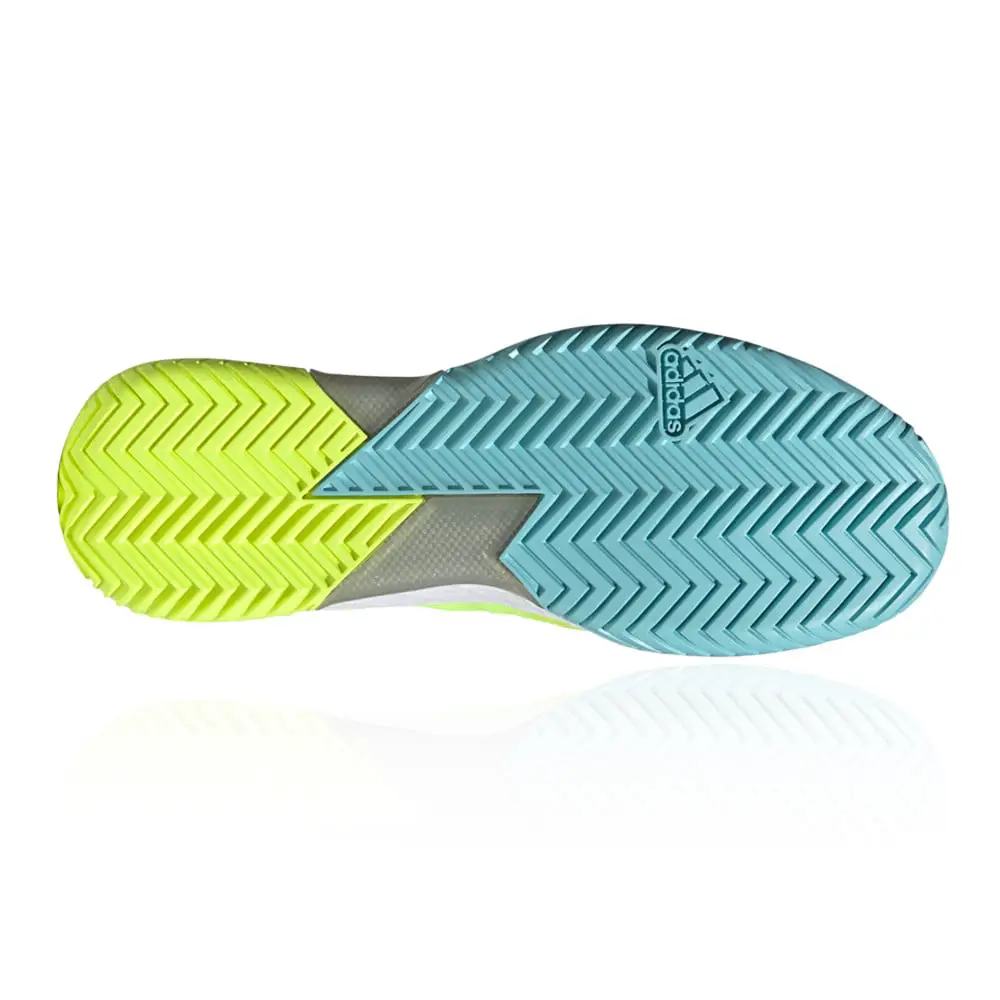 This combination of outsole structure is going to make you slide easily and quicker on the court.
Furthermore, when you look closely at the outsole you would notice a yellow neon higher density rubber which is going to provide you with excellent stability under the arch of your foot.
Weight and Size
Coming at a size of 10.5 and a weight of 13.5 ounces. This shoe is definitely in the lightweight categories.
This is really good because it's going to increase your speed and maintain your balance throughout. Furthermore, the size and length of the shoe is true to size and does not require any break-in period.
Fit
In terms of fit, the shoe is similar to the Ubersonic 3s which means it's forgiving and responsive. However, I would say the shoe is more suitable for players who have narrow, medium and wide feet.
On the other hand, it's not suitable for players who have a very high arch or forefoot pain. If you are in any of these categories then stay away from this shoe.
Colour Options
As great as this shoe looks, as of this time it lacks colour options to choose from. It only comes in black/solar yellow/cloud white. It would be great if Adidas makes more colour options to choose from and allow players to select the shoes that they colour and suit their tennis outfit.
Price
The cost of the shoe is over $100 which can be a little expensive for most players to afford. It's on the same page with the NikeCourt Tech Challenge 20 when it comes to pricing.
However, if you consider the amazing features this shoe has then you would notice that it's worth the price. If you think this shoe is still expensive then I suggest you read the full review of the best tennis shoes that are below $100.
Final Thoughts!!
As this post comes to its conclusion, I hope you have gained a lot of knowledge about the new Ubersonic 4 and its amazing features. I do believe this shoe has leaved up to the hype and expectation from everyone.
Adidas did such an incredible job with this shoe with many aspects of the shoe such as the design, excellent stability, and lightweight. However, there are a few areas that need improvement such as the lack of colour options and how they should make some for the ladies.
Apart from that, it's a fantastic tennis shoe to have in your arsenal going forward. If you manage to pick this shoe up, I wish you a lot of success in your future matches.