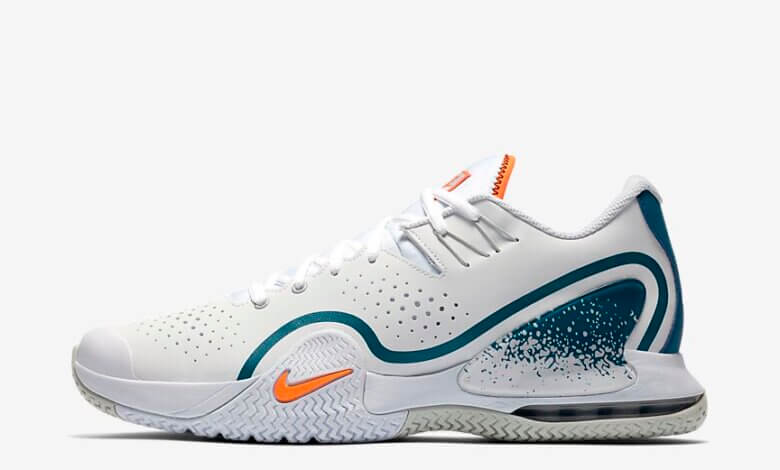 We're an affiliate
We hope you love the products we recommend! Just so you know, we may collect a share of sales or other compensation from the links on this page. Thank you if you use our links, we really appreciate it!
Product Overview
Comfort

Durability

Stability

Breathability

Weight

Fit and Size
Summary
After 30 years of releasing the Nike Air Tech Challenge 2, Nike has released the NikeCourt Tech Challenge 20 as a way to celebrate the previous model. This model comes with a lot of features to provide you with excellent traction, good protection and keep you stable.
However, this shoe is not suitable for players with wide feet. And also, Nike needs to work on the weight of the shoe. Apart from that, it's a great looking shoe and you would enjoy playing it on the court. 
Pros
 Excellent traction
Good protection
Durability
Amazing looking design
Effective lacing system
Cons
Not suitable for players with wide foot
Lack of colour option
Nike has updated the Air Tech Challenge 2 which came out in 1990 with the new Tech Challenge 20. This shoe has some features from the old version but has been redesign to provide you with better features on the court.
For example, you'll get the same vibrant graphics found on the original design with the added comfort of modern materials. If you are someone who liked the old version then you would surely love this version.
Below is a thorough review of the different parts of the shoe and how it can improve your game on the court. Let's start off with the design of the shoe.
Design
The design and how this shoe is constructed is nicely done. The combinations of colours used are amazing and very attractive. When you look at it the first time, it looks like a basketball shoe.
This does not mean that you can use it to play basketball but it's more of a fashion looking shoe since it has a street-style look to it as well. When walking onto the court whiles wearing this kind of shoe, it can help to boost your confidence and self-esteem.
This is one of the best designs I have seen from Nike and I would put it on the same categories with other shoes such as the Air Zoom Vapor X Kyrie 5 and Air Max Volley.
Upper
Now let's take a closer look at the upper which is very interesting. First of all, it is a hybrid high top. A lot of you are thinking what the heck is that? Let me help you out. Basically, a hybrid high top means that the shoe is tall both inside and outside.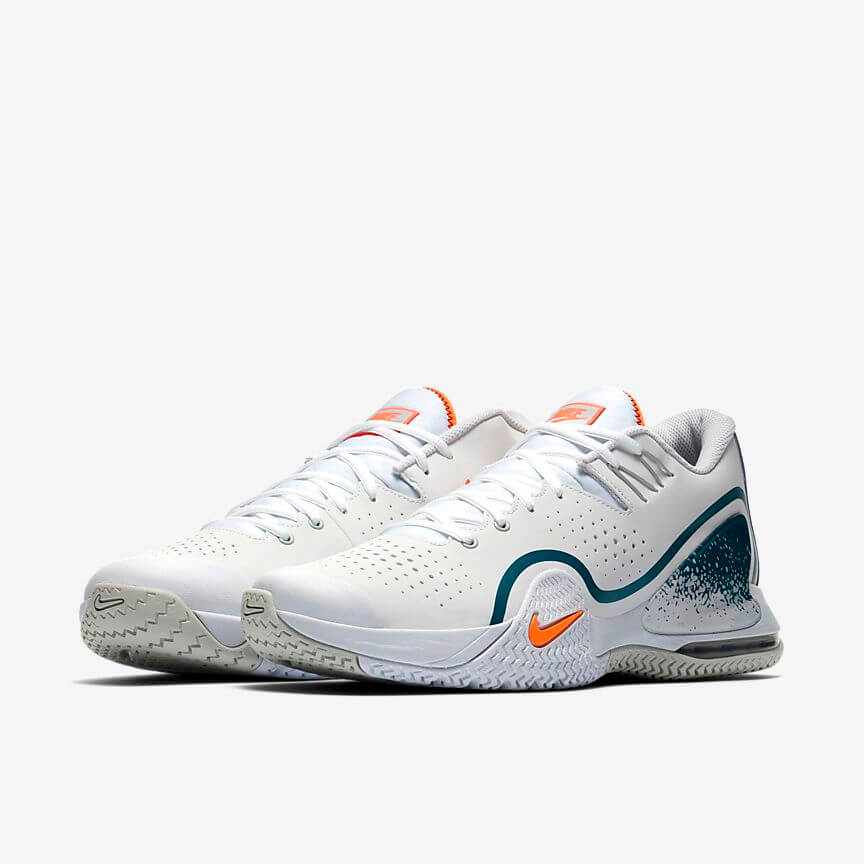 Generally speaking, hybrid high top shoes do a great job at giving you a lot of ankle support and prevent you from spraying your ankle.
With this shoe, however, the medial side is where you are going to find a lot of support.
Moreover, the medial side is hidden for durability during slides. This makes it more suitable for players who have a fleet or pronate feet.
Secondly, the upper is mostly made of synthetic leather with a little bit of perforation. Also, the upper looks bigger than the usual Nike's tennis shoes.
The upper is going to provide you with nice breathability and with the help of the small holes at the top, fresh air can come in very easily whiles the moisture leaves quickly.
This is very useful for players who's feet tends to have a lot of sweat and play long hours. You are going to really enjoy wearing this shoe with the beautiful well-design upper.
Toe Box and Ankle Area
Are you someone who tends to drag their toes a lot? If you are then have no fears because this shoe has got you covered. The toe area is made of rubber which is going to provide you with durability in this high-wear area.
Furthermore, the toe area is going to protect you from injuring yourself when you accidentally hit something. In terms of the ankle area, it has an asymmetrical collar to support you during fast cuts and quick hits.
Lacing System and Tongue
The lacing system is very simple and basic but it's very effective at keeping your mid-foot stable. On top of that, if you take a closer look at the lacing system you would notice two lacing closure on both sides on the shoe.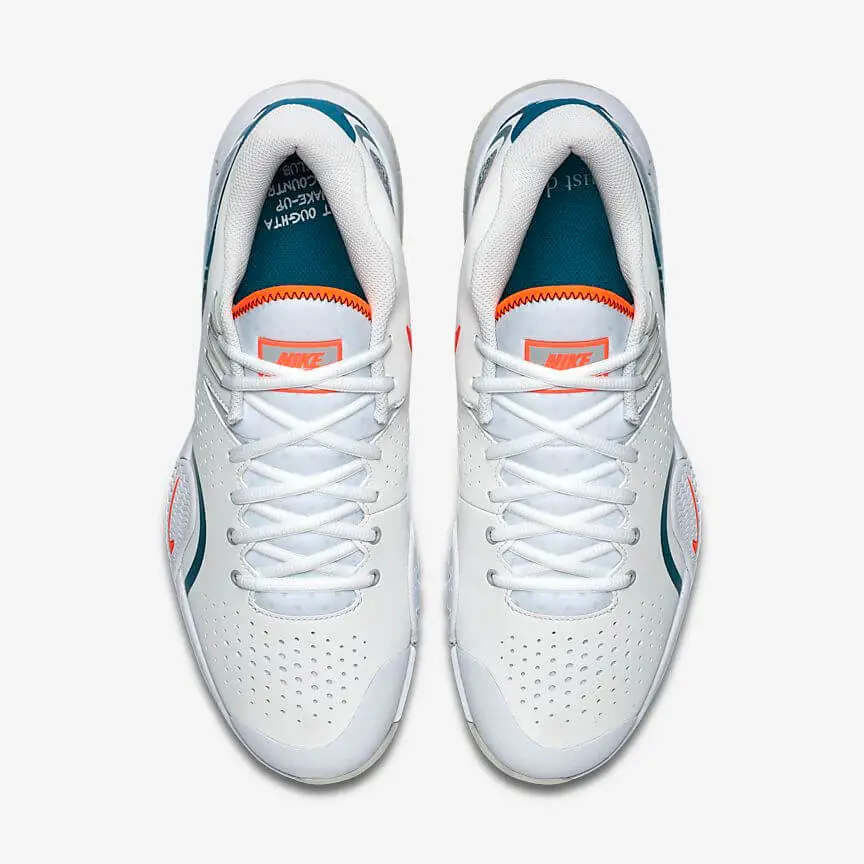 This is connected to the midsole which is going to give you support and stability on the ankle.
The drawback with these lacing closures is how it is fragile and can wear down quickly after using them often.
Also, the tongue is the exact same structure as the Vapor Knit which is connected to the shoe.
This is going to be easy to slip your feet easily into the shoe. On top of that, the tongue is padded which is going to give you a nice comfort and cushioning.
Midsole
Next up is the midsole. The midsole is the usual foam from Nike which is going to provide you with nice cushioning. The back of the midsole has a visible Air or Max Air.
Again this is going to give you more cushioning and comfort over time. However, the visible air makes the shoe a little bit heavy when you put it on.
Outsole
The outsole is very unique with the way it is constructed. Firstly, it is specifically designed to be used on hard courts only. This is cool because it's going to provide you with stability and comfort as you move and slide on it.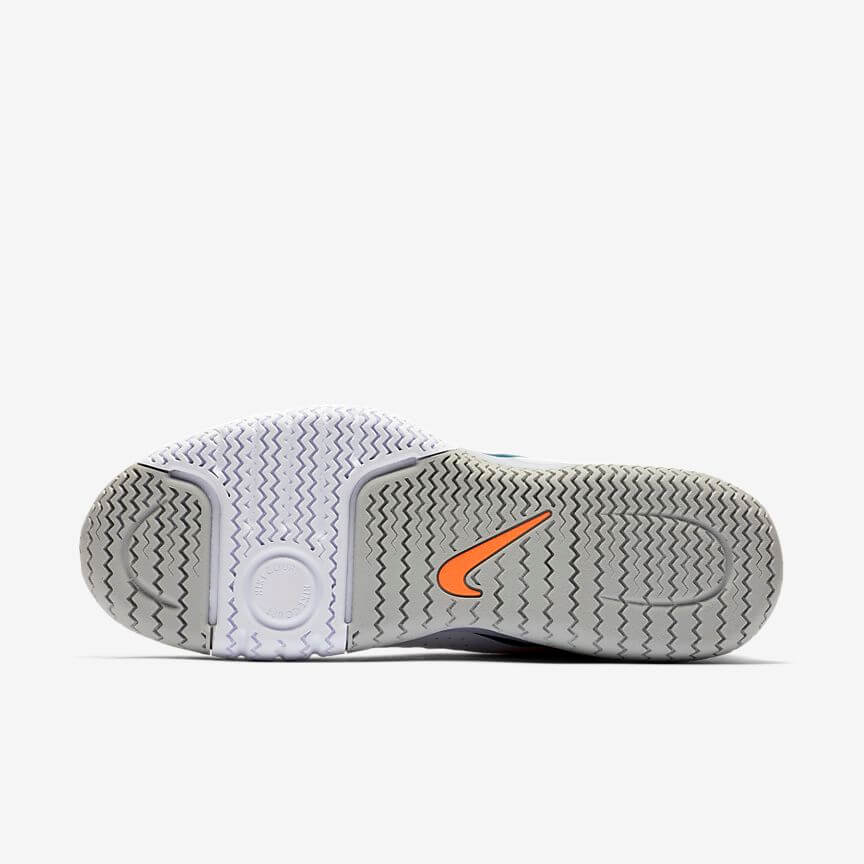 Secondly, the outside is made of XD rubber. This makes the sole durable and it's going to provide you with an excellent traction on the hardcourt surface.
Thirdly, it has a big pivot point underneath the outsole to support you to make a quick and easy turnaround.
And lastly, it has two friction points which are going to help you to bend the shoe easily and give you nice responsive feel.
Colour Options
As amazing as this shoe looks, it lacks colour options to choose from. It only comes in white/orange and black/white. It would be great if Nike makes more colour options to choose from and allow players to select the shoes that they prefer and suit their tennis outfit.
In addition, this shoe is only available for men. It's not fair on the ladies because they are missing up on a good shoe. Again, it would be nice if Nike can make this type of shoe for women.
Weight and Size
Coming at a size of 10.5 and a weight of 16 ounces. I wouldn't class this shoe as lightweight because of how the midsole adds a lot of weight to the shoe. In terms of size, this shoe comes in all different sizes and it's true to size and length.
Fit
In terms fit this shoe is more suitable for players who have a narrow, 2E and medium foot. On top of that, if you have ankle issues such as ankle sprains and arch pain then you want to try this shoe out.
This is because the high ankle is going to support and give you protection. On the other hand, this shoe is not ideal for players who have bunions.
Price
The cost of the shoe is over $100 which can be a little expensive for most players to afford. It's on the same page with the Air Zoom Vapor X when it comes to pricing.
However, if you consider the amazing features this shoe has then you would notice that it's worth the price. If you think this shoe is still expensive then I suggest you read the full review of the best tennis shoes that are below $100.
Final Thoughts!!
As this post comes to its conclusion, I hope you found it very useful at understanding how this new model works. Nike has done a great job to maintain the iconic shoe of the 1990s.
This shoe is going to provide you with excellent traction, durability, and protection as you play with it on the court. However, there are some areas that Nike needs to improve on such as the weight of the shoe and make it possible to use on all court surfaces.
With that said it still a great shoe to have and with its amazing design you are going to enjoy wearing it. If you manage to pick this shoe up, I wish you a lot of success in your future matches.