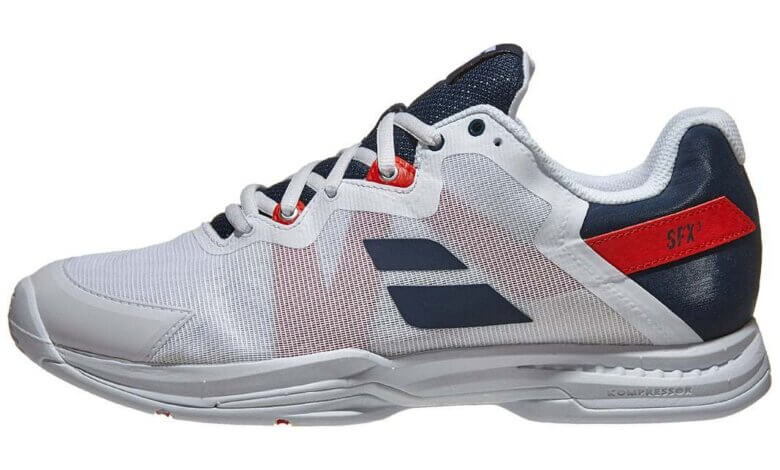 We're an affiliate
We hope you love the products we recommend! Just so you know, we may collect a share of sales or other compensation from the links on this page. Thank you if you use our links, we really appreciate it!
Product Overview
Comfort

Durability

Stability

Breathability

Weight

Fit and Size
Summary
After taking feedback and criticisms from the previous version. Babolat has made the SFX 3 a lot better and it's geared towards players with a wide foot. The core of the shoe is based on comfort and you are going to enjoy the other benefits that come with this shoe as well such as excellent durability, traction and cushioning. 
However, the major downside to this shoe is that it does not have enough stability. Overall, players with a wide foot are going to enjoy wearing this shoe and see it return on the market. 
Pros
Excellent traction
Superb comfort
Nice cushioning
Durable
Lightweight
Excellent breathability
Cons
Not suitable for players with narrow feet
Not stable enough
Babolat is not used to releasing tennis shoes on a regular basis like the big brands such as Nike, Adidas and Asics. However, once they do they go BIG and try to produce the best tennis shoe that they can possibly create on the market.
A good example is the first version of the Babolat SFX. When it arrived on the market, a lot of players enjoyed wearing it especially wide footed players.
However, Babolat couldn't manage to replicate the same level of success when they released the SFX 2. This is because the size of the shoe was more geared towards players with narrow feet and didn't have the same level of amazing features like the previous.
With a lot of criticisms and feedback from the SFX 2, Babolat has taken it to heart and made the third version a lot better. In this post, I'm going to provide you with an in-depth review of the Babolat SFX 3. Let's start with the design aspect of the shoe.
Design
Right out of the box, the design and cosmetic of the shoe look sleek and simple. The colours that Babolat selected and used for the shoe are spot on from my perspective.
When I look at the design of the shoe it reminds me of similar shoes such as Diadora Speed Blushield 4 or NikeCourt Tech Challenge 20. All of these shoes don't have crazy and bright colours going on to lose your focus. They are simply made but cool looking.
Despite the lack of colour options available for the SFX3, if you were to ask me which colour is my favourite. I would say the men's white, dark blue. Everything about the cosmetic looks great and you can't help to feel confident walking on the court with it.
Upper
The upper of the shoe is made of grill mesh material. This is going to provide you with excellent breathability on the court. If you are someone who easily has moisture on their feet then you would enjoy wearing this shoe.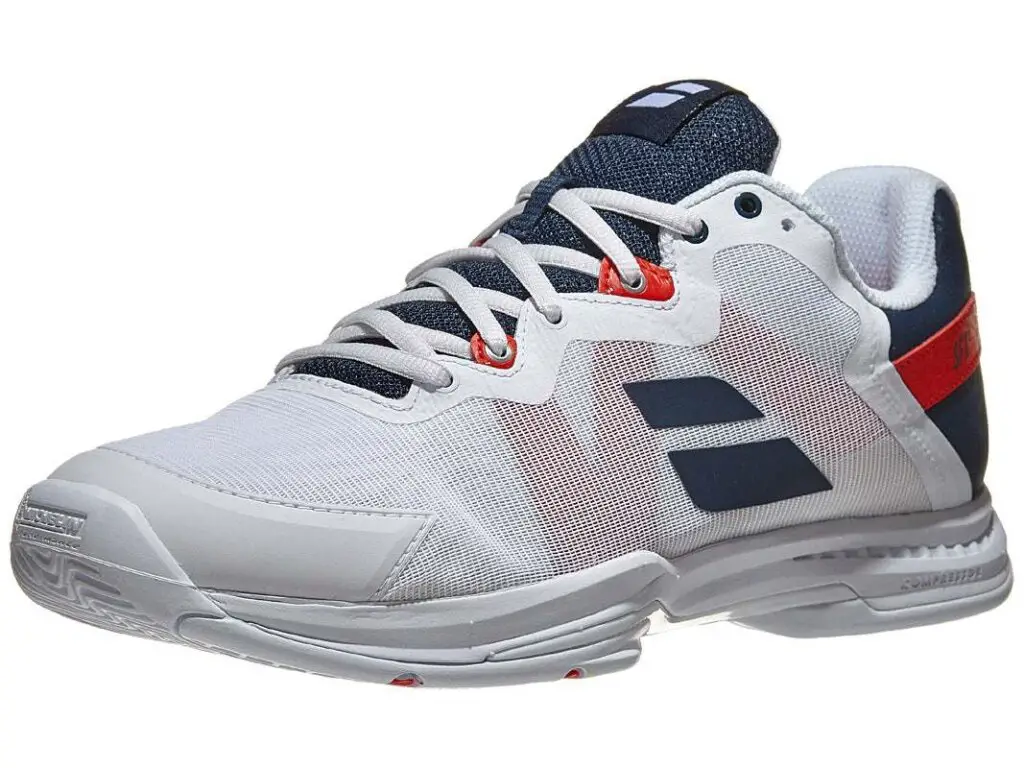 The moisture would easily leave the shoe and allow fresh air to come through the shoe.
You would really enjoy playing it in very hot conditions and intense matches.
In addition, one of the core features of this shoe is comfort. The use of the mesh material is going to provide you with incredible comfort on the court and even off the court.
And lastly with the upper is some TPU material which makes it durable. This way you don't have to wear the upper quickly when you slide on the court.
Toe Box and Ankle Support
Are you someone who likes to slide a lot or are you a toe dragger? If you are then this shoe has got you covered.
The toe box is made of a toe guard and it's extended to the side of the big toe area to provide you with excellent durability. Moreover, since this shoe is geared towards both medium and wide foot, the toe box area has a wide size to help you with your movement.
The ankle is going to provide you with excellent support and cushioning. However, if you have a narrow foot then you would not enjoy the full benefit of the ankle support.
If you have a narrow foot the best recommendation is to wear two pairs of socks to get at least some decent support and cushioning from the ankle area.
Heel Support
Next up is the heel area. It is an innovative heel system made with EVA cushioning and TPR which is filled with tubes inside of the rubber. When you are playing and your heel hit the ground, the shock is equally absorbed by the entire Kompressor System.
The energy is compressed evenly into each tube for maximum comfort and efficiency. Once the impact is finished the tubes would regain their original shape and restore the energy for an ultra-dynamic response.
And the great thing about the Kompressor system is how it's built to stay effective over time to guarantee consistent performance.
And lastly, your heels would stay in perfect lock position as you slide and move around the court. Not only is the position great but you would have good comfort and cushioning.
Lacing System and Tongue
The lacing system is very basic yet effective at gripping your feet. Let dissect the lacing system and see how Babolat made it. Firstly, the eyelets which are woven into the upper is going to make it last longer than usual.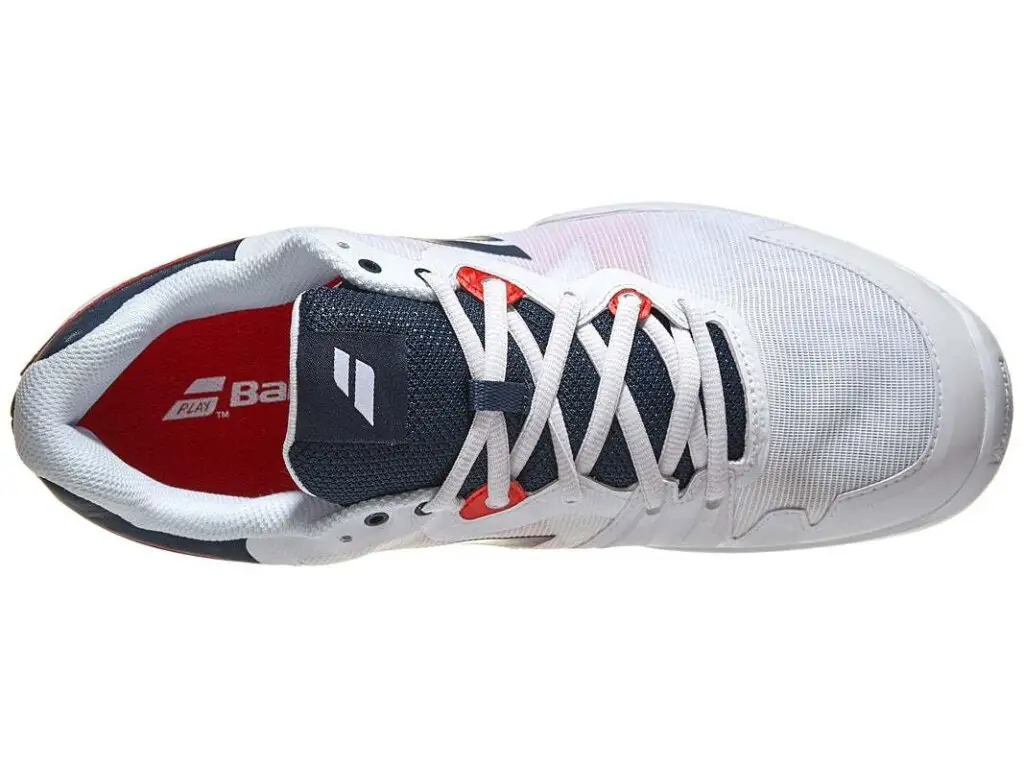 Secondly, some of the lacing holes are not eyelets but instead made of leather material.
Again making it more durable.
And lastly, the tongue has one round leather to lace through. This helps to keep the tongue very stable and prevent it from distracting you during the match.
Insole
Now let's talk about the insole and midsole. Babolat purposely made the insole with a lot of multi-layer ergo motion insole material.
This is going to provide you with excellent cushioning and comfort. Also, this makes the underfoot plush and joyful when playing in these shoes.
Outsole
Another great feature of the shoe is the outsole. It is made with a Michelin rubber which you are going to enjoy wearing because it's going to give you optimal traction and ground contact on all court surfaces.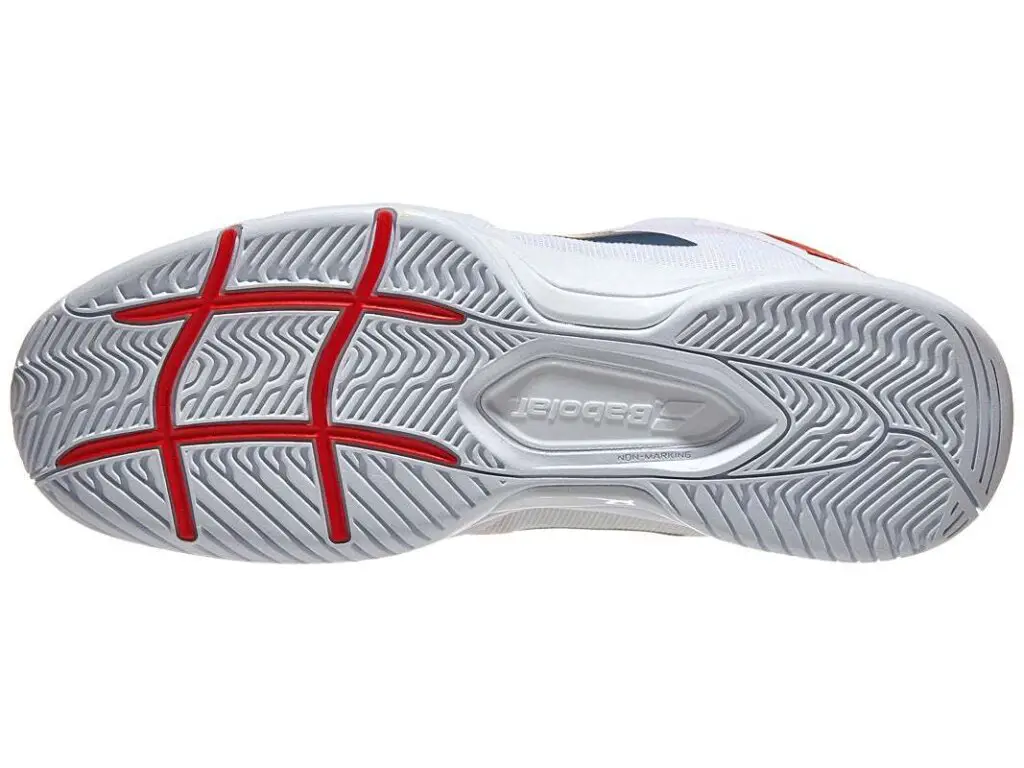 In addition, I would say the traction is on the sticky side which would provide you with more grip on the court.
Without a doubt, the outsole is one of the best durable soles on the market.
You are not going to notice any wear on the sole despite playing in it for long hours. This is a huge bonus for players who are very hard on their outsole.
Weight, Size and Fit
The weight of the shoe comes at 13.9 ounces with a size of 10.5. I would still classify this shoe as lightweight although it's mainly built around comfort and durability.
It may look bulky like the K-Swiss Hypercourt Supreme but you are going to enjoy the lightweight of the shoe and it would help you with your speed on the court.
This shoe comes in all sorts of sizes to choose from which is a great option to have but it's more suitable for players with a medium and wide foot.
In terms of fit, it's true to length and size. And the great thing about it is that it does not require any break-in period. This is nice to have as a player because your feet can adjust to the shoe quickly and start playing your style of tennis.
Colour Options
As nice as this shoe look, it comes with limited colour option to choose from. This can be disappointing for some players since they want a colour shoe that suits their tennis outfit. Hopefully, Babolat would release more colour options as the season progress or in the next version.
Price
This shoe is around the $100 price point. This is a great price point considering the amazing features that come with it. If you manage to take good care of it, it would serve you very well.
If you are someone who feels that this shoe is incredible expensive then I would recommend you check out Mizuno Wave Exceed Tour 3. These shoes are not expensive like the SFX3 and it comes with great features as well.
Conclusion
As this post about the SFX 3 comes to its conclusion, I hope you have enjoyed reading it and found it very useful and knowledgeable. As we can see Babolat took the criticisms and feedback seriously from the SFX 2 and made this version ten times better.
Overall, this shoe is going to provide you with excellent breathability, durability and good traction on all court surfaces. If you are a player that is looking for these features then you would like this shoe.
However, there are small weaknesses that need some improvement. It would be great if Babolat can improve stability and provide more colour options.
Apart from these weaknesses, I think it's a fantastic shoe for everyone with a wide foot and if comfort is your number one priority. I would conclude by saying that if you manage to pick this shoe up I wish you a lot of success in your future matches.