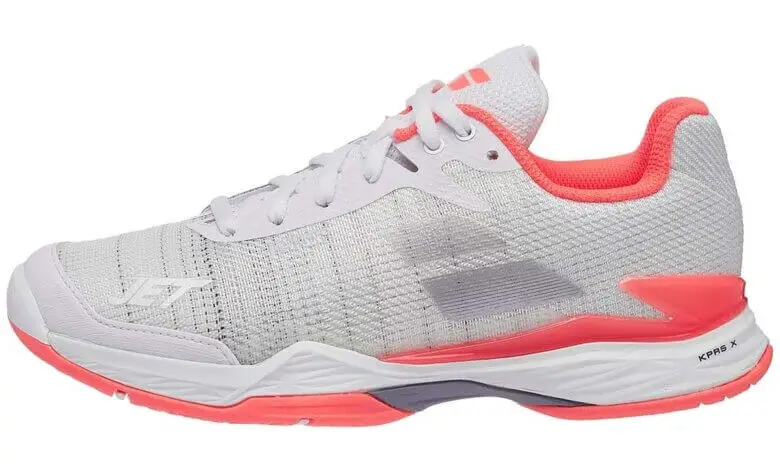 We're an affiliate
We hope you love the products we recommend! Just so you know, we may collect a share of sales or other compensation from the links on this page. Thank you if you use our links, we really appreciate it!
Product Overview
Comfort

Durability

Stability

Breathability

Weight

Fit and Size
Summary
The Babolat Jet Mach II is a shoe specifically designed for players that are looking for lightweight, stability and comfort. You would enjoy wearing this shoe and the lightweight of the shoe is going to improve your speed on the court. 
However, one of the biggest downside to this shoe is how it is difficult to find the perfect size for your feet. On top of that, it would be nice to see Babolat make some improvement with the ventilation. Overall, it's such a great shoe to have on the court. 
Pros
Lightweight
Nice comfort
Good cushioning
Stability
Cons
It's tricky to find your size
Not the best breathability on the market
Are you a tennis player looking for a super-lightweight tennis shoe and has good stability? If the answer is YES then you have arrived at the perfect place because I have got the right tennis shoe for you.
It is called the Babolat Jet Mach II which is getting a lot of traction on the market at the moment. Babolat is doing an amazing job at releasing some of the best tennis shoes on the market for the last few years.
In this post, I'm going to provide you with a thorough in-depth review of the Babolat Jet Mach II and how it can improve your game if you were to buy it. If you are excited and ready like me let's begin with the cosmetic of the shoe.
Design
Right out of the box, the design of the shoe looks good but I wouldn't say it's the best on the market when you compare it with other shoes such as the New Balance Fresh Foam Lav or Nike Air Zoom Vapor X Kyrie 5.
With that said it's still a fantastic shoe to wear on the court and even off the court such as wearing it to the gym due to the lightweight of the shoe.
If you are a player that is struggling with some confidence or lack of self-esteem then you should consider wearing this shoe onto the court. It may help you a lot.
Upper
Now let's take a closer look at the upper. The upper is made of one-piece Kevlar and Polyamide fibre. This combination of material is going to provide you with enhanced lateral stability on the court.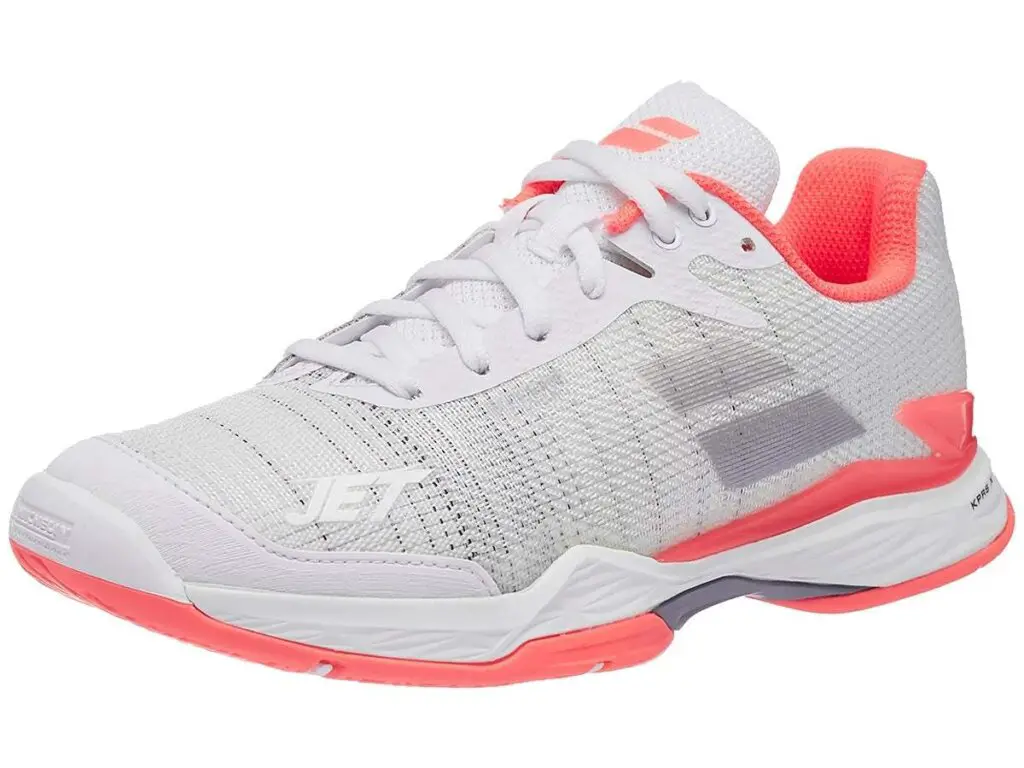 This is great to have as a player who slides and move aggressively on the court. Next, four straps of stiff mono threads are also included in the upper for a homogenous fit.
However, the ventilation and breathability of this shoe are not the best on the market.
After playing in it for a short period of time your feet are likely to get very hot and you would want to take it off straight after the match.
If you like a shoe that has good breathability then I would recommend the New Balance Fresh Foam Lav. You would enjoy the flow of fresh air coming into the shoe whiles the moisture leaving.
Ankle Collar and Medial Area
The ankle collar has this plastic feature that goes all the way to the lateral side. The purpose of this feature is to provide you with ankle and lateral stability. This is great to have as a player because it keeps your ankle and heel in a perfect position as you move around the court.
The medial area of the shoe has got reinforcement rubber which has got three looking mountain pieces. The function of this material is to allow the big toe joint to bend more regularly and with ease. Also, this feature provides you with good durability and stability without sacrificing weight.
This feature makes it perfect for players who are toe draggers and like to slide a lot on the court. This shoe would assure you that you move in a safe and stable manner without worning the side quickly.
Midsole
The midsole is made of EVA material. If you don't know what an EVA material is. It basically stands for Ethylene-vinyl Acetate which is going to provide you with stability and cushioning on the court.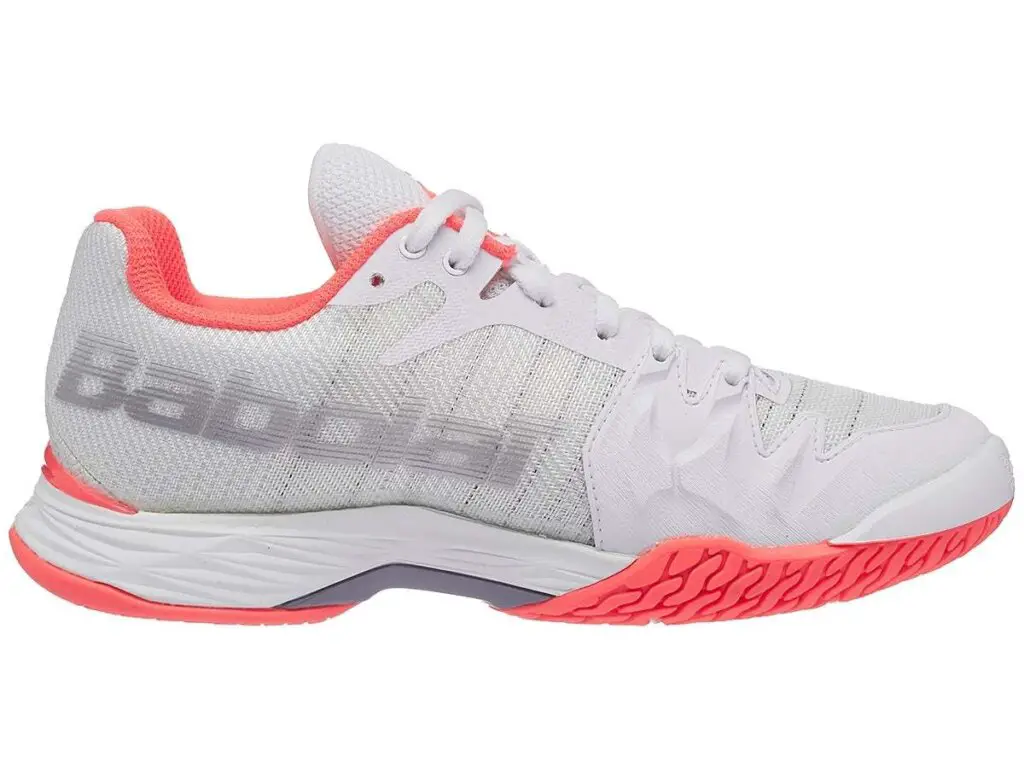 In addition, the shoe has a sharp lethally flinch which allows the shoe to stay very stable. This is good for your game because even if you lose balance you would still have good stability to rely on.
From my perspective, a shoe that is lightweight like this they couldn't have made the midsole any better to provide you with excellent comfort and performance. It tells you that Babolat has done an incredible job.
Lastly, if you are someone who is suffering from heel pain then you want to give this shoe a try because the EVA in the midsole would give you nice cushioning when coming down on impact.
Lacing System
The lacing system of this shoe is similar to the Mizuno Wave Exceed Tour 4. However, the lacing system for the Babolat Jet Mach II can be a little annoying because the laces would keep coming off when you are playing points after points.
On the other hand, the tongue has two leather holes connected to it. This allows you to lace through it and it's a good way to keep the tongue stable throughout the match. 
Outsole
The outsole of the shoe is made of Michelin rubber. This is going to provide you with excellent traction on the court and help you to transition in and out during rallies.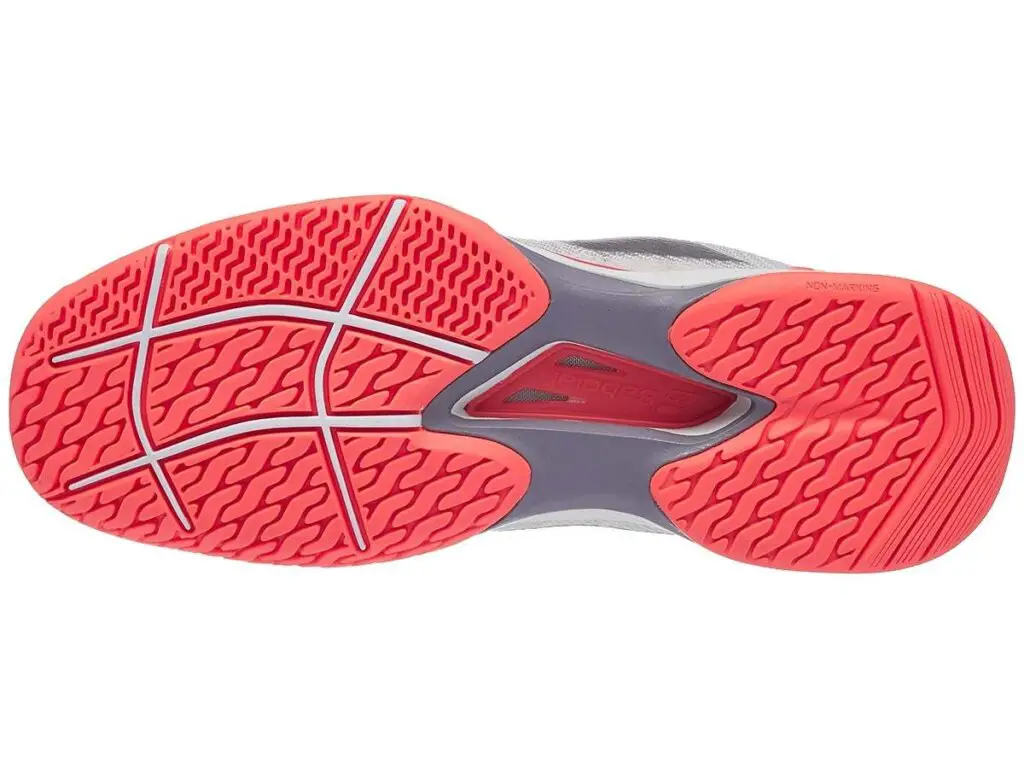 Also, it's important to be aware that this shoe comes in a clay version.
As a result, it's worth wearing the correct footwear on the type of surface you would be playing on so that you don't hurt yourself badly on the court.
In terms of the durability of this shoe, it's not going to be the best on the market due to the lightweight of the shoe.
Weight and Size
The weight of the shoe is 11.7 ounces with a size of 10.5.
As I have mentioned over the course of this post, this is an incredibly lightweight shoe. You are going to enjoy wearing it and it would improve your speed.
Unfortunately with the size, Babolat does not make any size bigger than size 10 in these jet series. Therefore if you are someone who wears size 10 and above then I wouldn't recommend this shoe.
You are going to experience a lot of discomfort and pain. I would recommend other shoes such as the Diadora Speed Blushield 4 AG.
Fit
Ideally, this shoe is more suitable for players who have a narrow and medium fit. On the other hand, it's not good for players who have ultra-wide and long toes.
In addition, the sizing of the shoe can be very tricky. It's worth trying different sizes to find the perfect one for your feet.
Colour Options
This shoe comes in a variety of colours to choose from. This is a nice option to have because you get to select which colour shoe you prefer and suit your tennis outfit.
Price
Without a doubt, this shoe is at the high pricing point. It's fairly expensive however the benefits you get from this shoe is remarkable when you think about it.
Conclusion
In conclusion, I hope you have enjoyed reading this post about the Babolat Jet Mach II and found it very useful. The shoe is going to provide you with excellent lightweight, comfort and cushioning.
However, there are some drawbacks to this shoe such as the sizing issues and breathability. It's worth Babolat taking a look at these issues and try to improve on them in the near feature. This would make the shoe a lot better and people would enjoy wearing them.
With that said, it's still a fantastic tennis shoe to add to your tennis shoe arsenal. It would help your game in many ways. I would end by saying if you manage to pick this shoe up, I wish you the very best in your future matches.