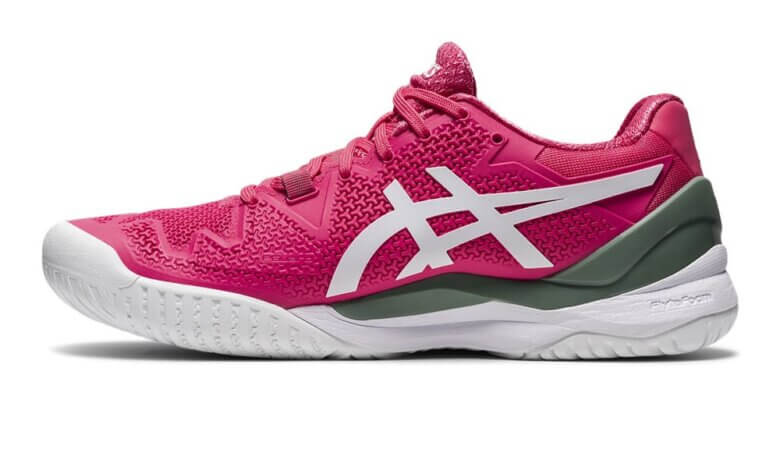 We're an affiliate
We hope you love the products we recommend! Just so you know, we may collect a share of sales or other compensation from the links on this page. Thank you if you use our links, we really appreciate it!
Product Overview
Comfort

Durability

Stability

Breathability

Weight

Fit and Size
Summary
Asics collaborated with Gael Monfils to make the amazing looking Gel-Resolution 8. This shoe is gaining a lot of popularity on the market and comes with a lot of positive feedback.
This shoe is going to provide you with excellent durability, stability, support, cushioning and the weight is perfect. It suits all foot size and it's going to improve your game a lot and help with your movement on both hard and clay courts. 
Pros
Very comfortable
Breathable
Good stability
Nice cushioning
Good support
Durable
Awesome design and many colour options to choose from
Cons
Asics continues to amaze tennis fans with their Gel-Resolution series. They continue to take tennis to the next level and do the impossible. Many players love the four, whiles others liked the six and seven.
Now the eight is out on the market and both fans and players 'love the shoe'. Everyone can find something useful to add to their game and play better on the court.
The shoe was made with a collaboration with the energetic and enthusiastic tennis player Gael Monfils. There are some features that Asics have included in the Gel Resolution 8 and made it an even better shoe. It's like taking a good shoe and making it even better.
In this post, I'm going to provide you with a thorough in-depth review of the Asics Gel-Resolution 8 and see whether it's worth the hype and money. Also, I would compare it with the Gel-Resolution 7 and see some of the differences. If you are ready let's begin with the design and cosmetic of the shoe.
Design
Right out of the box, my first impression was 'wow this is an awesome looking shoe' to wear on the court. Asics did a fantastic job with the colour selection and how they combined them to make the shoe look attractive.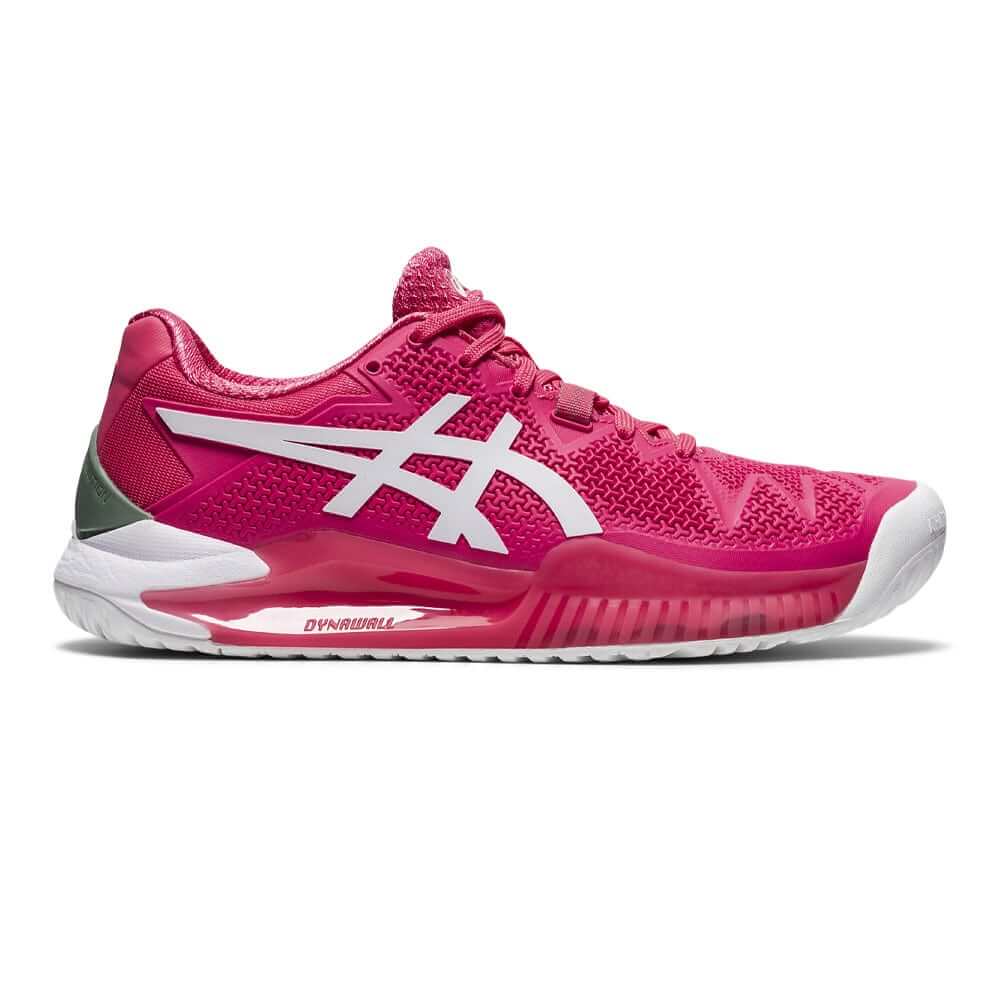 In terms of the design and cosmetic of the shoe, I would place it on the same wavelength with other tennis shoes such as the New Balance Fresh Foam Lav and Asics Solution Speed FF 2.
As someone who loves design and tennis outfit, if you were to ask me which one is my favourite colour for the Gel-8. I would say the men's white/blue version and the women's pink is spot on as well.
Also, if you are a player that has been struggling with confidence lately then wearing a nice colourful shoe like this one can boost you up.
Upper
The next area that we need to look at is the upper. It is made of full-length Flexion Fit Polyurethane which is going to improve protection. The use of no-sew PU construction helps to defend your feet (and shoes) through powerful lateral movements, without adding weight or compromising flexibility.
This is a fantastic feature to have because it allows you to slide smoothly and comfortably on the court without putting too much pressure on your feet.
In addition, the use of the mesh material is going to provide you with good breathability. This is because it allows fresh air to come inside the shoe and allow moisture to leave quickly. This way your feet stay fresh and comfortable throughout the match.
And lastly, the upper is incredibly durable. If you are a player that is very hard on their upper and like to slid a lot on the court then you would enjoy wearing this shoe. Once again Asics did not fail to deliver an awesome performing upper.
Toe Box and Heel Support
The toe box is wrapped up with a PGuard material which is going to provide you with durability and protection from toe drag.
The heel is well constructed by Asics. It comes with overlays unite with an external heel counter to ensure that your heels get locked down in perfect position. This is fantastic because it helps to improve your stability whiles at the same time reducing in-shoe slippage.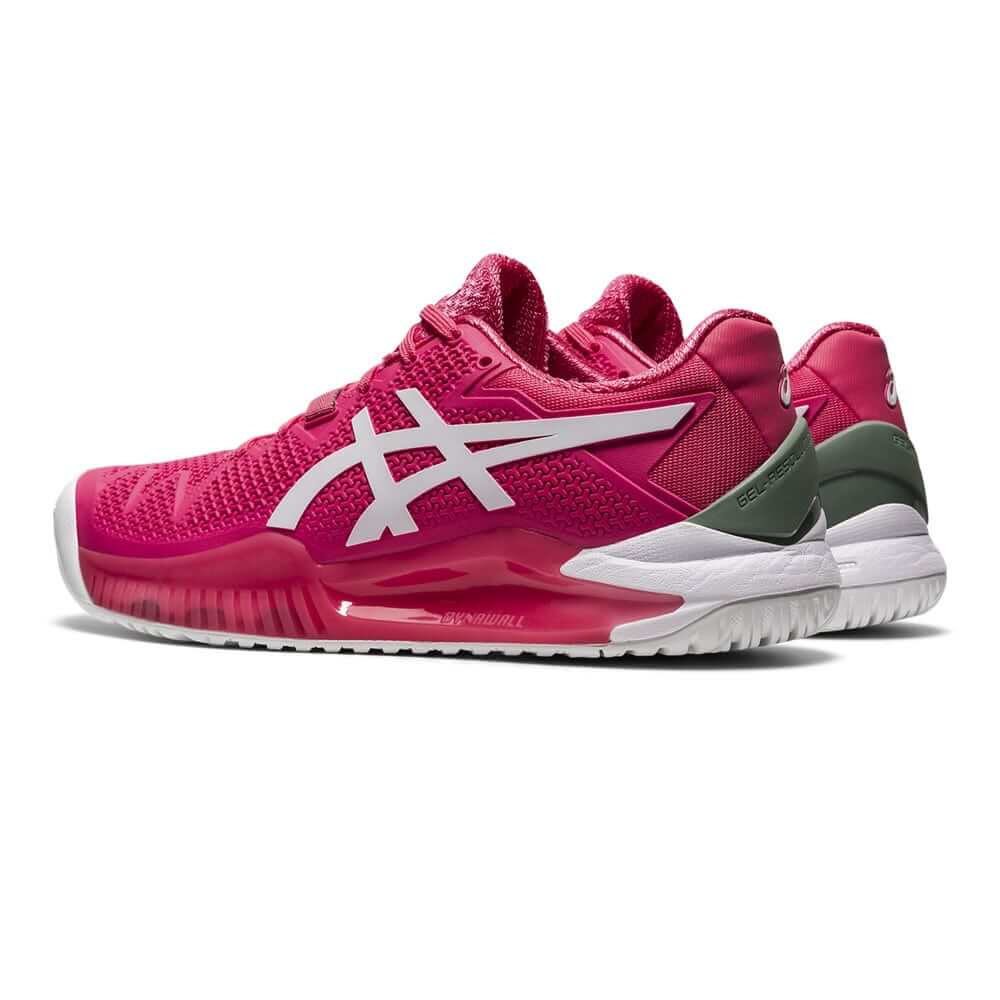 Furthermore, there are two layers of memory foam line in the heel collar which does a great job at moulding to your foot and making it suit you perfectly.
Also, the use of contoured cradle would provide you with extra stability when leading harshly on the court or during cross-lateral movements.
This is such a nice feature to have in that area of the shoe because it helps to reduce the risk of an ankle injury.
And lastly, is the use of Dynawall technology. Again, it would improve your stability whiles you move across the court as well as coast-to-coast coverage.
Lacing System and Tongue
The way the Asics made the lacing system is very interesting but it's not peculiar like the Adidas Stycon. The Asics Gel-Resolution 8 comes with a shoelace garage which is connected to the tongue to give you a snug and glove-like fit when you lace the shoe.
This is an awesome feature to have in the lacing system because you don't have to sacrifice width. Moreover, the shoe comes with extra lacing holes for more grip and support.
And lastly, is the tongue. It is an anti-gravel tongue which does a great job by clearing away debris so that you can enjoy distraction-free exercise. This way you can focus more on the game and play effectively.
Midsole
The shoe comes with ortholite sockliner which lies atop on the midsole to provide you with an extra layer of plush and hygienic step-in comfort. This is great for your feet, especially on high-intensity days.
This is because the product is enriched with antimicrobial properties plus moisture-management and a high level of breathability.
Moreover, SpEVA resides in the midsole to supply lightweight cushioning and comfort. This is a lot better than the usual EVA material. Next are the Rearfoot and Forefoot Gel Cushioning Systems which are embedded within the midsole area.
These materials do a good job at effectively absorbing shock and protects your feet from high-impact stricks when leading hard on unforgiving court surfaces.
Also, the use of the Dynamic Duomax Support System is implemented on the medial side and positioned specifically to help control pronation. Therefore, providing you with stability and support without sacrificing lightweight or comfort.
Outsole
Now let's take a closer look at the outsole. Firstly, the Trusstic System is stretched out under the arch to increase stability and help with your movement on the court.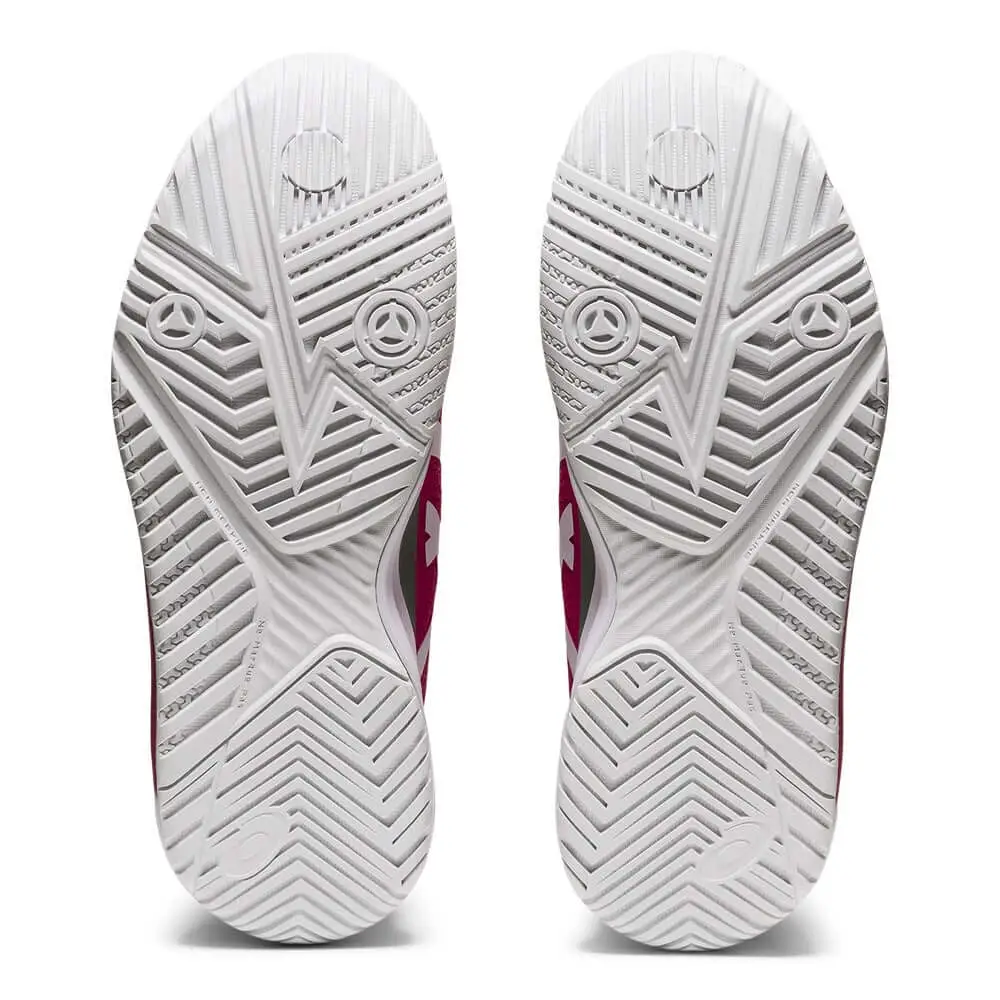 Also, it reinforces the middle part of the sole, stopping it from twisting excessively and therefore diminishing the risk of the inward/outward rolling that might cause injury.
Secondly, the outsole is made of AHAR+ which features pivot points to accommodate quick transitions plus supplies non-marking grip for indoor and outdoor fun. This makes it great to use on both hard and clay courts surfaces.
And thirdly, the outsole comes with a six months outsole durability guarantee. This is icing on the cake after how amazing the outsole is constructed.
Weight, Size and Fit
The Gel Resolution 8 weighs slightly heavy than the Gel 7 however, the way the weight is distributed across the shoe is spot on. This would allow you to be very quick on the court.
Unlike the Babolat Jet Mach II that has a limited size, this shoe comes with all sorts of sizes for you to select from.
In terms of fit, some players may experience some break-in period whiles others may not. On top of that, the shoe is suitable for all players either you have a narrow, medium or wide foot.
Colour Options
This shoe comes with a lot of colour options. This is a bonus to have because you have the choice to select which shoe colour that suits your tennis outfit.
Comparing the 7 vs 8
There are some differences between the 7 and 8. Firstly, the 8 has Dynamo lateral technology when compared to the 7. This would give you a massive advantage in the game in terms of stability and support.
Another major difference is the upper. The Gel 7 has an anti-gravel upper which encase each foot in durable comfort and support. Whiles the Gel 8 has got flexion fit upper. 
As I said earlier, this provides you with excellent breathability and give you a snug fit. If you really want to know more about the difference between the 7 and 8 then make sure to read the full review.
Price
This shoe comes around $135 which is normal for a great performing shoe. I think this shoe is worth the price because it comes with amazing features that can improve your game in many ways.
If you are someone who feels that this shoe is incredible expensive then I would recommend you check out NikeCourt Lite 2 or Mizuno Wave Exceed Tour 3. These shoes are not expensive like the Gel-Resolution 8 and it comes with great features as well.
Final Thoughts!!
As this post comes to its conclusion about the in-depth review of the Asics Gel-Resolution 8, I hope you have really enjoyed it and found it useful. It's very clear that Asics has done a fantastic job and taken a good shoe and made it even better.
As I have mentioned earlier in this post, this shoe is going to provide you with excellent stability, comfort, cushioning, durability and comes with a nice looking design. 
This shoe is well made that I can't even find something to criticise about. I hope Asics continue with this high-standard of making quality shoes for the tennis community.
If you want me to review any tennis shoes in the future, leave me a comment below so that I put them on my to-do list. With that said, I would end by saying that if you manage to pick this shoe up I wish you a lot of success in your future matches.