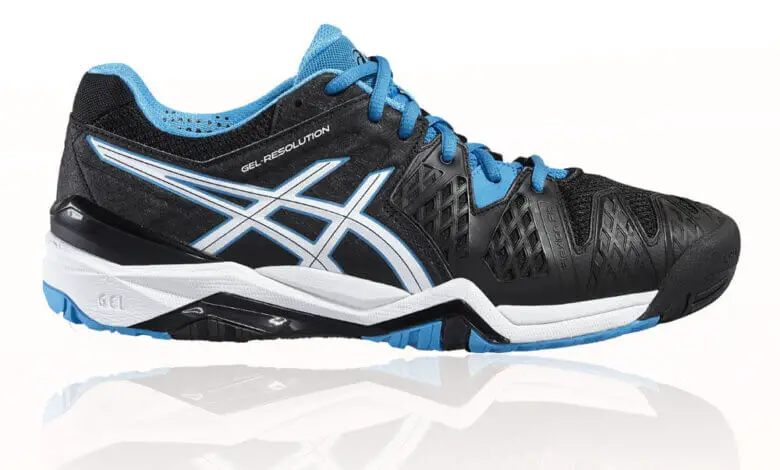 We're an affiliate
We hope you love the products we recommend! Just so you know, we may collect a share of sales or other compensation from the links on this page. Thank you if you use our links, we really appreciate it!
Product Overview
Comfort

Durability

Stability

Breathability

Weight

Fit and Size
Summary
The Asics Gel-Resolution 6 is specifically designed for the serious player who wants to take their game to the next level. Asics did an incredible job with this shoe because it's going to provide you with excellent comfort, durability, good traction, nice cushioning and support. 
It's well made that I couldn't find any negative thing to comment on and it comes with a lot of positive reviews from people who have already worn it. You would truly enjoy wearing this shoe and find it very useful for your game.  
Pros
Durable
Excellent comfort
Nice stability and support
Good traction
Breathable
Cons
The Asics Gel-Resolution series has become one of the few shoes that both fans and players look forward to at every season.
It always comes with incredible features that would take your game to the next level. And guess what the Asics Gel-Resolution 6 didn't fail to disappoint either.
In fact, Asics made it even better compared to the previous versions. With its sixth iteration, Asics has made the shoe an exceptional performing shoe for the serious tennis player.
In this post, I'm going to provide you with a thorough review of the Asics Gel-Resolution 6 and how it can benefit your game. If you are ready let's begin with the design and cosmetic of the shoe.
Design
Right out of the box, the Gel-Resolution 6 looks nice but I wouldn't say it's the best design I have seen from Asics.
As good as it looks I wouldn't put it on the same level as other Asics tennis shoes such as Asics Gel-Resolution 8 and Asics Solution Speed FF 2. Both the Gel-Resolution 8 and FF2 looks sleek, awesome and attractive compared to the Gel-Resolution 6.
Despite the Gel-Resolution 6 not the best design from Asics, it's still a nice looking shoe to wear both on and off the court.
If you are a player that is lacking some confidence and self-esteem recently on the court due to poor performance then one way to uplift your mood is wearing this shoe on the court. It can be a big turning point for you and your game. It's worth the shot.
Upper
Now let's take a closer look at the upper. It is stitched around with an EVA material or canvas if you prefer and directly attached to the midsole. This is going to help with your movement on the court and provide you with nice cushioning.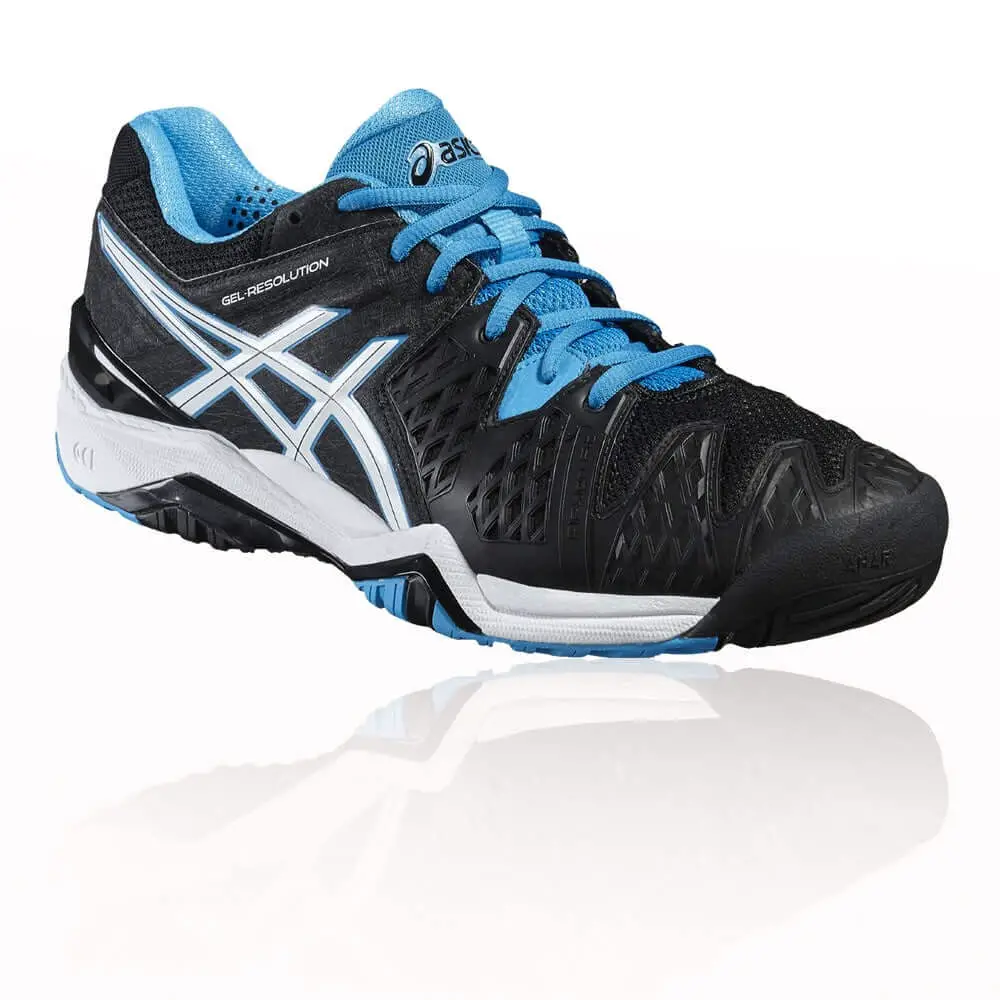 Also, the use of flexion Fit Vamp is an upper technology which would provide you with good stability and comfort. 
This is awesome to have because it would allow you to be comfortable on the court and slide with ease.
On top of that, the use of the mesh material makes the shoe very breathable. This is fantastic because the material would allow the moisture to leave the shoe quickly and allow fresh air to come inside. This way your feet stay fresh and comfortable throughout the whole match.
And lastly, the upper is durable. This is great for players who like to slide on the court very often or are aggressive on their moves.
Toe Box, Arch and Heel Support
Are you a toe dragger or someone who likes to slide a lot? If you are then this shoe has got you covered.
The toe box is made of PGuard material which is attached to the forefoot area to provide you with excellent durability and protection on the court.
When it comes to the arch support of the shoe Asics did an incredible job. Due to how this shoe is built around with a very solid chassis design, the arch is going to provide you with excellent support and limit your chances of you experiencing any strain on your arches.
And lastly is the heel support. This shoe comes with a personalized heel fit which is two layers of memory foam that line the collar and mould to your heels and create a personalized fit. This is a nice feature to have because it protects your heels and helps with your movement.
Lacing System and Tongue
The lacing system is very basic but very effective at keeping your feet stable and comfortable during the match. Firstly, the lacing structure has got extra holes for you to use if you need more grip and stability.
Secondly, the tongue has got a leather hole on top of the tongue. This is to keep the tongue stable during the match and stop it from distracting you. And thirdly, the round eyelets which are woven into the upper material makes it durable.
And lastly is the tongue. It is made of an anti gravel material which is a special tongue construction that prevents debris from entering the shoe.
Midsole
Next is the midsole of the shoe. The use of the Impact Guidance System (I.G.S) helps to enhance the foot's natural gait from heel-strike to toe-off. Again this makes your movement on the court easier and smooth.
In addition, both the Rearfoot and Forefoot Gel Cushioning System Attenuates shock during impact and toe-off phases. This is really awesome to have because it allows movement in multiple planes as the foot transitions through the gait cycle.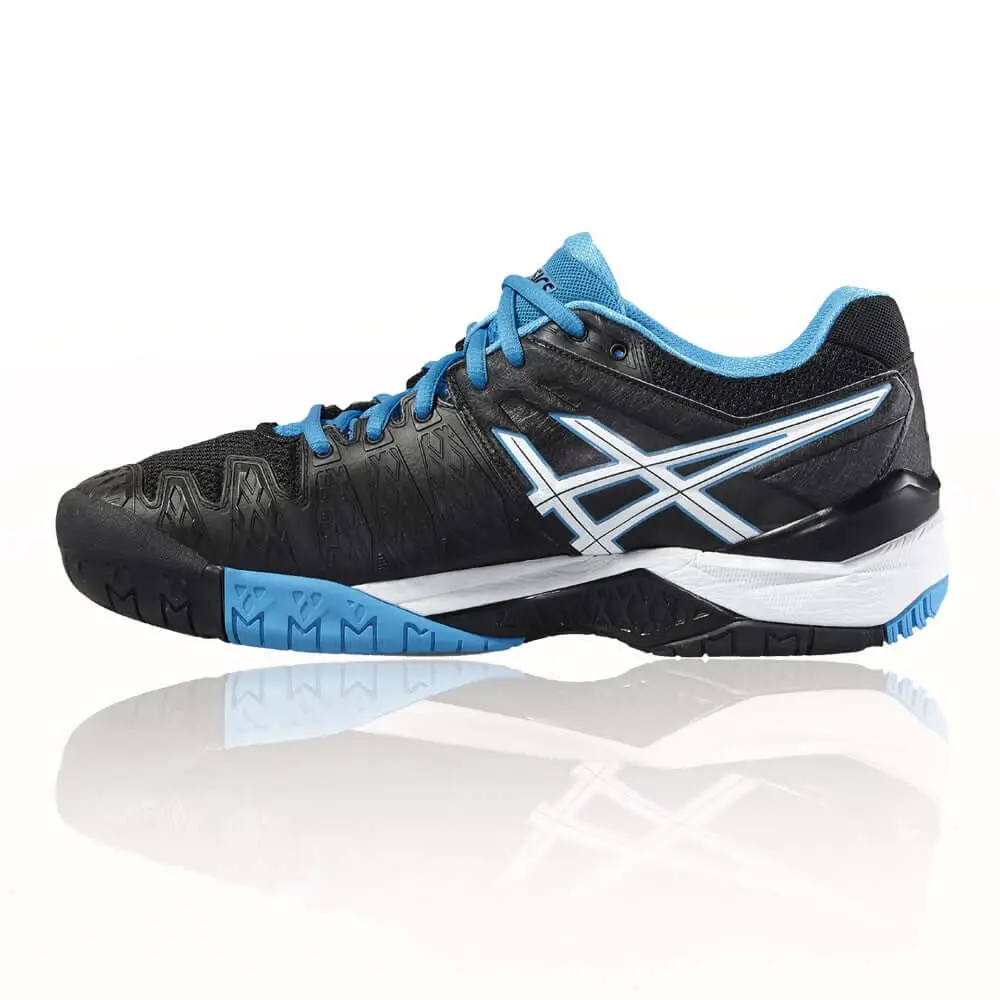 Furthermore, the Solyte Midsole material makes the midsole light compared with the Standard EVA and SpEVA.
This would really improve your speed on the court and at the same time provide you with nice cushioning.
Adding onto what has already been said, the Speva midsole material improves bounce-back characteristics and decreases midsole breakdown.
And lastly, the use of the Dynamic Duomax Support System is implemented on the medial side and positioned specifically to help control pronation. Therefore, providing you with stability and support without sacrificing lightweight or comfort.
Insole
The Asics Gel-Resolution 6 comes with a removable EVA sock liner which does a good job at moulding to the shape of your foot and provides you with cushioning performance. On top of that, you can remove it to accommodate a medical orthotic or even replace it with your own if it doesn't suit you.
Outsole
Another key strength of this shoe is the outsole. It has a Trusstic System which does very well at reducing the weight of the sole unit while at the same time retaining the structural integrity of the shoe.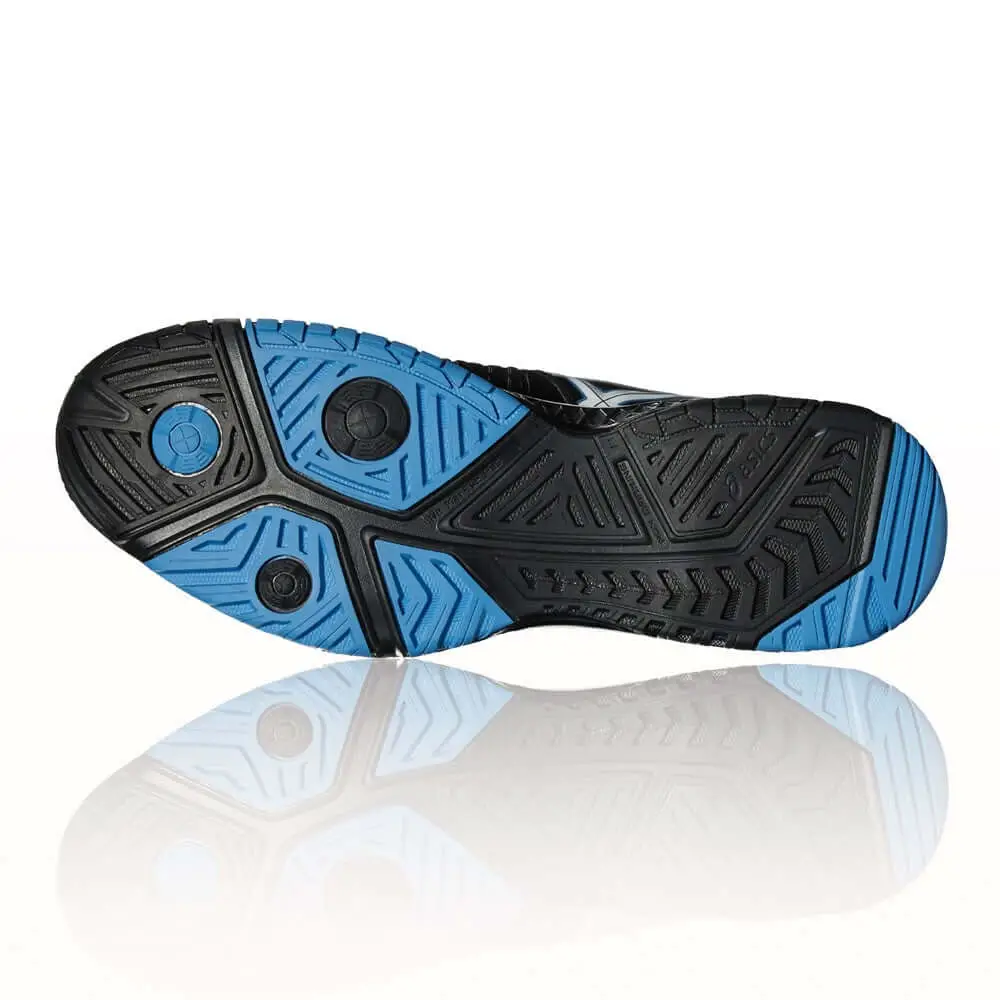 This helps with your speed on the court and provides you with good traction on all court surfaces.
Secondly, it is made of AHAR+ which features pivot points to accommodate quick transitions plus supplies non-marking grip for indoor and outdoor fun.
On top of that, it enhances cushioning, durability and rides to the foot. And lastly, the outsole is backed up by a six months outsole durability guarantee. This is a big bonus to have after how well the outsole is made.
Weight, Size and Fit
The weight of the shoe may not be one of the lightweight tennis shoes on the market when you compare it with other shoes such as Babolat Jet Tere and KSwiss Aero Knit. But it would not have any negative impact on your game. In fact, you wouldn't even notice the effect when playing on the court.
Unlike the Babolat Jet Mach II that has a limited size, this shoe comes with all sorts of sizes for you to select from.
In terms of fit, this shoe does not require any break-in period which is fantastic because you are ready to go as soon as you wear the shoe. Moreover, it's suitable for all players either you have a narrow, medium or wide foot.
Colour Options
This shoe comes with a lot of colour options. This is a bonus to have because you have the choice to select which shoe colour that suits your tennis outfit.
Price
The last point to talk about is the price of the shoe. The shoes come under $100 which is a fantastic price point when you compare it to the amazing features this shoe offers and how it can improve your game.
Final Thoughts!!
In conclusion, the release of the Asics Gel-Resolution 6 did not fail to disappoint and we can see that Asics keeps getting better at making these series for the serious player.
Overall, this shoe is going to provide you with good breathability, durability, stability and comfort. It's well made that it's difficult for me to find something negative to say about it. You would surely enjoy this high-performing shoe and it would take your game to the next level.
If you want me to review any tennis shoes in the future, leave me a comment below so that I put them on my to-do list. With that said, I would end by saying that if you manage to pick this shoe up I wish you a lot of success in your future matches.