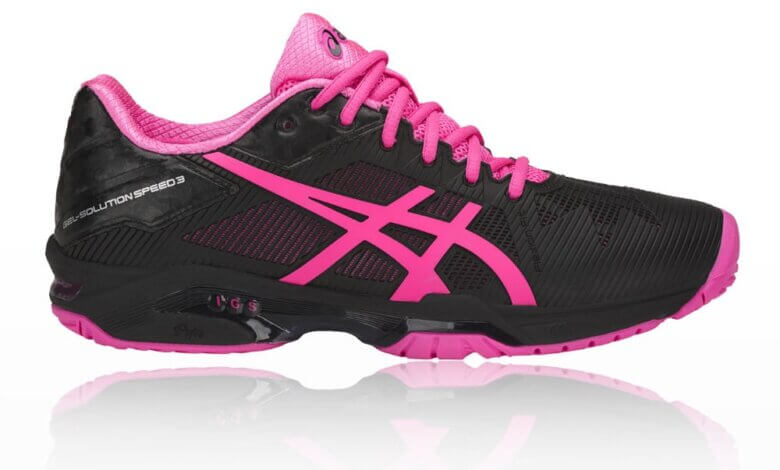 We're an affiliate
We hope you love the products we recommend! Just so you know, we may collect a share of sales or other compensation from the links on this page. Thank you if you use our links, we really appreciate it!
Product Overview
Comfort

Durability

Stability

Breathability

Weight

Fit and Size
Summary
A third version of the Asics Gel Solution comes with new updates that are going to provide you with excellent durability, stability, comfort and lightweight.
As amazing this shoe is, there are many areas that need improvement such as the breathability and it's not suitable for a wide foot. Apart from that, it's a world-class performing shoe and it comes with a lot of positive reviews. 
Pros
Lightweight
Glove-like fit
Nice comfort
Good traction
Durability
Cons
Not suitable for wide foot
Breathability needs improvement
The previous versions of the Asics Gel Solution were a big hit on the market. Both fans and players really enjoyed the amazing features that came along with it.
The third version of the Gel Solution Speed comes with new updates which have made the shoe even better than the previous version. If you are someone that really liked the previous version then you would really love this version.
In this post, I'm going to provide you with a thorough review of the Asics Gel Solution Speed 3 and the new updates that comes with it. If you are ready and excited like me then let's start with the design and cosmetic of the shoe.
Design
Right out of the box, I would say the shoe looks great and spot on. The colours that Asics selected and used are good looking.
If you were to ask me what is my favourite colour for this shoe, I would say the men's blue and red with the gold colour on it. The women's red/silver/white is awesome looking as well.
I would put the shoe design and cosmetic on the same level as other tennis shoes such as Asics Gel Challenger 12 and Asics Gel Resolution 7. If you are someone who loves fashion and nice looking shoes then you would enjoy wearing this shoe on the court.
Upper
The upper of the shoe is made of flexion fit which does a great job at encasing your feet in a comfortable feel without sacrificing too much support.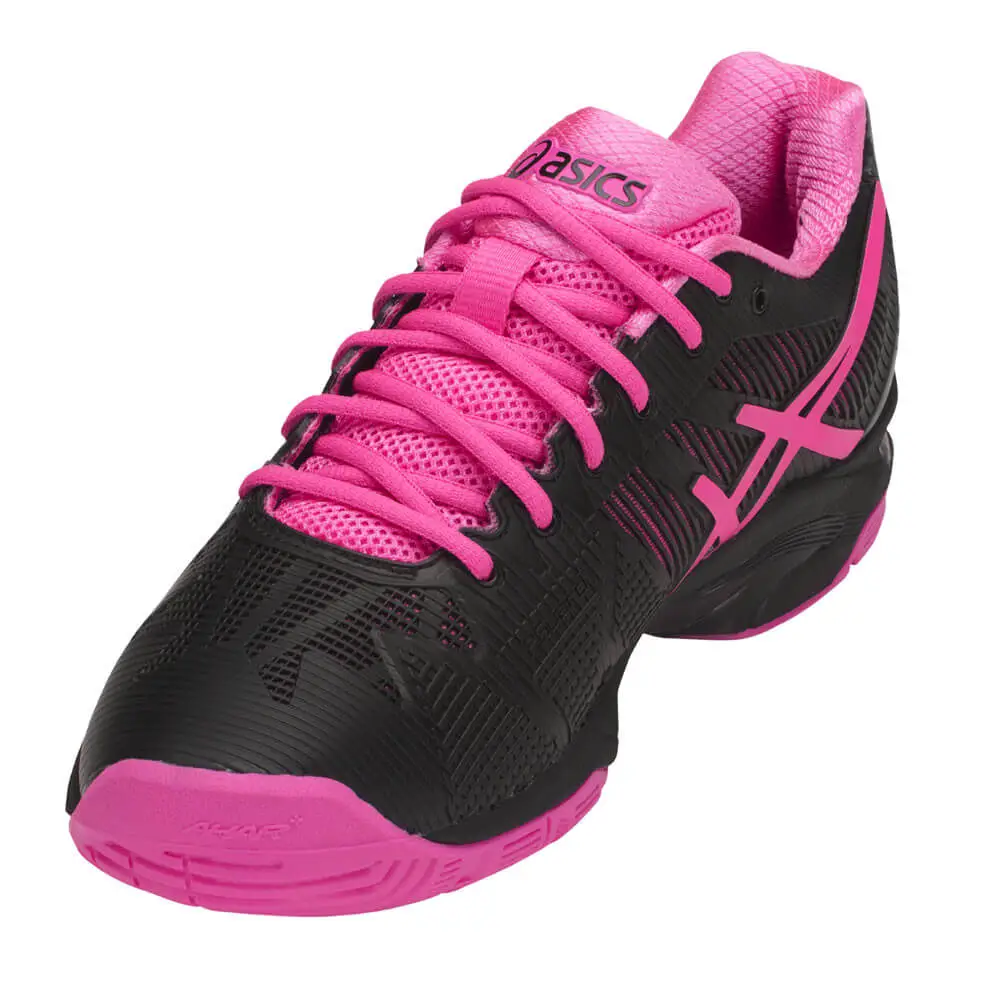 This is a fantastic feature to have in a tennis game that is full of intensity and power. This is because you would be able to move with confidence and maintain your balance on the court.
In addition, the seamless PU construction is used in the upper for an irritation-free fit. This prevents you from experiencing any rubbing because it can ruin your game.
The only drawback to the upper is how the breathability is not that great when compared to the last version.
If you are someone that breathability is one of your top priority then I would recommend that you check out Diadora Speed Blushield 4 AG. This is a great shoe with excellent breathability at bringing fresh air into the shoe and allowing moisture to leave quickly.
Toe Box, Ankle and Heel Collar
Are you a player that likes to drag their toes or like to slide a lot? If you are then this shoe has got you covered. The toe box is made of PGuard which does a great job at wrapping your toes for enhanced durability and protection.
The ankle area is also nicely made to provide you with enough support, cushioning and comfort when you wear it. Again, it would help with your movement and sliding on court.
And lastly is the heel collar. It is made of two layers of memory foam line which does a good job at moulding to your foot for a comfortable fit.
Moreover, the contoured cradle does a great job of offering you stability during harsh and cross-lateral movements. Whiles at the same time minimising in-shoe slippage for a firm fit and reduced risk of an ankle injury.
Lacing System and Tongue
There is nothing peculiar with the lacing system when you compare it with other tennis shoes like the Adidas Stycon. It has similar features to the Mizuno Wave Impulse.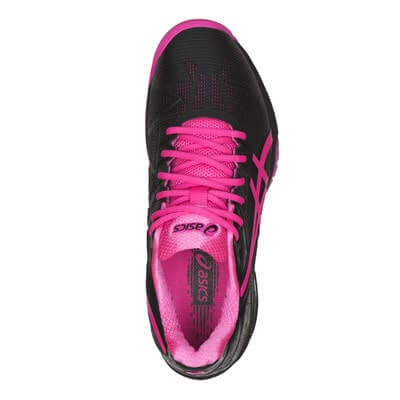 Firstly, the shoe has got extra lacing holes for more grip and stability on the court.
On top of that, the round eyelets are connected to the upper material to help it last very long.
Secondly, the tongue is connected to the lacing system with the help of the leather material.
This stops the tongue from moving and distracting you as you move around the court. And lastly, the tongue is a nice padded feel that is going to provide you with comfort and cushioning.
Midsole
Next up is the midsole. There weren't many changes when it comes to the midsole compared to the previous version. The Solyte midsole which resides underfoot does a great job at providing you with lightweight cushioning whiles keeping you feathery on your feet and nimble on the courts.
On top of that, underneath the Solyte platform and complimenting its supple nature, are the rearfoot and forefoot GEL Cushioning Systems.
The purpose of this technology is to reduce shock during the impact phases your experience in the game such as sparing your joints as you volley and lob.
Also, it helps you with smooth transitions and movements during your multiple planes in the game. And lastly, you are going to enjoy the durability of the midsole.
Insole and Outsole
The insole of the shoe is well made to provide you with cushioning and comfort when you wear it.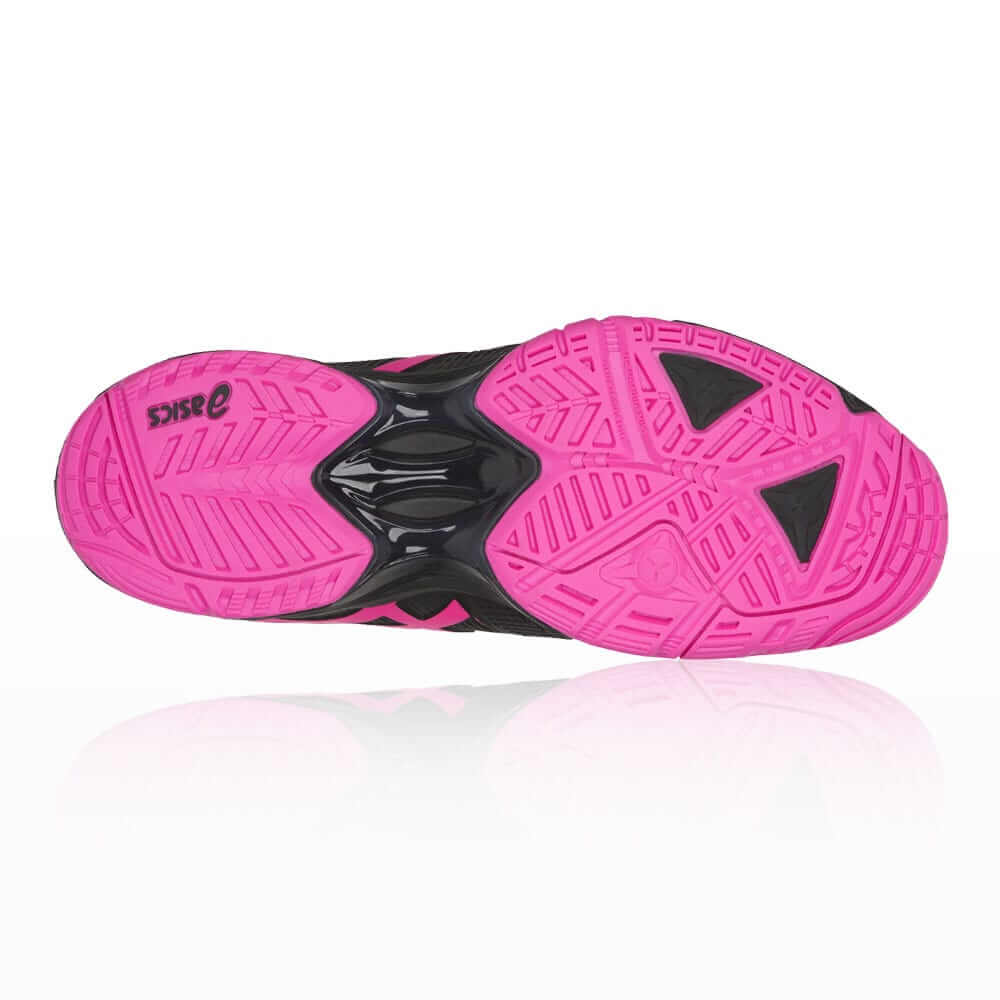 The outsole of the shoe is made of AHAR which stands for Asics High Abrasion Resistant rubber.
Asics purposely placed the AHAR material in a high-stress area which is going to provide you with excellent grip without compromising the shoe's durability.
Moreover, the use of Lateral Propulsion Trusstic System is used to provide you with increase responsive on the court and help you to maintain your control during intense and fast play.
In addition, the re-developed plastic shank mimics the foot's connective tissue to provide you with outstanding stability, good traction and a spring in your step on the court.
Weight, Size and Fit
Without a doubt, the weight of the shoe is one of the key strengths of the shoe. The men version weighs 385g whiles the women version weighs 320g.
This is incredibly lightweight and it would improve your speed on the court a lot. You never tend to see a shoe that is durable, comfortable, fast and at the same time durable. This tells you that Asics did a very good job.
Unlike the Babolat Jet Mach II that has a limited size, this shoe comes with all sorts of sizes for you to select from.
However, the fit of the shoe is more suitable for players with a narrow and medium foot. If you have a wide foot and want a great shoe then I recommend that you read this post. You would find it very useful.
Colour Options
Another drawback to the Asics Gel Solution Speed 3 is the lack of colour options to choose from when you compared it with the Asics Gel Resolution 8 which has many colours to select from.
Having more colour options makes it fun because you get to select which colour suits your tennis outfit and it can boost your confidence.
Price
The last point that is worth talking about is the cost of the shoe. It comes under $100 which is a fantastic price range to have when you consider how amazing these features are and how it can improve your game.
Final Thoughts!!
As this post comes to its conclusion, I hope you have found the in-depth review of the Asics Gel Solution Speed 3 very useful and knowledgeable. It's clear that the Solution Speed 3 has been updated with a lot of features and made even better.
You are going to really enjoy the durability, stability, comfort and high performing of this shoe. However, there are some areas that need some improvements such as the breathability and is not suitable for a wide foot.
Overall the strengths of the shoe completely outweigh the weaknesses which makes it a world-class performing shoe. If you manage to pick this shoe up I wish you the very best with your future matches.