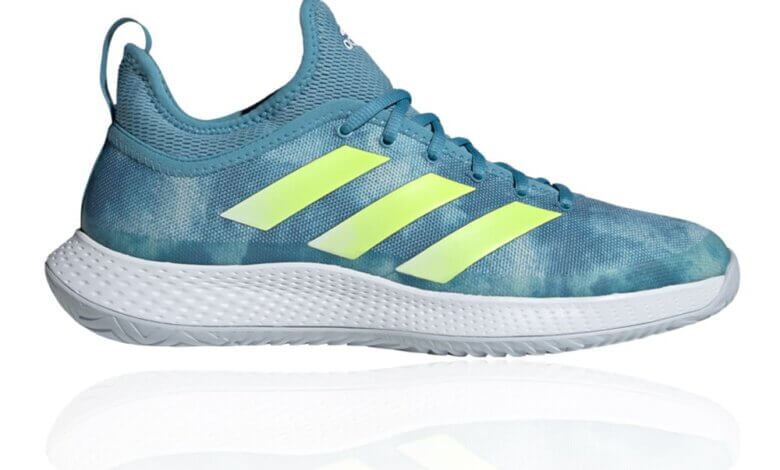 We're an affiliate
We hope you love the products we recommend! Just so you know, we may collect a share of sales or other compensation from the links on this page. Thank you if you use our links, we really appreciate it!
Product Overview
Comfort

Durability

Stability

Breathability

Weight

Fit and Size
Summary
The Adidas Defiant Generation comes with a street-style looking shoe that you can wear both on and off the court. Also, the comfort of the shoe is great and you would enjoy the traction on both hard and clay courts. 
However, the outsole durability needs some improvement if it's want to compete with some of the best selling shoes of all time like the Barricade series. Overall, it's such a great looking shoe to have on the court. 
Pros
The design looks amazing
More colour options to choose from
Lightweight
Great traction
Nice comfort
Cons
Needs improvement on the outsole durability
Over the last few years, Adidas released the Defiant Bounce which became very successful. Both players and fans enjoyed wearing that shoe. Adidas followed the shoe with the Defiant Generation.
The Defiant Generation looks very similar to the Bounce but it's different in many ways. You could say the Generation is the step-up version of the Bounce.
The Generation at its core is going to provide you with good comfort, lightweight and stability. Let's dive deep to find out more.
Design
Right out of the box, the cosmetic of the shoe looks spectacular and attractive. The colours Adidas selected are amazing and looks clean.
When I look at the shoe it reminds me of other tennis shoes such as the Air Max Wildcard. Also, the design and colour option makes the shoe look like a street-style. This makes it great to wear both on and off the court.
And lastly, wearing such a brilliant tennis shoe on the court could really help boost your confidence and self-esteem.
Upper
Now let's talk about the upper. The upper is made of breathable mesh which is going to provide you with comfort, stability and maximum cooling.
Excellent breathability means sweat and moisture would be able to leave the shoe quickly and allow fresh air to come inside. This way your feet stay fresh, cool and dry throughout the match.
However, the only drawback to the upper is how it starts to stretch out when you play with it. It would be great if Adidas can fix this issue in their next edition because it can be a little annoying.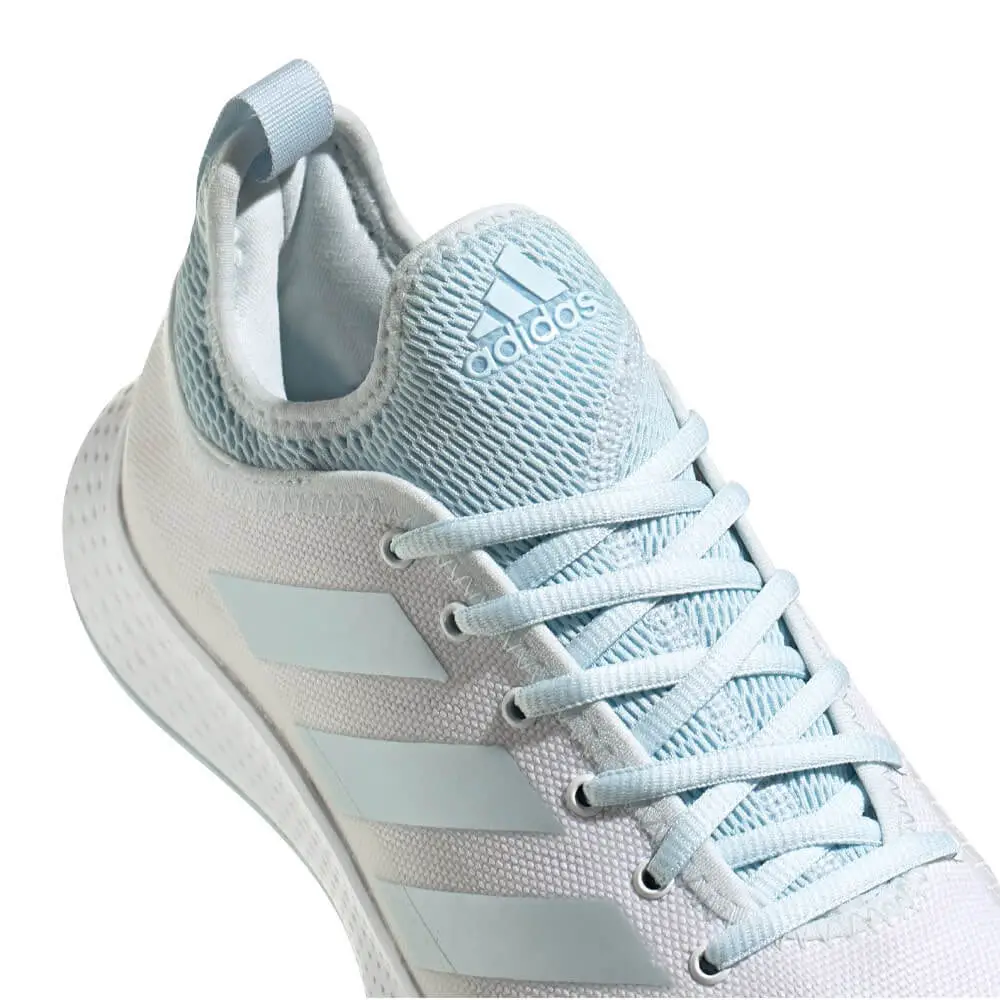 Lacing System and Tongue
Unlike the Adidas Stycon that has a laceless structure, this shoe has a simple lacing system.
It makes it easy to lace and it's going to keep your mid-foot stable and secure.
Moreover, it makes it easy to put your feet inside the shoe without any struggle. And lastly, the tongue is connected to the inside of the shoe. This is great because it's going to give you a snug fit.
Toe Box and Ankle Collar
A TPU is included in the upper to bring you support and durability. Also, the ADITUFF is used for abrasion-resistant which does a great job at wrapping your toe and medial forefoot to protect you against foot drag that occurs during serves, volleys and extreme lateral movements.
In addition, there is a seamless bootie construction that helps to deliver a better fit and comfort. Also, when you put your feet inside of the shoe you are going to notice a plush cushioning feel around the ankle. This is going to give you a smooth feeling and make your ankle comfortable.
Outsole
The outsole is not going to be the most durable shoe on the market, however, the herringbone tread pattern is going to provide you with excellent traction on both hard and clay courts.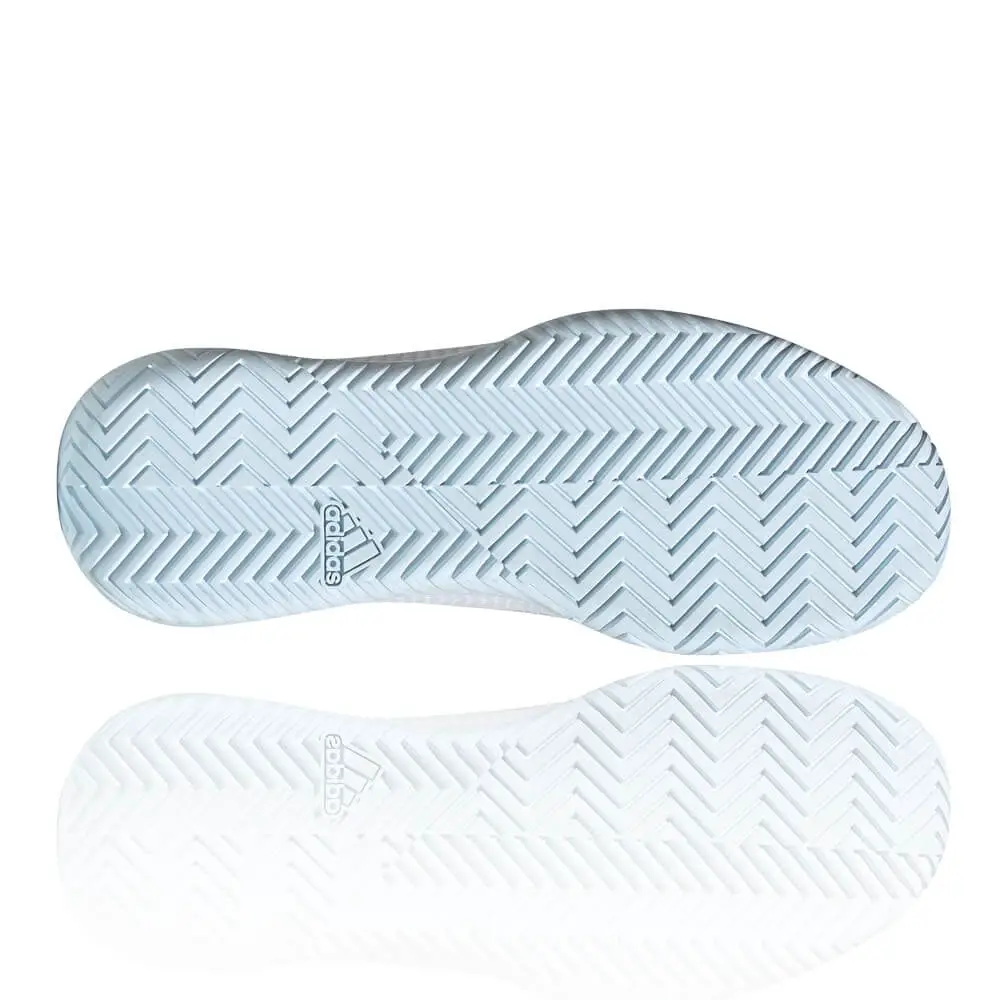 In addition, the ADIWEAR outsole would provide you with nice stability on the court which would allow you to move freely and comfortable on the court.
This is great because it's going to allow you to hit great winners and powerful shots.
Colour Options
Another great thing about the Adidas Defiant Generation is how it comes in many different colour options. They have green, white, red and others.
This is a fantastic option to have unlike other shoes such as the Air Max Volley that has limited colour options. Having more colour options is great because it gives you the opportunity to select which design you prefer and suit your tennis outfit.
Midsole
Adidas did a great job with the midsole. It is made of bounce technology which is going to provide you with all-day cushioning, flexibility and comfort.
This is going to really help you with your game because the bounce technology would allow you to move around the court with freedom and panache.
Size and Fit
Unlike the Babolat Jet Mach II that has a limited size, this shoe comes with all sorts of sizes for you to select from.
This shoe can fit all sizes either you have a narrow, medium or wide foot. You would really enjoy wearing this shoe because of the snug fit and comfort.
On top of that, this shoe does not require any break-in period which is nice to have because your foot can adapt to the shoe quickly and start playing your style of game.
Price
On average the price point for this shoe is just over $100. This is a great price point for most players and the features it has is going to take your game to the next level.
If you are a player that thinks that this shoe is very expensive then you want to check out the Nike Lite 2. This shoe is incredibly cheap and you would also enjoy the awesome benefits it comes with it.
Weight
Coming at a weight of 402 grams with a size of 44.5. This shoe is lightweight which is great for your game because it would help you with your speed on the court. I'm pretty confident that you would really enjoy wearing this lightweight and cosmetic shoe.
Conclusion
In conclusion, I hope you have enjoyed reading the Adidas Defiant Generation and found it very informing. As you can see this shoe is great for players who want some technology on their shoes but are not going to be very hard on their outsole.
Adidas did a great job with the design, colour options, midsole and the fit of the shoe. However, some of the areas that Adidas needs to work on includes the durability of the outsole.
Overall, it such an amazing tennis shoe to have in your arsenal going forward. I would end by saying that if you manage to pick this shoe up, I wish you a lot of success in your future matches.