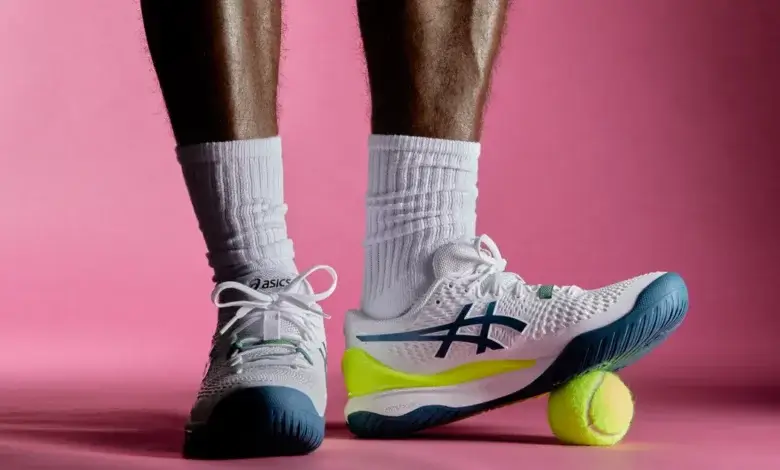 We're an affiliate
We hope you love the products we recommend! Just so you know, we may collect a share of sales or other compensation from the links on this page. Thank you if you use our links, we really appreciate it!
If you have wide feet and want to play effortless Tennis then don't worry because you are not the only one who wants this! There are many people who look for comfortable shoes for wide feet so that they can focus better on their matches. 
The purpose of wide Tennis shoes is to adapt to the player's feet successfully and provide them with perfect traction and grip for safe and soft landings. So if you are searching for the best men's wide Tennis shoes for yourself, then don't look further because we are going to review them for you in this post! Let's take a quick look at them and break the suspense! 
7 Best Men's Wide Tennis Shoes:
Here we discuss the best wide tennis shoes for men in 2023.
The K-Swiss Ultra Shot Three is one of the best sellers from the company. K-Swiss also offers you some of their remarkable wide Tennis shoes to meet your needs on all counts. Therefore, wide-footed Tennis players often feel comfortable picking K-Swiss for its exceptional range of Tennis shoes for wide feet. 
Features: 
These are versatile shoes and also never let you down with consistent performance on different Tennis courts. 

Players rely on these shoes because they are easy to wear and don't complicate things for you at all. 

The company has infused Surge 7.0 technology to reciprocate the maximum energy to the player while they play Tennis. 

The highlight is the outsole which is important for its durable nature. 

These shoes also come with a durability guarantee of 6 months which makes them more reliable for usage. 
pros&Cons
Pros
Prove to be better to rough usage
Remarkable lateral support
Cons
Not available in many colors 

Might be problematic in the beginning
The next shoe to review is the Fila Speedserve which has attracted numerous Tennis players because of their outstanding performance. These can be your perfect fit if you have wide feet and provide you with ultimate durability in the long run. These are also considerable for increasing your pace while you are on the court. Let's discuss their features below!
Features: 
The sock liner is completely breathable to keep your feet dry from sweat on a hot sunny day in the court. 

The considerable amount of cushioning in the front and heel of these shoes is perfect for comfort and better shock absorption.

The overall shoe structure is stable which keeps you from twisting your feet and reduces the chances of possible mishaps as well. 

The herringbone structure makes this pair versatile to perform effectively on clay courts. 
pros&Cons
Pros
Excellent rebounds when needed 

Flexible structure for better foot shape adaptation

Durable nature for enduring damage in the long run
Cons
Can slow you down due to weight

Upper mesh can feel a little hard and uncomfortable 
You cannot ignore these special K-Swiss Hypercourt Express 2 shoes if you have wide feet. You can even try out other models available from K-Swiss as its siblings come with promising results when it comes to playing Tennis and having wide feet. The company focuses the comfort for the players so that there will be fewer chances of foot fatigue and exhaustion at the same time. The features of this pair that can make your jaw drop are many!
Features: 
These are lightweight which means they won't slow you down thus you can make swift movements with them easily. 

It is important to note that these might not be as durable as other siblings but still, these can be exceptional to withstand possible environmental damage easily. 

People with wide feet will find these shoes handy because of their impressive low arch structure. 
pros&Cons
Pros
Highly comfortable for playing Tennis

Provide better protection from mishaps

Better stability for rigorous physical movements
Cons
Might not be as breathable as compared to other K-Swiss shoes

Color choices are not much for the users 
You have a New Balance 806 for wide feet to consider. There is no doubt that these shoes have been successful in attracting a decent clientele over the years due to their remarkable specs. Over the years, these shoes have undergone different upgrades that make them irresistible to try for wide-footed players. Let's see them below!
Features: 
These shoes are considerable for their remarkable cushioning for the wide-footed Tennis players.

Also, these come with full grain leather upper to give the design a former New Balance 806 feel. 

These are special 4E versions which means almost all wide-footed players can use these shoes without compromising their comfort. 

These can still disappoint in the areas of design and flexibility.

Their weight is also average which empowers the players to make swift movements while on the court. 
pros&Cons
Pros
Stable structure for harmless performance 

Durable shoes for enduring harmful environmental damage 

Great traction for complete foot support for the players 
Cons
Colors options are not much 

Might not be fully lightweight for some players

Don't come with any technologies to support special foot conditions 
Babolat is a complete package when it comes to Tennis. From racquets to shoes, you can rely on Babolat for its sport-grade Tennis shoes for wide-footed male players. Due to this reason, Babolat SFX3 has been able to receive positive feedback from the Tennis players over the years and we are not surprised to see why!
Features: 
These shoes are comfortable to provide cushioning to the wide-footed players on the courts. 

The overall shoe structure is durable so that the users can avail of its advantages in the long run without hustling to replace them. 

These are also affordable and due to this reason, many wide-footed Tennis players find these shoes accessible without even disturbing their budget at all. 

One of the highlights of these shoes is the Michelin rubber outsole which protects the shoes from abrasion. 

Also, the TPU mesh is there to add to the strength of the shoes. 
pros&Cons
Pros
Perfectly durable for rough usage 

Increase the comfort for playing extensive Tennis

Perfectly spaced toe box for easy feet adjustment 
Cons
Does not come with a 6-month guarantee

Not many color options are available 
When it comes to aiming for wide Tennis shoes for men, we cannot miss out on the Adidas Barricade Classic Wide. If you are an Adidas fan, then there is no doubt that you will love the performance of these special shoes on all counts. Below are the features that make these shoes worth a try!
Features: 
These are completely durable for playing rough Tennis due to their sturdy structure. However, some players might find these disappointing in this regard since older Barricades are more durable than this model.

In terms of cushioning, these shoes are exceptional and provide you with a plushy impact and rebounds that you often need while playing Tennis. 

These are perfect for wide feet because of a sufficient toe box area that does not lock the feet at all. 

The versatile nature of these shoes empowers you to wear them on clay and hard courts and expect the same performance from them. 
pros&Cons
Pros
Gives a traditional Barricade feel

Different widths available for wide-footed players
Cons
Slightly heavier than former models

Mostly available in basic colors only
Grab The Shoes With Perfect Width Or Regret Later!
In this last section, we are going to see why you really need to rely on appropriate width when it comes to men's wide Tennis shoes! 
Perfect width will allow you to play Tennis with utmost comfort and support.
In case your shoes are too wide for you then your feet can easily undergo blisters because of excessive sliding inside the shoes. 
In case your shoes are too tight then these will restrict the foot movements and you will not be able to play Tennis easily by making comfortable movements. 
You can seamlessly enhance your performance on the court if you have the right-width Tennis shoes.
Perfect shoes are also crucial for safe, confident, and ergonomic reliance when it comes to playing Tennis. 
Parting Words 
So these are our top picks for the best men's wide Tennis shoes for today! You can easily evaluate these options based on their features, pros, and cons to see which will suit your requirements completely. Also, since these all are wide Tennis shoe options, you need to find out more about them to avoid any complications.