We're an affiliate
We hope you love the products we recommend! Just so you know, we may collect a share of sales or other compensation from the links on this page. Thank you if you use our links, we really appreciate it!
Product Overview
Comfort

Durability

Stability

Breathability

Weight

Fit and Size
Summary
The K-Swiss Hypercourt Supreme is getting a lot of praises on the market with its amazing features such as comfort, support and durability.  If you like K-Swiss tennis shoe then you would love this new edition added to the K-Swiss line of tennis shoes. 
The only criticisms of this shoe are that it's not suitable for players who have narrow feet. And it's not the best breathability shoe on the market. Apart from that, they ticked all boxes that make a great tennis shoe on court. 
Pros
Good stability
Lightweight
Excellent comfort
Nice looking design
Durability
Cons
Not suitable for players with narrow feet
Not the best breathability shoe on the market
K-Swiss has added a new tennis shoe to their line of incredible tennis shoes over the years. The new shoe is called K-Swiss Hypercourt Supreme and it's gaining popularity on the market with its amazing features.
K-Swiss collaborated with ATP Pro Marcos Giron to improve on the previous version and make this a fantastic tennis shoe.
The core of this update is to provide all tennis players including professional support, stability and durability. While at the same time keeping the comfort and lightweight feel of the Express.
If you are excited about this shoe and you are a big fan of K-Swiss tennis shoe then you want to check this shoe out. If you are ready let's start with the design of the shoe.
Design
Right out of the box the cosmetic of the shoe looks simple and amazing. The colours K-Swiss used are great looking and simple at the same time. If you know me you know I love the design of tennis shoes and how the designers made it.
Personally speaking the men's dark blue and red is my favourite. The cosmetic is very eye-catching and walking onto the court with that kind of shoe is going to boost your confidence and self-esteem.
Upper
The upper of the shoe is covered with DuraWrap flex. A lot of you may be thinking what the heck is that? Let me help you out.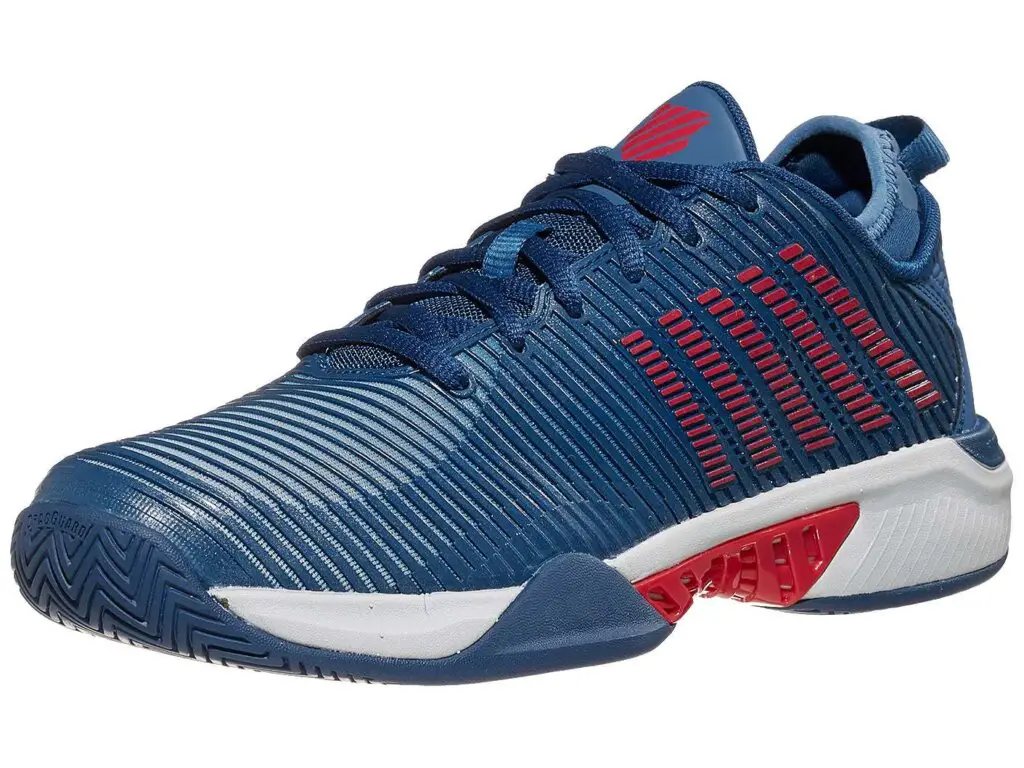 The DuraWrap flex is a material made by K-Swiss to provide you with an extra line of defence against toe dragging.
Also, Durawrap is usually light, flexible and provides you with protection.
As you can now see the use of the DuraWrap flex is going to provide you with premium support whiles keeping a flexible feel for quick sprints.
The only downside to the upper is that it's not the best breathable tennis shoe on the market. If you are looking for excellent breathable shoes then you want to check out shoes such as Adidas Ubersonic 4 and Adidas SoleMatch Bounce.
Toe Box and Heel Area
The toe box area is going to fit your feet perfectly if you have a wide foot. However, if you have a narrow foot there might be an extra room in the toe area.
Also, when you look closely at the toe box you can see that the outsole material is covering the toe box. This is going to make the toe box durable and protect your foot from getting an injury.
There is a leather attached to the heel area to make it easy to put your feet inside of the shoe easily and quickly. This is very useful for players who always struggle when wearing their tennis shoes.
Midsole
Now let's take a closer look at the midsole. The midsole is made of CMEVA Midsole. Again some of you are thinking what the heck?
Basically, CMEVA stands for Compression Moulded EVA foam which does a great job at providing you with support and stability. If you are curious and want to learn more about EVA midsole and properties make sure to read this full article.
Furthermore, this helps to reduce the amount of weight that your knees and lower body will be subject to. This whole process reduces fatigue and the risk of injuries from occurring.
Lacing System and Tongue
Unlike other tennis shoes such as Adidas Stycon that has laceless tennis shoes. This shoe is made of lace closure which is going to allow you to lace your shoes quickly and effectively. Also, there are extra eyelets that you can use to secure and keep your feet and ankle even more stable.
Outsole
If you are a player that is very aggressive on their outsole, then I have good news for you. The Hypercourt Supreme outsole is made of Aosta 7 rubber material which is going to provide you with excellent durability.
Even if you play for long hours you wouldn't see much different on the outsole wear. In terms of traction, I would place it more on the grippy side.
This is not going to slow your game down and you are going to have a good grip on the court.
This is good news because you would be able to move quickly and aggressively on the court without any issues. Also, you can make quick turns and jump without putting too much pressure on your feet.
Colour Options
As of now, there are not many colour options for this shoe. The women have pink and light blue. Whiles the men have black and dark blue/red.
It would be great to see K-Swiss bring in more colour options as the season progress. This gives players more options to choose from and select the perfect colour that suits their tennis outfit.
Weight and Size
Coming at a weight of 10.8 ounces with a size of 8.5. This shoe is definitely on the lightweight category.
As I have said many times in my previous post, having a lightweight tennis shoe like this one is going to help you with your speed and move around the court easily. Moreover, the use of the bootie construction is going to add to the feel of the speed and make it feel lighter.
The size of the shoe is more suitable for players who have wider feet. If you are a player that has a narrow foot and want to try different shoes instead of the KSwiss Hypercourt Supreme, then I highly recommend that you check out some of the best tennis shoes for narrow feet. You would definitely find it very useful.
Price
Overall the shoe is around the $100 mark which can be a little expensive for some players. However, if you consider the amazing features that the shoe brings then it's worth the price.
If you feel that the $100 price point is still expensive for you then I recommend that you check out these articles that are below $100 and even under $55.
Final Thoughts!!
As this post comes to its conclusion about the KSwiss Hypercourt Supreme, I hope you have found it very useful and knowledgeable. It's pretty clear that KSwiss did a great job to maintain some of the amazing features from the previous version.
Also, they have made this version even better by making it more lightweight, stable and comfortable to wear. Just as there are many positives to this shoe there are also some negatives.
For example, this shoe is more suitable for wider feet which prevent players with narrow feet from wearing it.
With that said it's still a fantastic tennis shoe to wear and add to your tennis shoe collection. I would end by saying if you manage to pick this shoe up, I wish you a lot of success in your future matches.