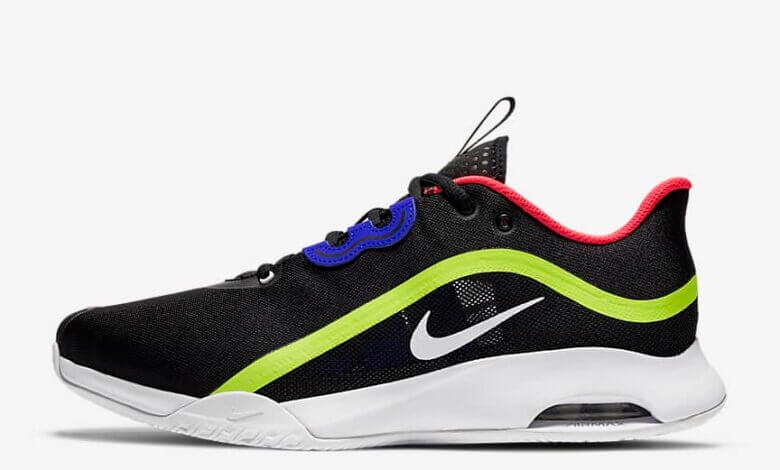 We're an affiliate
We hope you love the products we recommend! Just so you know, we may collect a share of sales or other compensation from the links on this page. Thank you if you use our links, we really appreciate it!
Product Overview
Comfort

Durability

Stability

Breathability

Weight

Fit and Size
Summary
The Nike Court Air Max Volley is gaining a lot of traction and success on the market with its incredible features. This shoe is similar to the Nike GP Turbo in many ways but there are still some differences to it. This shoe is going to provide you with support, traction and other features.  
However, this shoe is not going to be best comfortable on the market and it's not suitable for players with wide feet. Apart from these criticisms, this shoe is full of praise and the ratings sum up everything. 
Pros
Good support
Good traction
Speedy shoe
Great looking shoe
Cons
Not suitable for players with wide feet
Not the best comfortable shoe on the market
Are you someone who is looking for a tennis shoe that can either improve your speed and support? Or are you someone who loves Nike tennis shoes? If your answer is YES to any of the above questions then you have arrived at the right place.
Nike released a new tennis shoe at the end of 2020 which they described as having 'speed and support' at its core.
This shoe is gaining a lot of traction on the market at the moment and the questions that most players want to know is can it compete with other Nike's tennis shoes such as the GP Turbo and Vapor Cage 4.
This post is going to give you a thorough review of this shoe and help you decide if it's worth your money. With that said let's dive straight into it starting with the design.
Design
The design and the way this shoe is constructed is spot-on and it looks similar to the GP Turbo. For example, one of the colour options is a mixture of different colours.
Also, the design has a street-style to it which makes it perfect to wear on and off the court with a pair of jeans. Lastly, having such a wonderful attractive shoe on the court helps to boost your confidence and self-esteem. I would give Nike a 10 out of 10 for this one because they did their homework very well.
Upper
Now let's take a closer look at the upper. Straight away when you look at the upper, you notice that both the lateral and medial sides are made of mesh material. This makes both side fragile and it does lack some reinforcement.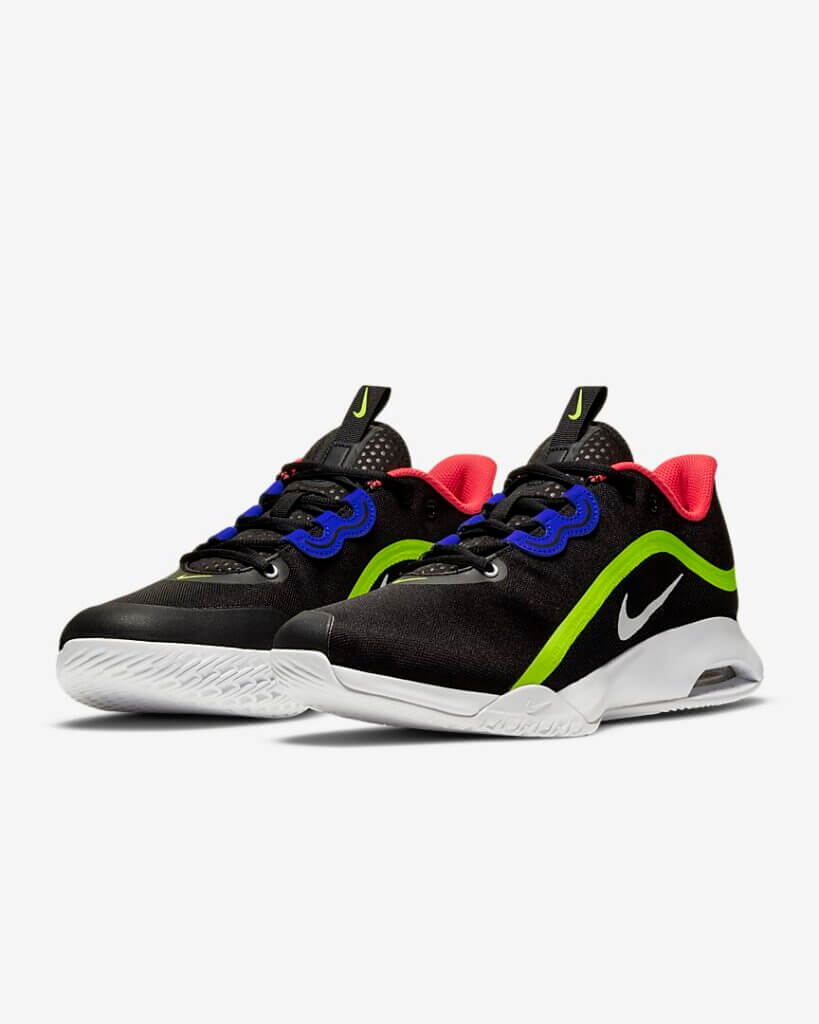 In addition, there is only one strip of material around the lateral and medial sides.
This is not very good news for aggressive movers because it lacks support and stability as you slide, turn and run up and down the court.
However, the overall upper is made of nylons material which is going to provide you with decent comfort. But it's not super comfortable and plush like the Vapors and GP Turbos.
Lacing System and Tongue
What Nike did really well was how they made an amazing adaptive lacing system. This idea was borrowed from the GP Turbo. The lacing system is really going to give you a secure fit on your midfoot.
Furthermore, the tongue has Air Max volleys inside them which is going to provide you with a plush and comfortable feel. This is awesome to have on the court because you are assured that your midfoot is going to stay stable when playing rallies.
Heel Area
When you look at the section of the heel you would notice that it has a high heel counter. This is very useful because it's going to prevent you from getting heel slippage.
Moreover, Nike did another great job with the heel area by including two foam pods on the right and left. This is around your Achilles tendon which is going to pull your heels even more and keep them stable throughout the match. This is super useful if you are a player suffering from any Achilles tendon issues.
Midsole
The midsole is very interesting in terms of how it is made. The midsole looks a little bulky than the normal Nike's tennis shoes. Also, the midsole is not very responsive as you would think.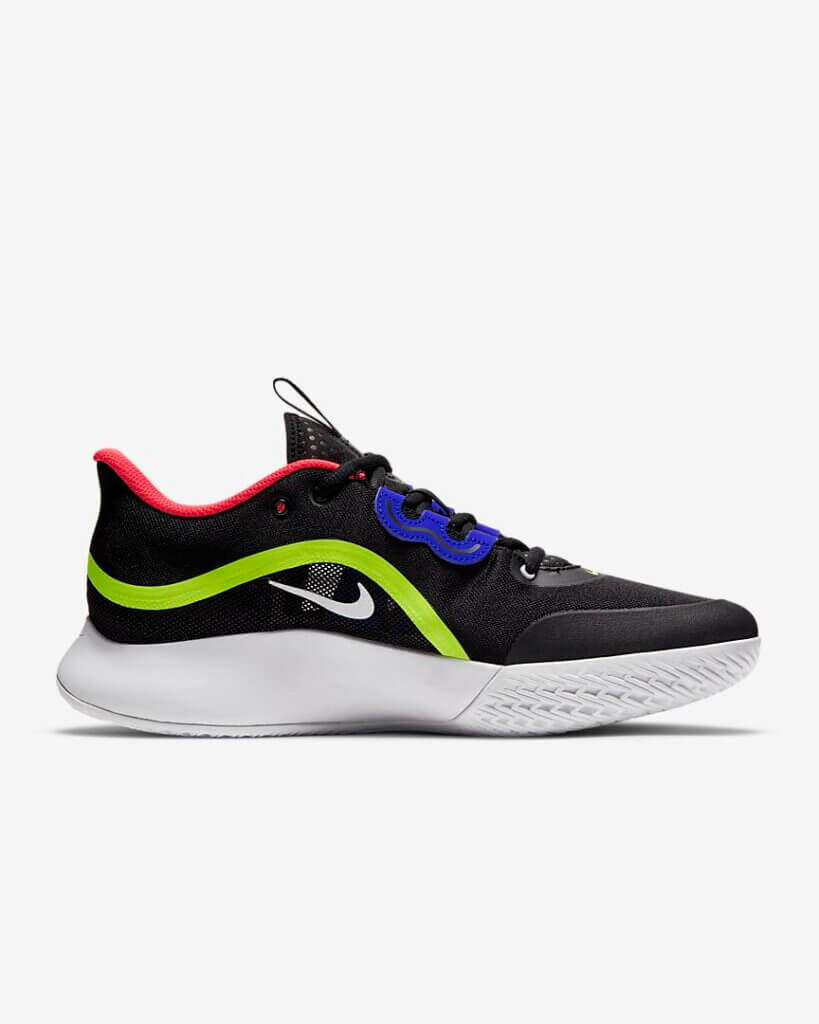 However, the button of your foot would not be contacting the midsole. This can be a good thing because it can provide you with nice arch support.
At the back of the midsole is a posterior rocker like the GP Turbo which does a great job at giving you an efficient heel to toe movement.
Furthermore, the midsole has visible air or the air max unit which adds to the size and weight of the shoe.
And lastly is the lateral flange. This may not be wide and aggressive as you would expect. However, it would provide you with good movement when moving around the court but not the best stable shoes.
Toe Box
The toe area is going to protect your feet from injury however, it's not the most durable on the market. This means that if you are a toe dragger or someone who likes to slide on the hard courts then this shoe may not be for you.
Insole
To be honest with you the insole is one of the best I have ever seen in any tennis shoes. The insole is well constructed with a texture weave pattern which is going to keep your foot very still when moving around the court.
This is very important because it's going to give you a good grip at hitting the ball very well. Also, this insole is going to help you decrease friction which can be a blessing for most players.
Colour Options
One of the big drawbacks of this shoe is the lack of colour options. At the moment, the shoe comes in two different colours. They are white and a mixture of colours.
I know it's still early days to complain about the lack of colour options but it would be awesome to see Nike bring more colour options in the future. This really helps players to have more options to choose from and select the ones that suit their interest and tennis outfit.
Outsole
The outsole is made of a one-piece stamped wave pattern tread. Again it's a lovely design from Nike. However, it's a little in-depth and does not have any pivot points or sliding channels.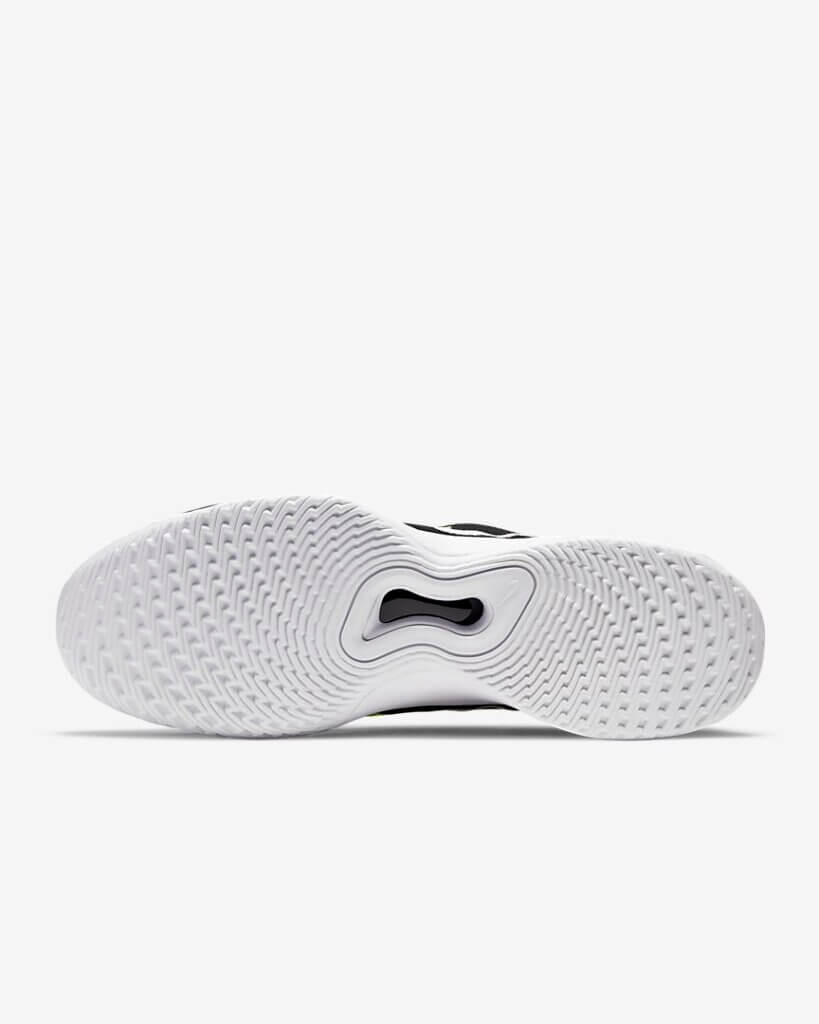 This, as a result, does not make the shoe very stable when you are running up and down the court.
Moreover, this makes it ideal and perfect to use only on hard court surfaces.
And lastly, there is a darker plastic in the middle of the outsole.
Honestly speaking I don't really know why Nike placed it there however, it does look nice.
Weight and Size
Coming with a size of 10 and a half with a weight of 14.3 ounces. When you look at the shoe you expect it to be lightweight, however, that's not the case.
Most of the weight is coming from the midsole which can be a little annoying.
In terms of fit, this shoe is true to size. However, it may expand a little bit when you wear it for a while. So make sure to keep an eye on that. With that said, it's perfectly okay to go with your normal size or go up a half size.
Fit
Expanding on what I said about the size. This shoe is more suitable for players who have a narrow or medium foot. However, if you are someone who is prone to midfoot sprains, ankle sprains or flat feet then this may not be the best shoe for you.
Price
The pricing of this shoe is under $100 which is such a great deal. When you compare it to other expensive Nike tennis shoes such as Air Zoom Vapor X, you would say this shoe is a bargain. On top of that, the features that come with the Air Max Volley is awesome.
Final Thoughts!!
In conclusion, I hope you have enjoyed reading this post about NikeCourt Air Max Volley. As you can see this shoe is going to provide you with good traction, support and increase your speed a little bit. On top of that, it looks really nice.
However, it's not a shoe for every play due to the size and Nike needs to work on the midsole a little bit because it's too bulky.
Apart from that, it's really a good tennis shoe to have in your arsenal and would benefit you a lot. If you manage to pick this shoe up, I wish you a lot of success in your future matches.