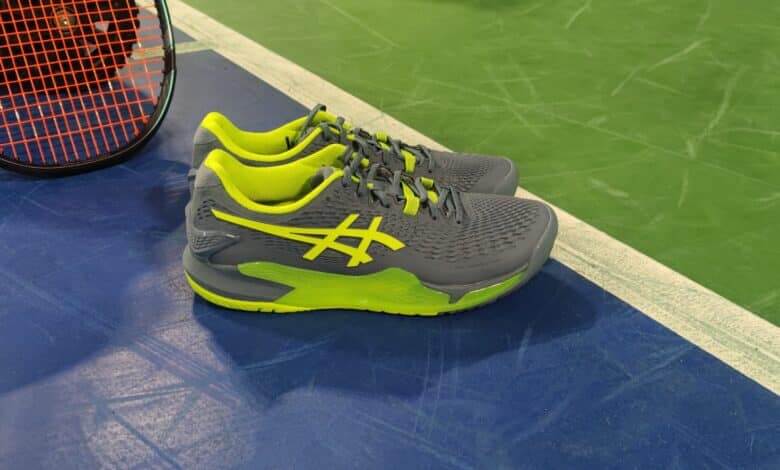 We're an affiliate
We hope you love the products we recommend! Just so you know, we may collect a share of sales or other compensation from the links on this page. Thank you if you use our links, we really appreciate it!
Asics shoes have been highly consistent in terms of performance and delivering quality results to the users. Asics can be your number one Tennis shoes partner for playing effortless Tennis. 
Among remarkable shoes from Asics, we have Asics Gel Resolution 9 to review. So why have we picked this shoe for reviewing today? Well, you will get to know about that as we will go through this detailed review!
 However, if you have been lately looking for a complete package of shoes from Asics, then this post can be your lifesaver to get to know about Gel Resolution 9 from close! So let's not keep you waiting and get started with this exciting review without further delay! 
The brands like Asics are always into improving the performance and efficiency of their shoes to meet future sports needs on all counts. The Gel Resolution 9 is an extension of Gel Resolution 8 with different upgrades for users. 
Therefore, it is better to highlight these major upgrades in this section so that you can have a better idea about these shoes easily!
Major Upgrades 
Upgrade No 1: Asics has introduced DYNAWALL technology in the heel of the latest Gel Resolution 9 which was absent in the former version as well. This tweak in these shoes empowers them to boost the kinetic stability of the users. Due to this reason, the users can easily aim for taking dynamic steps with these shoes. This upgrade is useful for preventing the chances of fatigue for the users. 
Upgrade No 2: The outsole of the shoe has also been enhanced with a bigger contact area so that it can add in-depth stability to the users on all counts. This feature is important because it helps with better performance on the courts without letting any mishaps happen. 
Crucial Technologies Used By ASICS Laboratories
The best part about Asics is their laboratory operations. Without it, Asics will fail to infuse the following technologies in their shoes. Due to this reason, it is better to have a look at these remarkable technologies to learn more about ASICS's secret behind developing industrial-grade and versatile shoes! 
PGUARD:

This is for enhancing the strength and durability of the outsole in the toe and heel region so that these can serve you better in the long run.
DYNAWRAP:

The purpose of DYNAWRAP is to increase the overall strength and stability of the shoes to make them safer and secure on all counts. 
DYNAFIT:

This makes the shoe design more flexible to adapt to different foot shapes without compromising the comfort of the users at all. 
AHARPLUS:

The brand uses its special AHAR outsole rubber for developing highly powerful outsoles for their running and Tennis shoes.
RearFoot and ForeFoot:

The role of this technology is to make the shoes better in shock absorption and empower them for a gentle foot strike to prevent sudden shock and trauma. 
DYNAWALL:

It is also for boosting the stability of the shoes so that users can feel safe and secure on the courts. 
It is important to compare Gel Resolution 8 and Gel Resolution 9 so that you can clearly know which one to go for easily. There is no doubt that for some users, Gel Resolution 8 proves to be a complete package. 
But since we are reviewing Gel Resolution 9, let's see how it compares to Gel Resolution 8 from the following differences!
It has a different feel to its sole and the same applies to its pattern

The upper is more attractive with upgraded mesh in a checkerboard style

The shoe has a special plastic heel which gives a bouncy feel while wearing

DYNAWALL technology in Gel Resolution 9's heel is also considerable 

The upper mesh is more ergonomic as compared to its other sibling 

It has a padded tongue which adds to the comfort and ease

The new lacing is also a new feature of this pair 
The best part about this shoe is the color range. You can easily pick your favorite pair from this range. Many users were highly intrigued by its hazard green and steel blue colors after its launch. 
The user was also able to feel the difference in terms of putting on these shoes. These were much more feasible to get on as compared to its other siblings like FF 3. The overall appeal of Gel Resolution 9 is more dynamic. 
Since these are already dynamic, they can appear to be a little bulky in large size. The user found the design of this pair more sporty as compared to Gel Resolution 8. The complete engineering of these shoes focuses on enhancing speed as well. 
So now it's time to head over to the features of Gel Resolution 9 and wind up this review! 
1. Comfort
When you are aiming for comfortable Tennis and running practices, you cannot ignore Gel Resolution 9's promising results in terms of comfort. The cushioning feel of this pair proves to be highly effective for seamless sessions on different Tennis courts. Comfort is crucial to develop more focus on your game. It is because uncomfortable shoes can be a huge distraction for you on the courts. 
 You can easily realize the difference in its feel due to soft landings. Your feet also don't feel boxed inside the shoes at all. This pair also beats FF 3 in the "comfort" battle as well. So if you are always into something comfortable then it is better to choose Gel Resolution 9 on all counts. 
2. Stability
You can also easily rely on Gel Resolution 9 for its stable performance. No matter how fast you are making your movements with it, Gel Resolution 9 is your reliable partner in this regard. Stable shoes are effective because these prevent possible foot injuries for you as well. 
 You are never going to slip with this pair, instead it helps you take stable steps feasibly. These shoes are totally secure and also prove to be beneficial for players who struggle with glass ankles. In this case, Gel Resolution 9 performs the same as Gel Resolution 8!
3. Durability
There is no that different ASICS technologies come together to engineer Gel Resolution 9 to improve its durability. Regardless of possible wear and tear along with environmental damage, these shoes are never going to disappoint you in this department. 
What else do you need when you get a 6 months outsole guarantee with Gel Resolution 9? Even after a straight 15 hours of extensive usage, these shoes proved to be unbeatable in terms of durability. There is also a PGUARD toe box, which enhances the durability of the upper mesh so that it can protect the shoes from extensive wear and tear in the long run. 
4. Traction
For Tennis, you need traction. Therefore, to achieve the highest level of traction, you cannot miss out on Gel Resolution 9 at all! On different types of Tennis courts, these shoes perform remarkably and never disappoint you for versatile performance at all. 
These provide exceptional grip to the users so that there will be fewer chances of mishaps for the users. But who wins this battle anyway?? Well, experts don't feel much difference between Gel Resolution 8 and Gel Resolution 9's traction. So it is beneficial to try both versions and carefully see which suits you the best in terms of traction before making a purchase. 
5. Weight
The weight of Gel Resolution 9 is lesser than other shoes available. Therefore, going straight with it, you can easily trust this pair for playing Tennis and running. Experts also believe that this pair is also much lighter than FF 3 which is again a brilliant feature of these shoes to consider. 
Due to its lightweight, you can make swift movements and change your body's posture while using these shoes with utmost ease. Due to this reason, this pair has been unbeatable in this regard. The weight of shoes matters when you are a Tennis player or a runner. 
It is because heavy shoes can easily hamper your speed and will exhaust you soon enough. It means you cannot afford a heavy pair of shoes at all in this regard! But Gel Resolution 9 can easily save you from losing an important Tennis match and a race due to its lightweight structure. 
Parting Words 
ASICS shoes have been successful in developing a solid stance among Tennis enthusiasts and runners for many years around the globe. Now you know why we have picked ASICS Gel Resolution 9 for this review! Because of its remarkable features and unparalleled performance, it is hard to give a pass to this pair. Therefore, when it comes to comfort, durability, and stability, you can easily rely on this amazing pair to meet your shoe needs successfully!