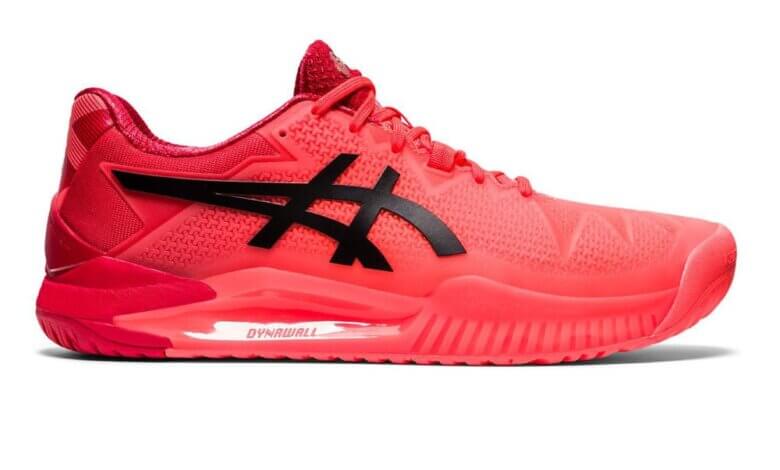 We're an affiliate
We hope you love the products we recommend! Just so you know, we may collect a share of sales or other compensation from the links on this page. Thank you if you use our links, we really appreciate it!
When it comes to making high-quality tennis shoes for players, tennis brands such as Nike and Adidas have done an incredible job.
Another brand that has done very well is Asics and they continue to take tennis shoes to the next level. Their tennis shoes are amazing and they have even partner with tennis players such as Novak Djokovic and Gael Monfils.
They have got sophisticated and advance technologies to produce high-performing tennis shoes for all level of players. Over the years Asics has produced countless of tennis shoes and some of them look similar because they have got similar names and have similar features.
In this post, I want to make your life easy by showing you 8 of the best tennis shoes made by Asics for both men and women. These shoes are of high quality and are loved by both fans and players. Let's begin with the Gel- Resolution 8.
Asics Gel – Resolution 8
Speed
Have you wonder what tennis shoe the energetic tennis player, Gael Monfils wears? Currently, Monfils wears the Asics Gel – Resolution 8. He collaborated with Asics to help them make it.
As you can imagine, this tennis shoe gives you an accelerated response with a natural close-to-the-ground feel and allows you to approach every shot with confidence.
Midsole and Outsole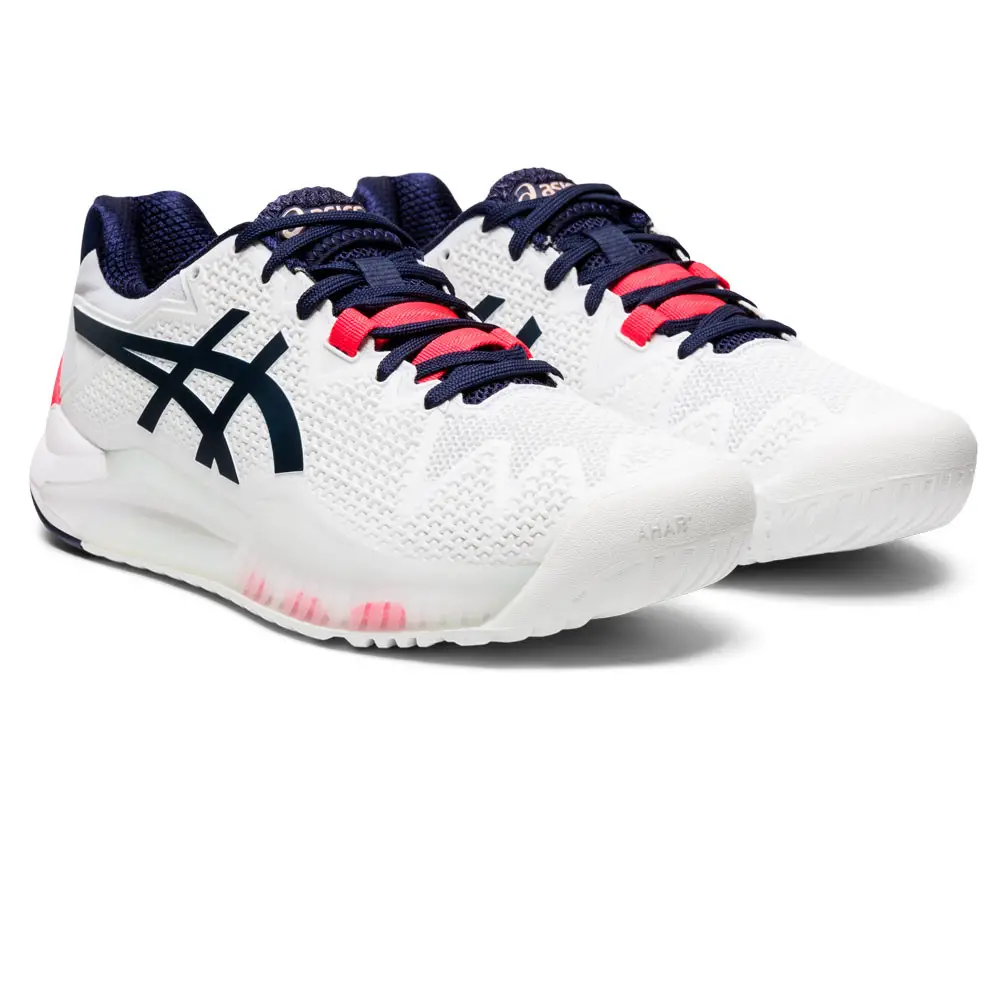 It's made of SpEVA. This makes the shoe lightweight, durable and responsive cushioning.
The outsole, on the other hand, is made of a trusstic system to increase torsional rigidity without adding weight. 
This is a big advantage in a tennis match because it allows you to move effortlessly on the court.
Furthermore, a pivot point is included to accommodate quick transitions and sharps without hurting yourself. Due to the nice quick transitions on the court, this makes the shoe ideal for hard court surfaces.
Protection
In terms of protection, Asics used flexion fit vamp to improve protection. Also, the use of no-sew PU construction helps to defend your feet through powerful lateral movements, without compromising flexibility.
Stability
Another key feature of this shoe is stability. There are overlays unite with an external heel counter to promote complete lockdown. In addition, they help to anchor you to the midsole, improving stability whilst reducing in-shoe slippage.
Asics Court FF
Are you wondering what tennis shoe Novak Djokovic is currently wearing? It is the Asics Court FF. This shoe was made with the help of Novak himself to celebrate his honour of success throughout his tennis career.
Protection
Inside the shoe, there is a DuoMax System. This system is used to prevent you from getting injuries by having the stress from overpronation reduced.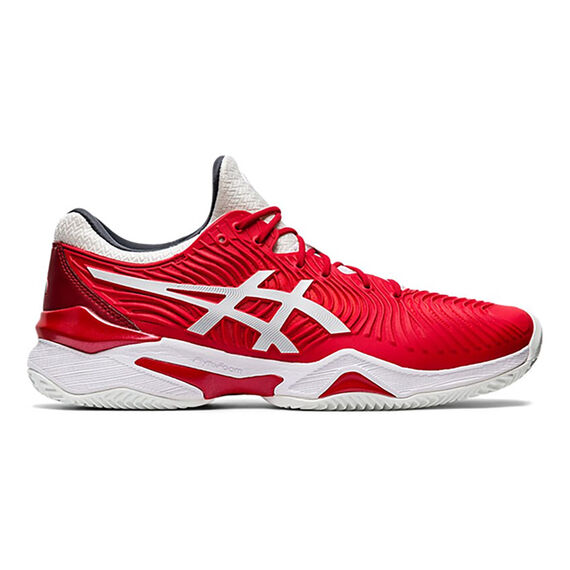 Also, since tennis is full of running up and down the court, an Impact Guidance System is used to keep your foot in a perfect and safe position.
Outsole
The use of AHAR outsole provides you with abrasion-resistance hard impacts on the ground and excellent grip and control on the court.
Furthermore, the outsole forms a solid base to give you control and support when you make sudden changes of direction, braking and accelerations.
Midsole
In terms of the midsole, it uses FlyteFoam. This protects you when making shape turns and quick accelerations. This is possible by keeping your feet stable whilst spreading energy evenly across the midsole. If you like this shoe make sure to read the full review.
Asics Solution Speed FF
Support and Form-Fitting
The Asics Solution Speed FF is by far one of the lightweight tennis shoes you would ever come across. The upper which is made of flexion fit as most Asics tennis shoes are made of gives you a form-fitting comfort and support during an intense game.
Lightweight
Since the Asics Solution Speed FF is one of the lightweight tennis shoes you would come across, it would allow you to jump higher on the court and move quickly.
Moreover, the Flytefoam midsole technology gives you a real spring to your step and makes for a more responsive shoe.
Shock Absorption and Durability
Your feet are going to benefit hugely from the Twisstrust system. It reinforces under the arch and resists torsion plus absorbs shock while allowing the foot a full range of movement.
Lastly, the AHAR outsole is three times more durable than the normal ASICS standard rubber and allows you quick transitions and durable grip on the court. If you like the style of this shoe make sure to read the full review.
Asics Gel Court Speed
Lightweight and Performance
This shoe is a combination of lightweight and resistance. This provides you with exceptional comfort and performance on the court.
In terms of cushioning, the shoe is designed in a systematically way to lessen impact placed on the joints while an AHAR outsole offers optimal grip and traction.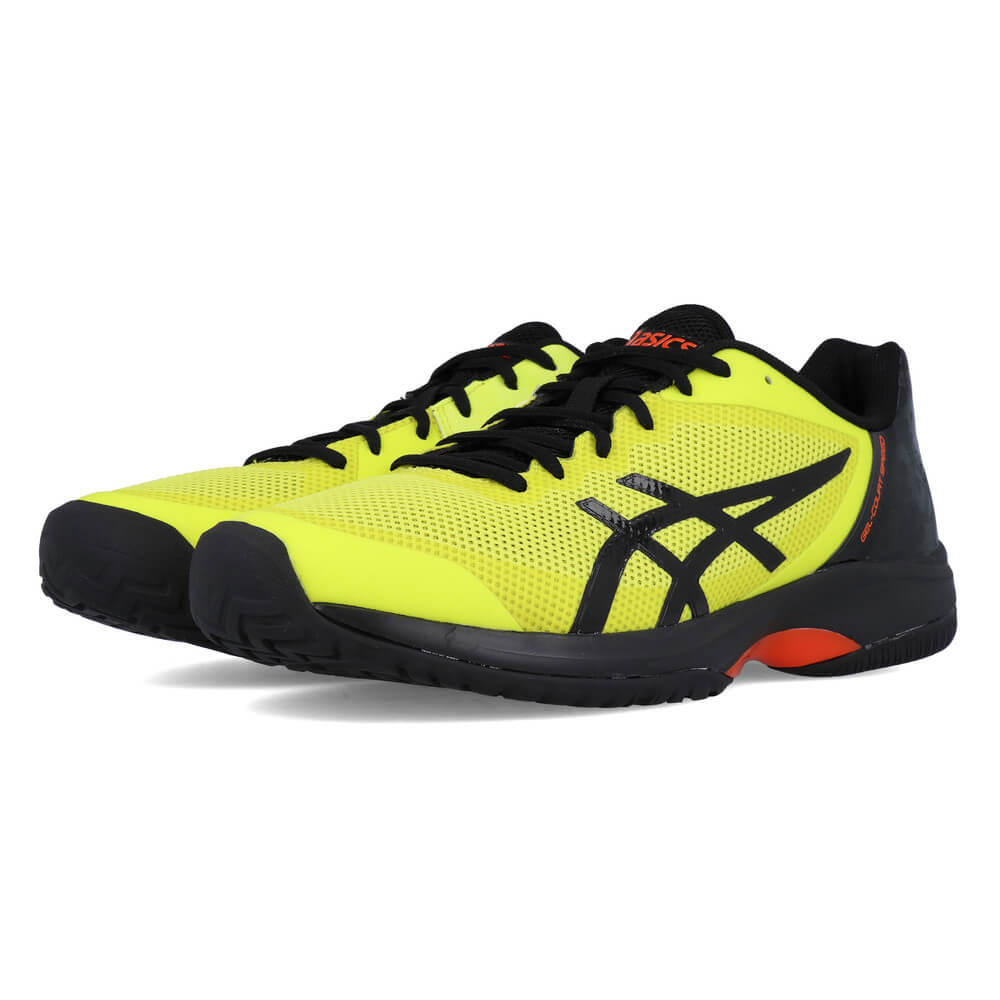 Cushioning
A Solyte midsole resides underfoot for lightweight cushioning, keeping you feathery on your feet and nimble on the courts.
Adding on to that, beneath the Solyte platform are the rearfoot and forefoot GEL Cushioning Systems that reduce shock during impact phases. For example, when you are volleying or lobbing.
Excellent Traction
There is an added AHAR non-marking outsole that is specifically used to provide you with cushioning and grip without compromising the shoe's permanence. And also to give you good traction on the court surface.
Asics Gel – Resolution 7
Protection
An external heel counter and flexion fit upper is instilled in this shoe to offer you security when you wear the shoe without restricting your movement too much. Also, a PGuard and high-abrasion is around the toe area to protect your toes and ensure durability.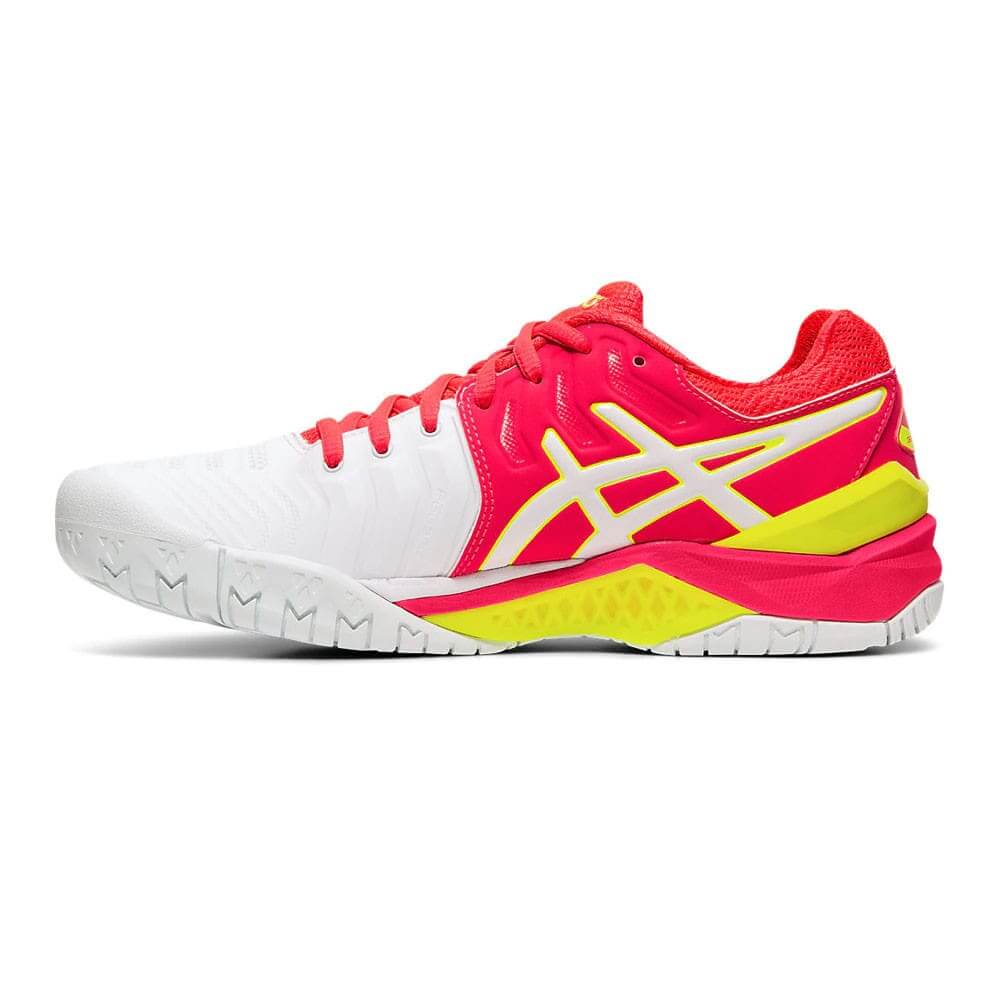 Cushioning
In addition, the use of ComforDry sockliner gives you excellent cushioning, and moisture-wicking for cool and dry wear. This keeps your feet fresh throughout the match.
Outsole
The unique feature of the outsole is made of durable rubber. This makes the shoe reliable, long-lasting and leaves no marks on hard and indoor courts.
Midsole
The midsole is made with a Speva material to give you durability and prevents the midsole from breaking down. In addition, a DuoMax Support System has also been used which is strategically placed to offer the wearer enhanced support and stability throughout their run. If you like the style of this shoe make sure to read the full review. 
Asics Gel-Dedicate 6 
Breathability and Lightweight
This lightweight tennis shoe is specifically designed for beginners and recreational players. The upper area of the shoe is made of mesh which wraps your feet in breathable comfort and flexibility.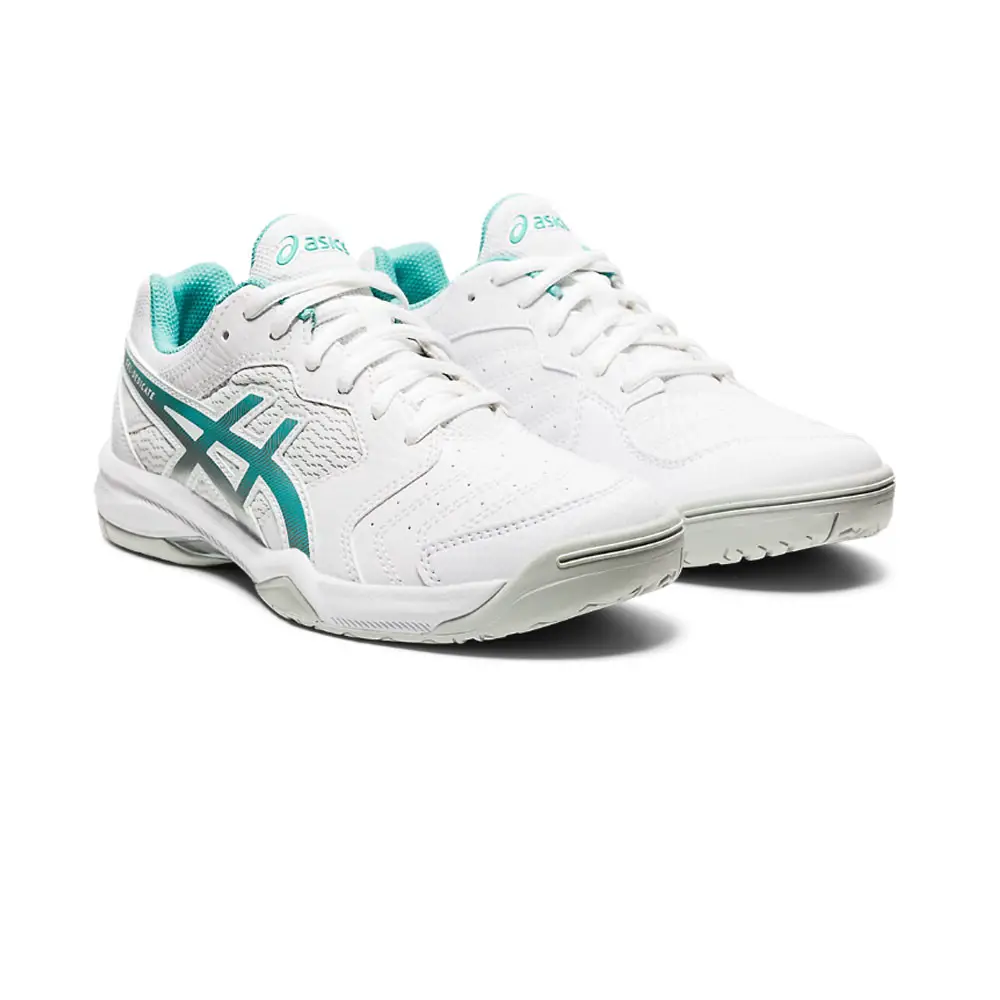 In addition, an airy fabric increases airflow which allows your feet to thrive in difficult matches. This is super helpful in preventing your feet from getting sore for example.
Fit
Around the midfoot area is a synthetic overlay that serves to give you a nice firm fit. However, it can be a little uptight if you have a wide foot. A top recommendation is to go for a little bigger size than you would normally buy.
Cushioning
Lastly is cushioning. There is a GEL Cushioning System which resides in the forefoot to supply bounce back and shock absorption.
It's sparing your joints as you volley and lob, and leap and land onto unforgiving surfaces, allowing for smooth transitions and movement in multiple planes.
Asics Gel-Challenger 12
Breathability and Support
A breathable mesh is used in this tennis shoe to keep your foot dry and fresh throughout the match. Even if it's an intense and very long match. Also, a mesh upper provides form-fitting comfort without putting too much pressure on your foot.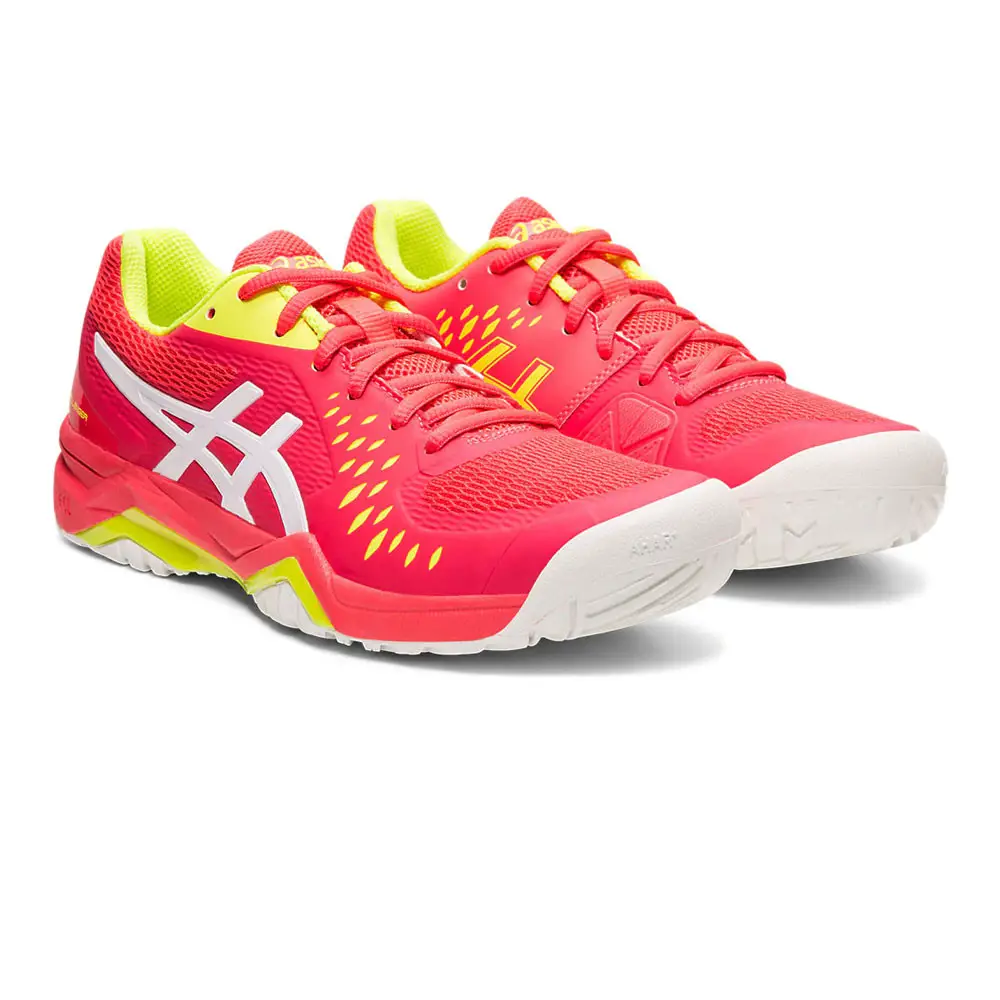 Midsole and Outsole
The midsole is a lightweight compound that features an enhanced cushioning and durability.
Furthermore, a rearfoot and forefoot gel cushioning system attenuates shock during impact and toe-off phases.
The outsole, on the other hand, is a new blown AHAR material that provides you with excellent cushioning, ride to the foot and durability.
Protection
In terms of protection, an anti-gravel tongue stops debris and stones from entering the shoe. Moreover, a PGurard toe protects your feet and gives you toe durability. If you like this shoe make sure to read the full review on it.
Asics Gel-Dedicate 4
Prefect for Newbies and Recreational Players
The last Asics tennis shoe I have for you is Gel-Dedicate 4. This tennis shoe is below $55 and it's one of the best prices you could get on this type of quality shoe.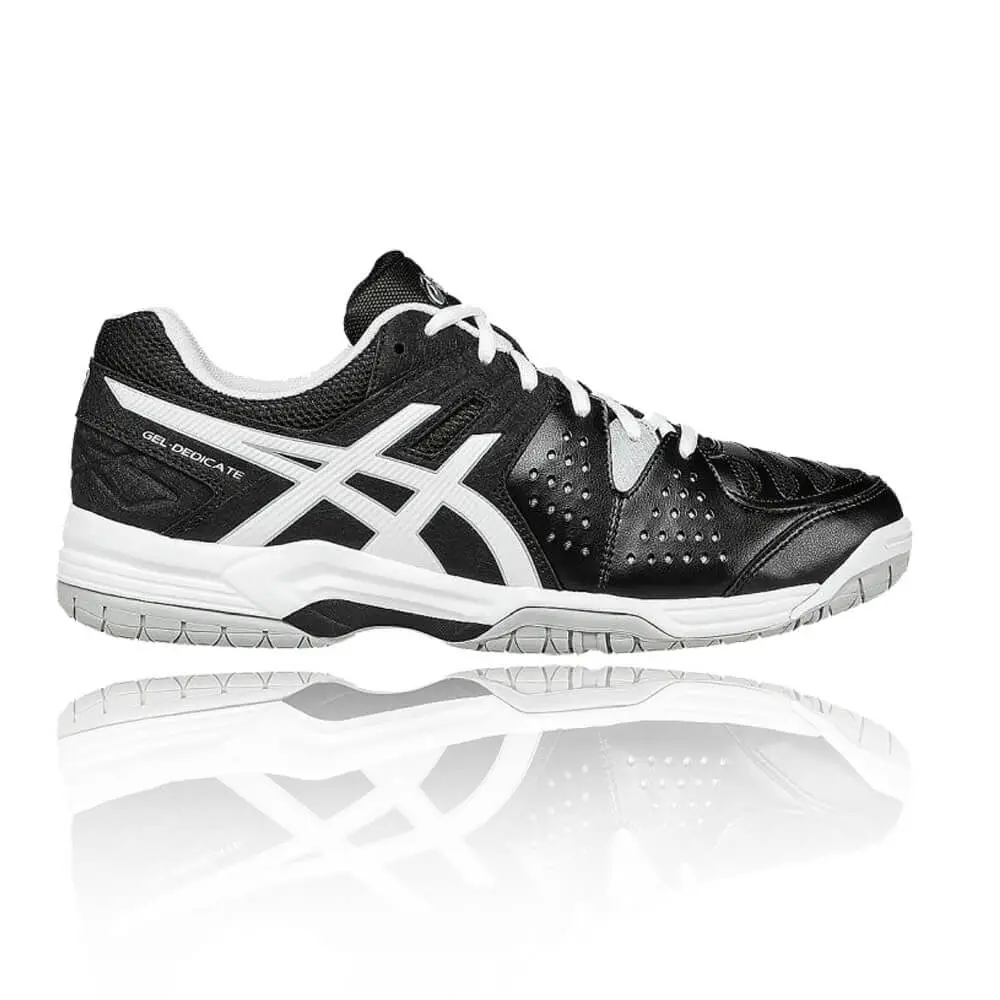 Despite how cheap this shoe is, it still comes with amazing features that allow you to perform very well on the court. Also, it's suitable for newbies and recreational players.
Cushioning
The Gel forefoot cushioning absorbs shock and at the same time provides complete freedom of movement during the full gait cycle.
Secondly, a trusstic system is located under the foot arch to provide strength, stability and flexibility.
Traction
The upper section of the shoe has multiple air panels to help aid ventilation. On top of that, synthetic leather upper offers greater durability. And lastly, the Omnicourt rubber outsole gives you good grip and traction on the surface.
Final Thoughts!!
As this post comes to its conclusion, it's very clear why Asics has been very successful at making tennis shoes for professional, recreational and beginners.
Their success and the number of professional tennis players they have signed up for speaks for itself. It's going to be fascinating and interesting the types of tennis shoes Asics would be producing in the next coming years.