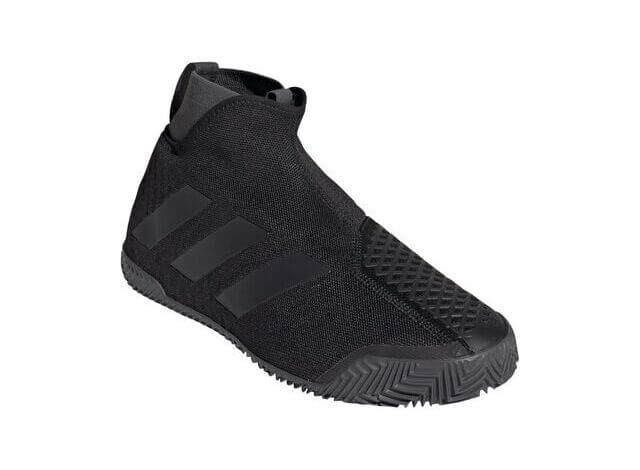 We're an affiliate
We hope you love the products we recommend! Just so you know, we may collect a share of sales or other compensation from the links on this page. Thank you if you use our links, we really appreciate it!
Throughout human history, the colour black is associated with power, strength, authority and aggression. On the other side of the coin, it can symbolize evil, fear and mystery.
From a tennis perspective, dressing in black and wearing black shoes can someway boost your confidence, self-esteem and make you fearless on the court.
When you start to play better, it can even make your opponent fear you more and more. This can give you an advantage in the game when your opponent starts to lose focus. We have noticed successful tennis players such as Roger Federer and Serena Williams dress in all black to express these positive symbols.
If you are someone who is looking for black tennis shoes or love this type of colours then you are in the right place. Below is a list of 12 best black tennis shoes with a thorough analysis. If you are excited let's start with women.
Women
Nike Court Air Zoom Zero
Cushioning
For the first time in Nike's history, they designed the whole shoe with a full-length Zoom Air unit. Nike specifically designed this shoe because they noticed that a lot of tennis players tend to gravitate towards the Air Zoom cushioning.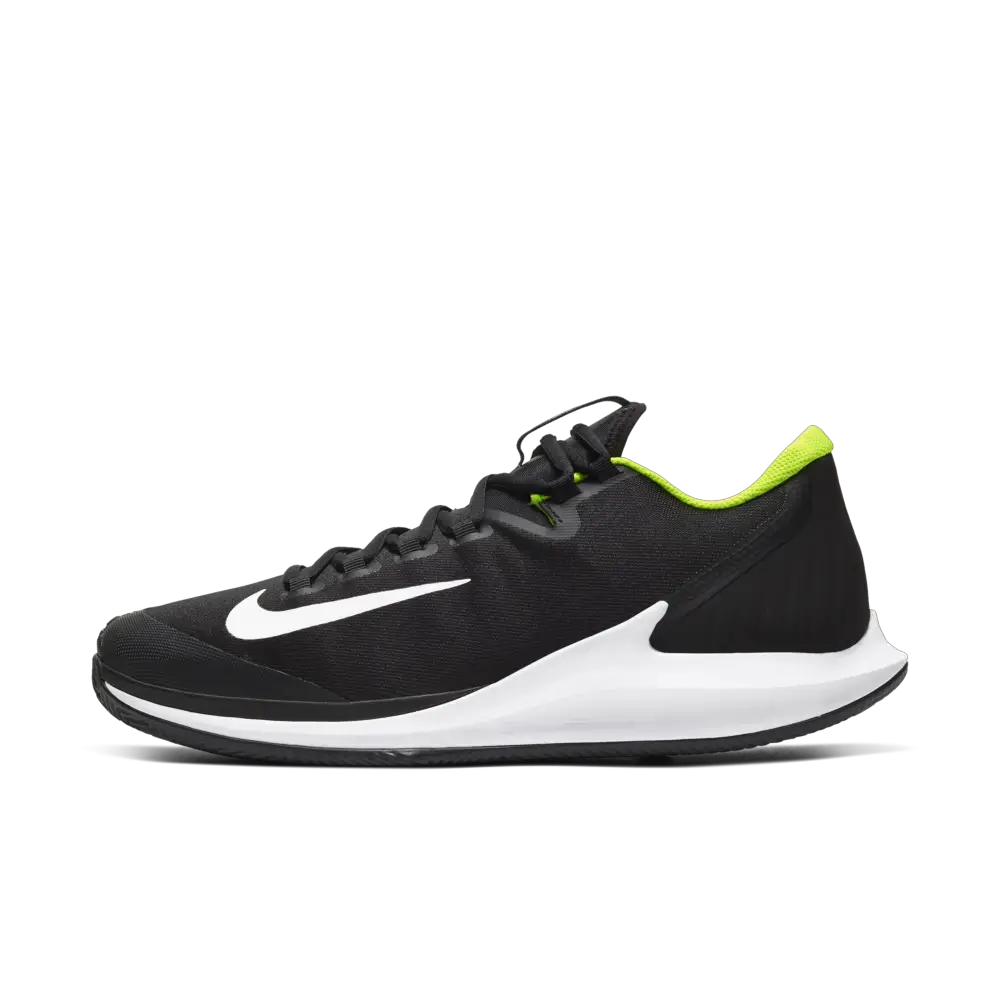 When you take a look at the outsole, you would notice core out in the middle to reduce weight and provide you with more cushioning.
Responsive Feel
The full-length Zoom Air unit is curved to deliver responsive cushioning and great feel on the court. This is going to give a lot of cushioning underneath your foot and heel.
Fit
If you have a wide foot you may struggle to slip your feet through the shoe. However, once you get your feet inside the shoe, it would feel like a second skin and super comfortable.
Durable
The last key feature of this shoe is durability. Nike has added a lot of durability at the front area of the shoe which you are going to love.
Nike Court Air Max Wildcard
Comfort
Next up is the Nike Court Air Max Wildcard. This shoe may look very similar to the first one, however, they are different in so many ways. One of the ways is that it delivers excellent comfort you need to hit hard and move fast on the court.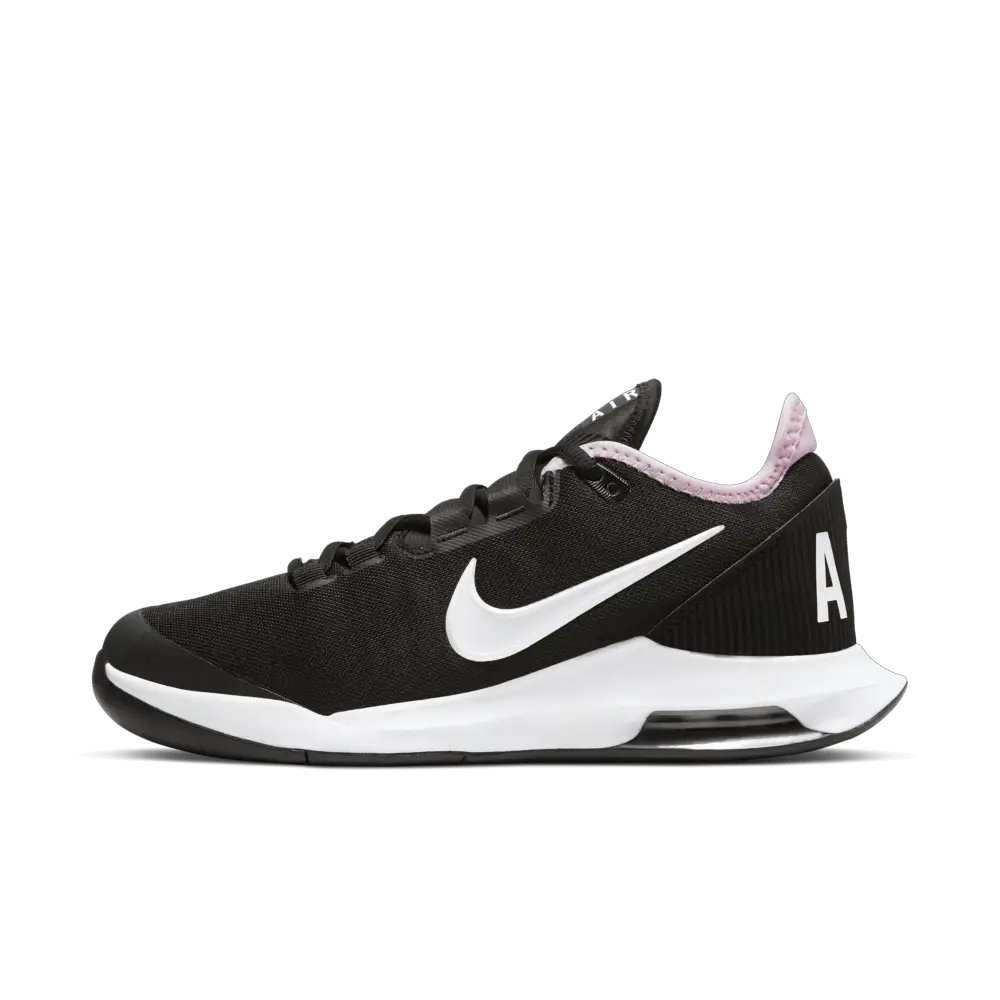 Cushioning
Nike used a Max Air unit underneath the heel area to provide you with cushioning in every step you make on the court.
On top of that, an innovative Lunarlon midsole gives you a springy underfoot sensation and extra stability.
This way you maintain a perfect balance on the court and hit the ball clean with enough power.
Fit
The only caveat to this shoe is the size and fit. Most people are likely to have an issue putting their feet through the shoe because it can feel uptight.
So it's better to go for a little bigger size than you would normally have. This makes your feet feel free and comfortable. Also, this shoe may require some breaking period so be a little patience with it.
Women's
Nike Court Air Zoom Vapor Cage 4
Durability
This shoe was inspired by the king of clay, Rafael Nadal, and it's the most durable Nike Vapor up to date. The durability is exceptional with the outsole material wrapping over the midsole on the medial side for durability.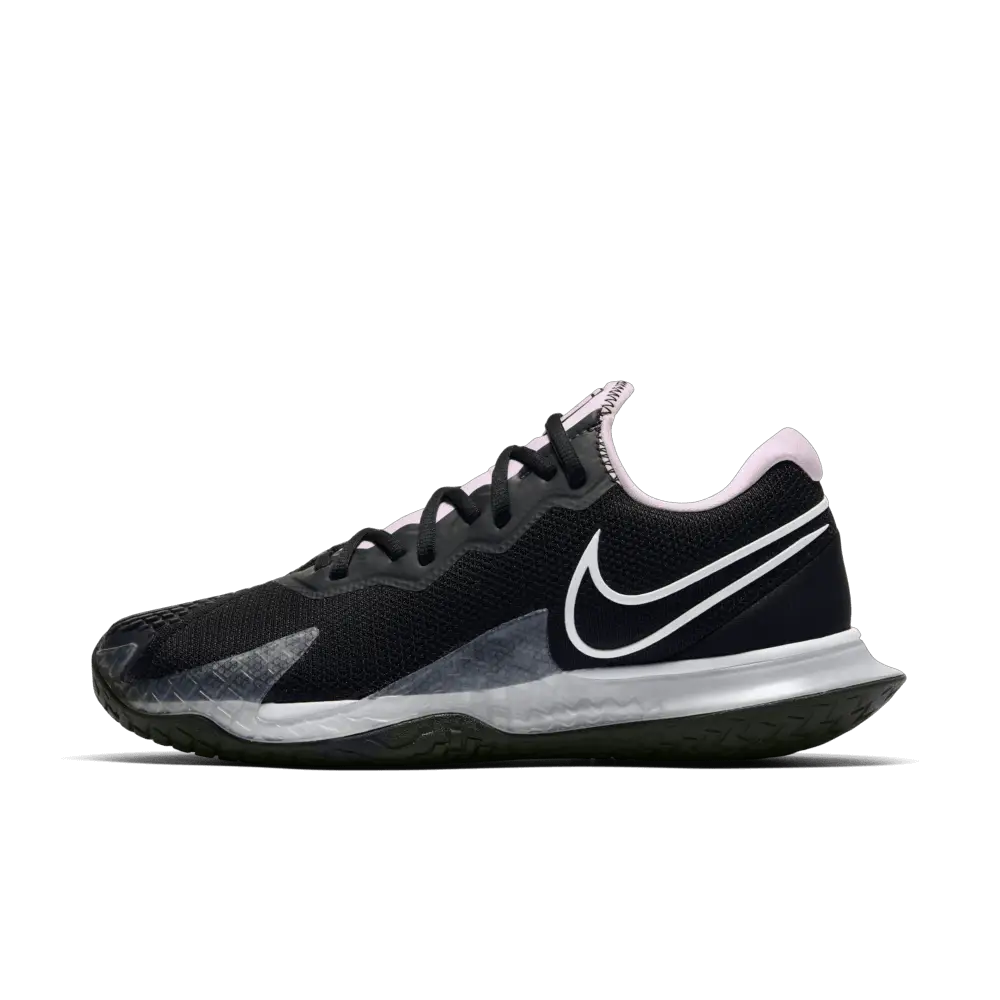 Even after playing long hours on the court, the outsole would still maintain its shape.
Lacing Structure
The way the shoe is designed and moulded makes the lacing structure very unique.
The lacing system keeps your laces hidden for extra durability while sliding on the hardcourt.
Also, it can be very easy to lace the shoe up quickly for some people. And for others, it can be a struggle because the laces can be a little longer than usual.
Design
The design of this shoe is amazing and the colour options they have are spectacular. Hopefully, Nike brings more and more different colour options in the future.
Nike Court Air Max Vapor Wing MS
Responsive and Excellent Traction
This shoe may not look like the usual tennis shoe we are familiar with from Nike. Although, some of their features are similar to the Vapor categories.
For example, the outsole. The outsole is responsive that allows you to grip the court and provide you with stability.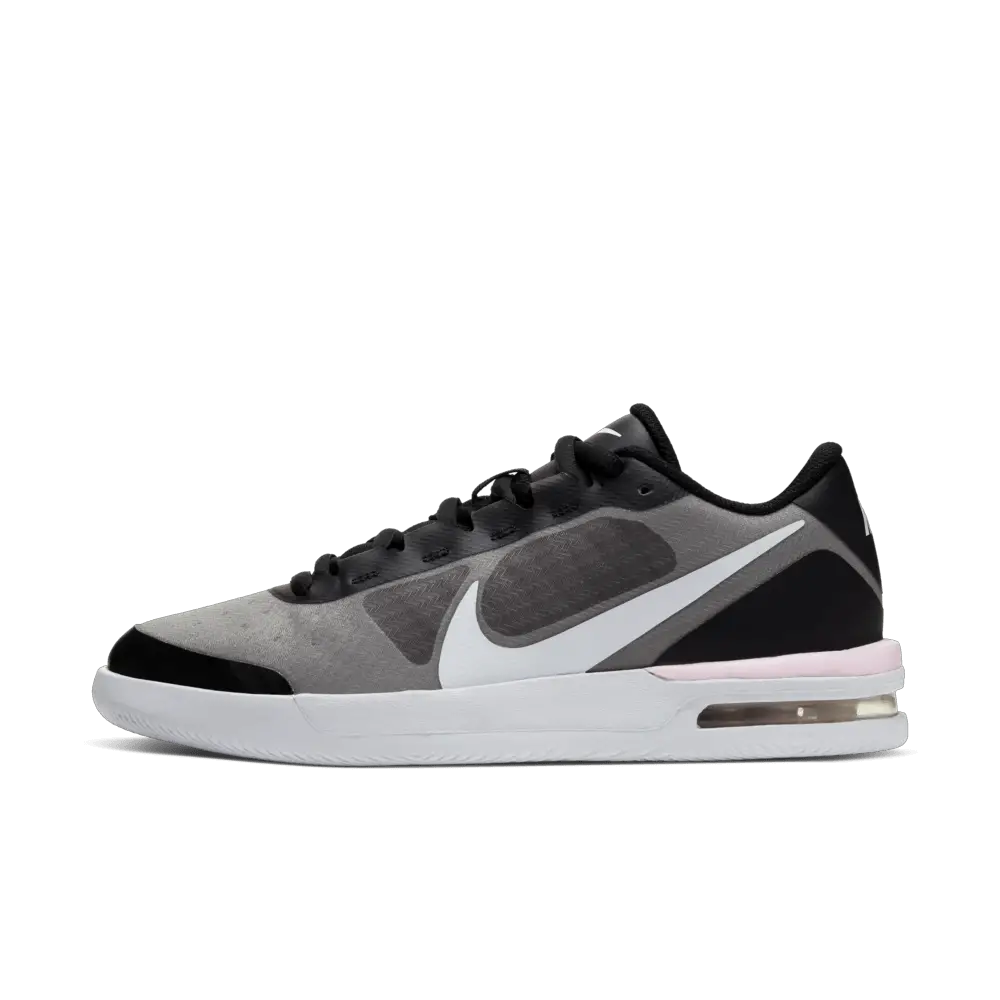 Toe Box
The toe box is a very important part of the shoe. It is narrow which may be a disadvantage for people who have a wider foot.
So make sure to try the shoes on before you purchase them.
Cushioning
If you look closely at the shoe you would notice visible Max Air unit at the heel section. This is to provide you with excellent cushioning in every step you make on the court.
On top of that, the medial side is hidden for added durability while sliding.
Multi-Surface
You may wonder what does the MS stands for? It is Multi-Surface. This means you can use it on different court surfaces. This is great considering the price is below $55.
Asics Gel – Resolution 8

For Women
Design and Style
If you love Asics brand then you would want to check their Gel – Resolution 8. The Gel – Resolution 8 is becoming more and more popular with its amazing features and style.
Asics did great with the design and colour options because it looks very attractive and stylish.
Comfort and Cushioning
Compared to the Gel – Resolution 7, Asics did an amazing job with the comfort and cushioning of this shoe.
With Resolution 8, you may experience little to no breaking in period.
This is going to provide you with excellent comfort and cushioning throughout your match.
Support and Stability
Another core feature of this shoe is its support and stability. This allows you to move aggressively and effortless without putting too much pressure on your feet.
Adidas Adizero Club Court Shoe
Durability and Excellent Traction
The last black tennis shoe I have for women is the Adidas Adizero Club Court Shoe. The price range for this type of shoe is fairly low when compared it with its awesome benefits.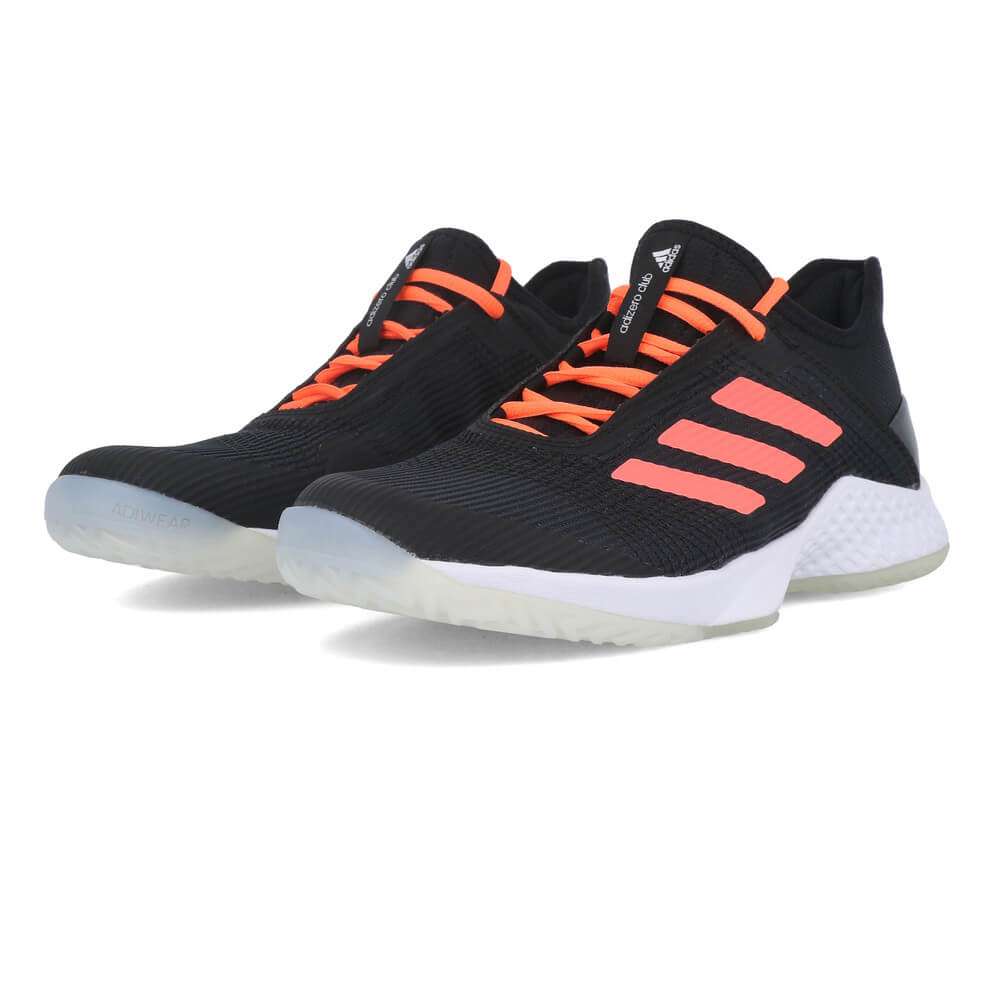 The outsole is made of ADIWEAR which makes the shoe very durable and gives you a secure grip in all directions.
Furthermore, an ADITUFF feature has been introduced for better abrasion and resistance.
Support and Stability
This tennis shoe features Climacool for all-over ventilation. Their lightweight meshes upper locks your foot down, while a supportive Sprintframe chassis adds stability.
Lightweight and Breathability
A lightweight design is imperative for and tennis player and this shoe provides this and extra with the mesh upper. The mesh upper also provides you with excellent breathability.
Men
Nike Court Air Zoom Vapor X
Support and Responsive
The first black tennis shoes I have for men is the Nike Court Air Zoom Vapor X. This shoe is currently worn by Roger Federer despite switching from Nike to Uniqlo.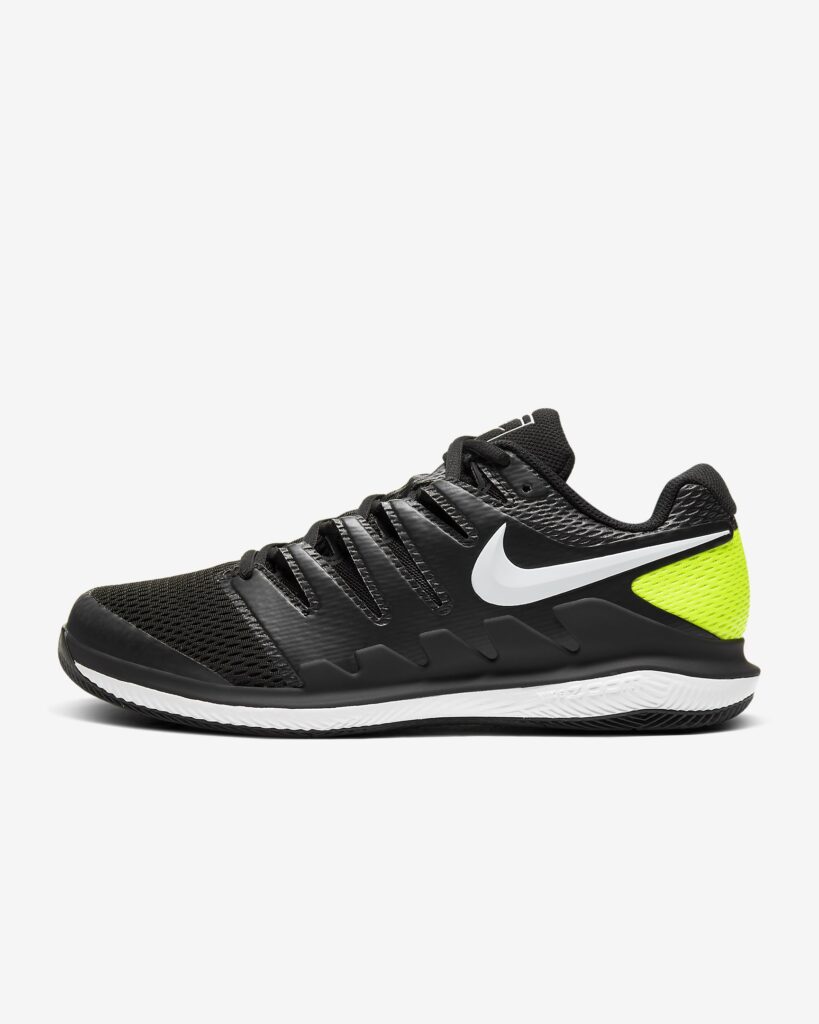 This shoe is very supportive and responsive so that you can run, jump and slide in total comfort. 
Moreover, the use of a dynamic fit system creates a glove-like fit of support whiles you run and slide on the court.
Stabilise
In terms of stabilising your foot on the court, a full-length foot frame is used on each side to support you, especially on quick cuts and stops.
Durability
The newly updated outsole is designed to keep weight at a minimum while putting durability where it's needed the most. Therefore, playing long matches would not have much effect on the outsole.
Nike Court Air Zoom Zero
Responsiveness
Next up is the men's Nike Court Air Zoom Zero. Just like the women, this shoe delivers exceptional responsiveness and great court feel.
This shoe would allow you to react quickly to the ball and play with comfort.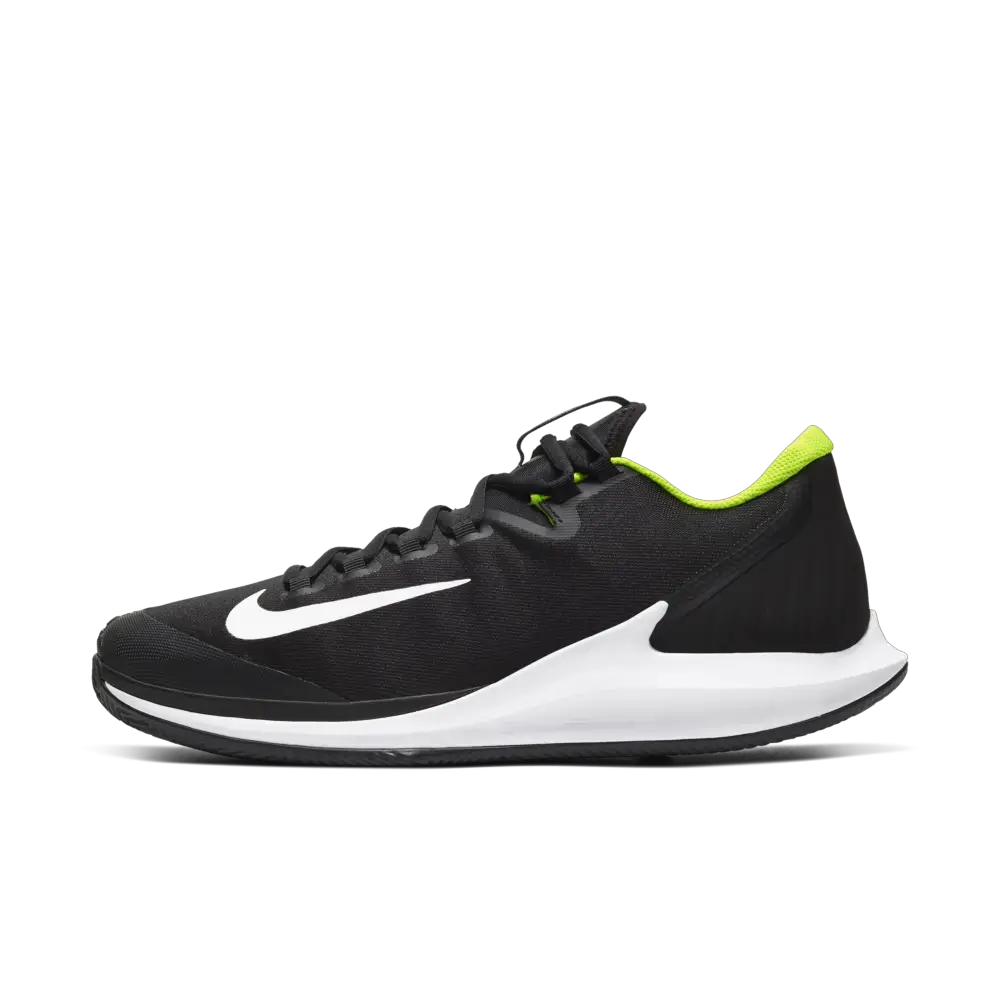 Lacing Structure
The lacing structure is super cool because of its snug-fitting upper and webbed offer second-skin-like comfort and lockdown.
Cushioning
The full-length Zoom Air unit is curved to deliver responsive cushioning and stabilise your feet as you play the match.
Lastly, an integrated crash pad helps promote a smooth heel-to-toe transition.
Nike Court Lite 2
Comfort
This tennis shoe is specifically designed for hard courts due to its unique outsole that gives you good grip and traction on the court as you run and hit the ball.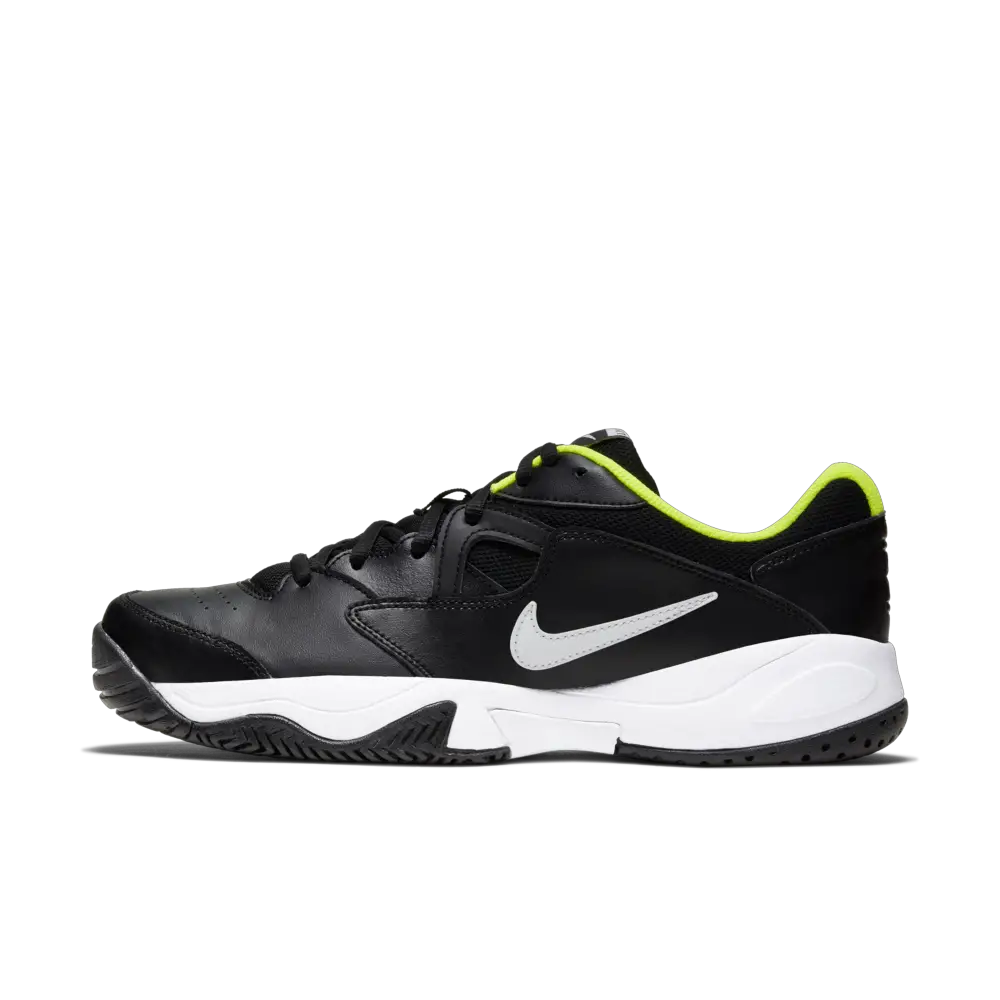 If you are looking for a comfortable tennis shoe for both practices and play then the Nike Court Lite 2 is the perfect one.
It's also popular on the market and has good reviews despite its low price.
Durability
The combination of synthetic and leather materials makes the shoe durable and lightweight at the same time.
Furthermore, the padded collar and tongue give your ankle comfort and cushioning.
Colour Option
They also have a different style of black which looks amazing. It's the gold and black version.
Men's Nike Court Air Zoom Vapor Cage 4
Secure Fit and Stability
If you loved the women's Nike Court Air Zoom Vapor Cage 4 then you would enjoy the men's.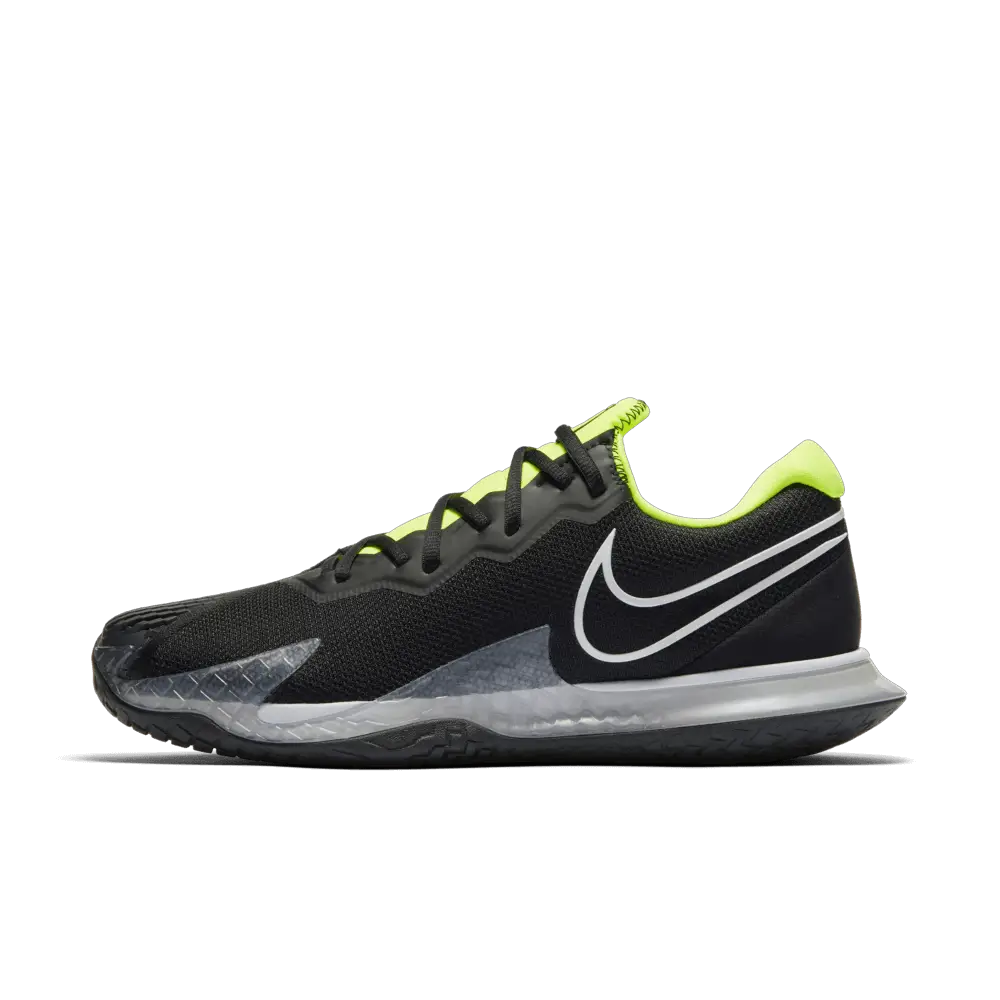 If your playing style is at the baseline just like Rafa then you would love wearing this tennis shoe.
The upper is a wrap-around upper which envelops your foot and deliver stability and control across a full range of motion.
Cushioning
In terms of design, the Zoom Air Unit is included to provide you with excellent cushioning. 
Also, it gives you a lift to help you get to the next ball. This is super useful if you are playing in an intense and quick match.
Asics Gel – Resolution 8 Court Shoes For Men
Quick Response
This shoe just like the women is specifically designed to create an accelerated response with a natural close-to-the-ground feel which makes you confidence when approaching matches.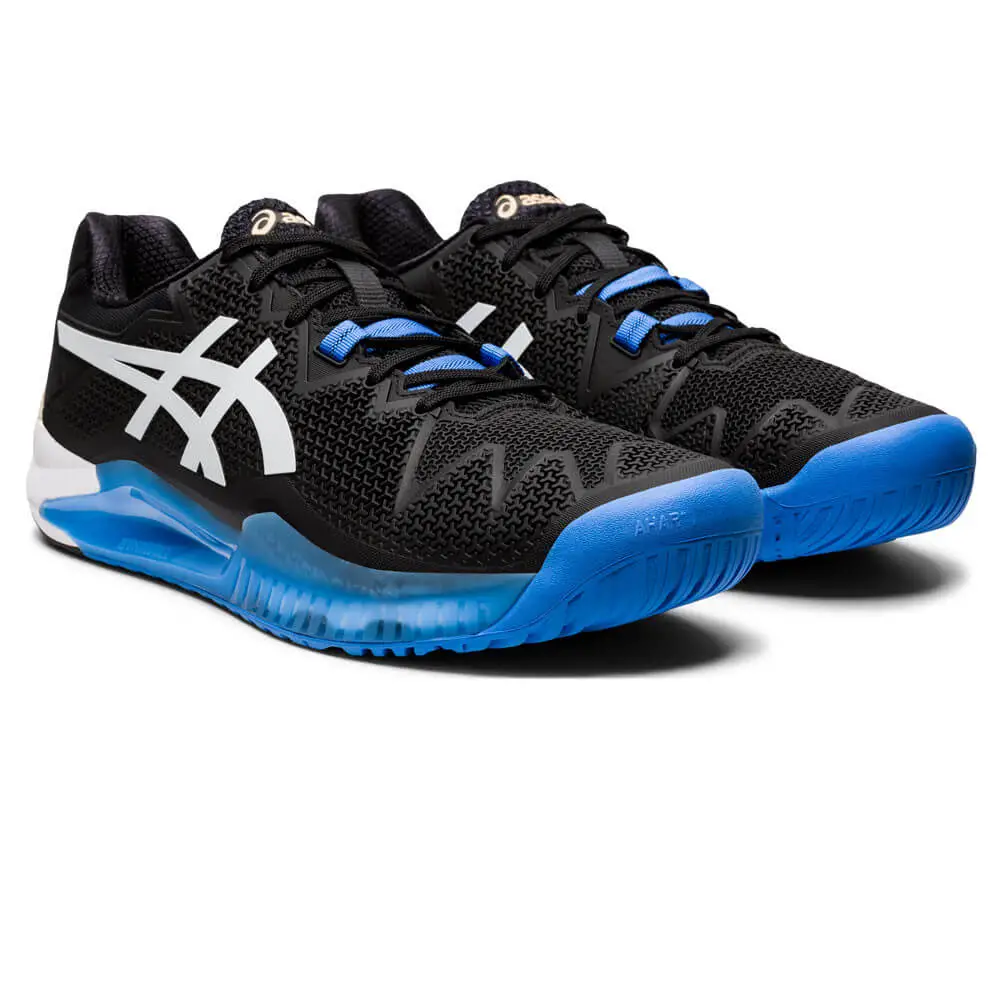 Durability and Comfortable
The upper is made of synthetic material which encases each foot and makes the shoe durable and comfortable.
In addition, the use of mesh increases the airflow to make your feet stay fresh and cool throughout the match.
Protection
In terms of protection, the shoe has a flexion fit vamp to do that. Moreover, the use of no-sew PU construction helps to defend your feet even in through powerful lateral movements. Without adding weight or compromising flexibility.
Adidas Stycon Clay Court Shoe
Uniqueness
This tennis shoe is completely different from normal tennis shoes. From the way, it looks to the way its shape.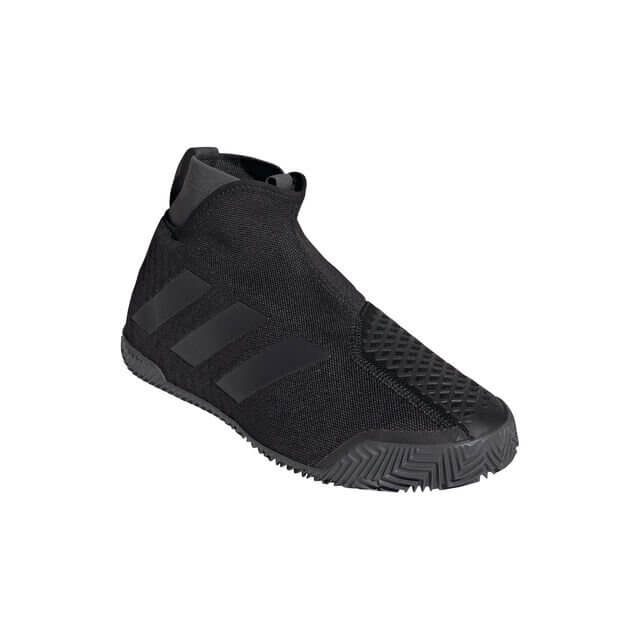 As the name suggests, it's specifically designed for clay court surfaces because it has a zig-zag outsole to give you excellent traction.
Laceless Structure
Another peculiar thing about this tennis shoe is the lacing structure.
It's laceless which can be a little challenging when you put your feet inside.
Energy Return
Despite how lightweight, this tennis shoe gives you excellent shocks absorption and rebound of energy to play long rallies and matches.
Final Thoughts!!
In conclusion, I hope reading this post has helped you to see some of the best black tennis shoes on the market.
Remember, wearing black tennis shoes could increase your confidence and self-esteem on the court. Hopefully, it would also help you to perform well on the court and win some matches.
As the years go by we hope to see more tennis shoe company such as Nike, Asics, Adidas and so on make more attractive and amazing black shoes.