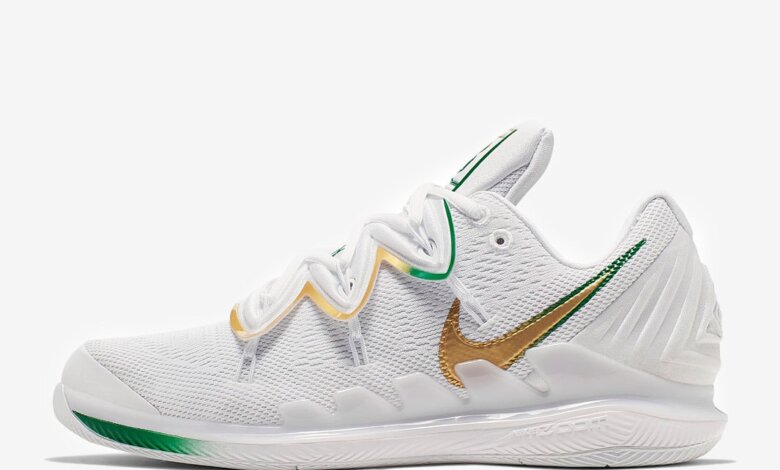 We're an affiliate
We hope you love the products we recommend! Just so you know, we may collect a share of sales or other compensation from the links on this page. Thank you if you use our links, we really appreciate it!
Product Overview
Comfort

Durability

Stability

Breathability

Weight

Fit and Size
Summary
The Nike Air Zoom Vapor X Kyrie 5 was a combination of tennis and basketball. This creative idea leaved up to the expectation because the design looks awesome, it has excellent breathability and good support. 
However, the outsole is not the best durability on the market which is a common trait for most Nike's tennis shoes. Also, it has limited colour options to choose from. Apart from that, it's such a fantastic tennis shoe to add to your collection and Nike has done a great job at taking tennis shoes to a whole new level.
Pros
Nice looking design
Excellent breathability
Good support
Nice stability
Cushioning
Cons
Not the best durable outsole
Lack of colour options
When it comes to making quality tennis shoes there are a few brands that stand out in everyone's mind and they are Nike, Adidas, New Balance and Asics.
These companies have established a reputable brand of the go-to 'high-quality tennis shoe'. And the reality is they never fail to disappoint. In today's tennis market, Nike has decided to take tennis to a whole new level.
They decided to collaborate with basketball and create a highly innovative, flashy Nike Air Zoom Vapor X Kyrie 5 in a "NYC colour". This was inspired by the electrifying tennis player Nick Kyrgios and his favourite NBA player, Kyrie Irving who is also born in Melbourne.
Also, the shoe is built on the best features both on the Nike Air Zoom Vapor X and Kyrie 5. The big question that waits to be answered is would this shoe be a good combination?
If you want to find out the answer I suggest you relax because you are in for a long ride. Below is a thorough review of the different parts of the shoe.
Design
Oh boy, oh boy, the design for this shoe is breathtaking and amazing.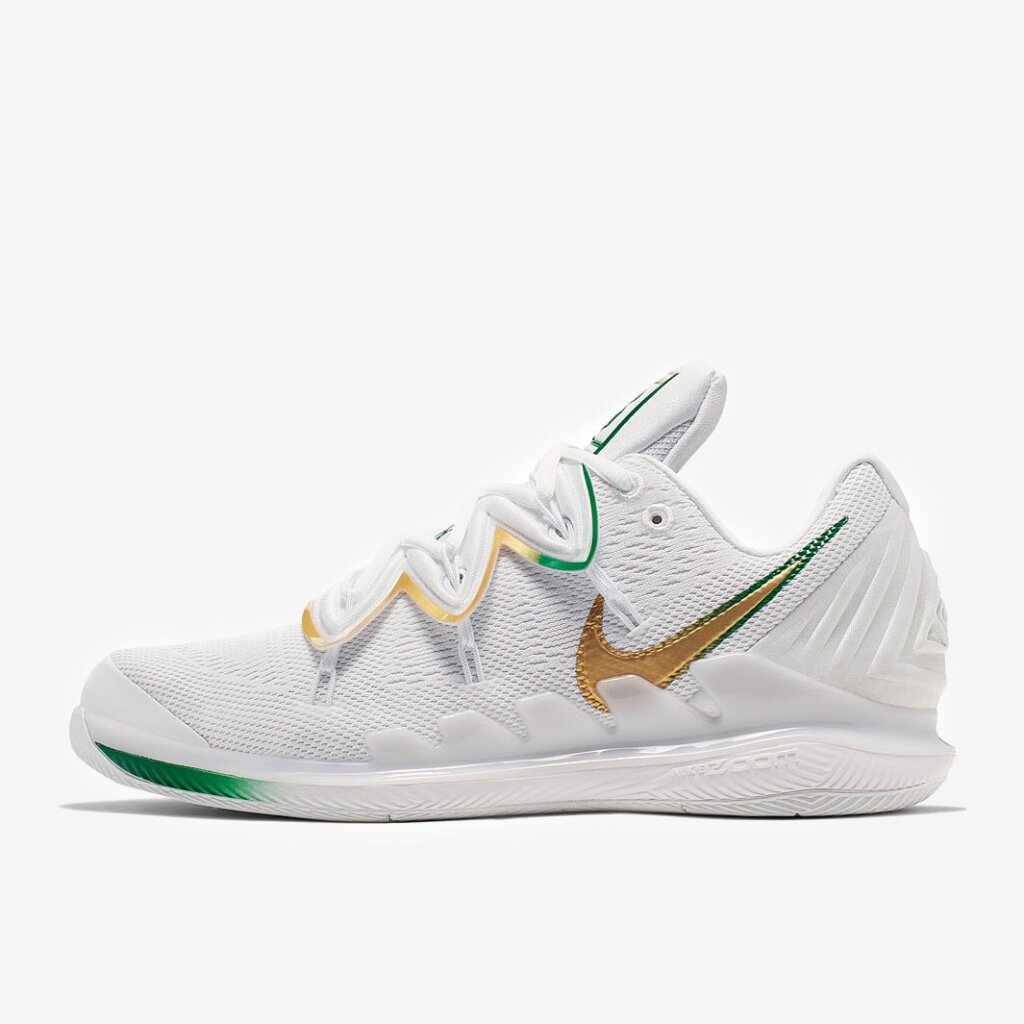 I got to admit it's one of my favourite Nike tennis shoes.
When you look at Nike's previous tennis shoes, they never fail when it comes to making a spectacular design.
Good examples are the Nike Air Zoom GP Turbo and Air Zoom Vapor X.
You can't look at the Nike Air Zoom Vapor X Kyrie and not look at it the second time around.
It's simply one of the best design you would find at the market.
Upper
Next up is the upper. It's made of an engineered mesh which is going to provide you with excellent breathability and good support.
This excellent breathability would allow your feet to feel cooler and fresh throughout the match. If you are a player that tends to play in hot conditions or very long matches that you would enjoy wearing this shoe.
Midsole
There are no changes with the midsole from the Nike Air Zoom Vapor X. It still has the Zoom Air unit in the heel area to provide you with responsive cushioning and stability on the court.
Insole
The insole of the shoe is also something that is worth pointing out as well. It's neatly and well done by Nike. It's going to provide you with good cushioning and comfort when you put your foot inside of the shoe.
On top of that, the insole is removable which is great because you can replace it if you don't like it or take it out to dry after washing the shoe.
Lacing System
The lacing system it's not the normal tennis shoe you would see such as the Adidas SoleCourt Tennis Shoe or Adidas Courtjam Bounce.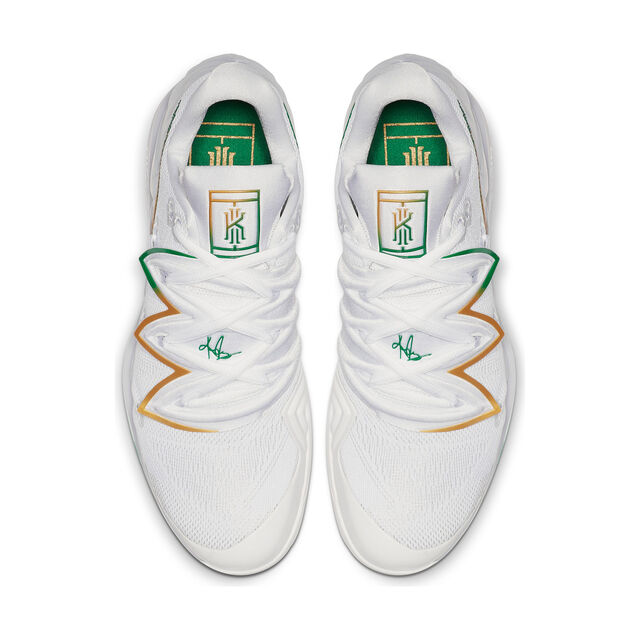 This lacing system is very unique because it has a flytrap inspired overlay. This comes directly from Kyrie 5 shoe.
Most of you may be thinking why would Nike do that? There are a few reasons why.
Firstly, it adds to the beautiful design of the shoe and make it stand out from other tennis shoes.
Secondly, it's going to tight your midfoot down and keep it stable whiles you play rallies in the match.
On top of that, it's going to give you nice support throughout the match as you run and make quick turns.
Logos
Something that is worth pointing out about the shoe is how it has logos on it. There are two on the tongue and one at the back of the shoe. The logos on the tongue are Kyrie Irving's logo.
Outsole
When you take a look at the outsole you could see a translucent material which again adds to the awesome design of the shoe.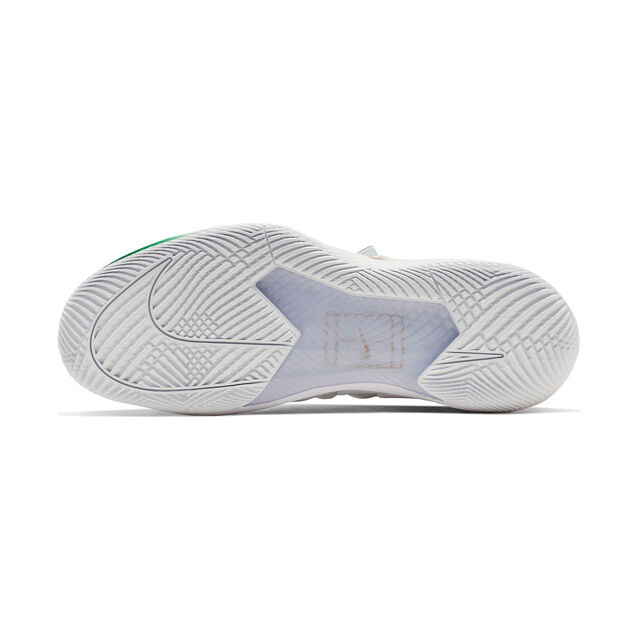 In addition, the modified pattern which allows you to slide comfortable on the court and give you nice traction on the hard courts.
It may not be the best durable outsole like the Nike Court Air Zoom Vapor Cage 4 but it still gets the job done at proving you with good grip.
This kind of outsole makes it perfect for players who are aggressive movers.
Fit and Size
In terms of fit, this shoe may require little or no break-in period. This is great to have as a player because your feet can easily adapt to the shoe and start playing your style of game. With size, this shoe is suitable for players with narrow, medium and wide foot.
Colour Option
In terms of colour options, this shoe comes in a white, orange and black/volt version.
Weight
In terms of weight, I managed to found the size of 10.5 which weighs 14.0 ounces.
It may not be the best lightweight tennis shoe but it's still light enough to increase your speed slightly when you run up and down the court.
Price
The last thing to talk about is the price of the shoe. This shoe is above the $100 price point. This may sound really expensive but when you think about the awesome benefits you get, it's a fair price point.
If you feel that this shoe is expensive then I  would recommend you check out NikeCourt Lite 2 or Mizuno Wave Exceed Tour 3. These shoes are not expensive like the kyrie 5 and it comes with great features as well.
Final Thoughts!!
As this post about the Nike Air Zoom Vapor X Kyrie 5 comes to its end I hope you really enjoyed reading it and found it very useful.
Overall the idea of combining tennis and basketball shoes seems like a crazy idea but it eventually came out as a very successful project.
The quality of the shoe is amazing because it's going to provide you with excellent breathability, good responsive cushioning and nice stability on the court. On top of it, the design is world-class.
However, the downside to this shoe is the weight of the shoe and the lack of durability of the outsole. If Nike manages to improve on these areas they could easily turn this shoe into a powerhouse.
With that said it's still a great shoe to add to your arsenal because it's going to improve your game in many ways. I wish you all the very best in your next match with this shoe.