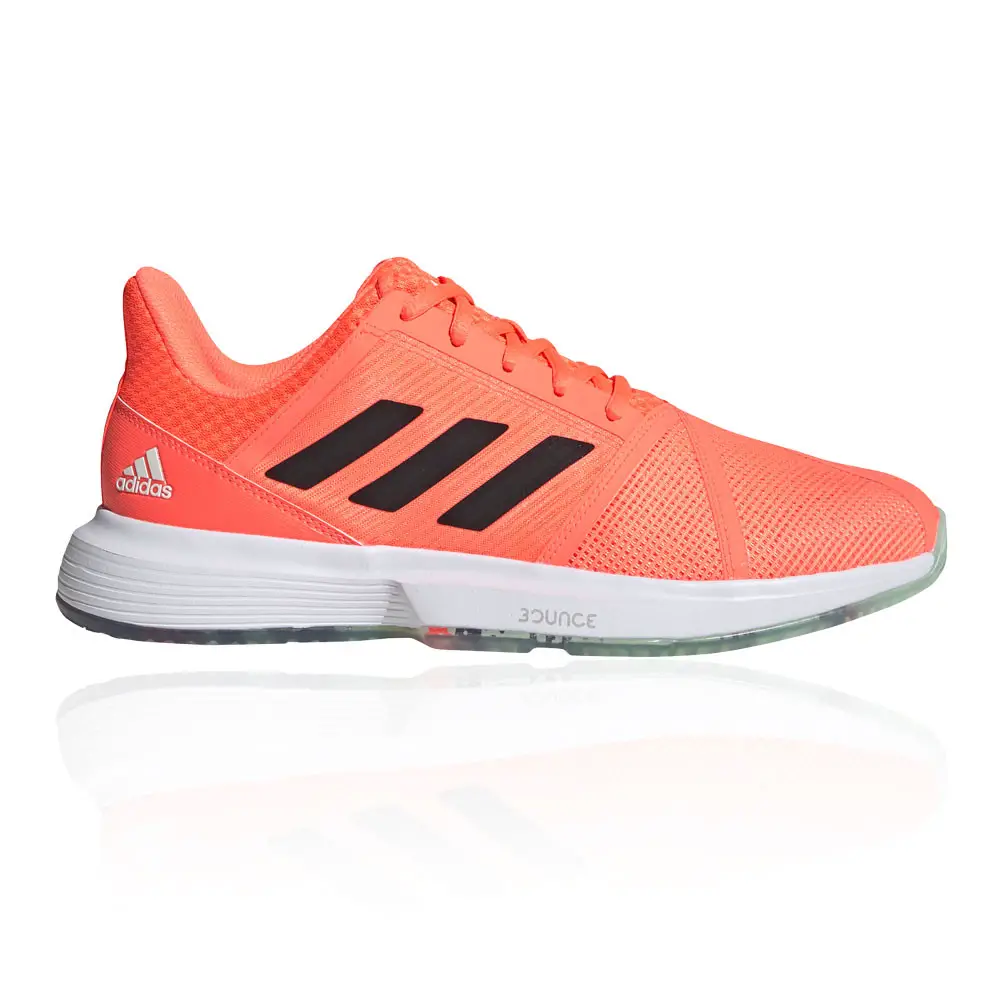 We're an affiliate
We hope you love the products we recommend! Just so you know, we may collect a share of sales or other compensation from the links on this page. Thank you if you use our links, we really appreciate it!
Product Overview
Comfort

Durability

Stability

Breathability

Weight

Fit and Size
Summary
The iconic Barricade series was one of the best all-time tennis shoes. Unfortunately, Adidas has stopped making them and instead take a different approach with how they make their tennis shoes. The Courtjam Bounce is a great shoe to replace your Barricade series if you were a big fan of the Barricade series. 
This shoe comes with good breathability, nice comfort and cushioning. However, Adidas needs to improve the durability of the outsole in its next edition. Apart from that, you would enjoy this nice looking shoe on court. 
Pros
Good breathability
Protection
Nice comfort and cushioning
Good traction
Lightweight
Cons
Not the best durable outsole
When everyone thinks of Adidas tennis shoes, they think of the iconic Barricade and Ubersonic series. These amazing shoes have become both fans and players favourites over the years.
Recently Adidas released a few tennis shoes which are the Adidas Gamecourt and Adidas Courtjam Bounce. These shoes are kind of a substitute for the iconic Barricade series.
This has caused a lot of anxieties in the tennis community because it has raised a lot of questions about whether this shoe can leave up to the expectation.
If you are curious to find out how good the Adidas Courtjam Bounce is, then I suggest you grab a chair and read on because you are in for a ride. Let's start with the design.
Design
The design of the shoe is spot on. It may not be the best tennis shoe design when compared to other shoes such as Nike Air Zoom Vapor X.
If you were to ask me which one is my favourite tennis colour I would say the men's orange. And the ladies apricot, silver is great looking as well.
Adidas did a great job by making it look simple and sleek at the same time. If you are struggling with confidence or lack of self-esteem on the court then wearing this nice looking shoe could be a great help to you.
Upper
Now let's take a look at the upper of the shoe. For some players, this part of the shoe is important to them. The upper is made of a combination of mesh and synthetic material.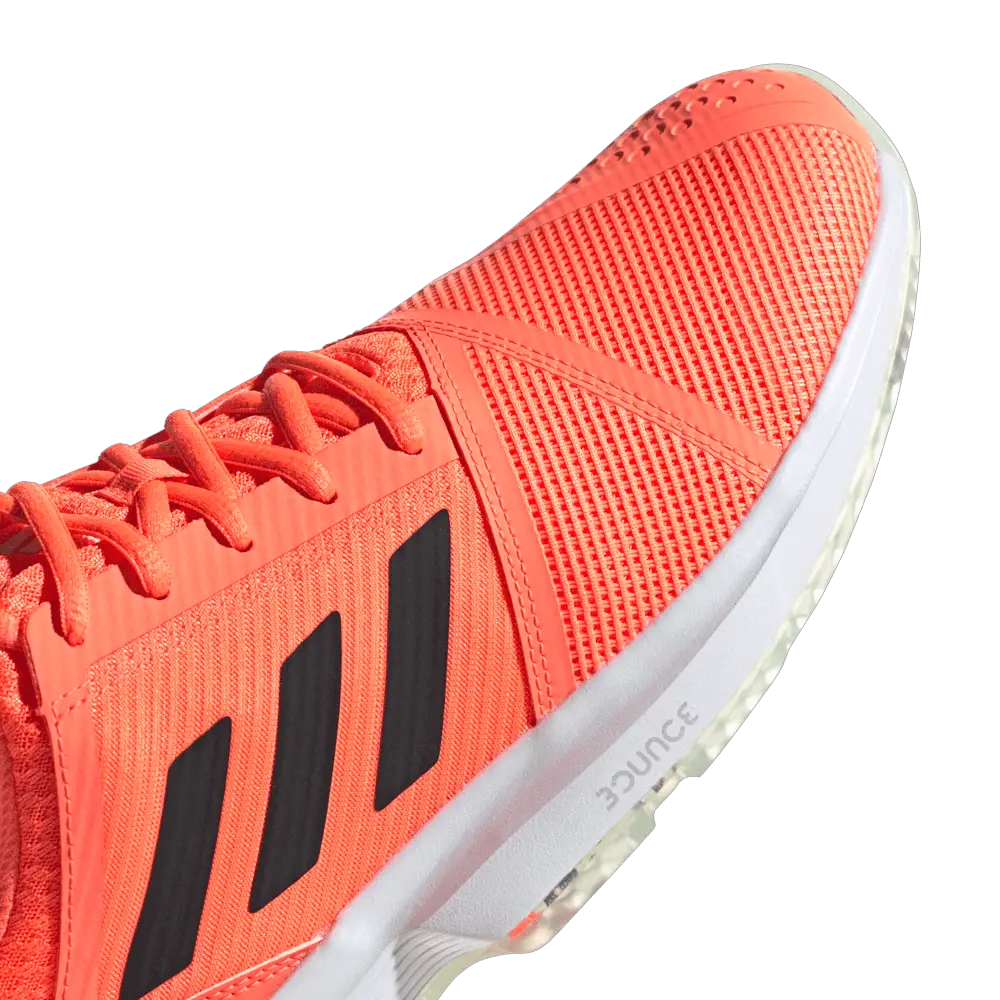 The awesome breathable mesh would allow the hot air and sweat build up in the shoe to ventilate and replace with cool air.
This process of fast ventilation would allow your feet to feel cooler and fresh throughout the match.
So have no fears when playing longer and intense matches because the mesh would take good care of it.
Forefoot, Ankle Support and Heel Back
Around the forefoot area is an AdiTUFF which act as an abrasion-resistant material that will protect the shoe from excessive wear.
Furthermore, it prevents shocks from banging the toe on the ground on serves and other contacts from causing any discomfort to the foot. The ankle area is well built to provide you with excellent comfort and cushioning.
The heel area is also well built with thick walls. It is also strong and holds your heel and feet in the perfect position as you play rallies.
Midsole
If you are looking for a comfortable and cushioning midsole then you would find it at the Flexible Bounce midsole. This type of midsole Adidas has installed is a multi-layered EVA which is extremely firm at the bottom.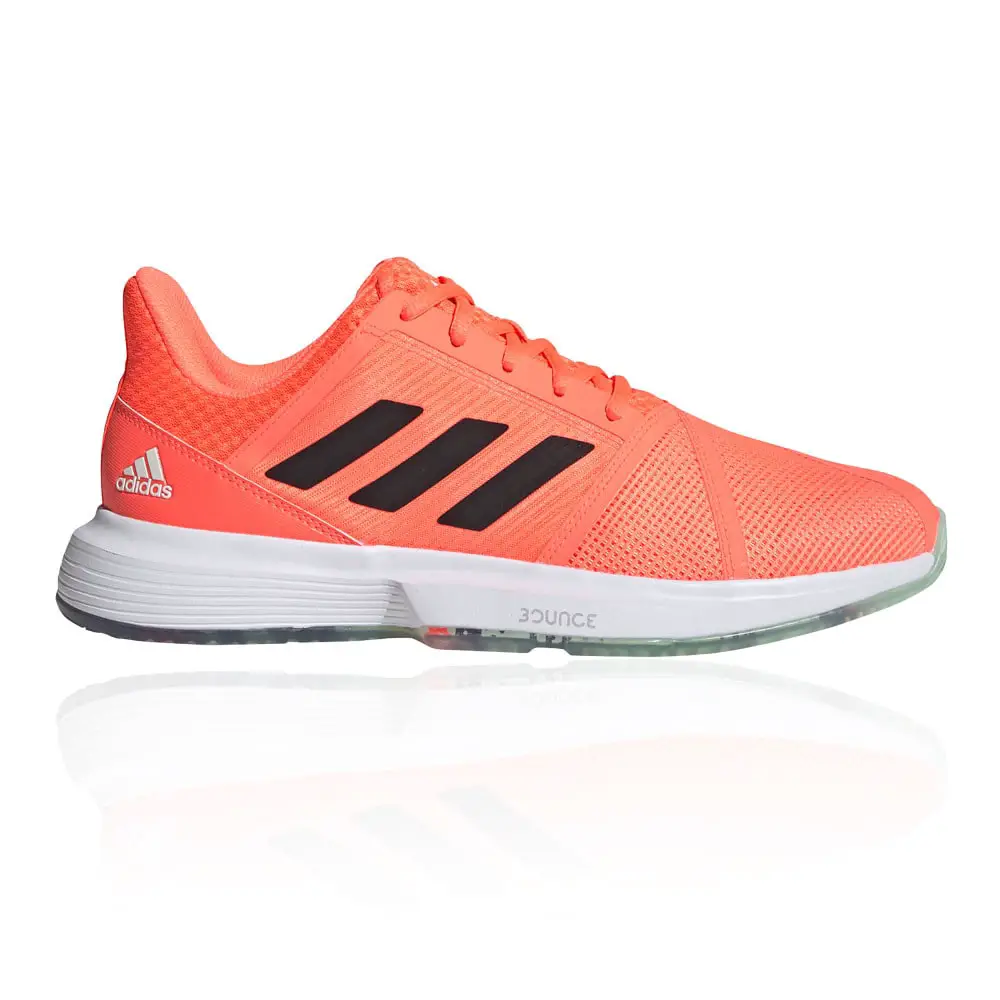 This means that all the bumps and shocks are instantly absorbed before they can make their way up the midsole. As well as this, the EVA will cushion your feet.
The way it does this is by changing the density towards the top which will cushion your feet in every step you take.
This means that no matter how long your match lasts, you will always enjoy the same soft feel underfoot. Very clever from Adidas!
With every step you take, a lot of energy is produced by flexing the sole and causing impacts with the ground. The energy created will be transferred by the reactive material into a rebound, which will give you an added spring, and therefore give you an extra boost.
Outsole
Just like the Adidas Gamecourt tennis shoe, this shoe is made of the Adiwear outsole.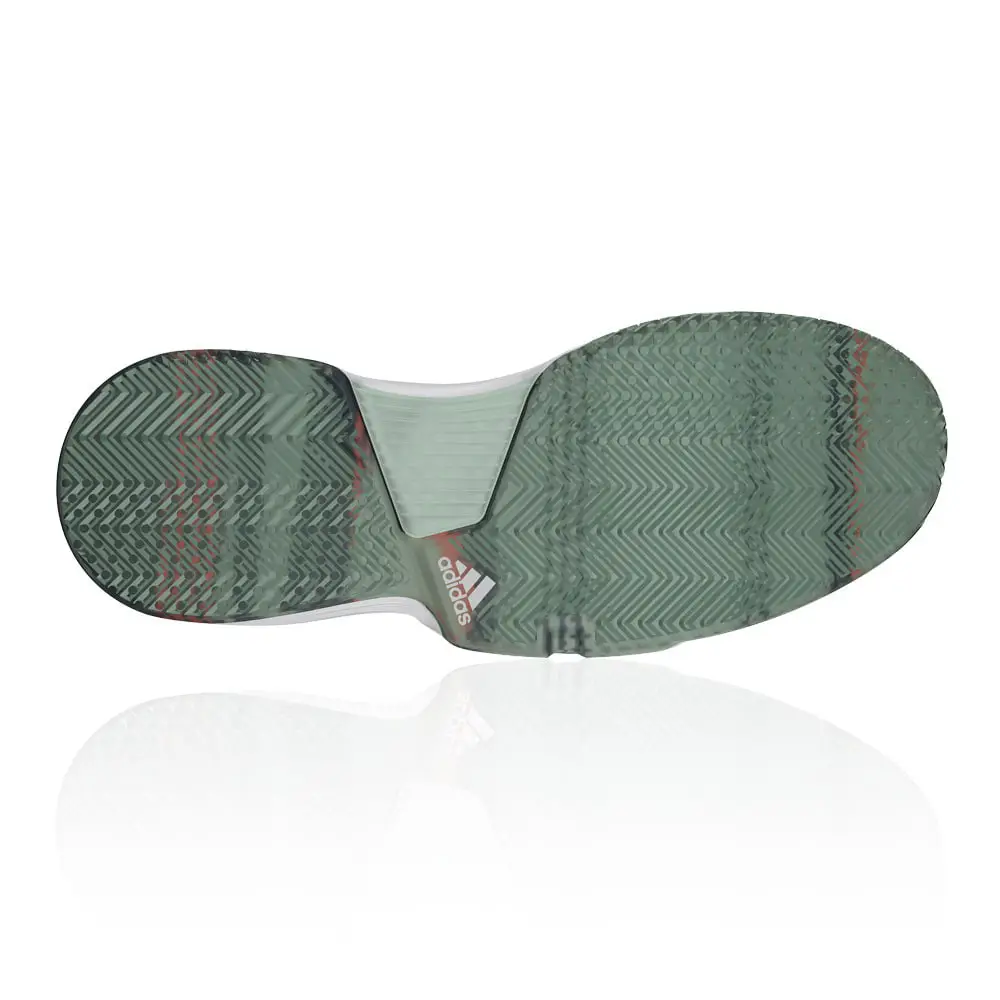 It may not be the best durable tennis shoe on the market, however, the abrasion-resistant will allow you to have good control and traction on all court surfaces.
Moreover, the grooves are multi-directional, which will anchor your foot in place as you take shots and move around the court.
And lastly, in terms of the outsole, it is also made of rubber to form a solid connection between the shoe and the court.
Fit and Lacing System
In terms of fit, this shoe can fit any foot size. From small to medium and wide. The lacing structure is not as complicated as other Adidas tennis shoes such as Adidas SoleCourt and Adidas Adizero Ubersonic 2.
The laces are fairly easy to tighten and loosen for a perfect fit. However, the shoe does not have extra lacing shoes for extra grip and support.
It would be great to see if Adidas can add an extra lacing hole in their next update. Whiles the tongue will lie flat on the foot ensuring that the laces don't loosen up and district your game.
Weight
In terms of the weight of the shoe, it's a little difficult to tell since it comes in different sizes. However, one thing that is for sure is that it's lightweight which makes it perfect for club players. Having a lightweight shoe like this one is going to improve your speed on the court.
Price
As amazing this shoe is, the price of this shoe is decent compared to expensive shoes such as NikeCourt Air Zoom Vapor X Knit. The Adidas Courtjam Bounce is below $100 which is a reasonable price and it comes in a variety of colours.
It's worth checking the shoe out and even better getting a hand on one of them before the price increase in the near future.
Final Thoughts!!
In conclusion, it's pretty obvious that the Adidas CourtJam Bounce has a lot of awesome features. For example, good cushioning, stability, lightweight and design. However, it may not be great as the Barricade and Ubersonic series.
Although, I feel that with a few improvements from Adidas this shoe can do very well. It's important for people not to panic and remember that they are still coming from the three stripes. If you manage to get this shoe, I wish you all the best and great success on the court.