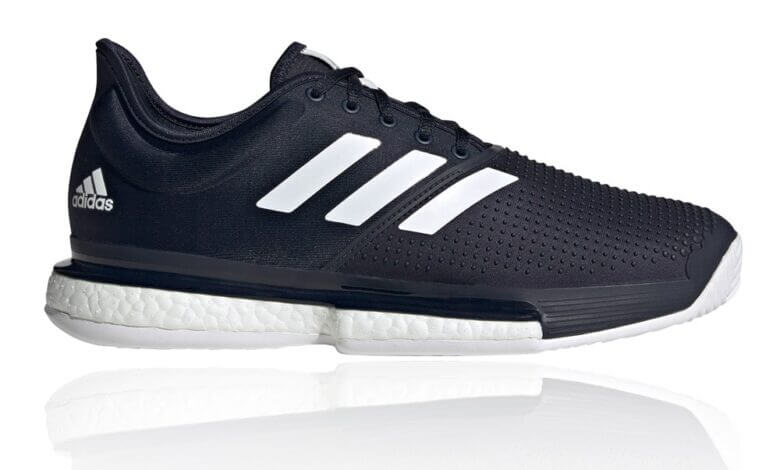 We're an affiliate
We hope you love the products we recommend! Just so you know, we may collect a share of sales or other compensation from the links on this page. Thank you if you use our links, we really appreciate it!
Product Overview
Comfort

Durability

Stability

Breathability

Weight

Fit and Size
Summary
The Adidas SoleCourt Boost is a new addition to the Adidas tennis shoe family. This shoe is going to provide you with excellent stability, durability and traction. If you are a player looking for such features then you would enjoy wearing this shoe. 
However, there are some important areas of the shoe that needs improvement such as the wide toe box and the comfort of the shoe. With that said it's still a good shoe to play with it on the court. 
Pros
Good stability
Durability
Excellent traction
Cons
Needs improvement in the toe box area
Adidas and companies such as Asics have established themselves us one of the best companies at designing world-class tennis shoes for both professional and recreational players.
If you are a player that is a big fan of Adidas and are looking for one of their tennis shoes that provides you with lightweight, stability, durability and traction. Then you have arrived at the right place.
Adidas SoleCourt is one of the tennis shoes that offers all these benefits. In this post, I'm going to give an in-depth review of the men's and see how good these shoes are. If you are excited like me, let's begin with the design and aesthetic of the shoe.
Design
The first thought or impression that I got from this shoe is 'not bad'. For me, the design and choice of colours are not the best and they are not the worst either.
When you compare the design of the shoe with other tennis shoes such as Air Zoom Vapor Cage 4 or Air Zoom Vapor, you realize that with a few improvements in the design they would make the shoe even better.
Upper
What makes this shoe unique is the extremely lightweight construction of the upper which would give you the opportunity to move across the court with ease.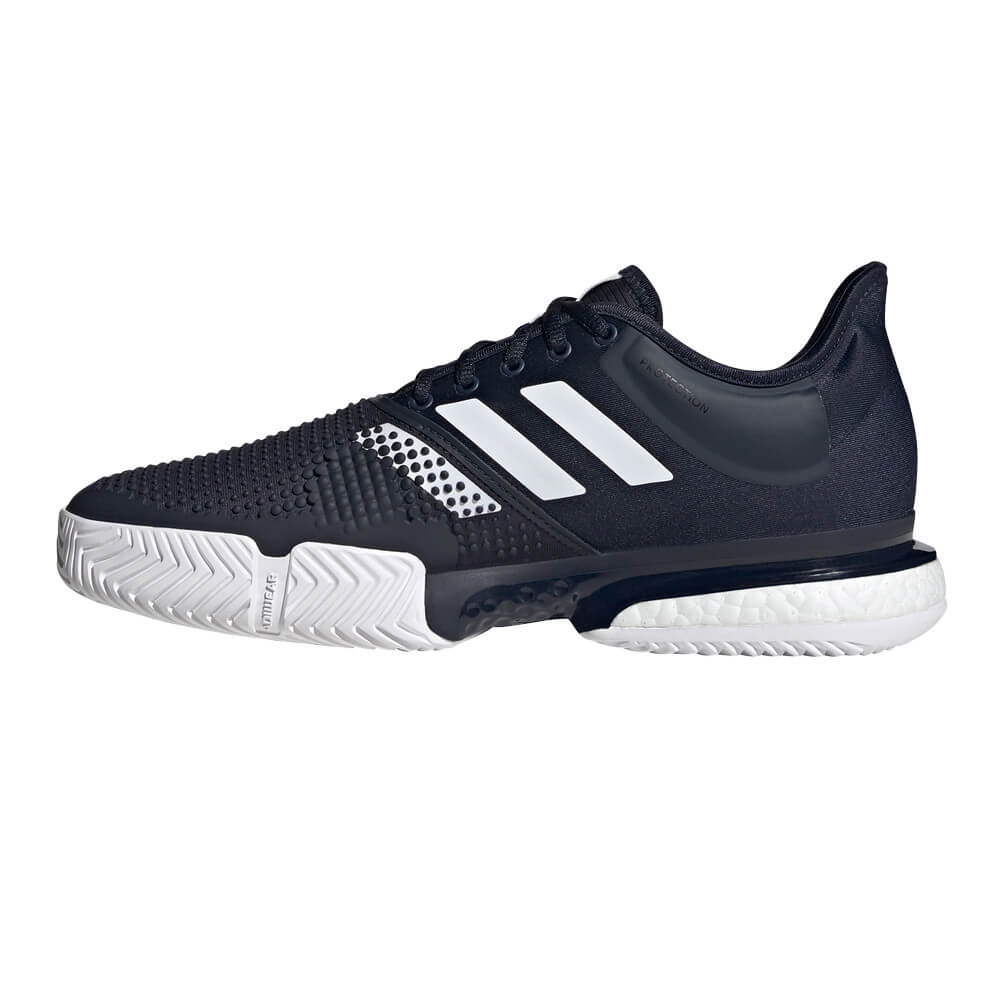 Moreover, due to the lightweight of the shoe, you wouldn't feel much pressure and weight on your feet.
This way you have the opportunity and freedom to make sharp turns and still be able to maintain your pace.
With the help of the dots around the upper area and lightweight, the air would be able to move in and out of the shoe quickly. This helps your feet stay fresh over the course of the match.
Toe Box
The upper area of the shoe provides room for your foot to lock in perfectly. This allows your feet to stay in a strong and stable position and give you the confidence to make the perfect shots you want.
The toe box, on the other hand, has a lot of room. This can be very helpful if you have a wide foot. But it can be a struggle if you have a medium or narrow foot. It's important to check your size and try the shoes to see if it feet you perfectly.
Midsole
The midsole is made of Adidas own boost midsole to provide you with excellent cushioning and protect your feet from shocks and heavy contacts.
On top of that, the EVA at the bottom of the midsole is firm and strong to prevent you from bumps and shocks. This lowers your chances of you getting high injuries.
Moreover, the midsole is able to transfer these impacts into energy return. This allows you to get more energy and use in the match. Lastly, the excellent cushioning makes every step you take soft and comfortable.
Heel Area
The heel area of the shoe is well secure for your foot. This place your foot in a stable position to prevent injuries.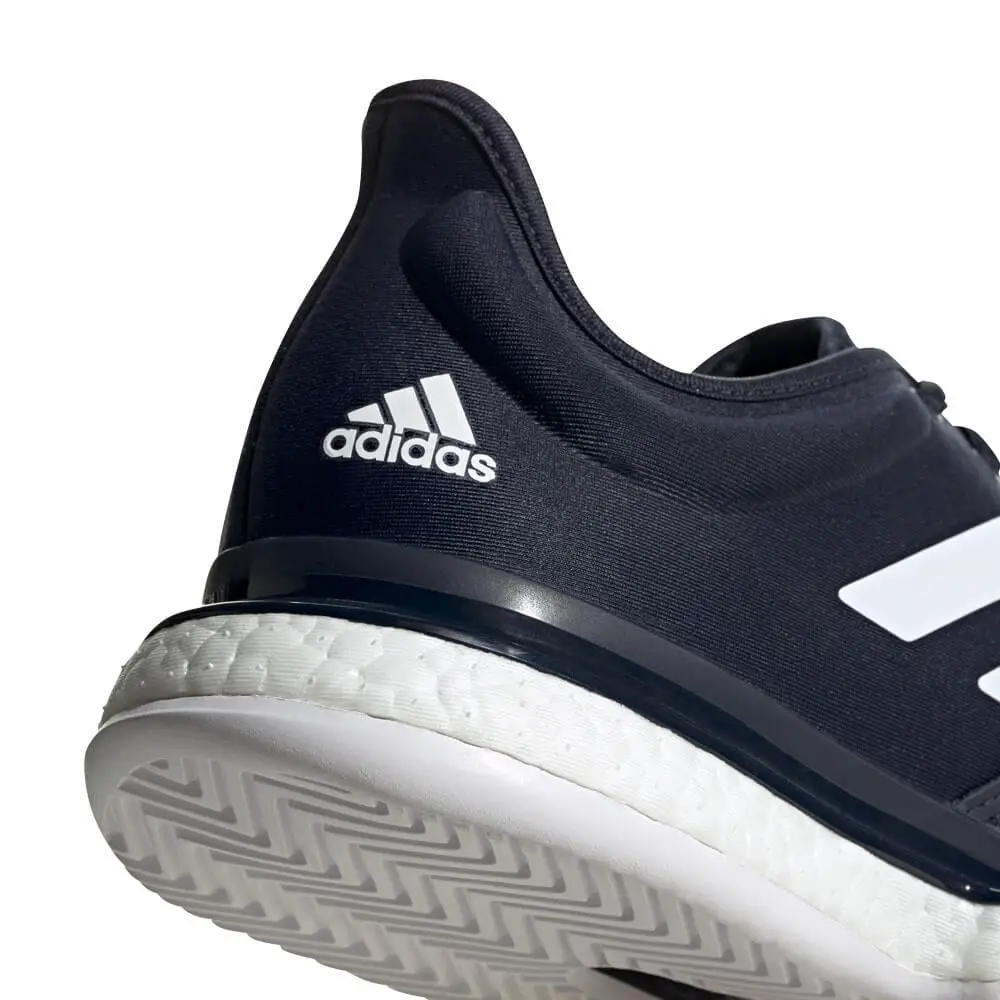 Also, the foot laces and flat-lying tongue will ensure that your feet stay comfortable, non-restrictive and firm fit.
The last point I want to make is how the abrasion-resistant Adituff wraps around your toes and medial forefoot to help protect against foot drag that occurs during serves, volleys and extreme lateral movements.
Clay Version
This shoe also has a clay version and it comes in black colour.
Outsole
The Adidas SoleCourt is by far one of the best durable outsoles you would ever get with tennis shoes. Despite how many matches you play, the outsole would not wear out easily.
On top of that, the rubber is able to form a solid connection between the shoe and the court. This allows you to be stable on the court and hit the ball with enough power.
Furthermore, the grooves underneath the shoe are multi-directional which would provide you with excellent traction and assist your control. When it comes to the outsole this shoe is definitely worth your money.
Lacing System
The lacing system may not be the best out there. Despite how simple the structure is, it can get a little uncomfortable when the laces keep losing up whiles playing a match.
Colour Options
In terms of colour options available, it comes with limited colour options to choose from which can be a little disappointment for some players who like to select shoes that suits their tennis outfit. Apart from the normal black version, there is also a white colour for this shoe.
Price
The last point worth talking about is the price of the shoe. It comes around the $100 price point which is a fantastic deal when you consider how great this shoe is.
However, there are some areas that need a lot of improvements such as stability and support. If you want less expensive shoe then you want to check out NikeCourt Lite 2. This shoe is not expensive like the Adidas SoleCourt and it comes with great features as well.
Final Thoughts!!
As this post comes to its conclusion, I hope you have found it very useful. It's very clear that Adidas wants to improve your game by providing you with excellent durability, stability and cushioning.
Although it may not be their best tennis shoe when compared to other ones such as the Barricade and Ubersonic as an example.
However, with that said it still a great tennis shoe to have and it's suitable for a lot of court surfaces. I hope you enjoy using this shoe and find great success on the court.