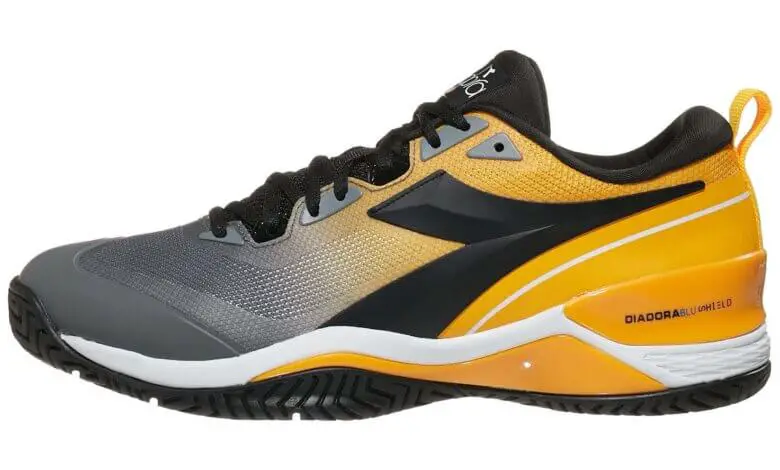 We're an affiliate
We hope you love the products we recommend! Just so you know, we may collect a share of sales or other compensation from the links on this page. Thank you if you use our links, we really appreciate it!
Product Overview
Comfort

Durability

Stability

Breathability

Weight

Fit and Size
Summary
The Diadora Speed Blushield 5 AG comes with some slight teaks from the previous version. This new edition is going to provide you with excellent comfort, stability, breathability and nice cushioning. 
However, it would have been nice for players to have more colour options to select from. This way it can suit their tennis outfit. Despite a few criticisms, the positives completely outweigh the negatives. This shows you that Diadora has done an incredible job with this new update.   
Pros
Nice looking design
Super comfortable
Good stability
Very durable
Nice cushioning
Cons
Expensive
Lack of colour options
Despite how small Diadora company seems they continue to amaze the would of tennis by making high-performing tennis shoes. In 2020, they released the Diadora Speed Blushield 4 AG which came with a lot of amazing features to take your game to the next level.
This year, Diadora had made some adjustment to the previous version to make it even look and perform better. In this post, I'm going to provide you with an in-depth review of the Diadora Speed Blushield 5 AG and help you decide if it's worth adding to your collection of tennis shoes. Let's start off with the design and cosmetic of the shoe.
Design
Right out of the box, the cosmetic and design of the shoe looks amazing and stunning. Just like the previous version, the Blushield 5 looks clean, simple yet attractive. Personally, I really like the yellow/black version because it looks bright and fashionable.
The design of the shoe reminds me of other shoes such as NikeCourt Tech Challenge 20 and NikeCourt Air Max Wildcard. Wearing a nice looking shoe like the Blushield 5 could improve your confidence and self-esteem on the court. This tells you that Diadora did their homework really well.
Upper
There are some changes made to the upper material to provide you with the best experience ever compared to the previous version. Firstly, the tighter mesh weave material is going to provide you with excellent breathability and increase the strength of the upper for better support on lateral movements.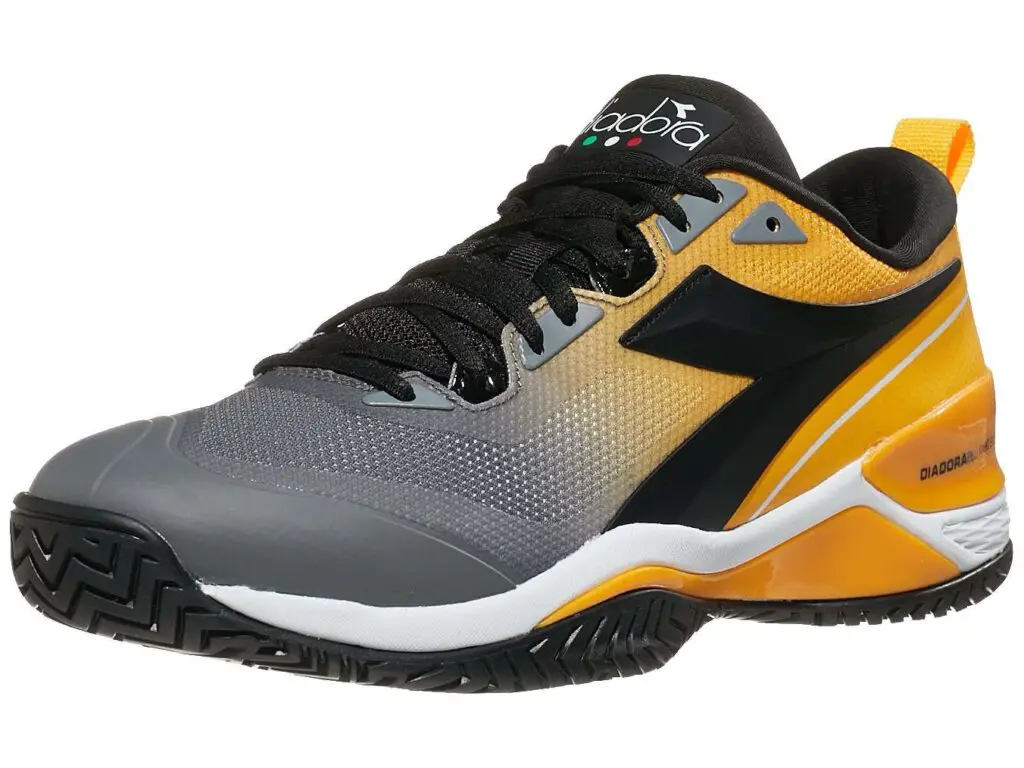 This is great because you can play for long hours both indoors and outdoors without feeling like your feet is suffocating.
Secondly, the use of the D-Skin upper helps to provide you with resistance to the wear and tear of high-performance movement.
And lastly of the upper is the durability. The upper comes with a triple thickness wrap which is going to last you for a while. If you like to slide a lot on the court or move aggressively then you would find the upper very useful.
Heel Counter and The Logo Design
The shoe comes with an outrigger heel counter which does really well to keep your feet secure and stable throughout the match. Moreover, it has also got an outside lateral stabilizer as well as an inside medial shank to allow you to move comfortably and securely on the court.
Also, having a strong heel counter of this size can really reduce the chances of you getting any serious injury. Diadora did really well to incorporate their logo inside of the shoe once again to keep your heels very secure and stable during movements on the court.
Ankle Collar and Midsole
The ankle collar is nicely padded like the tongue to provide you with more cushioning and comfort. This is great to have because it helps you to move smoothly on the court.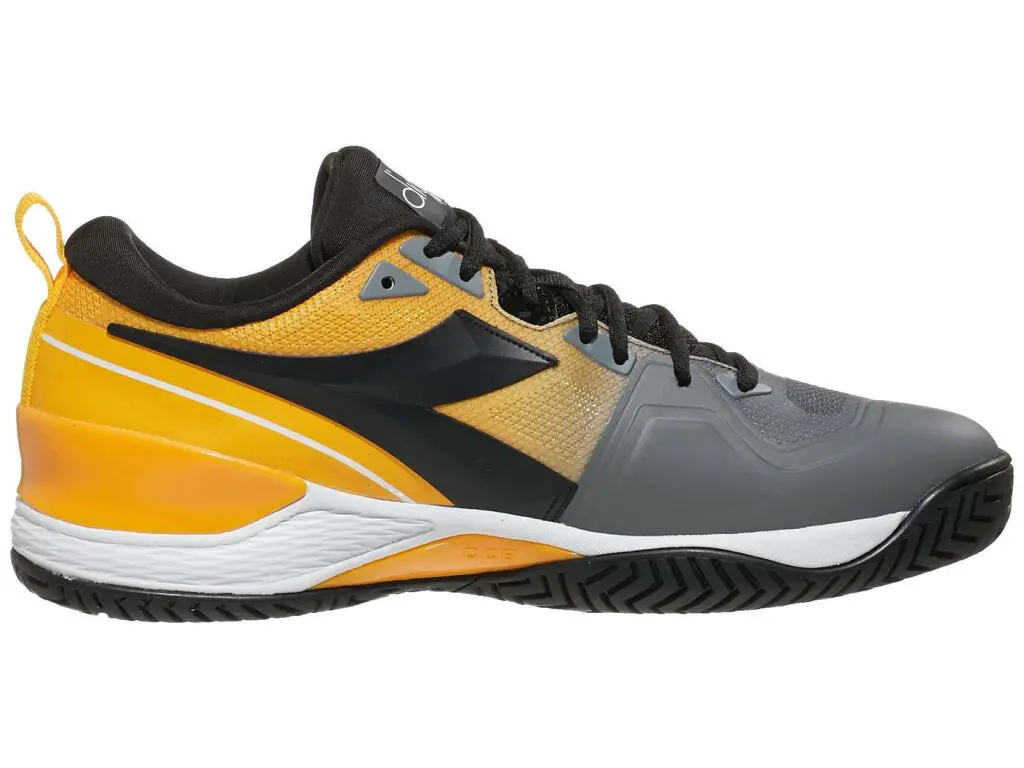 Next up is the midsole. This is another area that has been improved from the previous version. The midsole material is made of lightweight EVA foam for underfoot cushioning, bounce and energy return.
In addition, the Blushield technology offers layers of cushioning which also supports your foot within the shoe. This makes you perform really well on the court compared to the Blushield 4.
Lacing System and Tongue
The lacing structure is done in a simplistic way but very effective at keeping your feet secure. The laces are very long enough to heel lock the shoes and as a result, keep your feet stable.
The lacing holes are made of metals to make the holes durable and easy to lace through them. On top of that, it's got extra holes for more grip and stability.
The tongue is well padded to provide you with comfort. Also, a leather hole is used on top of the tongue to help keep it stable and prevent it from disturbing you during the matches.
Weight and Size
This shoe comes with a weight of 15.7 ounces with size 10.5. It may feel a little heavy on your foot compared to the last version. The Diadora Speed Blushield 5 comes in many different sizes. However, since it comes in wide size it's highly recommended that you order 1/2 or 1 size smaller than your regular size. This way you get a nice and comfortable fit.
Outsole
The outsole is made of a modified herringbone pattern. The purpose of this is to provide you with good traction and stability on the court. This would really allow you to move and slide comfortably on the court.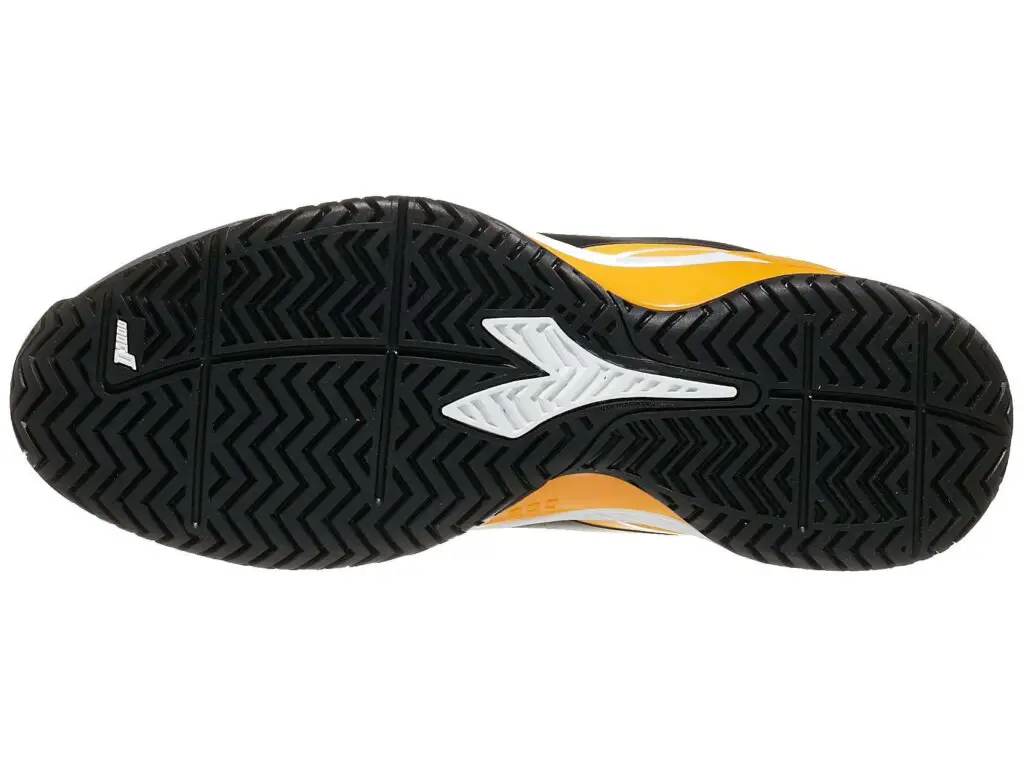 Moreover, the outsole comes with a duratech 5000 rubber compound which is going to provide you with excellent durability on the court.
Just like the Blushield 4 which comes with six months sole durable guarantee, this is also the case for the Blushield 5. As a result, players who are very hard on their outsole would really benefit from it.
Fit
This shoe is more suitable for players who have narrow, medium and wide foot.
If you have a narrow foot I would recommend that you wear two pairs of socks to help you with your fit around the heel area. Also, if you have a flat, neutral and high arch this shoe would suit you too.
With the help of the materials in the midsole area and the blushield foam, this makes it great for players who are suffering from Achilles pain or heel pain. This shoe does not require any break-in period which is a bonus because your feet can adjust to the shoe quickly and start playing your style of game.
Colour Option
One of the weaknesses of this shoe is the limited colour options to choose from especially with the ladies. I was hoping that Diadora would have provided more colour options with this iteration. But that wasn't the case.
Price
The last point to talk about is the price of this shoe. This shoe comes at the $140 mark which makes it a little expensive. I would say it's on the same price point as other tennis shoes such as the ON The Roger Advantage and Asics Solution Speed FF 2. Despite how expensive the Blushield 5 seems it still comes with awesome features to help you improve your game.
If you are looking for a tennis shoe with a decent price range then I would suggest that you check out some of the best tennis shoes under $100. You would find this in-depth review useful.
Final Thoughts!!
In conclusion, it's pretty obvious that Diadora has done an incredible job with the Blushield 5. This shoe is going to provide you with excellent comfort, stability and nice cushioning. However, there are a few drawbacks to the shoe such as lack of colour options and it's a little expensive.
Apart from these two criticisms, this shoe is nice looking and durable. If you are a player looking for these features in a tennis shoe then you would really enjoy wearing it. If you have any tennis shoes for me to review please let me know and I would put them on my to-do list. With that said, keep grinding on the court.