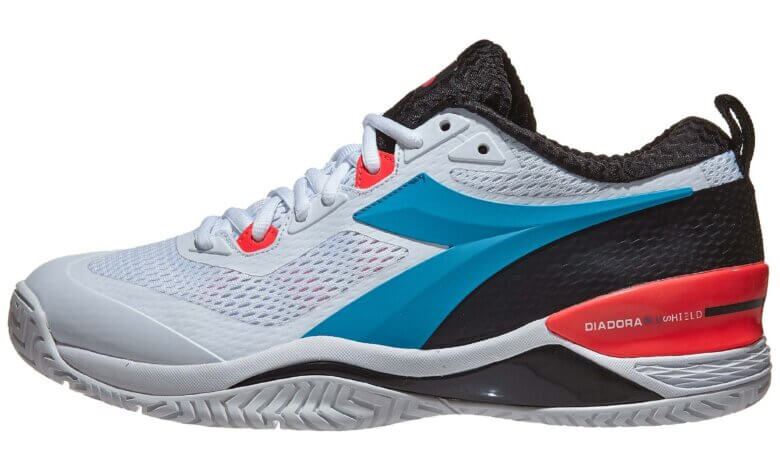 We're an affiliate
We hope you love the products we recommend! Just so you know, we may collect a share of sales or other compensation from the links on this page. Thank you if you use our links, we really appreciate it!
Product Overview
Comfort

Durability

Stability

Breathability

Weight

Fit and Size
Summary
Right out of the box, this shoe looks awesome with the amazing colour scheme. On top of that, it's going to provide you with comfort, traction, stability and great for wider feet. 
Despite how amazing this shoe looks, it lacks colour options to choose from which can be a blow to some players. Also, it would be great if Diadora can improve the weight of the shoe and make it lightweight. 
Pros
Nice comfort
Excellent traction
Good stability
Breathability
Nice looking shoe
Cons
Needs more colour options
Heavy
Not suitable for narrow feet
When it comes to selecting and buying high-quality tennis shoes. Most players and fans usually think about the BIG brands such as Nike, Adidas, Asics and New Balance.
As awesome as these brands are due to their reputation of making quality tennis shoes over the course of the decade. It's also worth checking an unpopular brand like Diadora because they sometimes make cool and quality shoes.
A perfect example is the Diadora Speed Blushield 4 AG which has been updated from the previous version. This shoe has amazing features that are worth pointing out and some drawbacks.
In this post, I'm going to provide you with an in-depth review of the Diadora Speed Blushield 4 AG and help you decide if it's worth adding to your collection of tennis shoes. Or even using your hard earn money to purchase it.
If you are ready and excited like me let's start with the design and cosmetic of the shoe.
Design
Right out of the box the cosmetic and colour scheme of the shoe looks superb. Diadora selected the right colour options and did a great job at combining them to make it look attractive, simple and clean.
The design of the shoe reminds me of other shoes such as NikeCourt Tech Challenge 20 and NikeCourt Air Max Wildcard.
Wearing a nice looking shoe like the Speed Blushield 4 is going to help you increase your confidence and self-esteem on the court. Credit to Diadora for making such an amazing looking tennis shoe.
Upper
Now let's take a closer look at the upper because it comes with different interesting materials. The upper is made with a combination of Suprelitech, Air Mesh and D-Skin materials.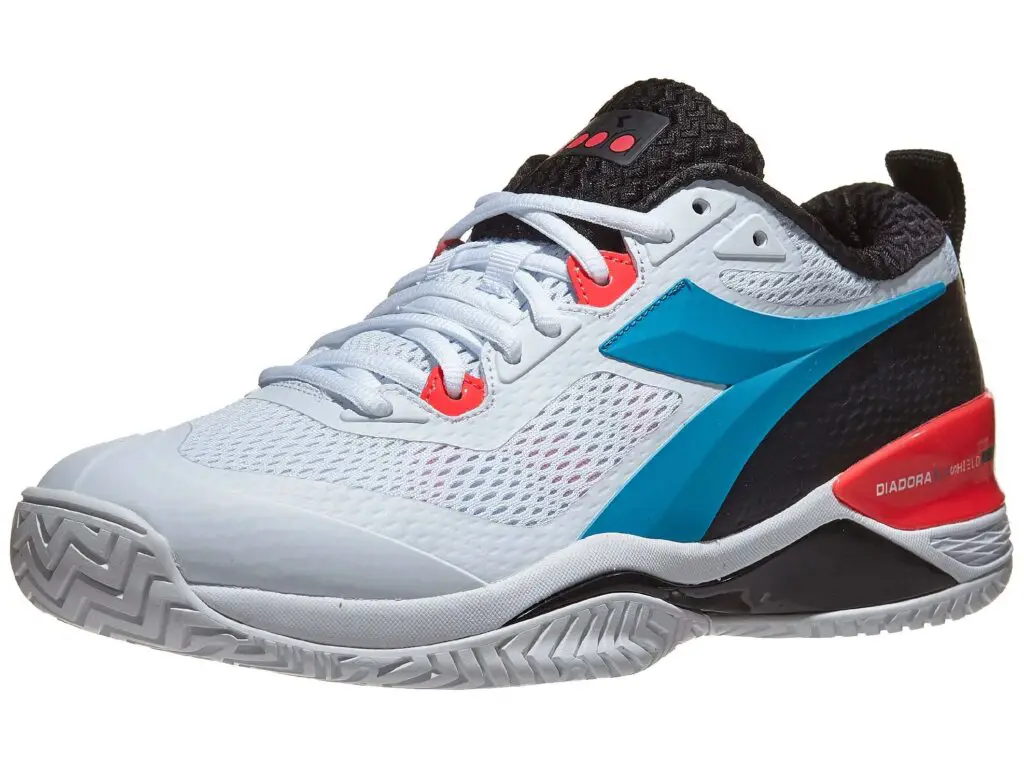 Let me break it down and show you the amazing features of each material. The use of Air Mesh material is going to provide you with excellent breathability on the court.
This is such a piece of great news for players especially aggressive movers because moisture and sweat can leave the shoe quickly whiles allowing fresh air to come through.
On top of that, the use of mesh material is going to make it feel soft and comfortable when you wear it.
Next the D-Skin material. This material is going to make the upper durable and be able to deal with aggressive moves on the court. And lastly, the Superlitech material is going to provide you with resistance to the wear and tear of high-performance movement.
Heel Counter and The Logo Design
The shoe has an outrigger heel counter which does a fantastic job at locking your heel in perfect position. This as a result gives you a stable ride when moving side to side and sliding on the court.
Also, having a strong heel counter of this size can really reduce the chances of you getting any serious injury.
Another cool and interesting thing is how Diadora was able to incorporate their logo into the shoe. The logo is connected to the midsole, heel counter and into the lace closure system. This whole process makes the shoe more stable.
Lacing System and Tongue
The lacing system is very catchy in the way it is structured. It has a shoelace eyelets reinforcements on the ankle area, the lacing structure itself and the toe box.
This allows you to thigh your shoe with more grip which as a result would provide you with stability on the court. Moreover, the tongue has a nice soft feel and it's connected to the lacing structure which does a good job at keeping your mid-foot still.
Ankle Collar and Midsole
The ankle collar which is made of textured material is going to give you a nice feeling and security.
The midsole is made of lightweight EVA foam material which is going to provide you with cushioning and comfort. Although it is going to compress a lot as you jump and make a smash.
In addition, Diadora included Blushield Fly technology to provide you with shock absorption and cushioning. And lastly, the midsole also has air pots in there to provide you with more shock absorption and spread your weight.
Weight and Size
Coming at a weight of 445 grams and a size of 10.5. I wouldn't say this shoe is lightweight when you compare it with other shoes such as Wilson Amplifeel 2.0 or Lotto Mirage 100 SPD. It's not very heavy either. It's in between I would say.
Outsole
Next up is the outsole. It is made of herringbone pattern and sliding channels. This is going to give you good traction and stability on all court surfaces.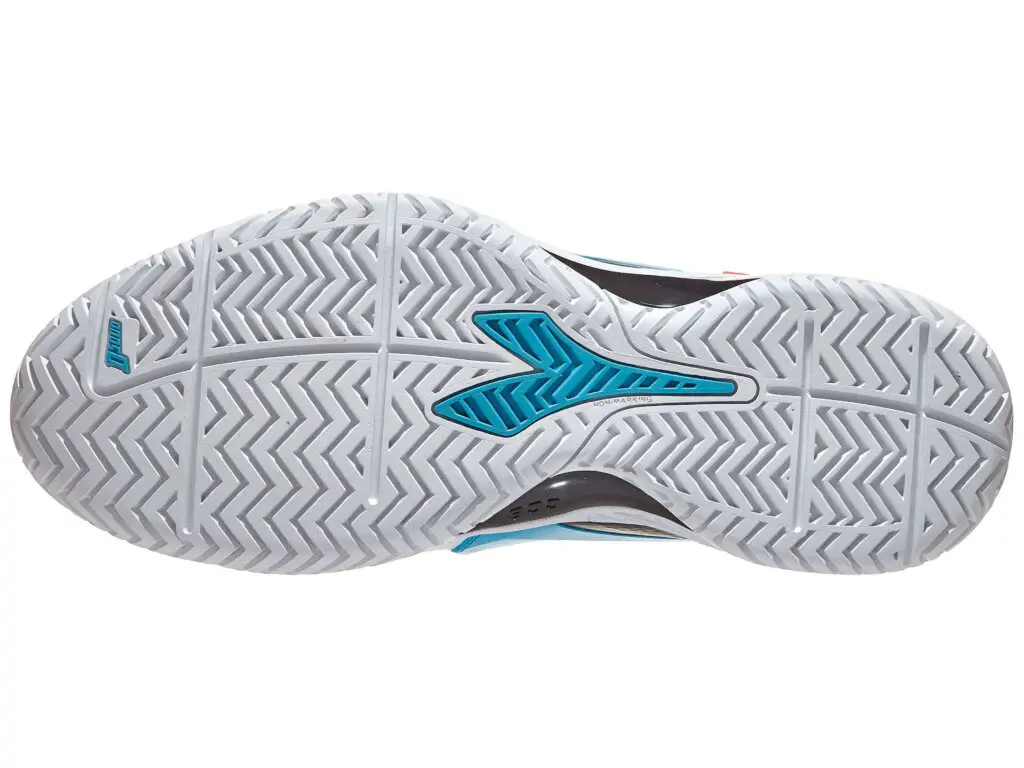 In addition, the outsole is very durable and if you are someone who is very aggressive on their outsole then you want to also take advantage of the six months durability guarantee. You would definitely love it.
Fit
In terms of fit, this shoe is very suitable for players who have a medium to wide foot. However, if you are a player that has narrow and unstable flat feet then I wouldn't recommend that you go for this shoe.
I would recommend shoes such as NikeCourt Air Max Volley. Moreover, the Diadora Speed Blushield 4 shoe does not require any break-in period which is fantastic because once you wear it you are ready to go. One tip of advice is when ordering this shoe I would suggest that you order 1/2 or 1 size smaller than your regular size.
Colour Option
One of the key weakness of this shoe is the lack of colour options. It would be great to see Diadora produce more colour options for players because it gives you the opportunity to select which colour you prefer and suit your tennis outfit.
Price
The last point to talk about is the pricing. This shoe is close to the $100 mark. As you can see it comes with great features that can help improve your game.
However, if you are someone on a lower budget then I suggest you read my post on tennis shoes below $100 and even under $55. You would find them very useful.
Conclusion
In conclusion, I hope you have enjoyed reading this post about Diadora Speed Blushield 4 AG.  As you can see this shoe is going to provide you with comfort, traction, stability and great for wider feet.
However, Diadora needs to provide more colour options, make the shoe lightweight more and make it more suitable for everyone. With that said it's still a great shoe to have with the design.
I would end by saying if you manage to pick this shoe up, I wish you the very best in your future matches.