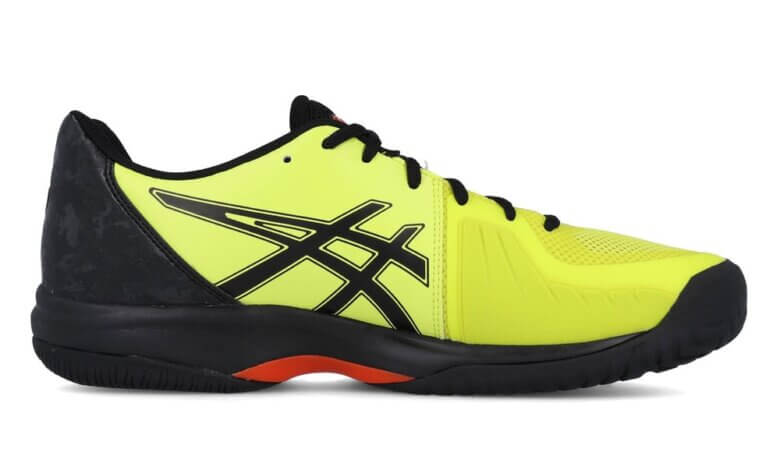 We're an affiliate
We hope you love the products we recommend! Just so you know, we may collect a share of sales or other compensation from the links on this page. Thank you if you use our links, we really appreciate it!
Product Overview
Comfort

Durability

Stability

Breathability

Weight

Fit and Size
Summary
Asics present us with the Gel-Court Speed which is specifically designed to provide you with excellent lightweight, comfort and performance on the court. If you are a player looking for these features then you are going to enjoy wearing this shoe. 
However, this shoe is not suitable for players with wide feet and some players are likely to experience some tightness in the toe area. Overall it's a fantastic shoe with a great price point. 
Pros
Lightweight
Super comfortable
High performing shoe
Good durability and traction
Good stability and support
Cons
Not suitable for players with wide foot
The toe area may feel tight for some players
Another year, another tennis shoes to add to the Asics line of tennis shoes. In this post, I'm going to give you an in-depth review of the Asics Gel-Court Speed and how you can benefit from it. Let's begin with the design and cosmetic of the shoe.
Design
Personally speaking, the design of the Gel-Court Speed looks decent. It's not the best I have seen from Asics and other big brands such as Nike.
When you compare it with other tennis shoes such as the Asics Solution Speed FF 2 and New Balance Fresh Foam Lav it tells you that Asics can and should try to make their design and cosmetic very nice and attractive next time.
Upper
The upper material is made of breathable mesh. As the name of the material suggests, it's going to provide you with excellent breathability by enabling your feet to remain dry and comfortable with the mesh encouraging cool air to circulate, creating a healthier environment for your feet to thrive in.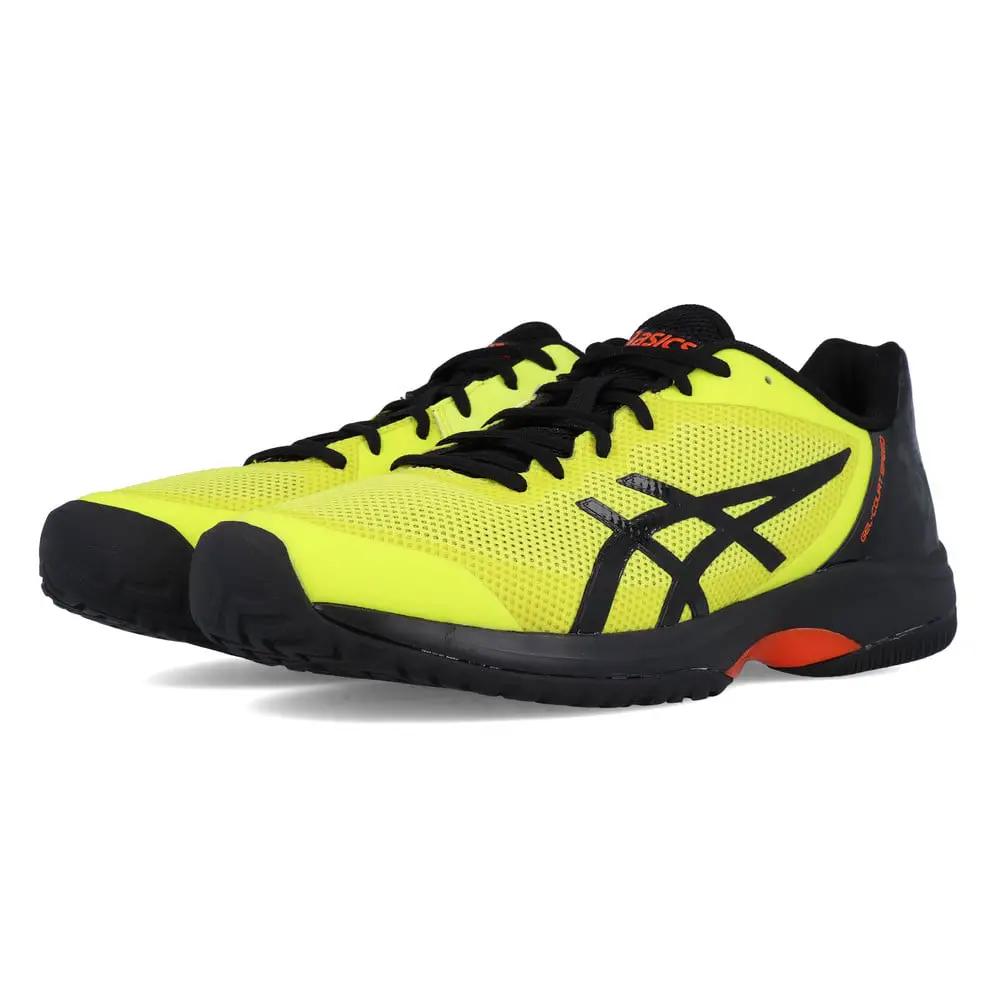 Furthermore, the mesh material does really well to promote efficient moisture management by actively and effectively wicking away the build-up of excess sweat and moisture.
This as a result keeps the feet free from distraction and discomfort.
As well as keeping you cool and comfortable, the mesh reduces unwanted bulk to improve performance without sacrificing quality.
Toe Box and Heel Collar
Are you a toe dragger? If you are then this shoe has got you covered. The toe area is made with PGuard material which is going to provide you with good durability and protection on the court.
However, the toe area may seem tight for some players when they wear it. This can be frustrating and annoying when playing long and intense matches.
The heel collar is going to provide you with nice cushioning and comfort when you wear it. This would really help with your movement on the court.
Midsole
The midsole is made of Solyte material which resides underfoot to provide you with lightweight cushioning whiles at the same time keeping you feathery on your feet and nimble on the courts.
Moreover, underneath the Solyte material are the rearfoot and forefoot Gel Cushioning Systems. The purpose of these technologies is to help reduce shock during the impact phase when sparing your joints as you volley and lop.
Also, it prevents you from getting any serious injuries when you land on unforgiving surfaces, allowing for smooth transitions and movement in multiple planes.
Tongue and Lacing System
Like most Asics tennis shoes, the Gel-Court Speed comes with a padded tongue. This is great because it's going to provide you with good cushioning and comfort.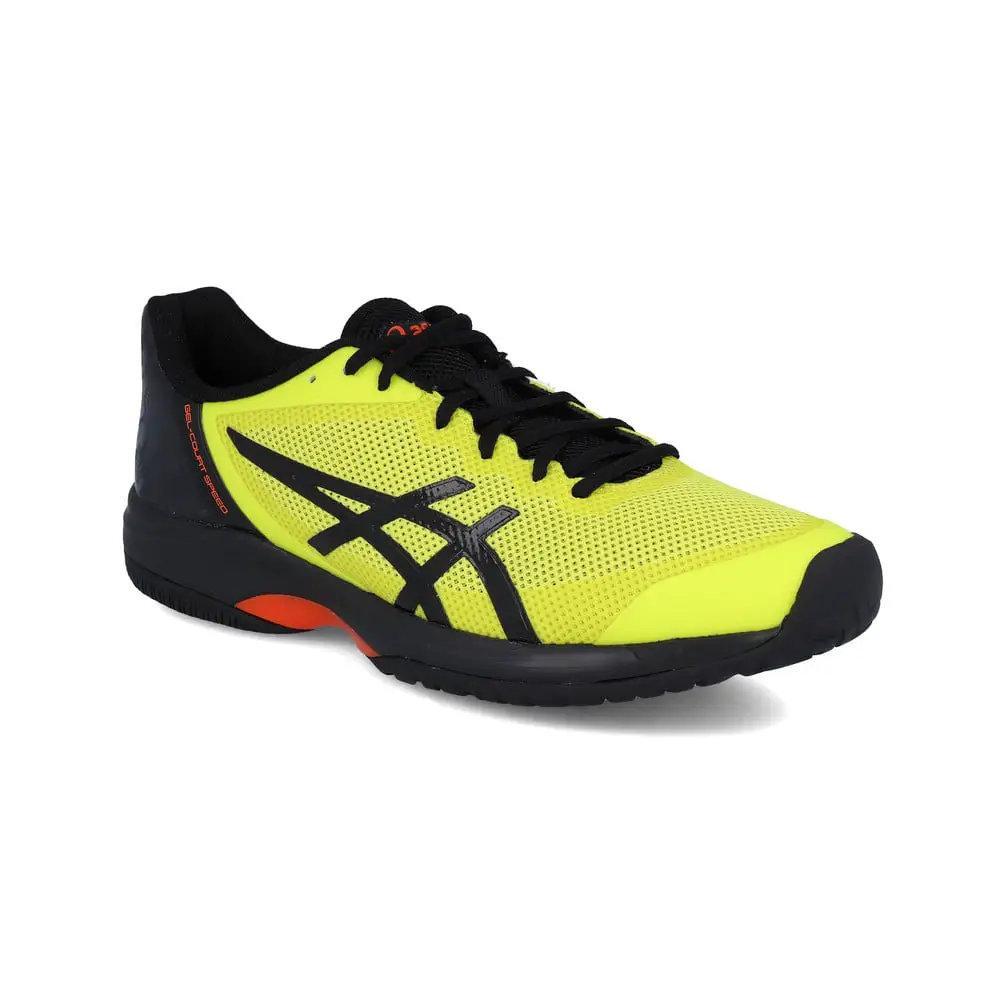 On top of that, the leather hole which is connected to the tongue helps to keep the tongue still and prevent you from getting distracted whiles playing on the court.
The lacing system is very basic yet very effective like other tennis shoes such as the Asics Gel-Dedicate 6.
First and foremost, it has got extra lacing holes for you to use for more grip and stability if needed. Also, the lacing holes are woven into the upper material which is going to make it durable.
Colour Options
Another key feature of this shoe is how it comes with many colours to select from. This is a great option to have as a player because you can select which colour scheme that suits your outfit.
Outsole
The Gel-Court Speed is made of an AHAR non-marking outsole. If you don't know what AHAR material is, it basically stands for Asics High Abrasion Resistant Rubber.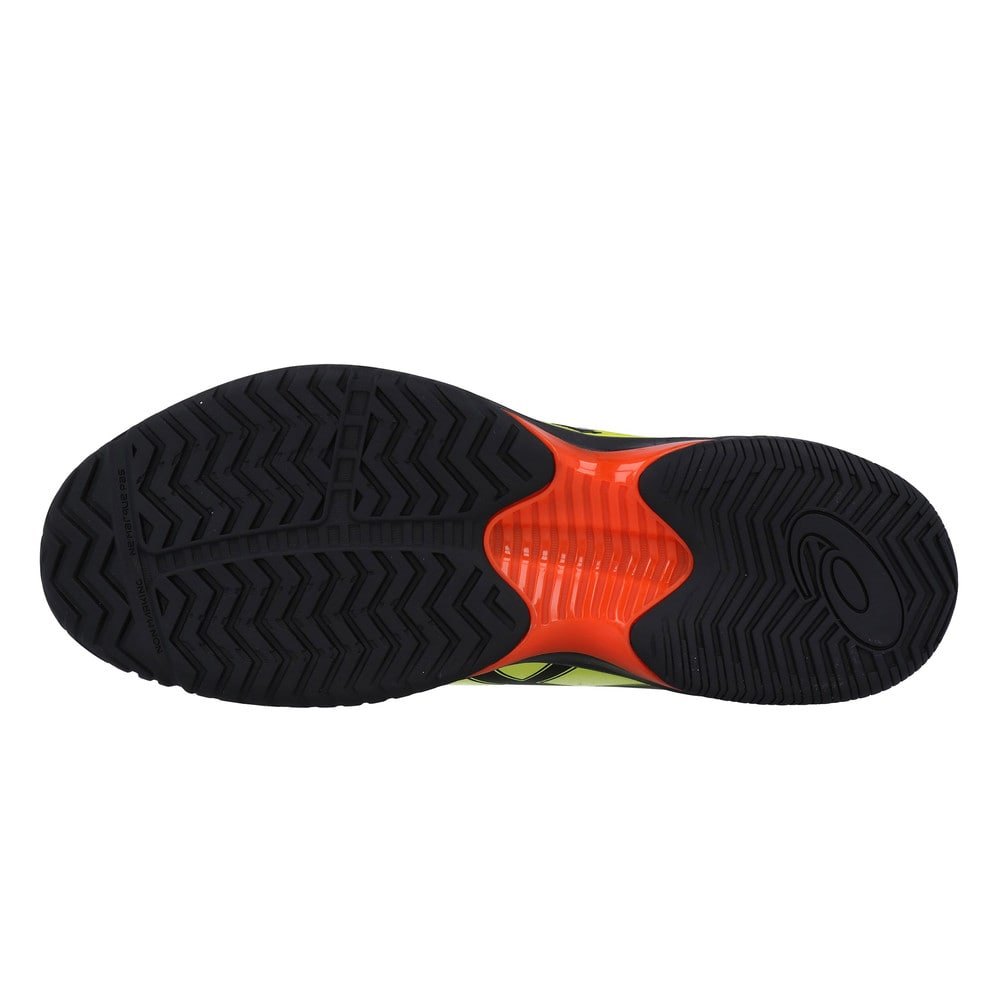 This technology is purposely placed in high-stress areas in the shoe which does very well to supply excellent cushioning and grip without compromising the shoe's permanence.
This way it makes the outsole very durable and at the same time comfortable to wear.
If you are a player that is very hard on their outsole or like to slide a lot then you would enjoy wearing this shoe. In addition, a Trusstic System has been implemented in the shoe to help reduce the weight of the sole unit.
It also links the forefoot and rearfoot whiles preparing you for propulsion so you can move forward with confidence in the match.
Weight, Size and Fit
The men come with a weight of 350g whiles the women weighs 300g. This means the shoe is incredibly lightweight which would benefit your game a lot because you would be able to move quickly and smoothly on the court.
In terms of size, this shoe comes in all sizes to choose from. This is a great option to have, unlike the Babolat Jet Mach II that has limited sizes to choose from.
When it comes to fit, this shoe requires little to no break-in period. This is fantastic because when you wear the shoe for the first time, your feet would adjust to it quickly and you would be able to start playing your style of game.
Moreover, this shoe is more suitable for players who have narrow to medium foot. If you have a wide foot I wouldn't recommend this shoe and would suggest other shoes such as the Asics Gel-Resolution 8.
Price
The last point to talk about is the price of the shoe. This shoe comes under $100 was is a bargain when you consider the amazing features that come with it. It is on the same price point as other awesome tennis shoes such as the Asics Gel-Game 7.
Conclusion
In conclusion, I hope you have enjoyed reading the in-depth review of the Asics Gel-Court Speed. This shoe is well built to take your game to the next level by providing you with excellent comfort, stability and durability on the court.
However, there are some areas that need improvement from Asics such as the toe area that can feel tight for some players. With that said, it's still a great shoe for intermediate and professional players.
If you want me to review any tennis shoes in the future, leave me a comment below so that I put them on my to-do list. With that said, I would end by saying that if you manage to pick this shoe up I wish you a lot of success in your future matches.