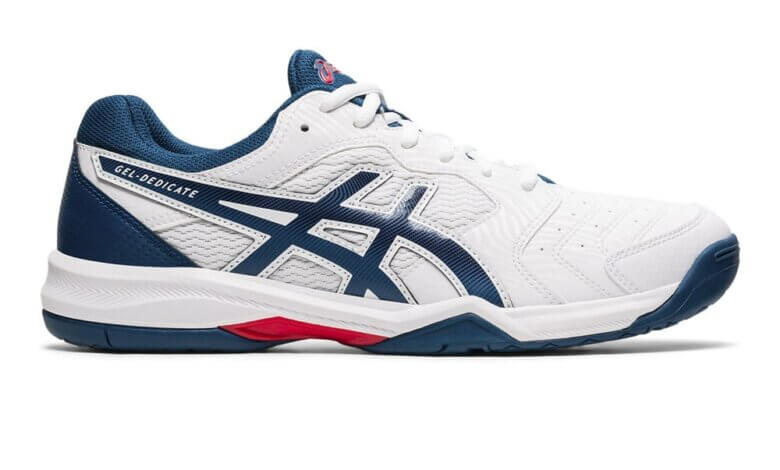 We're an affiliate
We hope you love the products we recommend! Just so you know, we may collect a share of sales or other compensation from the links on this page. Thank you if you use our links, we really appreciate it!
Product Overview
Comfort

Durability

Stability

Breathability

Weight

Fit and Size
Summary
The Asics Gel-Dedicate 6 is specifically designed for the recreational player who is looking for a lightweight, comfortable, durable and stable shoe. This shoe would improve your game and would allow you to play with confidence on the court. 
However, this shoe is not suitable for players with a wider foot and it would be great if Asics can improve that in their next version. Apart from that, it's a great shoe with good pricing points that would make you look awesome on the court. 
Pros
Nice looking shoe
Very comfortable
Supportive
Nice cushioning
Good durability
Cons
Not suitable for wide foot
Over the years both fans and players have fallen in love with Asics and the way they make their tennis shoes. They continue to make high-performing shoes that help to take players game to the next level.
Some of their all-time best tennis shoes are the Asics Gel-Resolution 8 and Asics Solution Speed FF 2. These shoes come with amazing features that would take your game to the next level and at the same time keep your feet comfortable.
There is another tennis shoe which has been added to the Asics collection and it's called the Asics Gel-Dedicate 6. This shoe is specifically built for recreational players who are looking for lightweight comfort and support.
In this post, I'm going to provide you with a thorough review of the Asics Gel-Dedicate 6 and how it can improve your game. I suggest you make yourself comfortable because you are in for a ride. Let's begin with the design and cosmetic of the shoe.
Design
The design and cosmetic of the Gel-Dedicate 6 is spot on. They are nice looking shoe right out of the box and it looks very sleek and attractive. I would say it's one of the best-looking design from Asics.
I would put this amazing looking shoe on the same wavelength as other tennis shoes such as Asics Gel Challenger 12 and New Balance Fresh Foam Lav.
As someone who loves design and colourful shoes, if you were to ask me which one of the Gel-Dedicate is my favourite colour. I would say the men's White/Mako Blue and blue.
The ladies white/red is also good looking as well. If you have a favourite colour from Gel-Dedicate 6 then I would like to hear your comment below. Also, wearing this nice looking shoe could uplift your mood on the court if you are feeling down.
Upper
Next up is the upper part of the shoe. It is made of both synthetic leather and mesh which does an excellent job at enveloping your feet and providing you with comfort and nice support.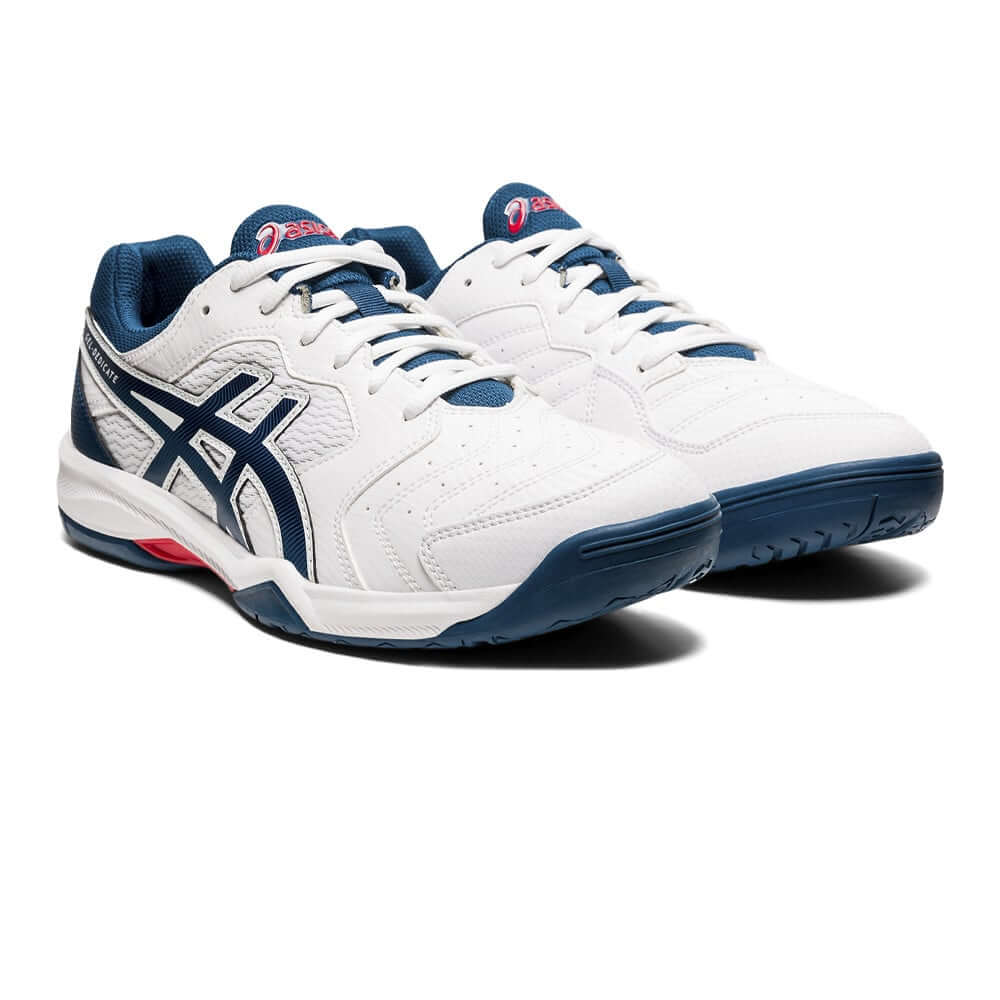 On top of that, you are going to enjoy the breathability of this comfortable shoe.
This is because it would allow moisture to leave the shoe quickly and bring in fresh air to keep your feet fresh throughout the match.
Also, the use of synthetic overlays would encase your midfoot nicely in a firm fit. The purpose of this is to help you reduce in-shoe slippage and provide you with a smooth and distraction-free ride.
And lastly, the upper material is fairly durable. It may not be the best durable upper on the market but it would support you with your slide.
Toe Box, Ankle and Heel Support
The toe box area is wrapped around in a PGuard material to provide you with durability and toe drag. Moreover, the toe area has enough room to fit your feet perfectly without making you feel uncomfortable when you wear it.
You are going to have nice cushioning and support when you wear the shoe. This is fantastic because you would be able to move around the court with ease whiles maintaining the comfort of the shoe.
And lastly is the heel section of the shoe. The shoe comes with a good heel height which would keep your heels in perfect position as well as keep you stable as you move on the court.
Lacing System and Tongue
The lacing system is very basic like most Asics tennis shoes all are but it's very effective at keeping you stable. Firstly, it has got an extra lacing hole for you to use for extra support and more grip.
Secondly, the tongue has one round leather to lace through. This helps to keep the tongue very stable and prevent it from distracting you during the match.
And thirdly the eyelets are woven into the upper material which makes it last longer than usual. The tongue is made of anti-gravel which does very well at preventing debris from entering the shoe and getting you distracted.
Midsole
Next up is the midsole. The use of the Gel Cushioning System resides in the forefoot area to provide you with plush and supportive feel underfoot.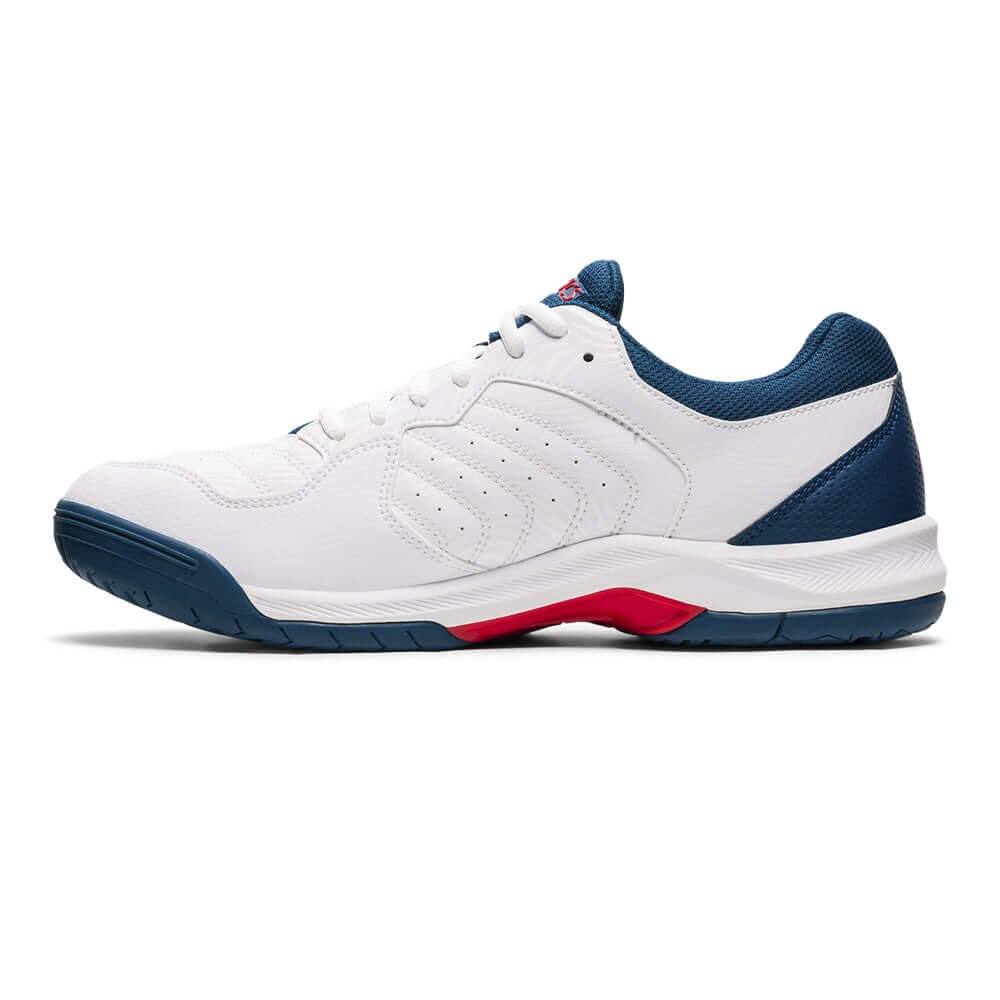 In addition, this technology used reduces your chances of you getting any serious injury when you jump and land onto unforgiving surfaces.
This, as a result, allows smooth transitions and movement in multiple planes.
On top of that, the use of the Trusstic System in the midsole does very well to reduce the weight of the sole unit. Both the forefoot and rearfoot do very well to help you with your movement and sliding on the court.
Insole and Outsole
The insole of the shoe is nicely made to provide you with cushioning and comfort when you wear.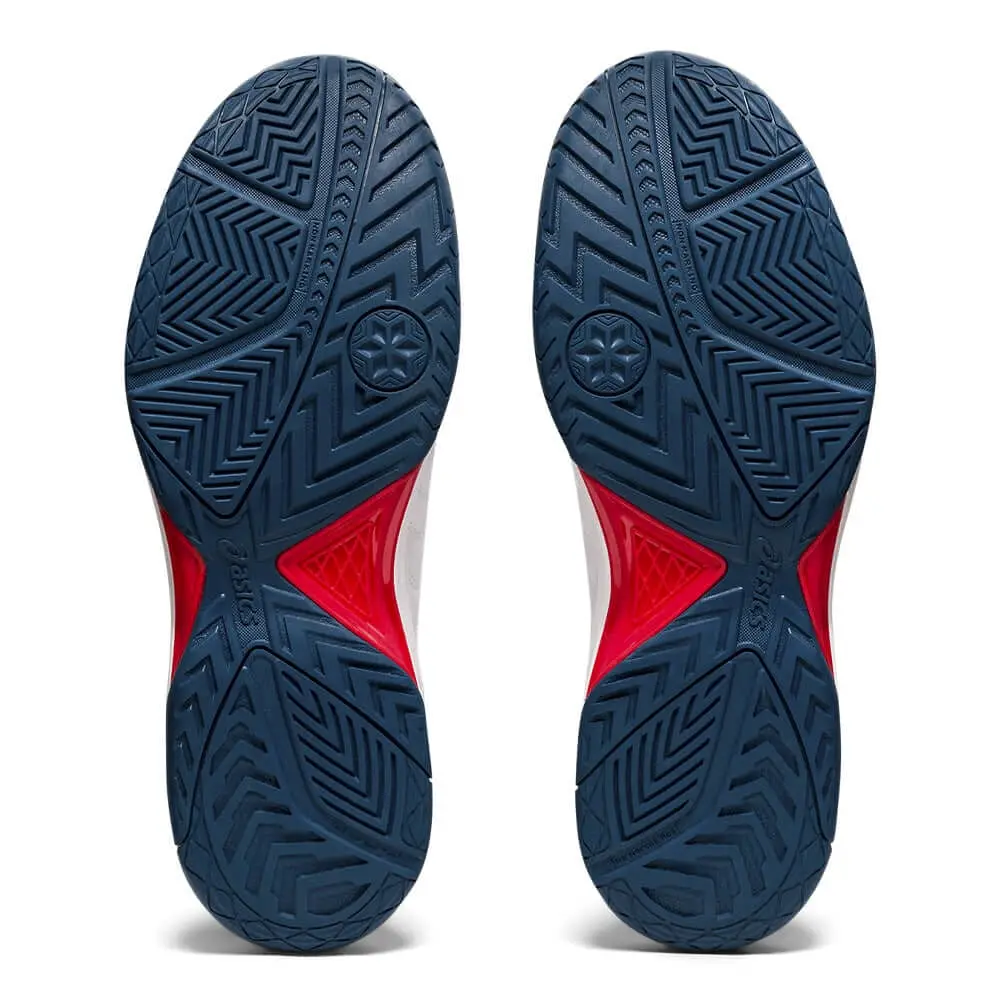 The outsole on the other hand is made of a solid rubber outsole which is going to provide you with excellent grip on all court surfaces especially the clay court surface.
The rubber sole also provides you with ample durability which is awesome for players who are very hard on their outsole and like to slide aggressively.
Weight, Size and Fit
The shoe comes at a weight of 349 grams with a size of 10.5. This makes the shoe lightweight which is fantastic because it would improve your speed on the court and help you with your movement.
Unlike the Babolat Jet Mach II that has a limited size, this shoe comes with all sorts of sizes for you to select from.
And lastly is the fit of the shoe. It does not require any break-in period which is a nice treat to have because your feet would adjust to the shoe quickly.
Moreover, the shoe is more suitable for players with a narrow and medium foot. The shoe is also true to the length which means it would fit you quickly without going through too much stress like wearing other shoes such as the Wilson Amplifeel 2.0.
Colour Options
As nice looking as these shoes look, they also come with a lot of colour options to choose from. This is a great option to have as a player if you want a shoe that suits your outfit.
Price
Coming under $100 for the price of this shoe. This is such a bargain when you consider how amazing these features are and how they can improve your game. This price point would suit anyone who is on a lower budget considering how expensive tennis shoes can be.
Conclusion!!
In conclusion to the in-depth review of the Asics Gel-Dedicate 6, I hope you have found it very useful and knowledgeable. This performing shoe is going to provide you with comfort, durability and stability.
The only major weakness that Asics needs to improve in their next update is to make the shoe even more suitable for players with a wide foot. Apart from that, it's a great tennis shoe for both recreational and professional players.
If you want me to review any tennis shoes in the future, leave me a comment below so that I put them on my to-do list. With that said, I would end by saying that if you manage to pick this shoe up I wish you a lot of success in your future matches.