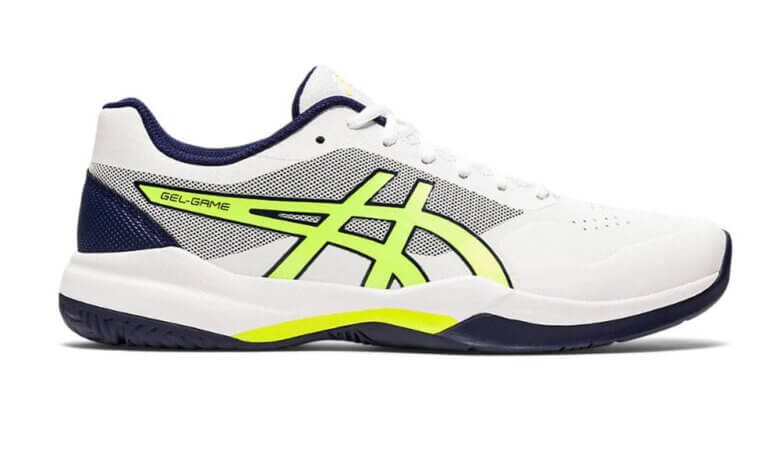 We're an affiliate
We hope you love the products we recommend! Just so you know, we may collect a share of sales or other compensation from the links on this page. Thank you if you use our links, we really appreciate it!
Product Overview
Comfort

Durability

Stability

Breathability

Weight

Fit and Size
Summary
The Asics Gel-Game 7 is a well-designed shoe to provide you with excellent traction and durability on the court. On top of that, this shoe is very comfortable and breathable on the forefoot for quick, lateral movements. 
However, there are some criticisms of this shoe such as the dull design and it's not suitable for players with a wide foot. Apart from that, it's a great lightweight shoe to have to help improve your speed on the court. 
Pros
Durable
Nice comfort
Lightweight
Excellent traction
Cons
Design needs improvement
Not suitable for wide foot
Over the years both fans and players have come to love the Asics line of tennis shoes due to how amazing it is constructed. They continue to do the impossible when it comes to tennis shoes and raise the standard every year.
Their famous line of tennis shoe includes the Gel-Resolution, Gel-Dedicate and Gel-Game. Each of these series has gotten better and better after the first iteration.
Now a new version is added to the Gel-Game series and it's called the Asics Gel-Game 7. The core of this shoe is to provide you with excellent traction and durability on the court. If you are someone looking for these features then you have arrived at the perfect place.
In this post, I'm going to provide you with an in-depth review of the Asics Gel-Game 7 and how it can benefit your game. Enough of me talking too much and let's start with the design and cosmetic of the shoe.
Design
Overall the design and cosmetic of the shoe look dull and boring especially the white version. This is a little shocking from Asics because they are really good at making attractive and sleek tennis shoes.
Good examples are Asics Gel-Resolution 8 and Asics Solution Speed FF 2. These are world-class performing shoes and their design are spot on. This tells you that Asics can and should do better with their next version of the Gel-Game series. It would be interesting how they make their next version design.
Upper
Next up is the upper of the shoe. It is made with a combination of mesh and synthetic material. The mesh is going to do a great job at enveloping your feet in a breathable comfortable way.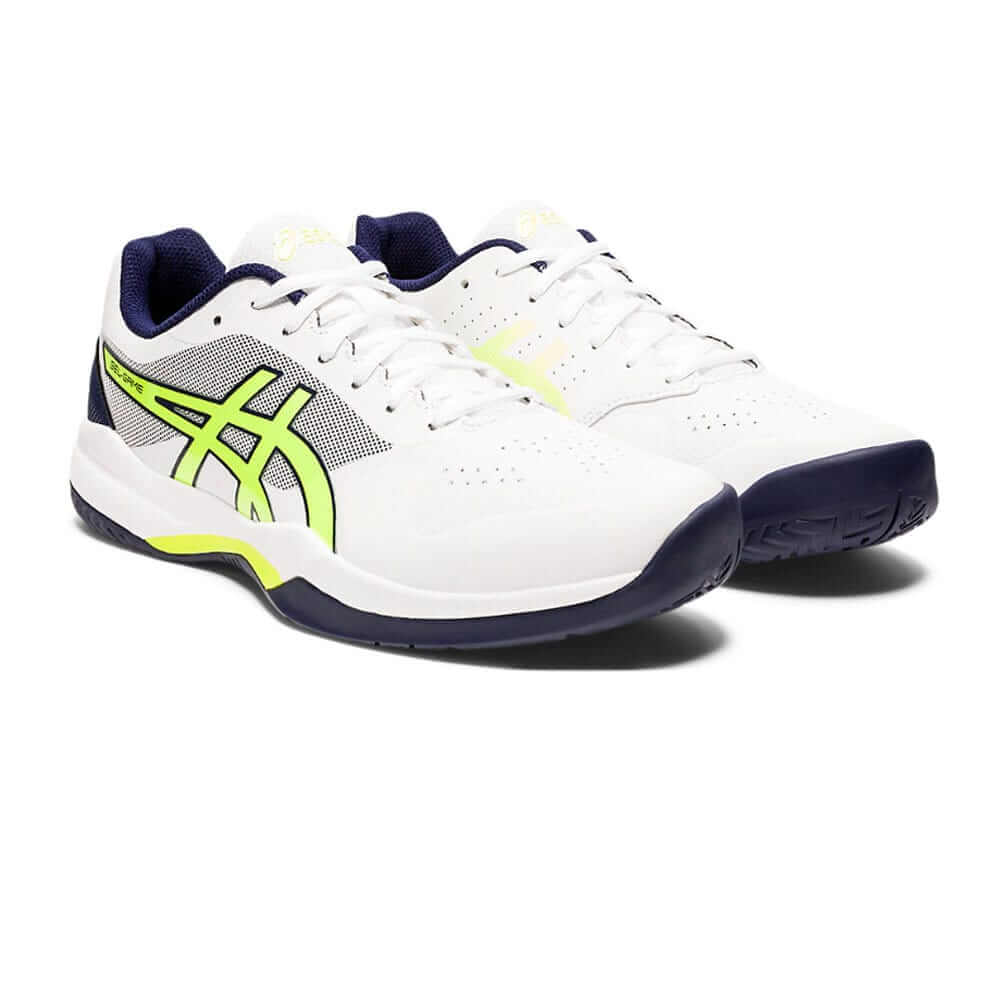 This is an awesome material because it allows the excess sweat and moisture to leave you cool, dry and comfortable as you strive for the best results and performance. 
In addition, the use of the airy elements does very well at increasing the airflow whiles at the same time creating a better, healthier environment for your feet as you perform on the court.
And lastly, the supportive upper gives you good protection in case you land harshly on the ground or lose balance. On top of that, it helps to reduce in-shoe slippage and reduce the chances of you getting an ankle injury.
Toe Box and Heel Collar
Just like the Asics Gel-Dedicate 5, this shoe is covered with PGuard at the toe box. It does really well at providing you with excellent durability and protection. If you are a player that likes to slide a lot or a toe dragger than you would really benefit from this material.
You are also going to enjoy the nice and cushioning padded material in the heel collar. This is great for your ankle because you would be able to move smoothly and comfortably on the court.
Forefoot GEL
Another technology that Asics incorporated inside of the shoe is the GEL Cushioning System. This is based on a special kind of silicone and is placed in the forefoot to supply bounce back and shock absorption.
This way you don't hurt your ankle or joints when you leap and land on unforgiving surfaces whiles allowing for smooth transitions and movement in multiple planes.
Tongue and Lacing System
The tongue comes with a nice padded feel which is going to provide you with good cushioning and comfort.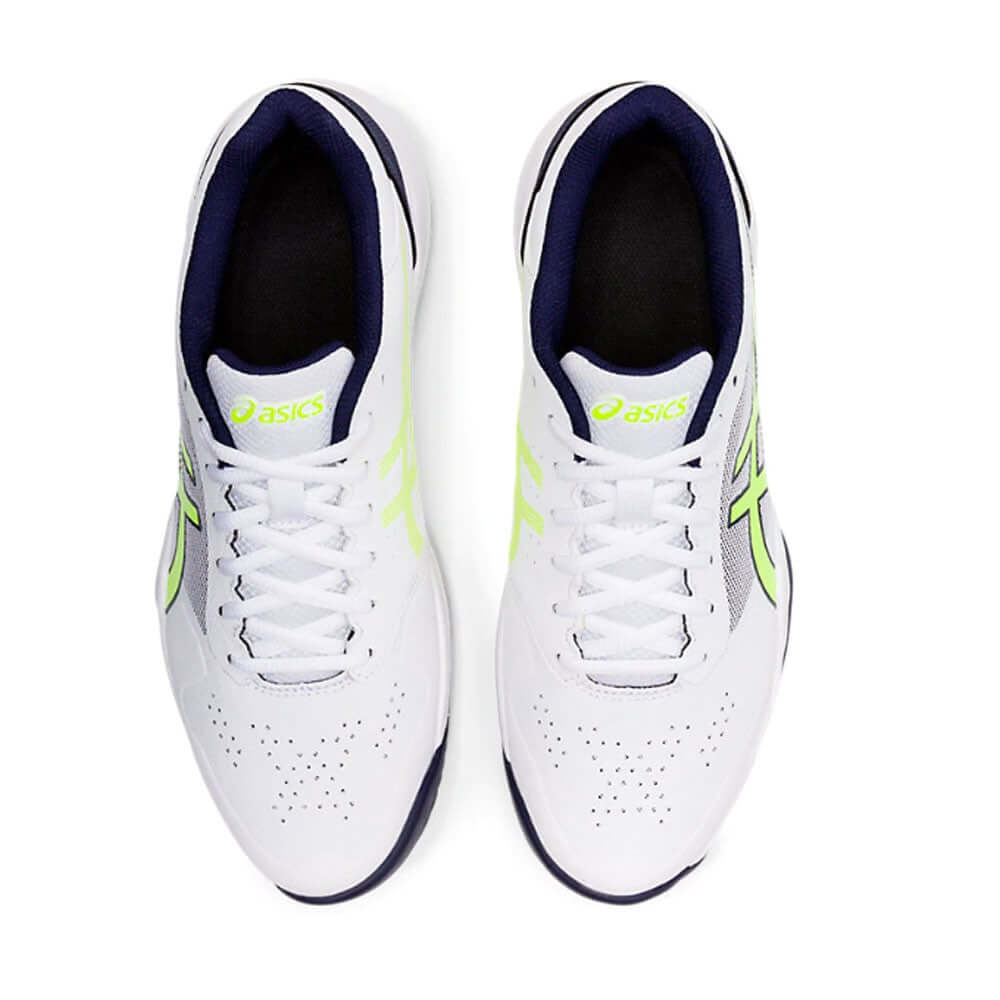 Also, there is a leather hole on top of the tongue to keep it still and prevent it from distracting you on the court.
In terms of the lacing system, it comes with a basic format but it's very effective. The lacing system has got extra lacing holes for more grip.
This is great to have because you can use it to give you extra stability and allow you to move well on the court.
Colour Options
There are not a lot of colour options to choose from which can be a little disappointing. Hopefully, Asics release more different colour options in their next versions of these series.
Outsole
The outsole is one of the key strengths of Gel-Game 7. It comes with a non-marking, solid rubber outsole which is going to improve your grip on different court surfaces.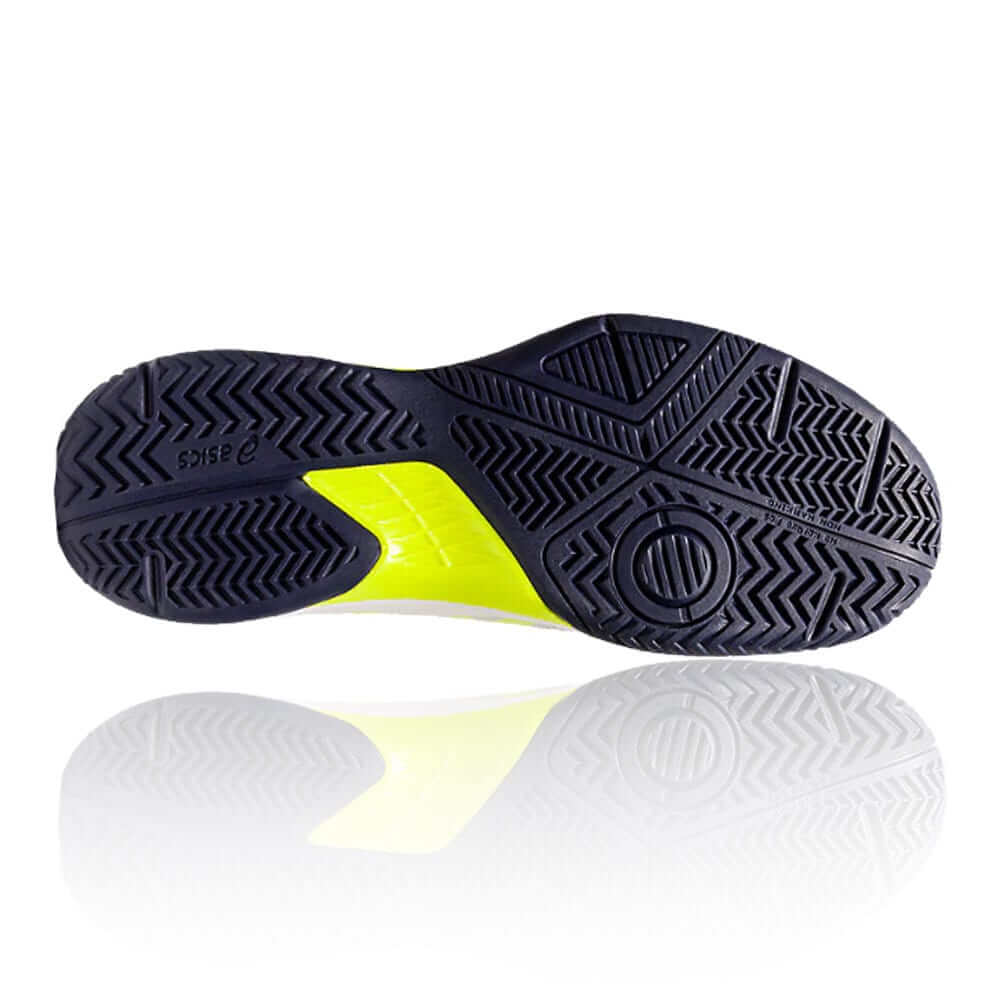 Moreover, the outsole is very durable and the excellent traction would enable you to make short, sharp movements without placing a lot of strain on your body.
And lastly, the shoe also features an outrigger outsole.
This is where the outsole protrudes from the forefoot, giving the shoe a wider platform to help brace you as you cut in different directions.
Weight, Size and Fit
The men come with a weight of 370g  whiles the women weighs 300g. This shoe is on the lightweight spectrum. This is going to be great for your game because you would be able to move quickly on the court.
This shoe comes in a lot of sizes to choose from. This is a great option to have, unlike the Babolat Jet Mach II that has limited sizes to choose from.
When it comes to fit, this shoe is more suitable for players who have a narrow to medium foot and it's true to size. If you have a wide foot then I wouldn't recommend this shoe for you. Also, it requires little to no break-in period when you wear it. This is fantastic because your feet can easily adapt to the shoe quickly and start playing your style of tennis.
Price
The last point to talk about is the price of the shoe. It comes under $100 which is a great deal with all the awesome features that come with it. It is on the same price point as other shoes such as the Nike Lite 2.
Conclusion
In conclusion, I hope you have found the in-depth review of the Asics Gel-Dedicate 5 very useful and knowledgable. This shoe is going to bring you a lot of benefit to your game such as comfort, stability and cushioning.
However, there are some areas that need improvement such as the design and it's not suitable for a wide foot. With that said, it's still a great shoe that comes under $100.
If you want me to review any tennis shoes in the future, leave me a comment below so that I put them on my to-do list. With that said, I would end by saying that if you manage to pick this shoe up I wish you a lot of success in your future matches.