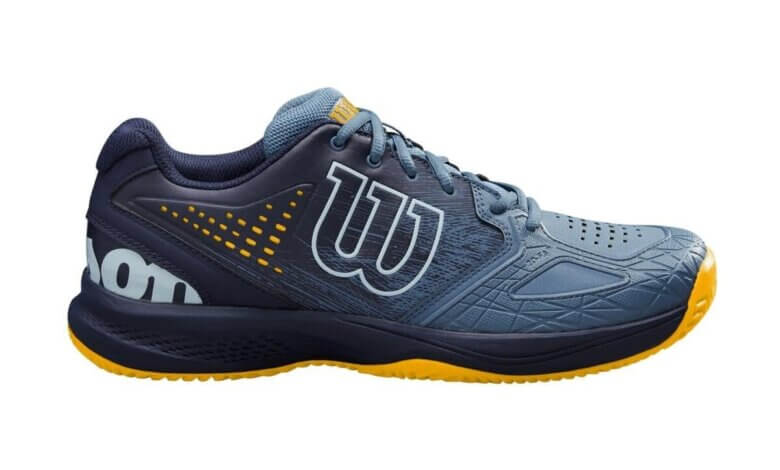 We're an affiliate
We hope you love the products we recommend! Just so you know, we may collect a share of sales or other compensation from the links on this page. Thank you if you use our links, we really appreciate it!
Product Overview
Comfort

Durability

Stability

Breathability

Weight

Fit and Size
Summary
The Wilson Kaos Comp 2.0 is a shoe built for recreational players and up-and-coming juniors players. You are going to enjoy the awesome features that come with this shoe such as the stability and nice cushioning feel. 
However, it's not going to be the most durable shoe on the market. If you are very hard on your outsole then you want to try a different shoe. Overall, it's such a great-looking shoe with a lot of features to take your game to the next level.
Pros
Nice looking shoe
Fit is great
Good cushioning
Lightweight
Cons
Lack of durability on the outsole
Wilson has updated the previous Kaos Comp and made it even better. The new version makes it ideal for recreational and up-and-coming players. If you think this shoe may suit your style of tennis then read on because in this post I would give you a thorough review of the Wilson Kaos Comp 2.0 and its features. Let's start off with the design of the shoe.
Design
Right out of the box, the shoe comes with nice colourful shoes that you would enjoy wearing on the court. All the colours that Wilson selected are spot on and my favourite colour of all of them is the scuba blue/peacoat/white. It's very attractive and fun to wear on the court. The women's design and cosmetic are also spot-on as well.
Upper
Now let's take a closer look at the upper material. It is made of synthetic material which is going to provide you with good support and breathability. If you like to play in hot weather conditions then you would love this shoe because moisture is going to leave quickly and allow fresh air in.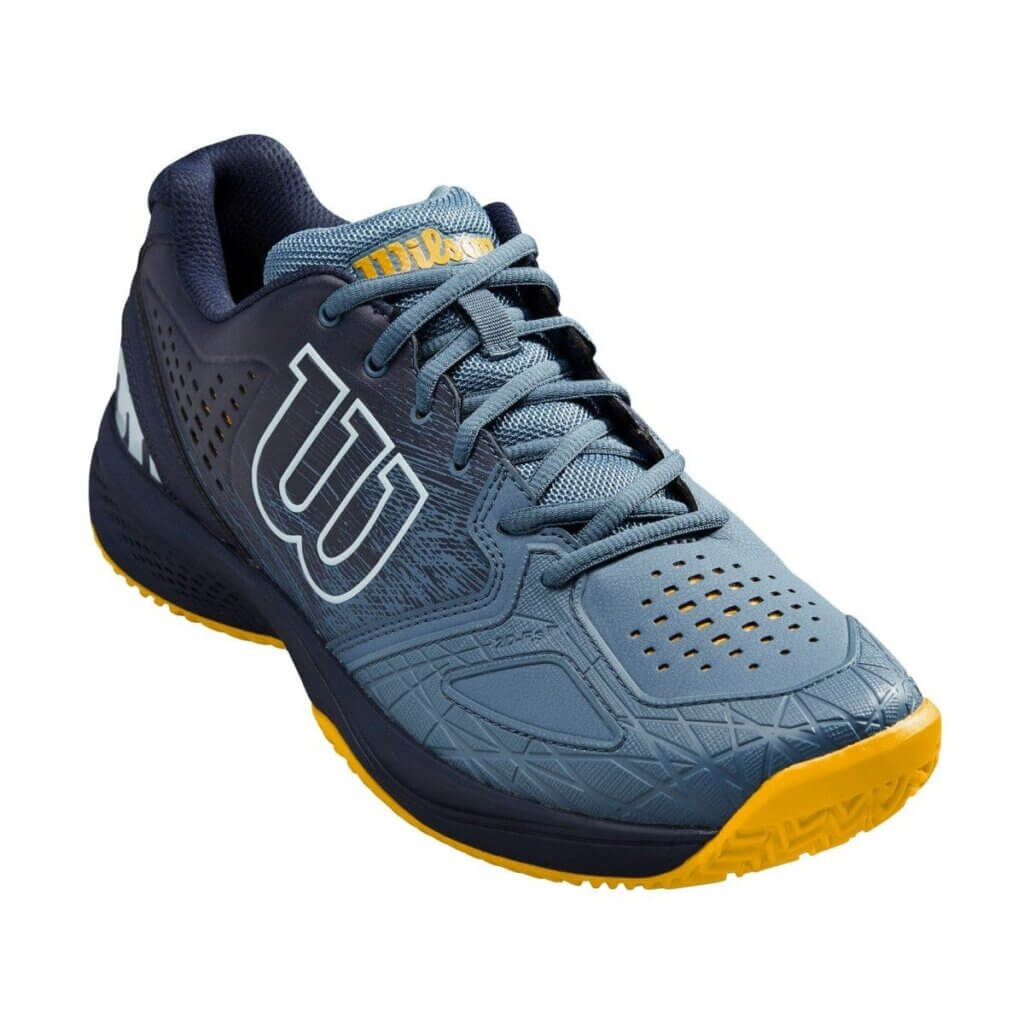 In addition, the synthetic material makes the shoe very comfortable to wear. This would allow you to play long hours of matches without making your feet feel fatigued.
In terms of durability, I wouldn't say it's the best on the market so you want to take caution when playing in these shoes.
Even better you want to check out other shoes that have excellent upper durability such as Head Sprint Pro 3.0 SF.
Toe Box
The toe box is going to provide you with good protection. Also, there is enough room in the toe box area to provide you with comfort and support.
However, in terms of durability, I wouldn't say it's the best on the market.
So if you are a toe dragger you want to check out some of the best toe dragging tennis shoes that are currently available on the market.
Heel Counter and Ankle Support
The heel counter is going to keep your heels and ankle in perfect position. This would give you stability and allow you to move comfortably on the court. You are going to get good padding around the ankle area which would make you feel comfortable when you wear it.
Tongue and Lacing System
The shoe comes with a traditional lacing system and tongue. The tongue is well padded to offer you comfort and cushioning. Also, the one leather hole on top of the tongue when lace through would keep it still and prevent it from distracting you. This allows you to focus on the match and play your best tennis.
The lacing system has got an extra lacing hole for you to use for more grip and stability when needed. Also, some of the lacing holes are made of metal which would last you for a long time than usual.
Weight
The shoe comes with a weight of 318g with size 11.2oz. This is a lightweight shoe that is going to increase your speed and allow you to play a little aggressively.  
Insole and Midsole
The insole is nicely made to provide you with comfort and cushioning. This allows you to play with ease without putting too much pressure on your feet.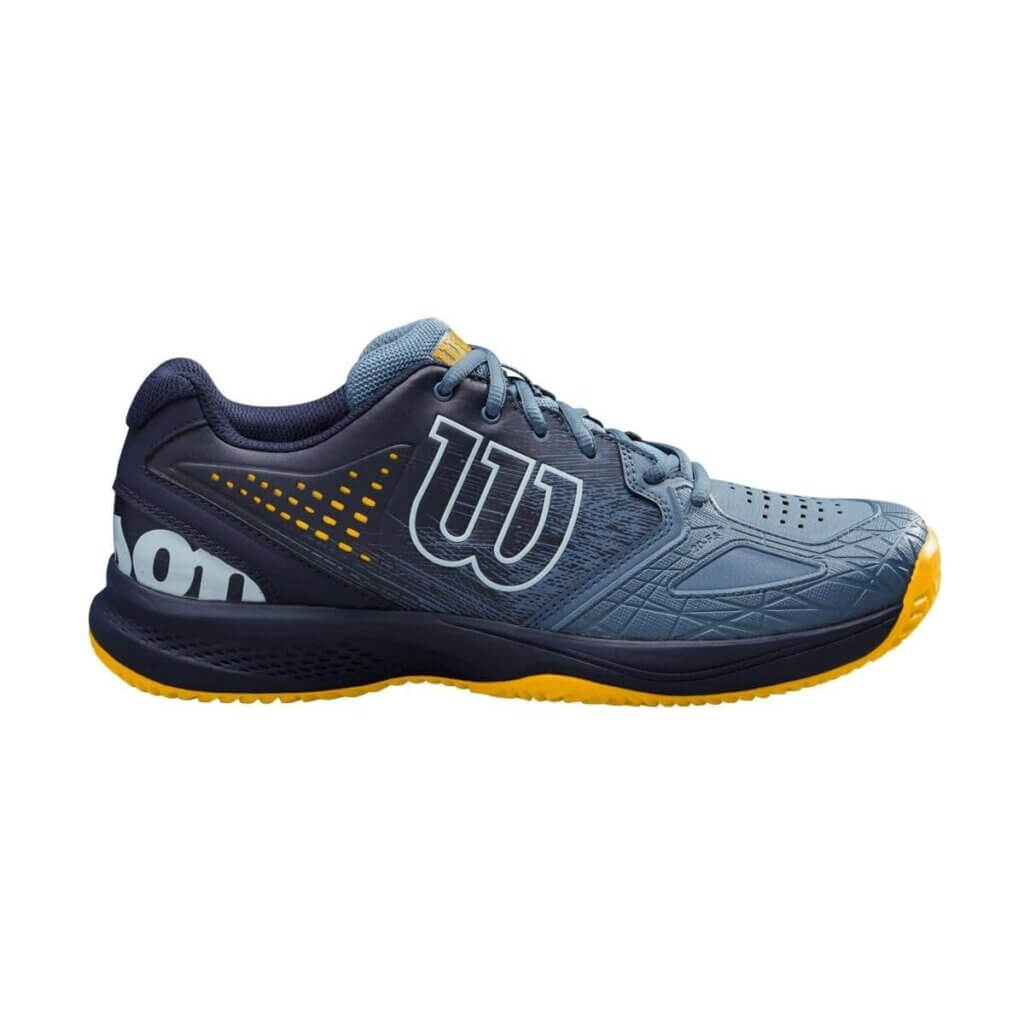 The midsole is going to provide you with good cushioning and comfort underfoot which would enable you to move well on the court.
Wilson instilled R-DST+ in the midsole to offer the best combination of cushioning and rebound for more dynamic performance. This allows you to go for your shots and play with more confidence.
Fit
Speaking of the fit, the shoe is more suitable for players who have a narrow to medium foot.
If you have a wide foot then I wouldn't recommend this shoe. Instead, you want to try other shoes such as the NikeCourt Air Zoom Vapor Pro or ON The Roger Advantage.
The Kaos Comp 2.0 may require some break-in period. This can be frustrating when playing in the shoe for the first few times but once it's break-in you would enjoy the comfort that comes with it. Moreover, the shoe is true to length and doesn't require you to go either up or down a size.
Outsole
Next up is the outsole. The Wilson Kaos Comp 2.0 comes with a modified tread pattern that is going to provide you with excellent traction on different court surfaces.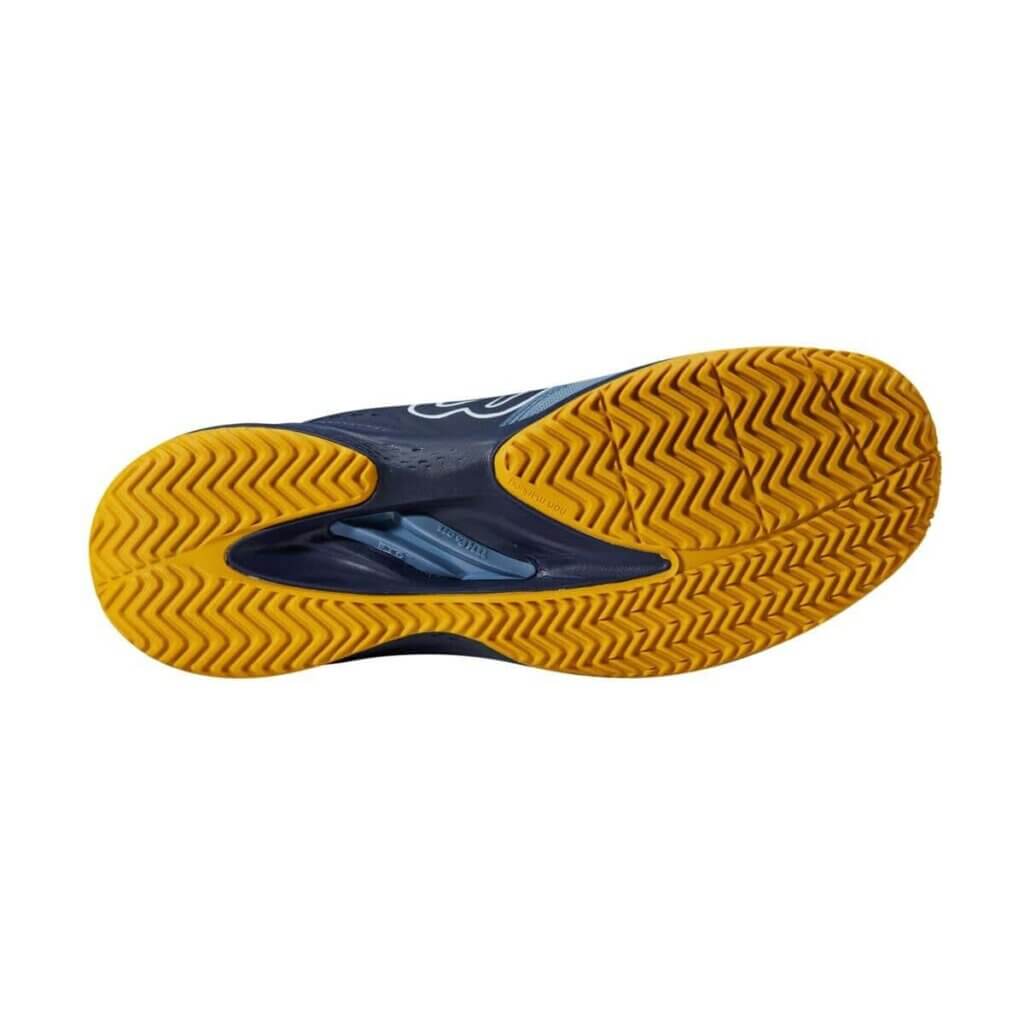 However, I would say the tread pattern is on the sticky side which is great at providing you with good stability. This would enable you to move effectively and slide on the court.
Also, you are going to get good abrasion resistance from the Duralast rubber outsole due to its high-density material.
In terms of durability, this shoe is not going to be the best on the market. As a result, if you are someone who is very hard on their outsole then you want to try other shoes such as Asics Court FF 2.
The Court FF 2 does not only have one of the best durable shoes on the market but it's one of the most popular shoes. It was endorsed by Grand Slam Champion Novak Djokovic.
Colour Options
Unlike the Wilson Kaos Mirage that comes with limited colours to choose from. This is not the case for this shoe. It has many nice-looking shoes avaliable that you can select to suit your tennis outfit.
Price
The last point to talk about is the price of the shoe. The cost of the shoe is close to $150 which puts it on the high end of expensive tennis shoes. The cost may seem too much to afford but if you think about it, you are going to get good features that can allow you to perform well on the court.
If you are someone who feels that this shoe is expensive then you want to try other shoes such as NikeCourt Vapor Lite. This shoe comes with a reasonable price point that anyone can afford and it offers similar awesome features like the Kaos Comp 2.0.
Conclusion!!
As this post comes to its conclusion, I hope you have found it very useful at understanding the features and how it can benefit your game. For example, the lightweight of the shoe is going to allow you to move quickly and effectively on the court.
However, the durability of the shoe needs improvement. Despite the lack of durability in the shoe, it's still a wonderful-looking shoe to wear and play with it on the court. I wish you all the best in your next match.