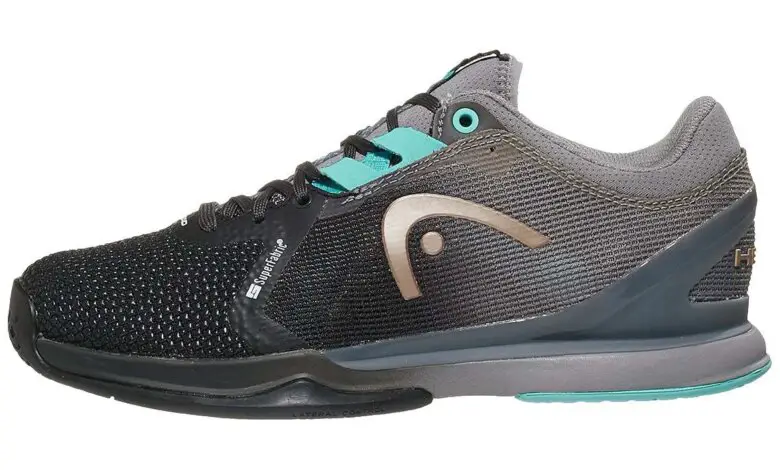 We're an affiliate
We hope you love the products we recommend! Just so you know, we may collect a share of sales or other compensation from the links on this page. Thank you if you use our links, we really appreciate it!
Product Overview
Comfort

Durability

Stability

Breathability

Weight

Fit and Size
Summary
The Sprint Pro 3.0 SF is a great choice for competitive players looking for a seriously fast feeling shoe. The core of this shoe is durability and speed. If you are a player that is looking for these features in a shoe then you would enjoy wearing this shoe. 
The shoe however is a little expensive compared to the average tennis shoe. Despite a high price tag, it's still a fantastic tennis shoe to wear on the court because it can take your game to the next level. 
Pros
Nice looking shoe
Durable
Lightweight
The speed of the shoe is amazing
Good traction
Cons
Expensive
Lack of colour options
Head has added a new version to their line of Sprint Pro. This iteration is called the Head Sprint Pro 3.0 SF which is built to provide you with durability and speed.
If you are a player looking for these features then you have arrived at the perfect place. This post is going to provide you with an in-depth review of Head Sprint Pro 3.0 SF and it can benefit your game. Let's begin with the design of the shoe.
Design
Right out of the box, the design and cosmetics of the shoe are top-notice. Both the men's and women's designs are nice looking and attractive. If you are someone who is a big fan of design then you would enjoy wearing this shoe.
Upper
Let's take a closer look at the upper material. It comes with an abrasion-resistant SuperFabric material which does really well to provide you with lightweight support. This is great at helping you with your speed and movement on the court.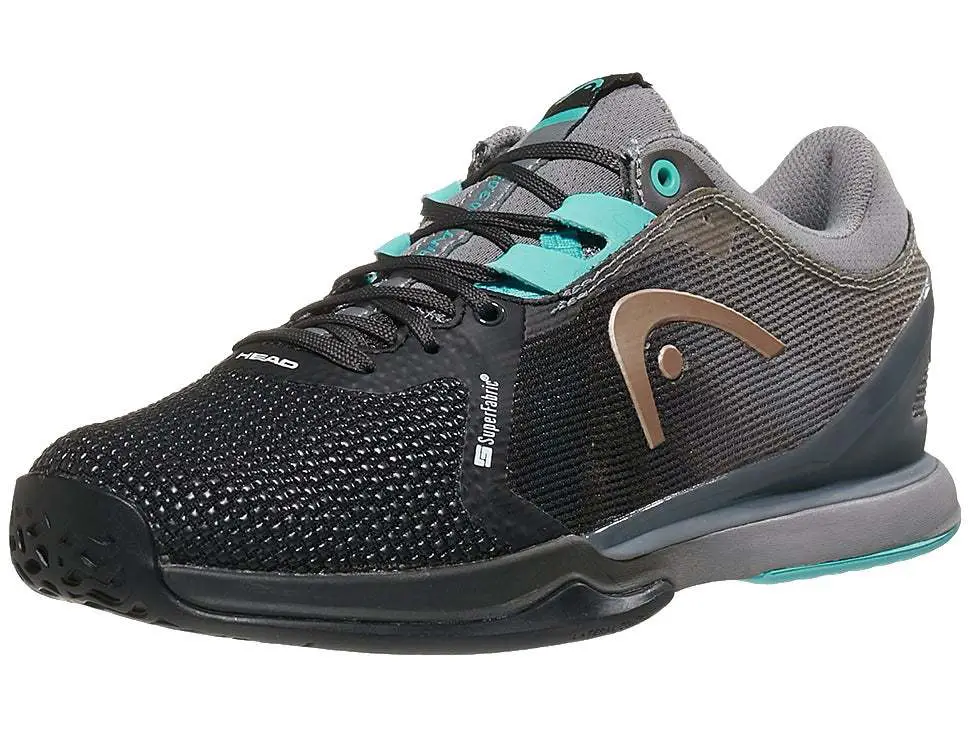 In addition, Head did a great job at incorporating the bootie construction material because it really hugs your feet for a comfortable secure fit. Also, it provides you with good cushioning and stability.
And lastly with the upper is the breathability. I would say the breathability of the shoe is fairly decent.
I wouldn't say it's the best on the market. If you want a shoe that is very breathable then you want to check out the Asics Gel-Resolution 8. The breathability of the shoe is superb and you would also enjoy the awesome features it comes with it.
Toe Box
Are you a toe dragger or someone who likes to slide a lot? If you are then you would love this tennis shoe. This is because the toe box area is made of drift defence to provide you with excellent protection.
Arch and Ankle Support
The arch area is nicely done to provide you with good cushioning and comfort. This makes movement on the court smooth and easy.
The heel and ankle area may not be the tallest height compared to other shoes such as Diadora Speed Blushield 5 AG. But it still does a good job at holding your ankle and feet in perfect position for stability. This makes movement and sliding on the court easy.
Lacing System and Tongue
There is nothing peculiar about the lacing system like the Adidas Stycon however, the way it is made is very interesting. Firstly, it has got extra lacing holes for more grip and stability if you need it. Next, the middle of the lacing holes has a rubber material to give you an extra grip for support.
Although, I wouldn't say the rubber material is going to last you very long on the court so it's worth taking good care of it. The tongue is well padded to provide you with cushioning and comfort. This makes running on the court smooth and enjoyable.
Insole and Midsole
The shoe comes with a well-padded insole to provide you with good cushioning. This gives you a smooth feeling when you wear the shoe and would accommodate your movement.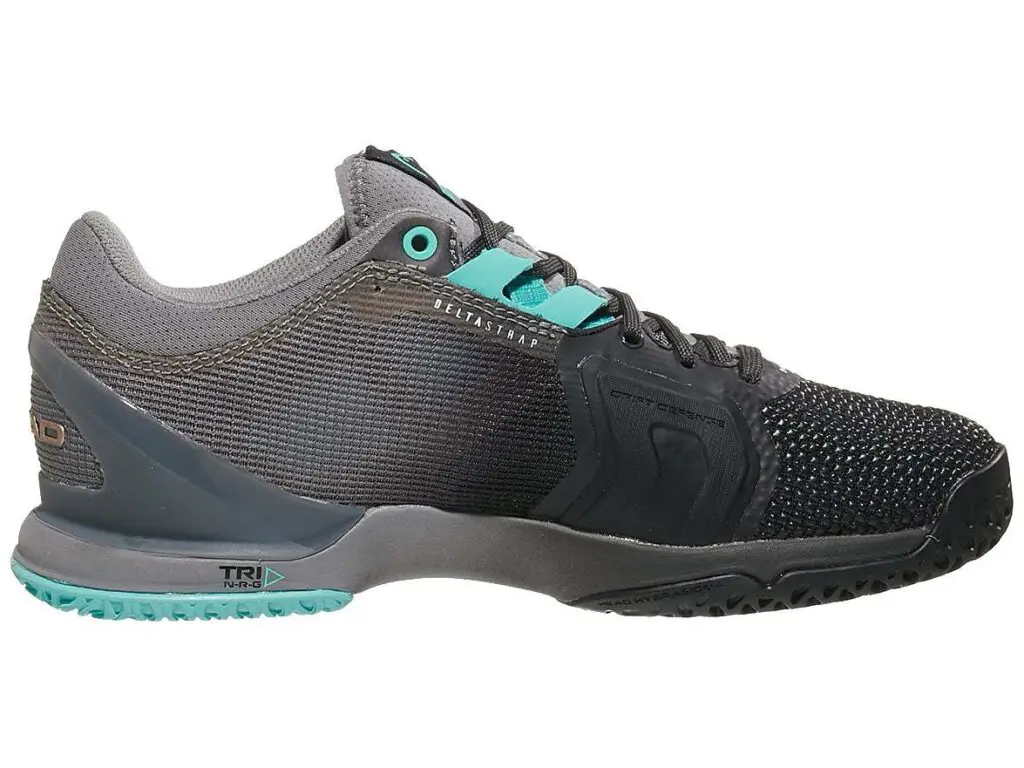 The midsole, on the other hand, is made with the Head's own TRI-NRG technology to provide you with lightweight cushioning.
On top of that, you would enjoy the shock absorption and support that comes with it when you are playing rallies or sliding. Also, the use of lateral stability is added with a TPU trigger to provide you with good stability.
And lastly, the lightweight EVA sockliner is used in the midfoot cooling system to keep your feet fresh during the match.
Weight and Size
The shoe comes with a weight of 11.2 ounces with a size of 8.5. This is definitely in the lightweight category which is great for your game because it would allow you to move quickly and effectively on the court. The lightweight is one of the main reasons why this shoe has amazing speed.
In terms of size, this shoe comes in a variety of sizes which is great because you get to pick which shoe suits your foot. In addition, they are true to the length which is nice because you don't have to go up or down a half size to find the perfect shoe that suits you.
Fit
The Head Sprint Pro 3.0 SF is more suitable for players who have a medium to wide foot. If you have a narrow foot it's best if you wear two pairs of socks so that you don't have room in the forefoot area.
In terms of fit, this version does not require any break-in period. This is nice to have because your feet can easily adjust and adapt to the shoe quickly. This way you can play your style of tennis.
Outsole
Next up is the outsole. If you are a player that is very aggressive and hard on their outsole then you would enjoy wearing this shoe. It comes with a Hybrasion+ durable rubber compound in a zonal tread to provide you with good traction on all court surfaces.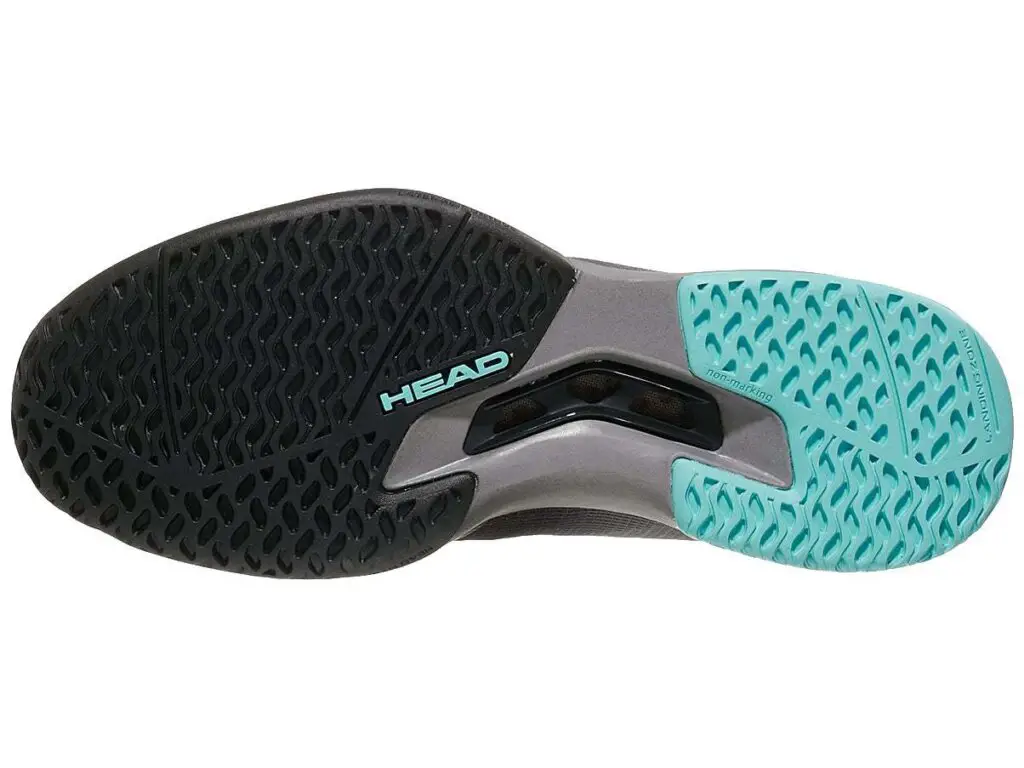 Moreover, this unique material is going to provide you with excellent durability on any court surface. And the cool thing is it comes with a six-month outsole durability guarantee.
Colour Options
Unfortunately, this shoe comes with limited choice. This is a little disappointing because players can't select their prefered colours that suit their tennis outfit.
It would be great to see Head release more colours over the course of the season or in their next iteration.
Price
Another key point that is worth talking about is the price of the shoe. The Head Sprint 3.0 SF is nearly $200 which is very expensive. It's at the same price point as other tennis shoes such as Lacoste AG-LT 21 and NikeCourt Air Zoom Vapor Pro. Despite the shoe being expensive, it still comes with amazing features that would benefit your game tremendously.
If you are a player that wants a shoe that has a low price point then I recommend that you read the full review of the best shoes under $100. You would find it very useful and maybe even find a shoe that suits your needs.
Wrapping Up!!
I hope you have enjoyed this review of the Head Sprint Pro 3.0 SF. There are many benefits that you can get from this shoe such as durability, speed, and lightweight.
However, some of the downsides of this shoe are how it's very expensive to afford and the lack of colours to select from. Apart from that, it's a fantastic shoe for competitive players looking for a serious fast-feeling shoe.