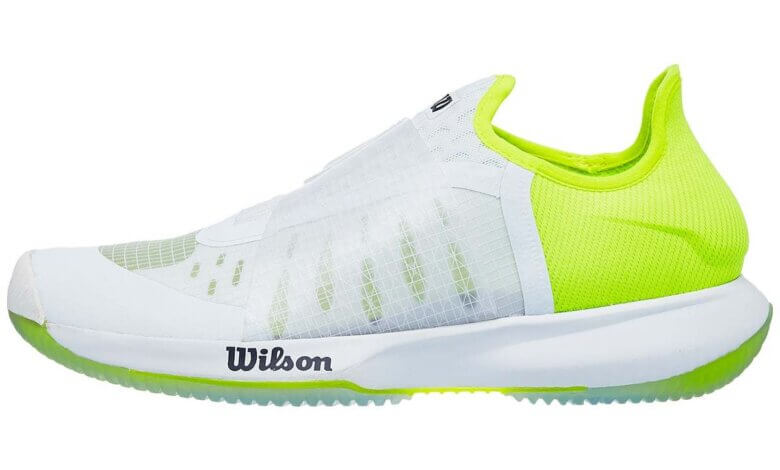 We're an affiliate
We hope you love the products we recommend! Just so you know, we may collect a share of sales or other compensation from the links on this page. Thank you if you use our links, we really appreciate it!
Product Overview
Comfort

Durability

Stability

Breathability

Weight

Fit and Size
Summary
The Wilson Kaos Mirage is a shoe built for innovation and speed to help players take their on-court movement to new heights. Wilson included new technologies in this shoe to make it very unique and provide you with the best benefits on the court. 
For example, the incredible lightweight of the shoe would allow you to increase your speed on the court. However, there are some weaknesses to the shoe such as lack of durability. Overall, it's a great shoe to check out. 
Pros
Nice looking shoe
Super lightweight
Good traction
Comfortable
Snug Fit
Cons
Not suitable for wide foot
Cushioning needs improvement
Wilson is well known for making tennis rackets, but they are also good at making high-performing tennis shoes. They may be under the radar but some of their tennis shoes are really good. They recently released a new tennis shoe on the market and it's called the Wilson Kaos Mirage.
This model is innovative and speedy to help players take their on-court movement to new heights. If you are looking for this type of shoe then you have arrived at the perfect place. In this post, I'm going to provide you with an in-depth review of the Wilson Kaos Mirage and its features. If you are ready let's start with the design of the shoe.
Design
Right out of the box, the design and cosmetics of the shoe look sleek and lovely to wear on the court. If you love designs and fashion then you would enjoy wearing this shoe on the court. Both the men's and women's designs are awesome looking.
Upper
Let's take a closer look at the upper. It comes with a lightweight upper material that forms a sock-line bootie construction. This provides you with comfort and stability when you wear the shoe.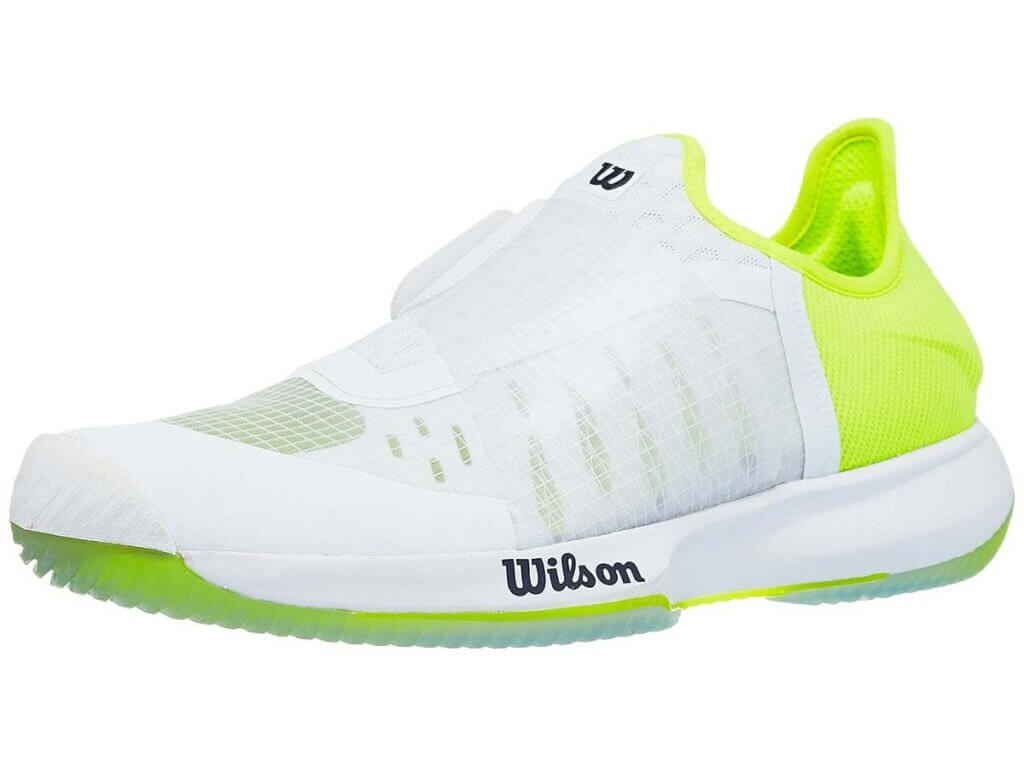 Another benefit of the upper is that it's breathable. This means moisture would leave the shoe quickly while allowing fresh air to enter the shoe. This helps to keep your feet throughout the match.
And lastly with the upper material is how flexible and supportive it is. This will give you better flexibility and heightened stability on the court, keeping you in control of all movements.
Toe Box
You are going to get a good fit and protection from the toe box. The toe box is made of rubber medial drag pads which it's not going to be the best durability toe box.
If you are a toe dragger and want tennis shoes that can protect your toe box then I highly recommend these best tennis shoes for toe draggers. You are going to find it helpful at selecting a shoe that can prevent your toe box from wearing out quickly.
Heel Counter and Ankle Support
The heel height may not be the longest on the market. However, it does a good job at keeping your heels in perfect position as you move around the court. Also, you are going to get good ankle support when you wear the shoe.
Tongue and Lacing System
The way both the tongue and lacing system is made makes it similar to the Adidas Stycon which is the first laceless shoe to be made. The Wilson Kaos Mirage's tongue is connected to the upper material and ankle area.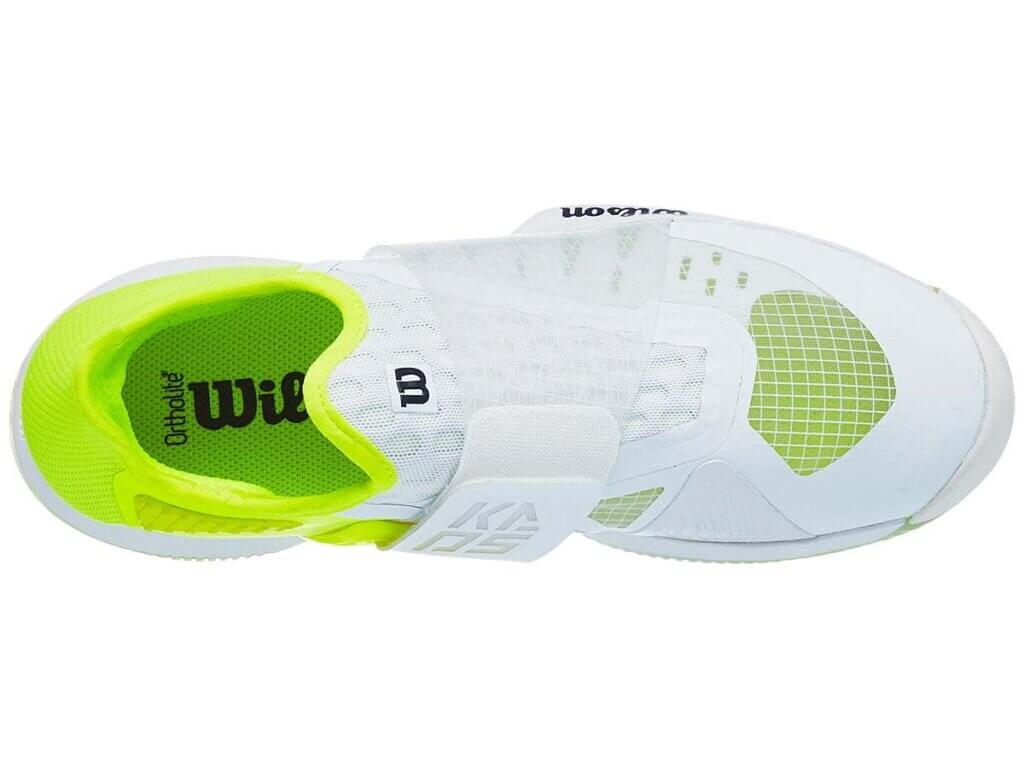 The purpose of this is to provide you with a glove-like fit when you wear the shoe. Also, it's going to provide you with comfort and cushioning when you wear it.
The lacing system is a little weird than the usual lacing system of a tennis shoe. It comes with a one-strap lacing system which saves you time from tieing your laces all the time.
Also, it keeps your feet lock-in so that you can have good stability and move well on the court.
Weight
The shoe comes with a weight of 11.7 ounces with a size of 10.5. This makes the shoe incredibly lightweight.
Honestly, it's one of the lightest shoes you would ever come across on the market. This gives you a big advantage when playing in these shoes because it enables you to move quickly on the court.
Insole and Midsole
The insole is nicely made to provide you with good comfort when you wear the shoe. This is great at keeping your feet stable and comfortable when playing intense rallies in the match.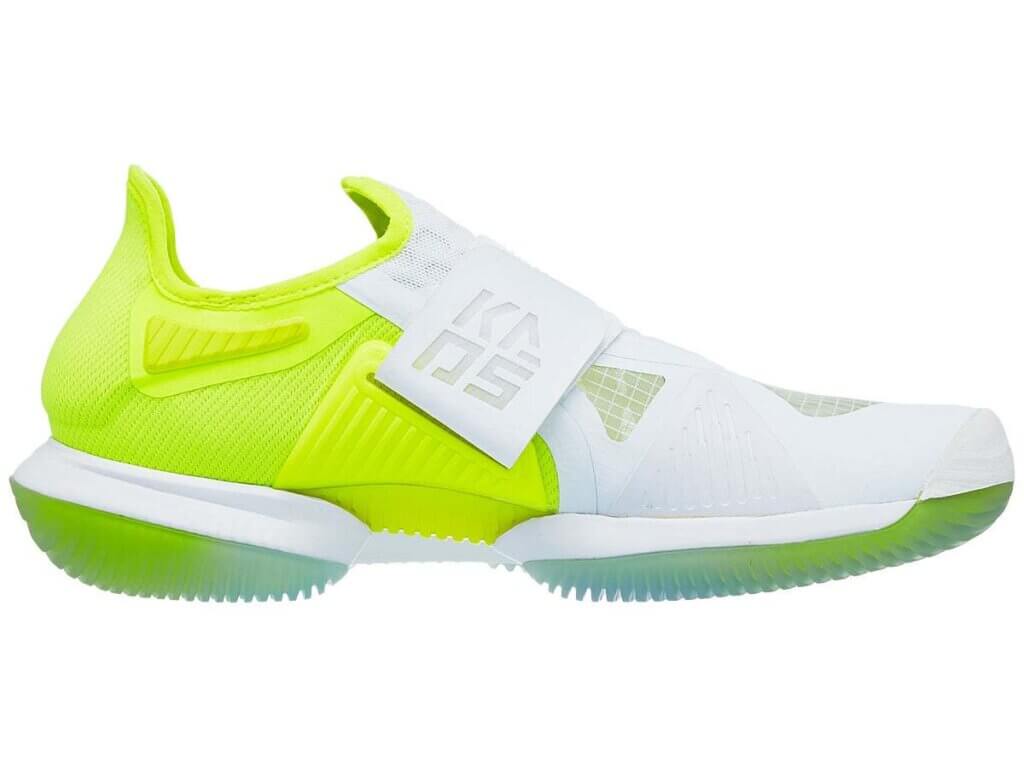 The midsole on the other hand is made of Kaos Chassis which does really well to enhance your natural foot movement with flexibility. This allows you to move well on the court.
In addition, the midsole is going to provide you with good cushioning and stability. This is great at helping you to slide on the court and move well.
Fit
Speaking of fit, this shoe is more suitable for players who have a narrow to medium foot. If you have a wide foot then I wouldn't recommend this shoe. Instead, you want to try other shoes such as the NikeCourt Air Zoom Vapor Pro or ON The Roger Advantage.
The Kaos Mirage does not require any break-in period which is great because it would allow your feet to adjust quickly when you wear it for the first time. Moreover, it's true to the length which means you don't have to go either a half size up or down.
Outsole
Next up is the outsole. Wilson made the tread pattern simple to provide you with excellent traction on all court surfaces. This is awesome because it would allow you to slide and move effectively on the court without losing your balance.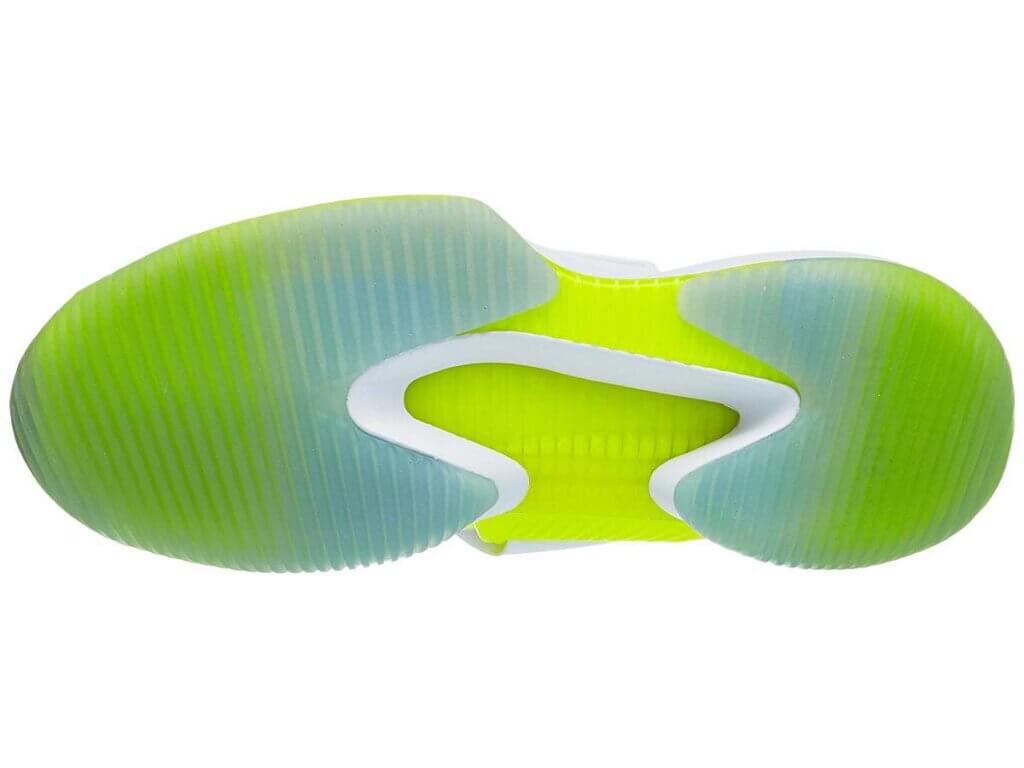 On top of that, the Duralast rubber material does really well to provide you with good abrasion resistance.
This is very impressive from Wilson to have a lightweight shoe that has a good tread pattern.
In terms of durability with the outsole, I would say it's decent but it's not the best on the market. If you are someone who tends to wear their outsole quickly then this shoe may not be ideal for you.
Instead, if you are looking for an excellent durability outsole then I would recommend the Asics Court FF2. If you are a player that is very aggressive on their outsole then you would like to play in the Court FF2.
Colour Options
This shoe was recently released on the market and it comes with limited colour options to choose from. However, I'm hoping that as the season progresses Wilson could release more colour options for players to choose from. It would be great to see more colour options from Wilson because the design and cosmetic of the shoe look amazing.
Price
The shoe is nearly $200 which is on the high end of expensive products when it comes to tennis shoes. It has the same price point as other tennis shoes such as the Nike Air Zoom Vapor Cage 4. The Wilson Kaos Mirage may be expensive to afford but it comes with amazing features that can help you to play better on the court.
However, if you are a player that feels that this shoe is way out of your budget then you want to check out this in-depth review of the best tennis shoes under $100. You would find it useful at helping you to decide which tennis shoe suits your budget. And the good thing is the shoes listed in that post are great to play with on the court.
Wrapping Up!!
Overall this shoe is amazing looking with awesome benefits such as excellent traction, comfort, and stability. However, there are some areas that need improvements such as the durability of the shoe, and it's not suitable for wide feet.
Despite some criticisms of the shoe, it's still a great lightweight shoe to add to your collection of tennis shoes because it would enable you to move quickly on the court.