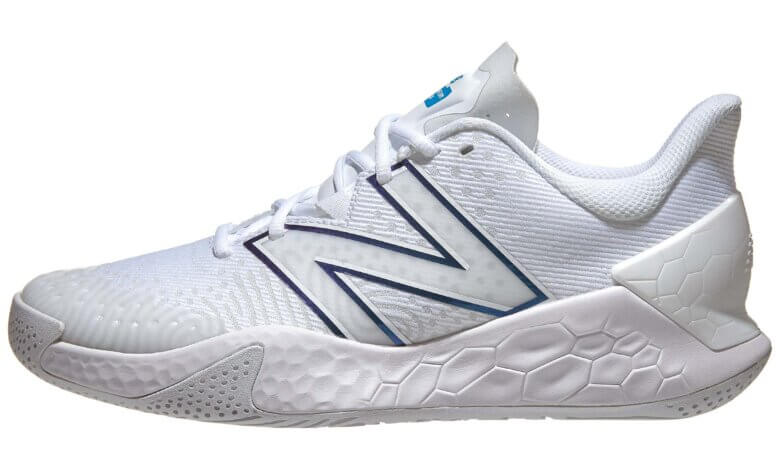 We're an affiliate
We hope you love the products we recommend! Just so you know, we may collect a share of sales or other compensation from the links on this page. Thank you if you use our links, we really appreciate it!
Product Overview
Comfort

Durability

Stability

Breathability

Weight

Fit and Size
Summary
The New Balance Fresh Foam Lav was one of the best tennis shoes in 2020. With a new update in 2021, this shoe is even better than the previous version.
The Fresh Foam Lav 2 is an excellent shoe for aggressive movers because you are going to enjoy stability, durability, and comfort. 
There is a lot to like about this shoe than it's even harder to criticize. The only downsides I can talk about with this shoe is the lack of colour options it has and how it requires some break-in period. Although, I'm hoping that New Balance continues to release more colour options as the season progress. 
Pros
Nice looking design
Very comfortable
Excellent breathability
Lightweight
Good traction
Excellent support and cushioning
Cons
Lack of colour options to choose from
Break-in require
The New Balance Fresh Foam Lav was a BIG HIT on the market due to its amazing features such as comfort and breathability. It was truly the go-to shoe for any player who was playing in a competitive match. With some adjustments from the Fresh Foam Lav, New Balance has released the second version which is even better.
The Second update makes it great for aggressive movers who are looking for a high level of support, and stability in their game. If you are the type of player then you shouldn't look any further because the Fresh Foam Lav 2 has got you covered.
In this post, I'm going to give you an in-depth review of the New Balance Fresh Foam Lav 2 and how you can benefit from its amazing features. Let's begin with a quick background story.
Recap Background Story
If you didn't already know, New Balance cooperated with ATP player Milos Raonic to make this shoe. Raonic gave the name of the shoe Lav which means Lion was an endearing nickname Raonic's grandfather gave to him. Also, it is the moniker Milos found most fitting for the shoe. Moreover, this shoe is worn by WTA player Danielle Collins.
Design
Right out of the box, the design and cosmetics of the shoe look amazing and attractive to wear on the court. I like how New Balance has made their LOGO BIGGER on the side compared to the previous version.
The colour scheme that New Balance selected is spot on and it makes it fun playing in them compared to tennis shoes such as New Balance 806 which has a boring design. Overall, New Balance did their homework when it comes to the design.
Upper
Now let's take a closer look at the upper material. It's made with FitWeave which does a fantastic job at locking your foot down.
This is great because it provides you with stability when moving and sliding on all court surfaces. Also, it reduces the chances of you getting any serious injury.
Also, the upper comes with a full bootie construction which does a good job at providing you with flexibility and excellent comfort.
This makes it enjoyable to play in the shoe and makes sliding on the court more easy and smooth.
And lastly with the upper is the breathability. The shoe comes with excellent breathability which is fantastic at keeping your feet fresh throughout the match by allowing moisture to leave quickly.
Toe Box
The shoe has enough room in the toe box area to provide you with comfort and prevent you from getting any toe jamming. This enables you to play freely without experiencing any pain or soreness.
Also, you are going to get good protection from the toe box. Another great thing about the toe box is its excellent durability. If you are a toe dragger or someone who likes to slide a lot then you would really enjoy playing in these shoes.
Heel Counter and Ankle Support
The heel counter for the New Balance Fresh Foam Lav v2 comes with a longer heel counter than the previous version. The purpose of this is to provide you with good support and stability. This allows you to move and slide on the court with ease.
Furthermore, the ankle collar comes with a higher height than the last version to give you a lock-in fit. This helps your ankle and heel to stay in perfect position as you move around the court.
Tongue and Lacing System
There is nothing peculiar about the lacing system when compared to the Adidas Stycon which is the first laceless tennis shoe. The Lav 2 comes with a well-padded tongue to provide you with nice cushioning and comfort.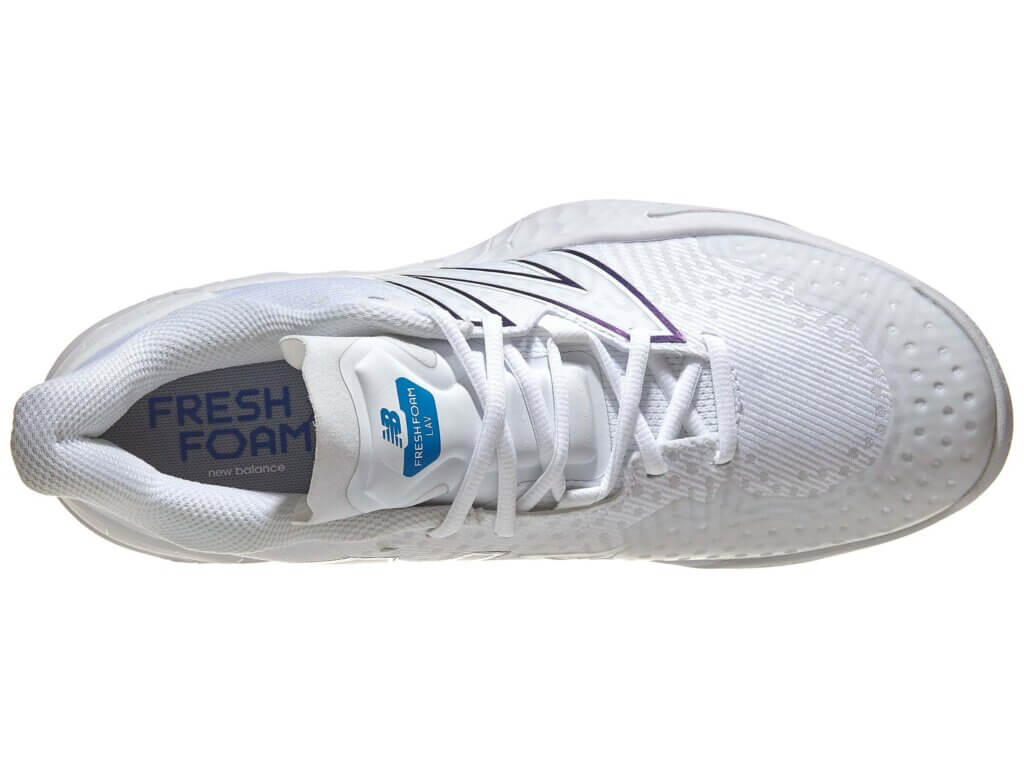 This makes it comfortable and enjoyable to play in these shoes. Also, it helps to put less pressure on your forefoot which prevents you from getting any sore.
Moreover, the tongue may not have a leather hole attached to it like most tennis shoes tend to have.
However, it still does a good job of keeping the tongue stable as you move around the court. The lacing system comes with extra lacing holes for you to use if you need more grip and support.
In addition, the lacing system does not have the usual metal eyelets holes. Instead, it comes with a small rectangular shape to give you a grip when you lace the shoe. Also, since the lacing holes are woven into the upper material it's going to be durable.
Weight
The weight of the shoe is another key factor of this shoe. It comes in a size of 10.5 with a weight of approximately 15.4 ounces. It may feel bulky but when you wear it and play with it, it feels lightweight. This is fantastic because it would help increase your speed and allow you to compete in today's speedy and aggressive game.
Insole and Midsole
The Fresh Foam Lav 2 comes with a removable insole. This is great because you can replace the insole with your preferred choice. Also, the insole is going to provide you with good cushioning and comfort as you play in them.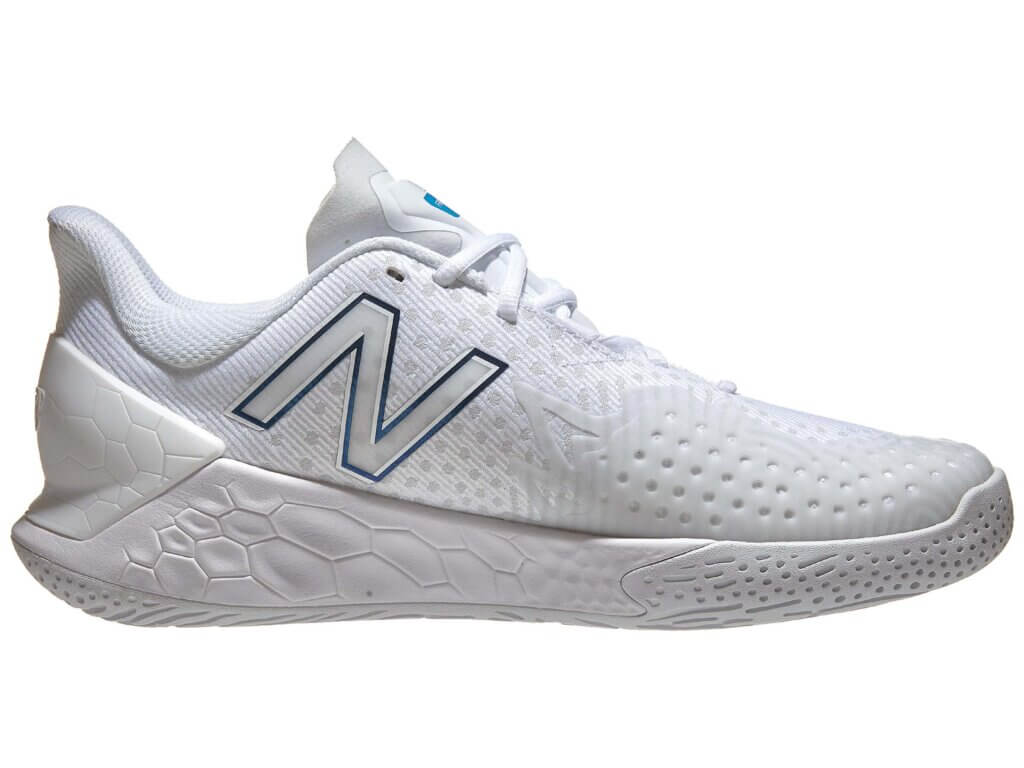 The midsole comes with fresh foam 10 which makes the midsole bigger than the usual size. The purpose of this is to provide you with an extra cushion in the heel area.
Also, the use of smaller hexes in the forefoot area does well to provide you with stability and a blend of comfort and responsiveness.
Fit
The shape and size of the shoe make it suitable for players who have narrow, medium, and wide feet. On top of that, the shoe is true to the length which means you don't have to go either size up or down when selecting your size. Also, the shoe does require some break-in period. This may take a few hours for your feet to really get used to the shoe.
Outsole
Now let's take a closer look at the outsole. It comes with NDurance rubber which is going to provide you with good durability compared with the previous version. This is great because it would be able to deal with the tough conditions on the court and last you longer.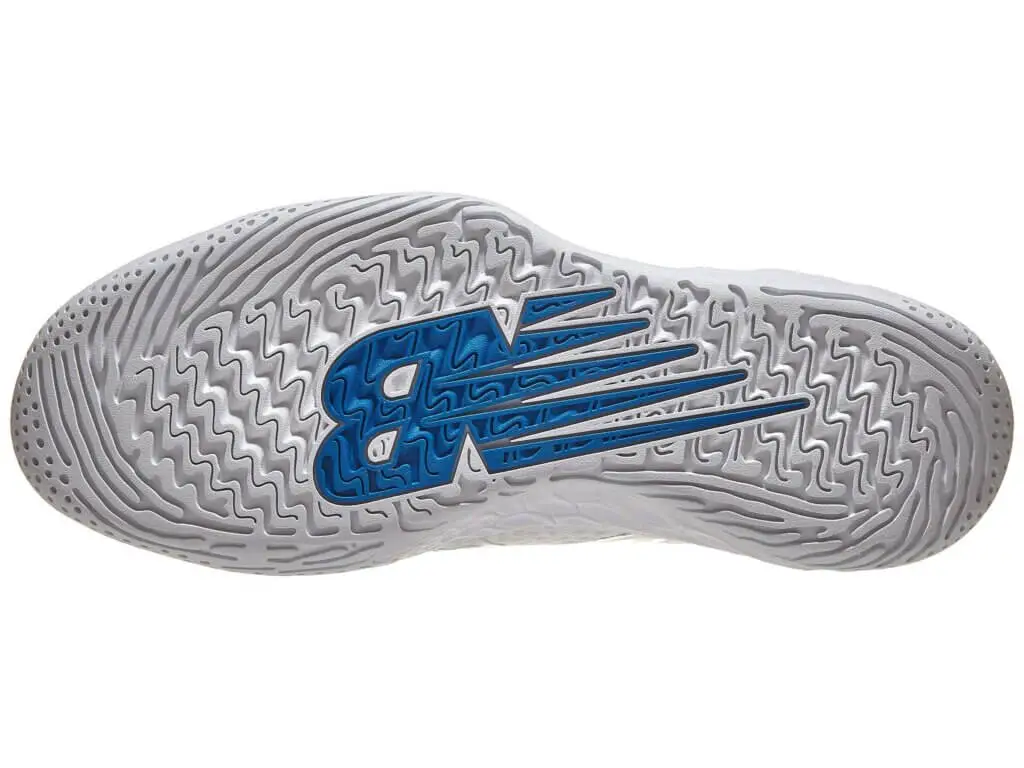 Furthermore, the tread pattern is a little sticky which is going to provide you with good traction and grip on all court surfaces. This would allow you to turn and move well on the court.
Underneath the outsole has the New Balance logo which makes the shoe more stylish and stands out.
Colour Options
The only major criticism of this shoe is the lack of colour options. It would be great to see New Balance release different colours as the season progresses. However, the white colour is great to play with on the grass court surface.
Price
The last important point to talk about is the price of the shoe. The shoe is close to $200 which is on the high end of expensive tennis shoes. The shoe may be expensive but it comes with amazing features such as comfort, stability, and cushioning to improve your game.
If you are a player on a lower budget and want less expensive tennis shoes then I highly recommend that you check out other tennis shoes such as NikeCourt Vapor Lite or NikeCourt Air Max Volley. These shoes are not only affordable but they come with great features.
Wrapping Up!!
In summary, the New Balance Fresh Foam Lav v2 is a great shoe for all tennis players. You are going to enjoy the nice comfort, stability, and durability that comes with the shoe.
However, the shoe does require some break-in period in order for your feet to adjust to it. Also, it lacks colour options to choose from and it's expensive for some players to afford.
On the other hand, it's lightweight to play in this shoe and it's very breathable. All in all, it's a fantastic shoe to give a try and add to your tennis shoe collection. Good luck with these shoes in your next match.