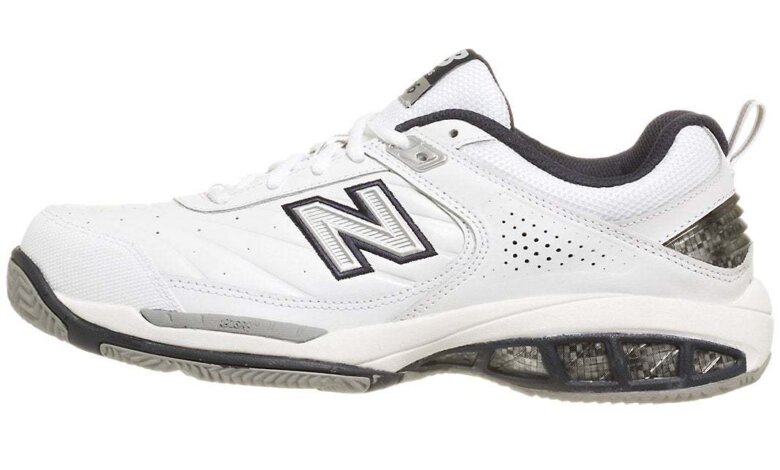 We're an affiliate
We hope you love the products we recommend! Just so you know, we may collect a share of sales or other compensation from the links on this page. Thank you if you use our links, we really appreciate it!
Product Overview
Comfort

Durability

Stability

Breathability

Weight

Fit and Size
Summary
One of the things that New Balance is known for is its 800 series. The 806 is another shoe added to their series. This 806 is specifically made to provide you with cushioning, stability, and support. 
However, this shoe is not all about roses because it lacks durability and requires some break-in period. It's a great shoe for someone who plays a few times a month. 
Pros
Excellent stability
Good support
Nice comfort
Well structured lacing system
Breathable
Cons
Lack of durability
Break-in require
Lack of colour options
New Balance has got a lot of attention because of their amazing tennis shoe New Balance Fresh Foam Lav. The Fresh Foam Lav has got a lot of great features that can take your game to the next level. Their 800 series has also been doing well over the years. Today, I want to review one of their series which is the New Balance 806. Let's start off with the design.
Design
Honestly, I wouldn't say I'm a big fan of the design and the colours used. It looks dull and unattractive to play with. I would like to see some improvement in the design from New Balance in their next edition.
Upper
Now let's talk about the upper and the materials used. It is made of full-grain leather. This is going to provide you with comfort, cushioning, and support. Also, it would allow you to play better and move well.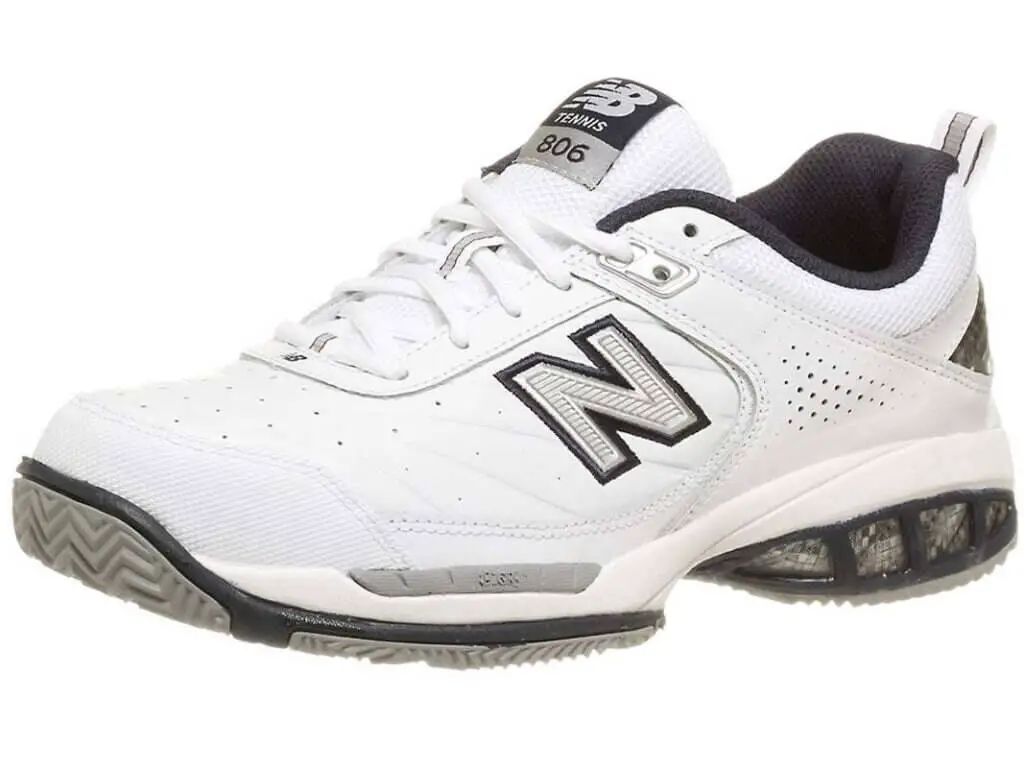 Another feature that you would benefit from the upper material is breathability. It's going to allow moisture to leave the shoe quickly and welcome fresh air quickly.
This means you can play in hot weather conditions without your feet getting overheated.
The only downside to the upper is the lack of durability. This means that it wouldn't be able to handle people sliding frequently or aggressive moves.
Toe Box
The toe box area has enough room to provide you with comfort for your toes. This prevents you from getting toe jamming or experiencing pain. Moreover, you are going to get good protection from the toe area.
However, it's not going to be the most durable toe box, so if you are a toe dragger then I highly recommend that you check out this in-depth post of shoes that are good at dealing with toe dragging.
Heel Counter and Ankle Support
The heel counter and ankle support may not have the same height as other tennis shoes such as K-Swiss Hypercourt Supreme but it still does a fantastic job at putting your feet in perfect position. On top of that, you are going to enjoy the comfort, support, and stability that comes with it.
Tongue and Lacing System
There is nothing peculiar with the tongue and lacing system like the Wilson Kaos Swift which does not have the traditional lacing system. Despite not having the traditional lacing system, it makes it really quick to put your feet inside of the shoe without experiencing any sort of pain.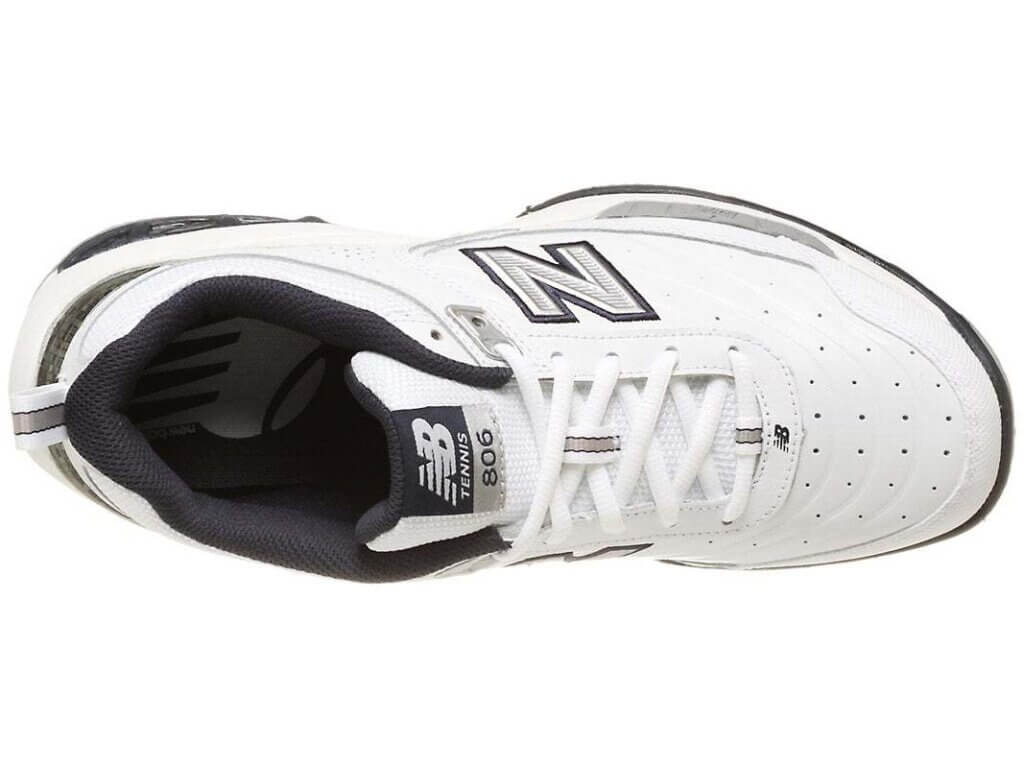 The New Balance 806 tongue is well padded to provide you with comfort and nice support. This makes it comfortable and smooth to play in these shoes. On top of that, it helps to put less pressure on your forefoot.
Also, the tongue has a leather hole attached to it so that you can lace through. This helps to keep the tongue stable and stops it from distracting you over the course of the match.
In addition, the lacing system has got extra lacing holes for more grip and support. This would help tighten the laces and keep your feet in perfect position as you move around the court.
Weight
The shoe weighs 15.5 ounces with size 10.5. This may not be the most lightweight shoe on the market, however, it's decent enough to increase your speed on the court. This would help you to compete in today's game that requires a lot of speed.
Insole and Midsole
The New Balance 806 comes with a fairly decent insole which allows you to replace the insole with your preferred insole. However, I wouldn't say it's the best insole on the market due to the lack of cushioning and stability.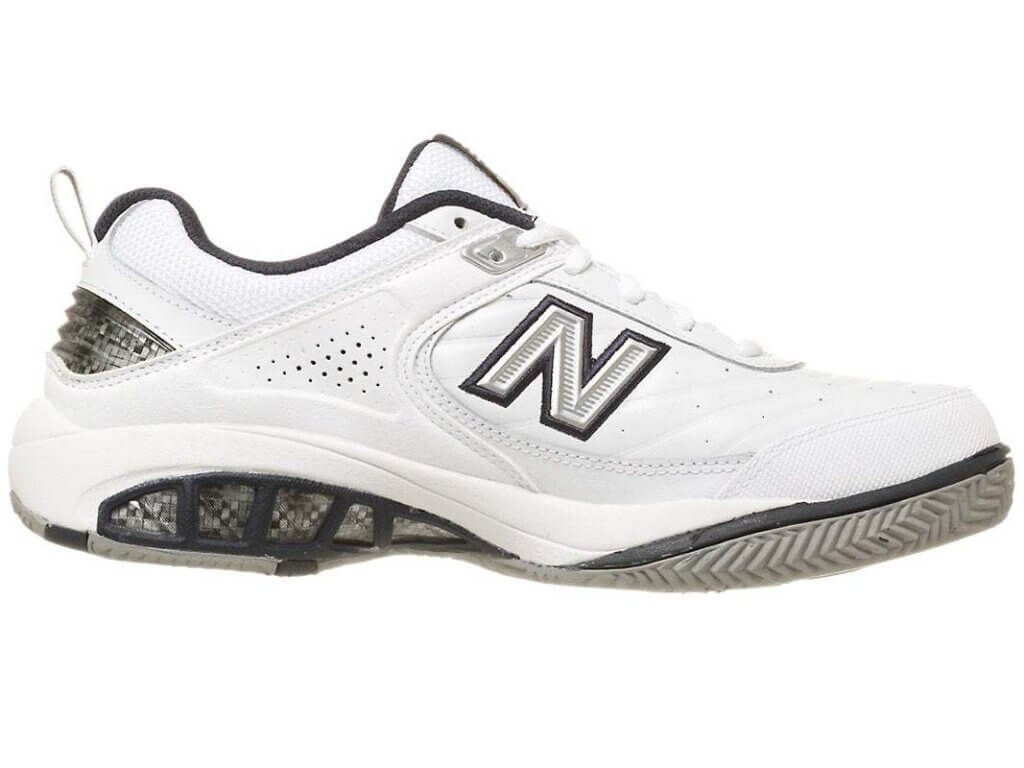 The midsole on the other hand is made of ABZORB. This is going to offer you a lot of cushioning and support. This helps you to move better and be in more control when hitting the ball.
On top of that, the midsole has a ROLLBAR which helps to control rear-foot movement. This is great because it allows you to be stable when moving around the court.
Fit
The shape and size of the shoe make it suitable for players who have medium feet.
If you have narrow feet and want some tennis shoes that can suit you then I encourage you to read this in-depth post on some of the best tennis shoes for narrow feet. You would find it useful and helpful.
In terms of the length of the shoe, this shoe is generous. This is great because you don't have to go either a half size up or down. Also, the shoe may require some break-in period for your feet to get used to it. This may take a few hours but it's important to be patient with yourself during that period.
Outsole
Next up is the outsole. The sole is made of rubber. It's not going to be the most durable outsole on the market. So if you are a player that is very hard and aggressive on your outsole then I recommend that you check out other tennis shoes such as the Asics Court FF 2.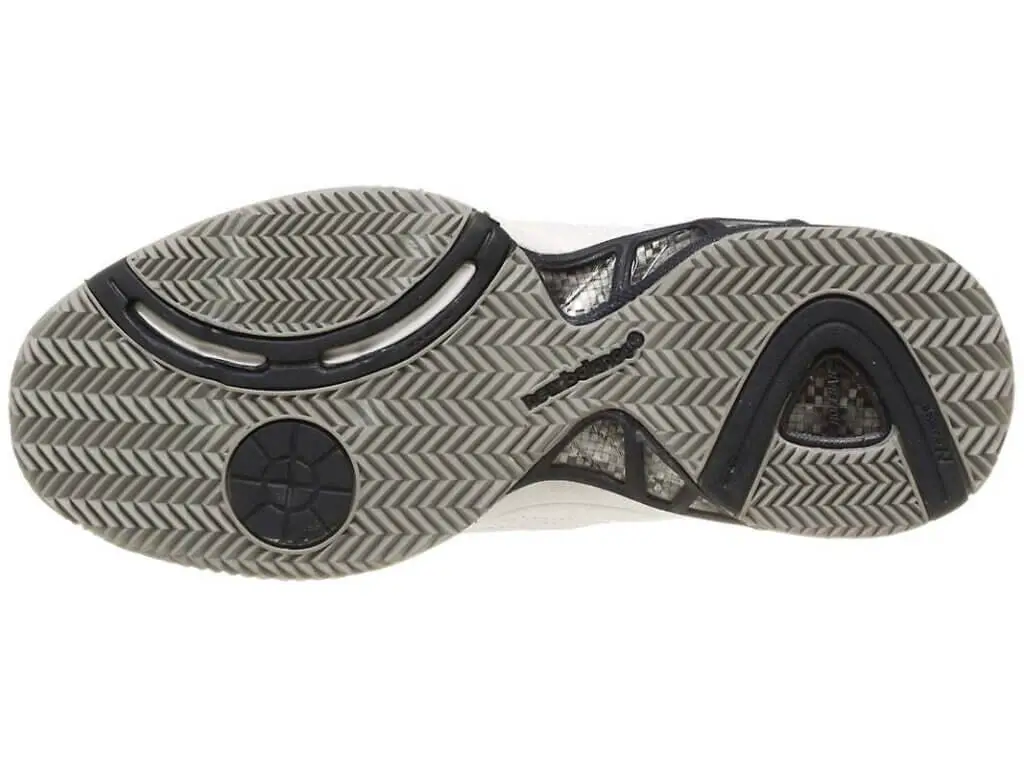 This shoe is going to last you very long and also has amazing features to help you play better.
Moreover, the New Balance 806 outsole has a non-marking herringbone tread patterned. This is going to provide you with good traction and stability on all court surfaces.
Colour Options
The New Balance 806 comes with limited colour options to choose from.
Currently, the shoe comes with one colour option which is white. I would like to see New Balance release more colours in their next edition. This gives players more options to select which colour suits their outfit.
Price
One last important point that is worth talking about before I end the post is the price of the shoe. It's more than $100 which is on the high end of expensive tennis shoes. Despite how expensive this shoe may be it still does a good job at offering you some of the best features such as excellent support and stability.
If you are a player that is on a tight budget then I would recommend that you try other shoes such as New Balance 696 V4. This shoe comes under $80 which is a bargain and it comes with many amazing features that can help you perform well on the court.
Conclusion!!
In conclusion, I hope you have found this post very useful. This shoe is going to provide you with support, comfort, and stability. However, there are some weaknesses that come with this shoe such as lack of durability and requires a break-in period.
Overall, it's such another solid offering in the successful 800 lines. If you manage to purchase this shoe, I wish you the very best of luck in your next match.