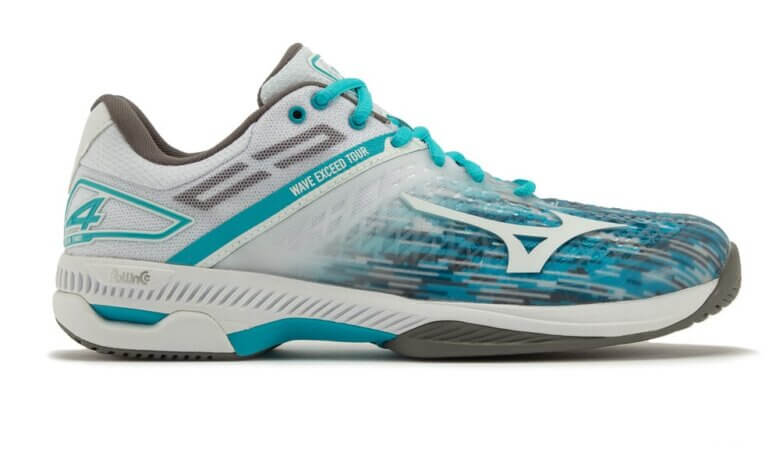 We're an affiliate
We hope you love the products we recommend! Just so you know, we may collect a share of sales or other compensation from the links on this page. Thank you if you use our links, we really appreciate it!
Product Overview
Comfort

Durability

Stability

Breathability

Weight

Fit and Size
Summary
The Mizuno Wave Exceed Tour 4 is an updated version from the 3 which is a lot better with some few improvements. You are going to get a better fit with the 4 and have comfortable and excellent traction on the court. 
However, you are likely to experience some heel slippage and some breathability issues. Apart from that, you would really enjoy wearing this shoe and the product overview sum up everything about how good this shoe is. 
Pros
Lightweight
Good durability
Nice comfort
Excellent traction
The fit is a lot better than the previous version
Cons
Likely to experience heel slippage
Needs improvement in the breathability
Mizuno Wave Exceed Tour 4 was one of the tennis shoes released in 2020. It was an updated version of the 3 but a more improved fit. This shoe was considered by Tennis Magazine as the 'Best Tennis Shoe of 2020'.
This is such a bold state from Tennis Magazine when you consider that there were a lot of amazing shoes released in 2020 such as the Air Zoom GP Turbo and Asics Gel-Resolution 8.
If a shoe is considered as the best for that year then it should excel in many areas of a shoe such as lightweight, durability, comfort and others.
In this post, I'm going to provide you with an in-depth review that would allow you to see if this shoe is indeed the best in 2020. If you are ready let's start with the cosmetic of the shoe.
Design
Right out of the box, the design and cosmetic of the shoe look sleek and amazing. When I look at the design it reminds me of the Asics Gel Challenger 12 which also looks awesome.
Mizuno did a great job with the colour selection and how they made it to be good looking. From a design point of view, it is spot on. Personally, if you are to ask me what is my favourite design from this shoe. I would say the light blue and white version because it looks nice yet simple.
If you are a player that takes your outfit seriously then maybe consider checking the Mizuno Wave Exceed Tour 4. You may find the perfect colour option for your tennis outfit.
Upper
Next up is the upper. It is made of 3D solid upper which is going to provide you with a natural fit and excellent durability. This is awesome to hear from Mizuno because you are going to have a better fit compared to the last version.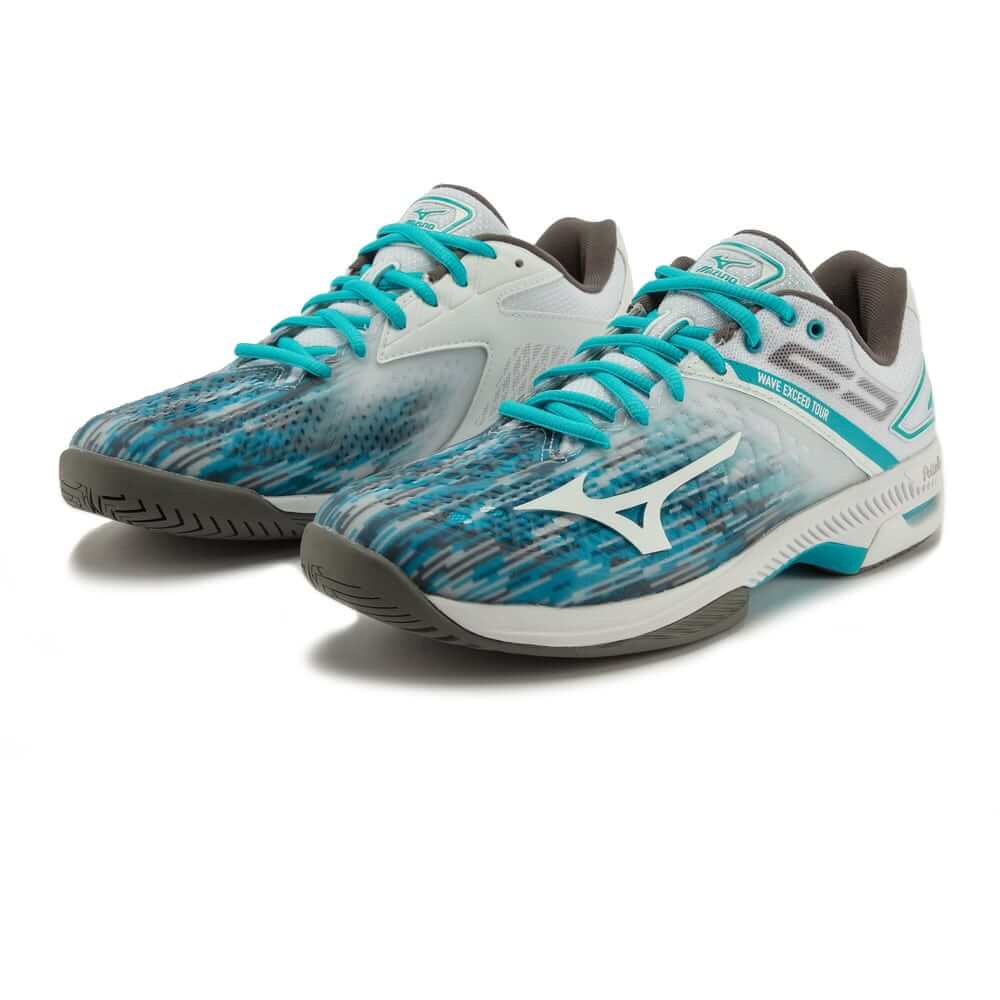 In addition, if you are an aggressive mover or someone who slide on the court often then you would want to check this shoe out.
You are not going to have any issue with the upper wearing out sooner or later.
The use of inner fabric offers high levels of softness for maximum next-to-skin comfort. This is one of the key strengths of this shoe because it's going to provide you with excellent comfort throughout the match.
On the other hand, this shoe is not the best breathable shoe on the market. If you want a very good breathability shoe than I suggest you check out the Adidas Ubersonic 4 and Adidas SoleMatch Bounce.
These shoes are fantastic at allowing cool air to circulate, removing uncomfortable heat build-up. This is great because your feet can thrive inside of the shoe.
And lastly, the outside of the 3D Solid is incredibly durable, protecting against lateral drag and abrasion whilst delivering essential support and stability needed for fast and dynamic movement.
Toe Cap, Heel Area and Shank
Surprisingly the toe cap of this shoe is very durable than most people expected it to be. If you tend to play for 10 hours plus then you would enjoy wearing this shoe. This applies to aggressive movers and players who like to slide a lot on the court.
On the other hand, the way the heel area is designed could lead some players to experience heel slippage. It's worth watching out when playing with this shoe especially if you have a wide width. And lastly is the shank. The shank is very responsive and it's probably one of the best on the market in the year 2020.
Lacing System
The traditional lace closure has extra lacing holes for a more secure and stable fit. This is great for you when you are moving up and down the court because you know you are going to have good stability.
On top of it, the tongue has a leather hole connected to it. This allows you to lace through it and it's a good way to keep the tongue stable. Lastly, it's great to see that Mizuno used metal lacing holes for more durability and it makes it easy to lace.
Outsole and Midfoot
This shoe comes with a durable rubber outsole which is going to provide you with excellent durability and grip control on the court. However, this shoe may not provide you with the best traction on a clay court surface.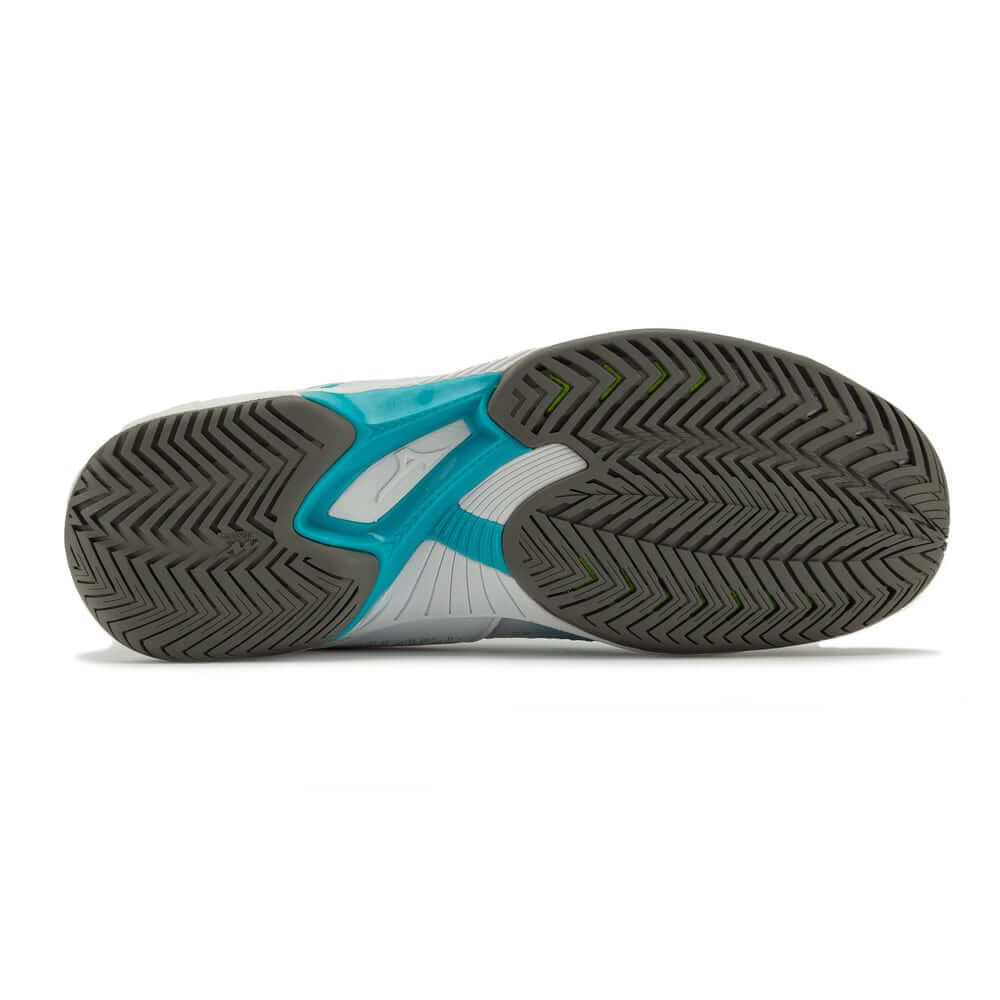 Furthermore, a D-Flex Groove sits diagonally through the midfoot allowing you to turn at maximum speed and power by efficiently transferring your natural body movement and shift in direction.
And lastly, the heel strike will additionally have a solid grip on different court surfaces.
Weight and Fit
Another reason why this shoe was one of the best in 2020 is how lightweight it is. It comes at a weight of 12.4 ounces and a size of 10.5.
This is awesome for your game because you would be able to move quickly on the court and play with more flow.
In terms of fit, this shoe is more suitable for players who have more of a narrow, medium and wide foot. Also, it's very true to size which is great because you don't have to try different sizes in order to find the perfect shoe for your feet. However, this shoe is not suitable for players who have more of a wider foot and bunions issues.
Midsole
The midsole has Mizuno's wave technology embedded in it to provide you with flexibility when moving around the court. Also, it's going to provide you with good support as you move in all direction on the court.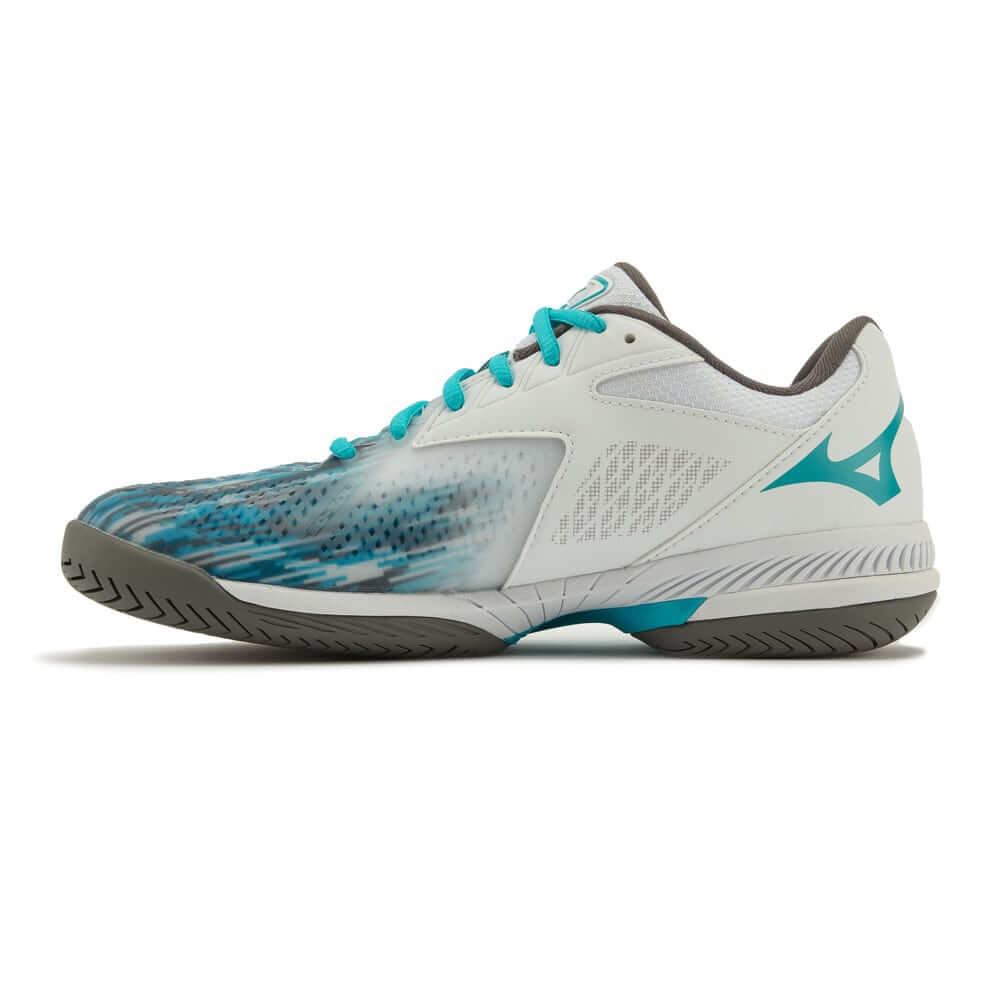 Furthermore, the midsole technology does a great job at absorbing the shock of the heel striking without compromising the comfort or cushioning.
Also, once the shock has been absorbed the energy from that is harnessed and is then transferred to the forefoot to then push you off and guide you onto the next movement. 
Colour Options
Another key strength of this shoe is how it comes in a variety of colours. It's worth taking a look and seeing which one that suits your taste and interest.
Comparing The 4 and 3
Within a short period of time of releasing the 3, Mizuno released the 4. There are some improvements from the old version and some similarities.
One of the major improvement from the 3 to the 4 is the fit. A lot of players struggle with the fit for the 3 since it was toiled more towards to narrow foot. The 4 is a lot better in terms of fit and you are going to have a great time wearing it.
And one similarity that is still the same is the heel slippage issue. Mizuno needs to seriously take a look and improve it down on future updates because it can impact someone's game in a negative way.
Price
The last point that is worth talking about is the price of the shoe. It's around the $130 price mark. This sounds like an expensive shoe but if you take the time and think about it.
It has great features like lightweight, durability, and comfort which makes it worth the price. If you are someone on a low budget then you want to check out shoes either under $100 and even under $60. You would find them very useful.
Final Thoughts!!
As this post comes to its conclusion about the Mizuno Wave Exceed Tour 4 in-depth review, I hope you have found it very useful. As you can see this shoe is a lot better than the previous version and it's going to provide you with lightweight, durability, comfort and nice fit.
However, I wouldn't say it's the best shoe in 2020 but it's definitely on the high end with other shoes such as Air Zoom Vapor Cage 4 and Asics Gel-Resolution 8.
On top of that, there are still some areas that Mizuno still needs to improve on such as the heel slippage issue and breathability. With that said it's still a fantastic shoe to add to your category. I would end by saying if you manage to pick this shoe up, I wish you a lot of success in your future matches.