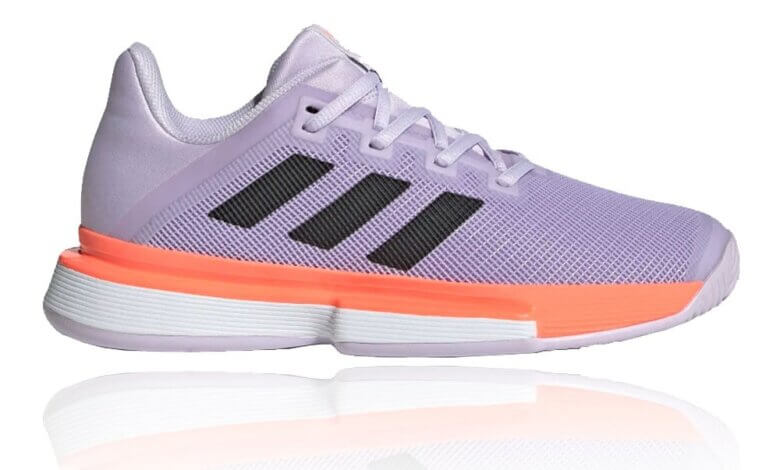 We're an affiliate
We hope you love the products we recommend! Just so you know, we may collect a share of sales or other compensation from the links on this page. Thank you if you use our links, we really appreciate it!
Product Overview
Comfort

Durability

Stability

Breathability

Weight

Fit and Size
Summary
Since Adidas has decided to discontinue making the Barricade series, they have taken a different approach by making the SoleMatch Bounce. This shoe at its core is going to provide you with excellent comfort, stability and lightweight. If you are a player looking for these features then you would enjoy wearing this shoe. 
However, Adidas needs to work on the sizing of the shoe since it's only geared towards players with a wider foot. Apart from that its a great looking shoe and even to wear it off the court. 
Pros
 Excellent breathability
Good durability
Nice looking design
Lightweight
Stability
Comfort
Good performance
Cons
Needs more colour options
Not suitable for narrow feet
Are you a player looking for a comfortable, durable and stable tennis shoe? If you are then I have the perfect shoe for you. It's called the Adidas SoleMatch Bounce which was released in 2019.
This shoe is starting to gain popularity on the market with both players and fans. It's one of the closet tennis shoes to replace the Barricade series due to having similar features.
What the Barricade series has done for tennis shoes is remarkable because it's been the benchmark for nearly two decades.
In this post, however, I want to give you an in-depth review about the SoleMatch Bounce and see if it's worth your money. If you are ready let's start with the design.
Design
In terms of design, Adidas did their homework very well. The SoleMatch Bounce looks sleek and simple like the Adidas Stycon.
All the colours Adidas selected were spot on. Also, I like the fact that they didn't try to mix too many colours together like the Air Zoom GP Turbo.
Upper
The upper of the shoe is made of 360 TPU chassis. Most of you are thinking what the heck is that? Let me help you. Basically, this technology completely surrounds your foot which is going to provide you with good support and stability during sharp movement and changes in the direction on the court.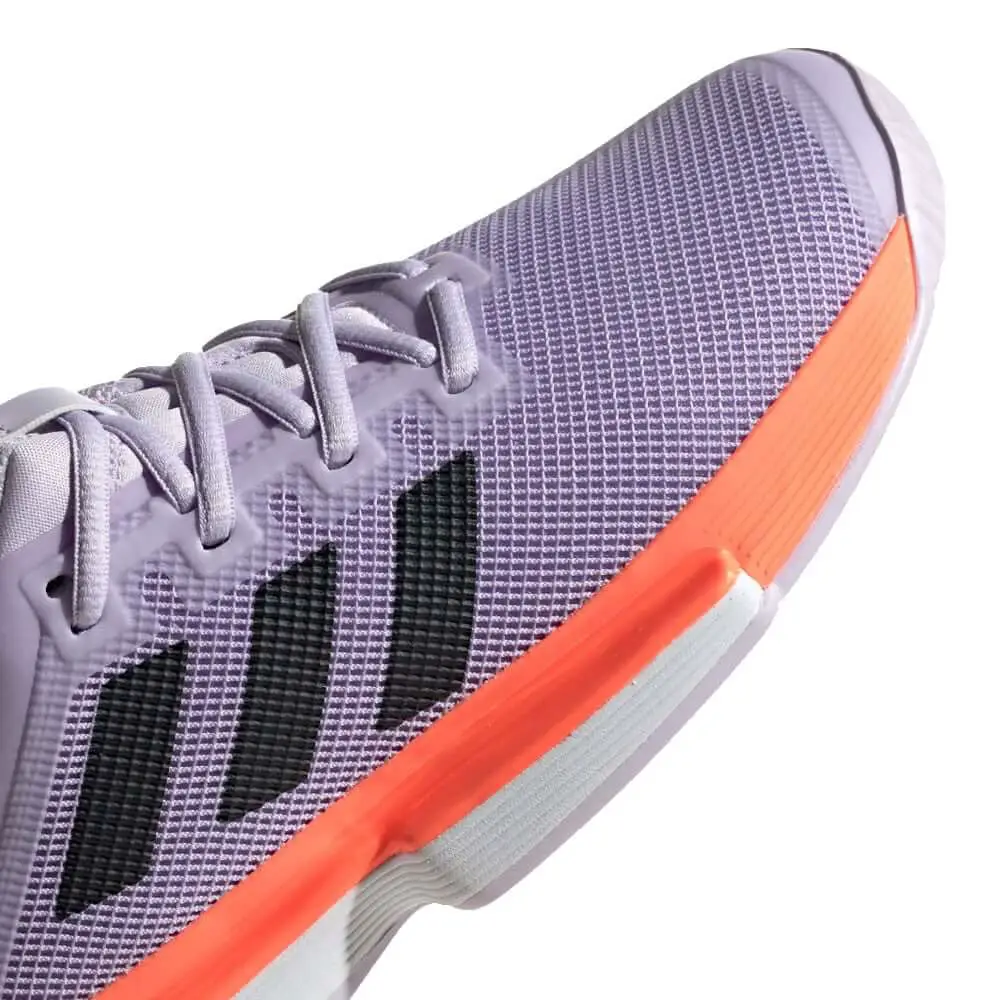 On top of that, the use of the 360 TPU chassis gives you both control and confidence whiles playing rallies and sliding on the court.
Despite offering excellent protection and support the upper is also breathable.
This is great for players who's feet get wet easily or play for long and intense matches. It's so breathable that the air flows and exit easily which maintain the temperature of the feet whiles keeping it comfortable at the same time.
Adding on to that, the moisture from sweat is able to escape from the shoes easily. This will improve comfort and keep your grip within the shoe firm. This is superb useful when playing on hard-court surfaces.
Toe Box and Heel Area
The toe box area is made of Adituff which is a firm coating that wraps around the toe and medial forefoot.
Adidas specifically used this material to help protect your foot against foot dragger that some players tend to face during volleys and lateral movements.
The heel section is also protected by a firm and thick material that will keep it in a solid upright and healthy position. This is awesome because it helps keep your heels stable and comfortable on the court.
Midsole
Next up is the midsole. It is made of bounce which is a combination of ultra-responsive and cushioned EVA that will enhance performance and comfort.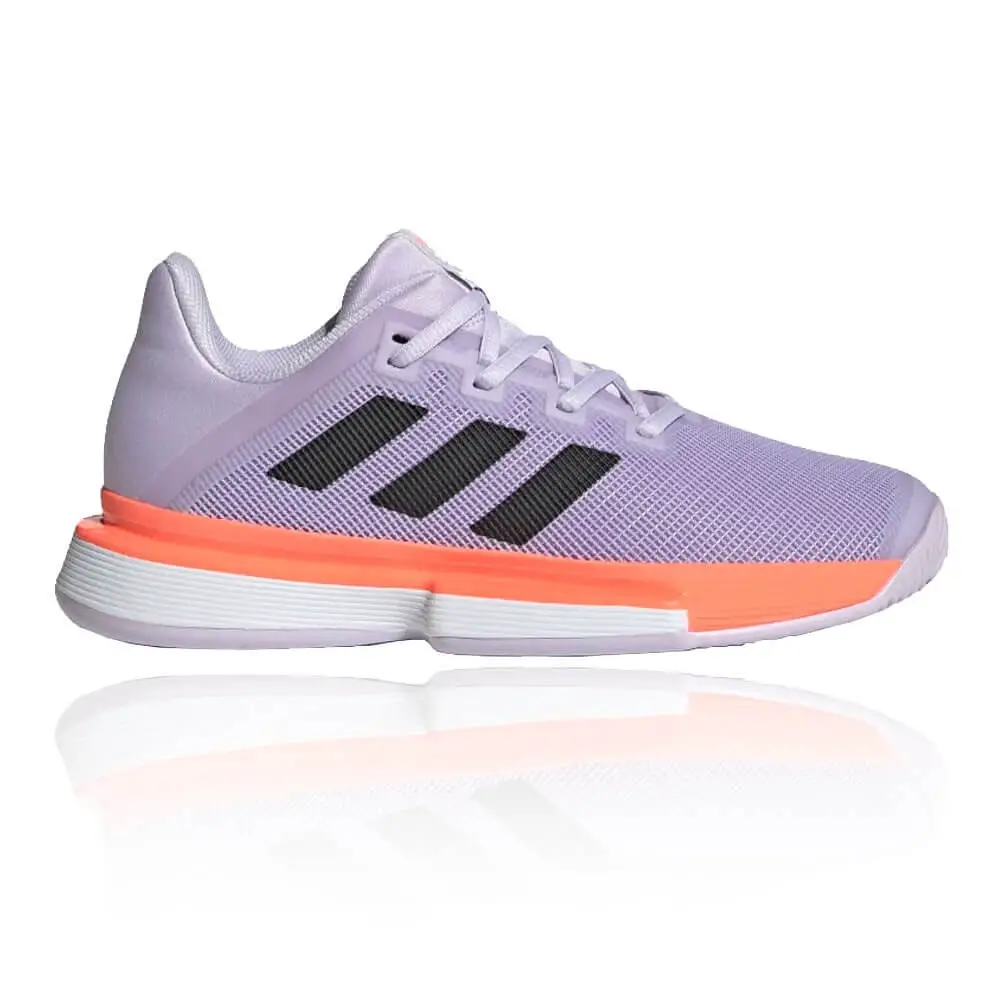 This is superb useful because when you land on the court, the midsole will react by instantly cushioning your feet and keeping it comfortable.
This helps to reduce the amount of weight that your knees and lower body will be subject to.
This whole process reduces fatigue and the risk of injuries from occurring.
In addition, the midsole uses the heavy impacts to create more energy to give you an extra boost to help you cover more space on the court.
Lastly, the midsole is a bit flexible and with the combined 360 TPU chassis upper it would allow you to move in all direction with ease.
Lacing System
The lacing system is not complicated to lace-like the Adidas Adizero Ubersonic 2. The SoleMatch Bounce lacing system is going to be secure and the soft flat tongue will make your feet comfortable and firm.
Outsole
Surprisingly the outsole of this shoe turns out to be durable than most players anticipated it to be. It is made of Adiwear outsole that is going to provide you with good durability and functionality on the court.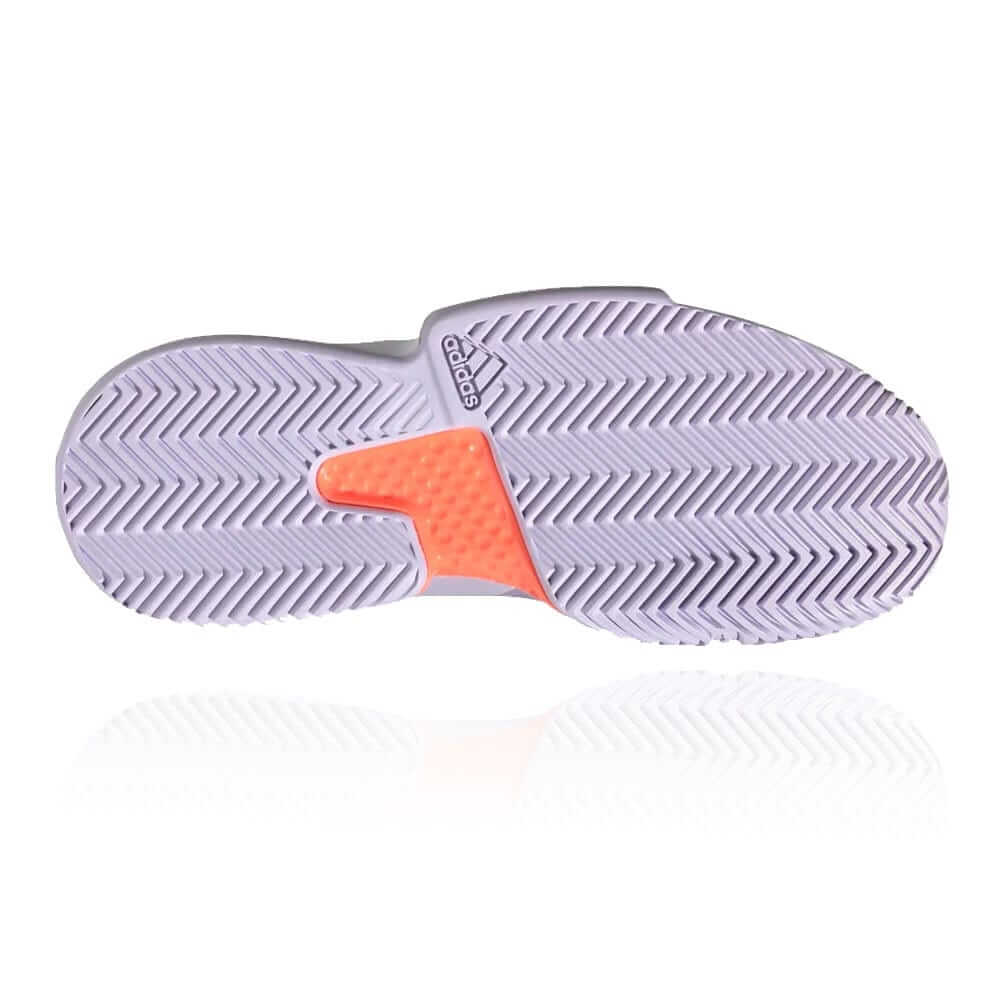 However, it does not come with a six months guarantee. This is a bit of a blow for most players because Adidas is known for adding that.
Going back to the outsole, the abrasion-resistant rubber is well designed to stand up against constant friction from the court and still be able to maintain its shape.
Furthermore, the rubber itself will form a supremely strong grip which would provide you with a solid base to push off from and at the same time keep you stable when playing a shot.
Lastly, the modified herringbone design is going to provide you with an excellent grip on all court surfaces.
Colour Options
When it comes to colour options there aren't many varieties of colours to choose from. It would be great to see that Adidas produce more colour options for all players. This helps to select the type of colour options that suit their tennis outfit.
Weight and Size
With a weight of 340g for the men and 330g for the women, this shoe is fairly lightweight. You are going to enjoy wearing them on the court because you would be able to run fast and still maintain your stability.
In terms of size, this shoe is more suitable for players who have a wider foot. If you have a narrow foot then I would recommend wearing two pairs of socks.
Price
With a price range below $150, I think the shoe is great for that price. The features it has are amazing and it's going to last you for a very long time if you take good care of it.
Final Thoughts!!
As this post comes to its conclusion about the SoleMatch Bounce, it seems that Adidas is doing a great job at trying to make the perfect shoe to replace the Barricade series.
The SoleMatch Bounce is going to provide you with excellent breathability, good outsole durability and a nice design. However, it would be great if Adidas provide more colour options and make a size that is suitable for everybody.
I think that if Adidas manages to improve such areas in the shoe, it would become a powerhouse like the barricade series. If you manage to pick this shoe up then I wish you a lot of success in your future matches.