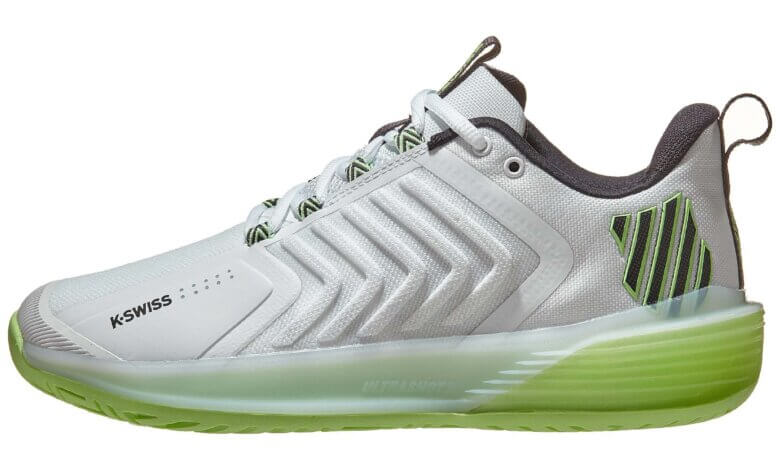 We're an affiliate
We hope you love the products we recommend! Just so you know, we may collect a share of sales or other compensation from the links on this page. Thank you if you use our links, we really appreciate it!
Product Overview
Comfort

Durability

Stability

Breathability

Weight

Fit and Size
Summary
There is a new edition added to the Ultrashot series and it's called the K-Swiss Ultrashot 3. K-Swiss has taken the feedback that they received from the previous version and made this iteration even better. This shoe is going to provide you with excellent comfort, durability and stability. 
However, there are some areas that need some improvement such as the lack of breathability. Despite a few drawbacks, this shoe is going to take your game to the next level and allow you to move well on the court. 
Pros
Nice looking shoe
Super comfortable
It's resilience
Good stability
Durable
Comes with a six-months durability
Cons
Lack of breathability
Can feel heavy on your feet
Expensive
It's a new season, a new year and a new tennis shoe to add to the line of K-Swiss tennis shoes. The K-Swiss Ultrashot line of tennis shoe continues to get attention from both fans and players on the tour. The last two iterations of the Ultrashot were good but certain areas needed some improvement.
The K-Swiss Ultrashot 3 is the new addition to the family and comes with a lot of improvement from the old version. In this post, I'm going to provide you with an in-depth review of the Ultrashot 3 and how it can benefit your game. Let's start with the design and cosmetic of the shoe.
Design
Right out of the box, the shoe looks great with the updated modern cosmetic and design. Not only that but it looks clean and has a sleek looking feel to it.
If you are a player that likes fashion then you would enjoy wearing this shoe on the court. I think K-Swiss did a really good job with the design and cosmetic of the shoe.
Upper
Next up is the upper of the shoe. The upper has three different materials which is one of the reasons why it feels heavy. It has the compression-moulded material on the side, the faux leather and the rubber Duraguard around the toe cap.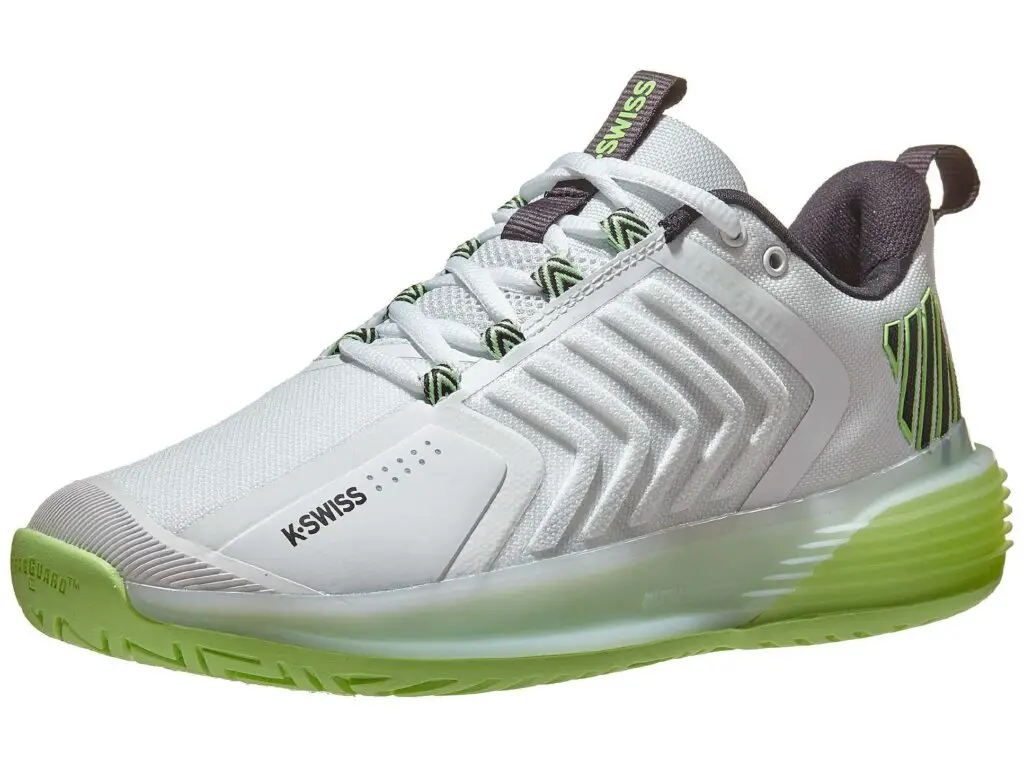 However, despite a lot of materials used in the upper, it does a really good job of providing you with excellent comfort and support.
Honestly, it's one of the best comfortable shoes you would ever come across on the market.
Another drawback to the upper is the lack of breathability. After playing in it for more than one hour you would start to feel that it's getting hot inside. This can be a blow for some players who like to play in hot conditions and long matches.
If you are a player that breathability is one of your top priority then I would recommend that you check out the Asics Gel-Resolution 8. The breathability of the shoe is superb and you would also enjoy the awesome features it comes with it.
Toe Box and Heel Area
The toe box is covered with a rubber Duraguard which is going to provide you with excellent durability. If you are someone who is a toe dragger or tends to move aggressively on the court then you would enjoy wearing this shoe.
The heel area comes with a soft and supportive heel cap for locked-in security. This would help keep your feet and heel stable as you move around the court.
Midsole
The midsole is designed in an interesting way. It comes with a compression-moulded EVA midsole. When you wear it for the first few things you are going to feel the softness of it. Also, the midsole is going to provide you with excellent responsiveness and cushioning.
Moreover, underneath the midsole comes a broad mid-foot TPU Shank which is going to provide you with good stability especially when moving quickly on the court.
Lacing System and Tongue
Let's take a closer look at the lacing system. Firstly, it has extra lacing holes so that you can use them for more grip and stability.
And secondly, K-Swiss decided to go with the outrigger lacing system which can slow you down when putting the laces through the leather holes however you would get a nice grip once you tighten it up.
The tongue comes with nice padded material. This is going to provide you with good cushioning and comfort when you wear it. Moreover, there is a leather lacing hole attached on top of the tongue to lace through. This helps to keep the tongue stable and prevent it from distracting you as you move around the court.
Outsole
The way K-Swiss made the outsole is very unique and simple. If you look closely at the outsole, you would notice that it's made of an entire piece of a hard court herringbone pattern.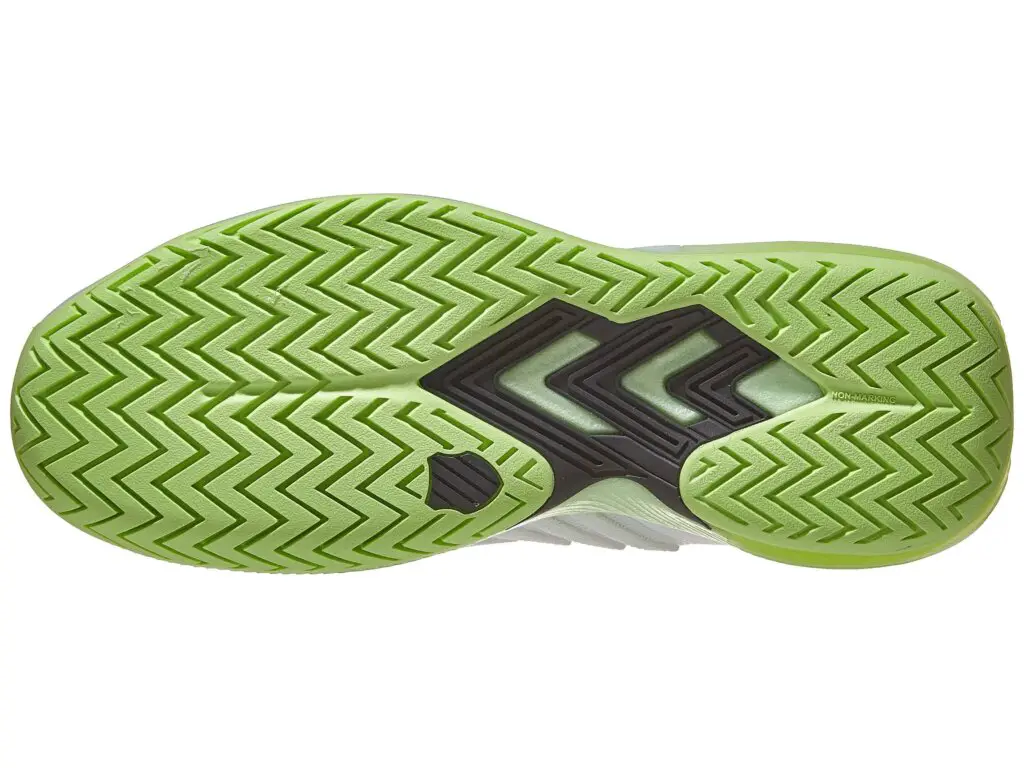 Also, it's very flat which is going to provide you with excellent traction and stability on all court surfaces.
This is a great feature to have because you would be able to maintain the balance whiles you slide on the court or if you move aggressively on the court.
Another key strength of the outsole is durability. It's made of Dragguard 7.0 durable non-marking rubber which is going to take some time to wear out.
On top of that, it's backed up by a 6-month outsole durability guarantee. It seems that making durability outsole and the shoe is becoming one of the key traits of K-Swiss. Let's hope they keep it up in their next iterations.
Colour Options
As of now, this shoe comes with limited colour options to choose from. In fact, there is only one colour option to choose from for both men and women. However, as the season progress, we may see K-Swiss release different colours for players.
Weight, Size and Fit
The men's size 10.5 comes with a weight of 15.3 ounces. Whiles the women's size 8.5 comes with a weight of 12.3 ounces.
The numbers make it look like it's lightweight however when you wear it and play with it for a couple of hours you start to feel how heavy the shoe is on your feet.
The shoe comes in many different sizes which is fantastic because you can select which one suits you the best. Speaking of fit, the K-Swiss Ultrashot 3 does not require any break-in period and they are true to length. This is a nice feature to have because your feet can easily adapt to the shoe and start playing your style of tennis.
In addition, this shoe is well suited for players who have narrow, medium and wide (2E). It's also good for players who have physical issues such as heel pain, Achilles pain, knee pain and even hip pain. On the other hand, I wouldn't recommend this shoe for players who have a narrow heel or bunion.
Price
The last point to talk about is the price of the shoe. It comes just under $200 which is very expensive. The price range of this shoe is on the same wavelength as other shoes such as K-Swiss Hypercourt Supreme and Asics Solution Speed FF 2.
If you feel that these shoes are expensive and want a lower price point then you want to check out other shoes such as Asics Gel-Game 7. The Gel-Game 7 comes under $100 and brings a lot of excellent features to your game.
Final Thoughts!!
As we come to the conclusion of the K-Swiss Ultrashot 3 in-depth review. I hope you have enjoyed it and found it very useful. To sum it up this shoe is going to provide you with excellent comfort, stability, durability and nice cushioning.
However, there are some drawbacks that come with the shoe. For examples, the breathability of the shoe needs some improvement and it's very expensive.
Overall, it's such a fantastic shoe to wear on the court and would be great for big well-built players or professional players. If you have any tennis shoes for me to review please let me know and I would put them on my to-do list. With that said, keep grinding on the court.