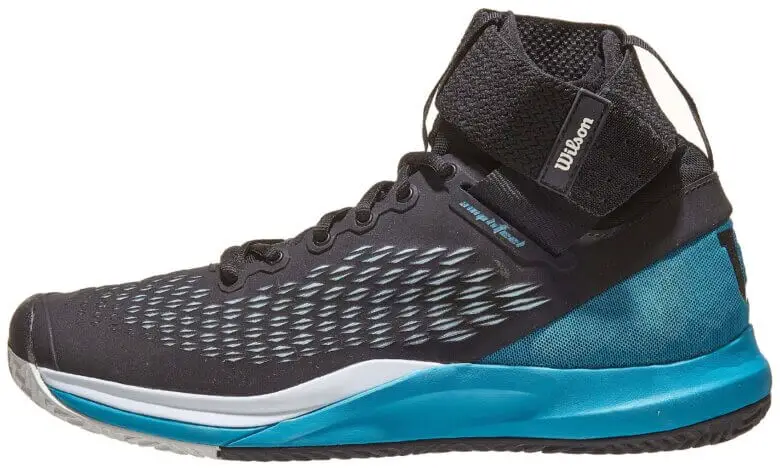 We're an affiliate
We hope you love the products we recommend! Just so you know, we may collect a share of sales or other compensation from the links on this page. Thank you if you use our links, we really appreciate it!
Product Overview
Comfort

Durability

Stability

Breathability

Weight

Fit and Size
Summary
We finally have a mid-cut tennis shoe on the market. However, it didn't level up to the expectation that everyone was hoping for because you are likely to experience toe jamming issues. On top of that, the breathability needs some improvement. 
Despite the negatives, there are some positives that come with this shoe. You are going to enjoy the excellent durability, traction and stability on the court.
Pros
Excellent durability
Good traction
Nice stability
Cushioning
Cons
Breathability needs improvement
Toe jamming issues
As a tennis fan, it's such a very long time to see a mid-cut tennis shoe on the market. The good news is Wilson decided to surprise us with a mid-cut tennis shoe and it's called the Wilson Amplifeel 2.0.
As you can see, this shoe is very interesting with how it looks and how it functions. Wilson did an amazing job by updating the upper of the shoe with Amplifeel 2.0.
On top of that, this shoe comes with different technologies to provide you with good cushioning, stability and traction. Without any further talking let's dive deep and find out more.
Design
As a high top tennis shoe, I would say right out of the box the design and cosmetic of the shoe look amazing. Wilson did a great job with the colour selection and how they combined them.
Personally speaking, if you were to ask me which colour options I prefer, I would say the green/black or grey/black. These designs are amazing looking, simple and clean.
Not only that but having a high-top tennis shoe with an amazing colour feature is going to boost your confidence and self-esteem on the court.
Upper
The upper of the shoe is made of mesh material which is going to provide you with good comfort. However, it's not going to be the best breathability shoe on the market.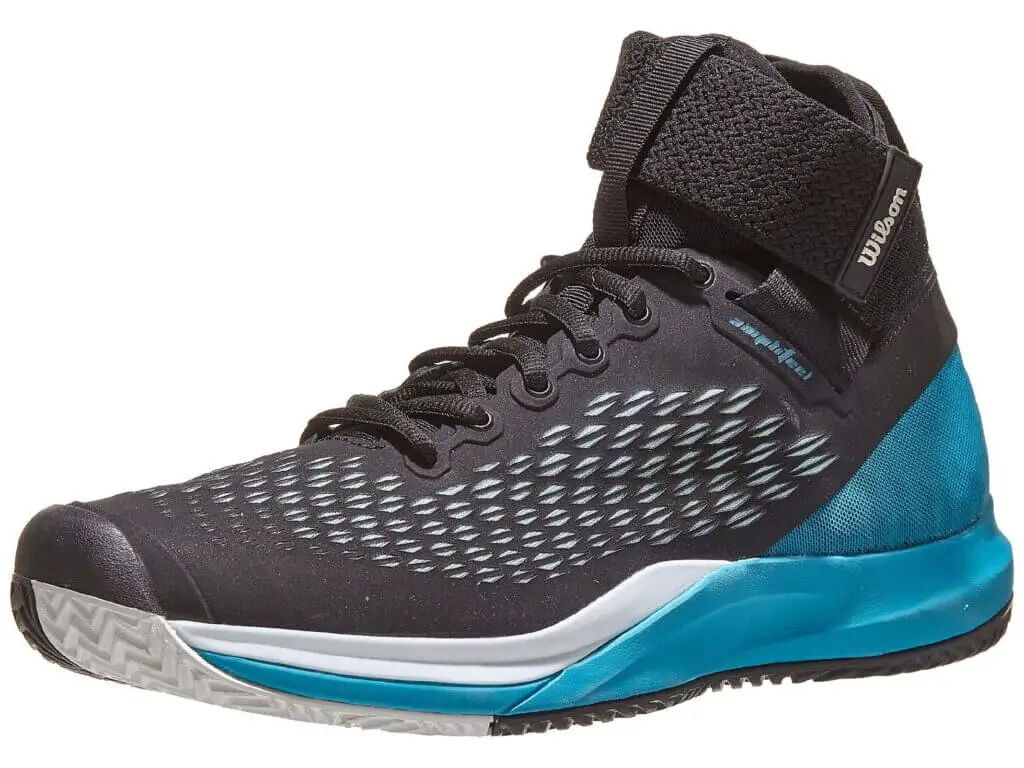 If you are looking for a very good breathability tennis shoe then I would recommend the Adidas Ubersonic 4 or Adidas SoleMatch Bounce.
These shoes would allow moisture and sweat to leave quickly whiles at the same time bringing in the fresh air.
In addition to the upper, it has a synthetic material with 3D-Fs technology in the forefoot to provide you with comfort, support, and stability in any direction.
And lastly, a mid-cut ankle collar with Velcro strap helps to lock your back of the foot for ultimate protection.
Toe Box and Patch
The toe area is covered with a toe cap to prevent you from slipping over and also protect your toes. However, the drawback to that is you are likely to experience some toe jam issues which can be annoying and painful.
Around the upper area, there is a patch which is specifically used to provide you with good support when sliding on the court. However, due to the lack of mesh material in the upper, you are likely to wear it quickly if you slid often.
Midsole
The midsole is made of EVA with R-DST+ technology which offers a blend of cushioning and responsiveness with every step you take on the court. This is great when you are playing rallies and moving up and down the court.
And lastly, it has a 4D support chassis through the mid-foot area to protect the arch area from unwanted twisting.
Weight and Size
Coming at a weight of 13.6 ounces with a size of 10.5. This shoe is very lightweight when you compare it with how bulky it is. Some of you may be asking yourself how did Wilson manage to do that? It's simple!
Firstly, they made most of the upper material mesh instead of woven materials. And secondly, they sacrificed some of the weight in the midsole for more plastic.
However, the downside to sacrificing the weight of the midsole is how it makes it thin which as a result produce less bounce. Which leads to less cushioning and more shock absorption.
In terms of size, this shoe is true to length and size. However, I would say that it fit better with people who have a slightly wide foot than let's say a narrow or medium.
Outsole
The outsole of the shoe is well-built. It is made of duralast rubber which is going to provide you with excellent durability on the court. If you are a player that is very hard on your outsole then you also want to take advantage of the six-month durability guarantee.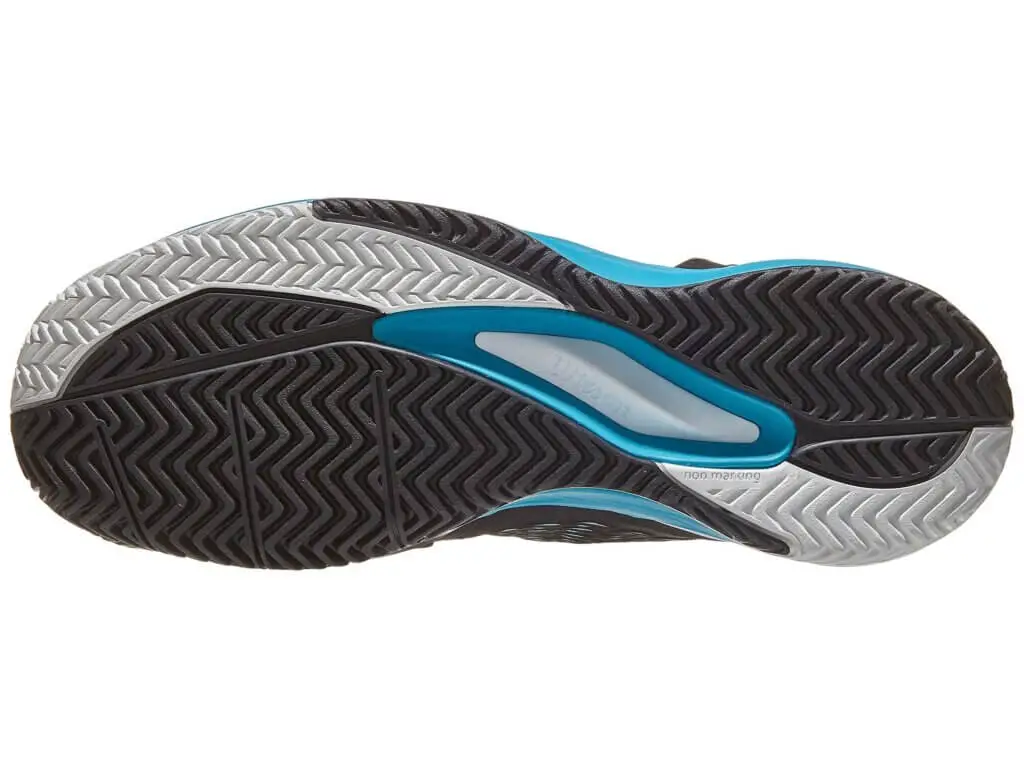 The outsole comes with a herringbone tread pattern which is going to provide you with excellent traction on all court surfaces.
Furthermore, I would place the traction on the grippy side.
This can be very tricky to move on the court for some players. If you are that kind of player make sure to take some precautions when moving around the court.
Fit
Putting the shoe on can be very challenging and difficult. This is because it has a one-piece tongue combined with an elastic high top and an ankle strap.
If you are a player that tends to wear two pairs of socks or thicker socks then you would struggle big time to put these shoes on. Moreover, this shoe does not require any break-in period which is fantastic because once you wear it you are good to go.
Why Is This Shoe Very Speedy?
I think it's worth pointing out that this shoe is going to improve your speed on the court with the way Wilson designed the shoe.
Firstly, it has an air channel in the middle of the mid-foot area with a shank that is aerodynamic. This gives you a lot of air under the shoe which allows you to move quickly.
Next up is the aggressive herringbone tread pattern. This is going to provide you with durability and the way it is engineered is going to improve your speed on the court.
Price
The last point to talk about is the price of the shoe. It comes around the $100 price point and the features it's going to give you on the court is good.
However, if you think that this shoe is still expensive then I suggest you check out these posts that show you awesome shoes that are below $100 and even under $60. You would find them very useful.
Final Thoughts!!
As this post comes to its conclusion about the Wilson Amplifeel 2.0, I hope you have found it very useful and knowledgeable. As you can see from this post, this shoe is not going to be the best mid-cut tennis shoe however, it's going to provide you with excellent durability, traction, and stability on the court.
However, there are many areas of the shoe that still needs improvement such as breathability and some toe jamming issues. I think that if Wilson can improve these parts of the shoe it can become a world-class mid-cut shoe.
Despite its weaknesses, there are still some awesome features about this shoe that make it worth the price. For example, the design and weight of the shoe. I would end by saying if you manage to pick this shoe up, I wish you the very best in your future matches.