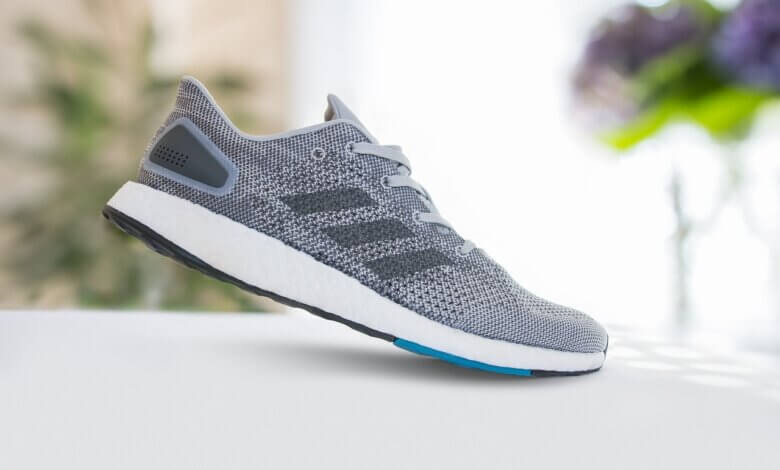 We're an affiliate
We hope you love the products we recommend! Just so you know, we may collect a share of sales or other compensation from the links on this page. Thank you if you use our links, we really appreciate it!
At the start of 2020 season, Adidas made some shocking news in the world of tennis. They said they wouldn't continue to make the Barricade series in the 2020 season.
This news was a complete BLOW and SHOCKING to everyone because the Barricade series has become an iconic tennis shoe almost the last two decades.
When the Barricade first came out in the year 2000, it became an instant success because of its amazing features such as stability and durability.
Not only that but it revolutionized how tennis shoes were made and the Barricade 7 was even used by Novak Djokovic to win his first major. Since the Barricade series wouldn't be available for now, a lot of players are confused and panic as to what tennis shoes to wear.
Don't worry I got your back. In this post, I'm going to show you 7 of the best tennis shoes that you can use to replace your Barricade series. These shoes may not exactly be like the Barricade however they are very close to it. If you are ready let's start with the popular Adidas Adizero Ubersonic 2.
Adidas Adizero Ubersonic 2
Upper 
The first recommendation I would suggest to you is Ubersonic 2. This shoe is already popular on the market and has amazing features. The upper part of the shoe is made of a breathable knit mesh.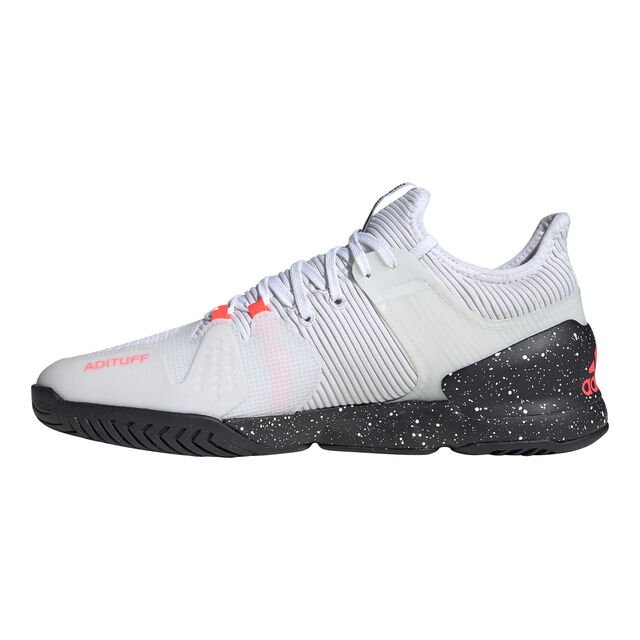 The use of breathable knit mesh is going to provide you with excellent breathability and comfort. This is very helpful when playing long and intense matches in hot conditions.
Moreover, the nature of the knit upper naturally expands around your foot to help reduce skin irritation and fit you comfortably as you get into the matches.
Outsole
Next, the outsole of the shoe is made of adiwear 6. This is going to provide you with an optimal balance of amazing abrasion resistance.
On top of that, it provides you with good traction and flexibility on the court. This makes it suitable to play on multi-surfaces and even artificial grass courts.
Lacing System and Tongue
One downside to this Ubersonic is the lacing system and the tongue. The way the lacing system is structured makes it a little difficult to lace.
Also, the tongue of the shoe seems a little thin which can make your feet feel a little uncomfortable when putting your feet inside. If you like this shoe make sure to read the full review.
Asics Gel Resolution 8
Design and Colour Options
The design of this shoe is stunning and attractive. Asics did a great job with the colour options they selected and how they made it.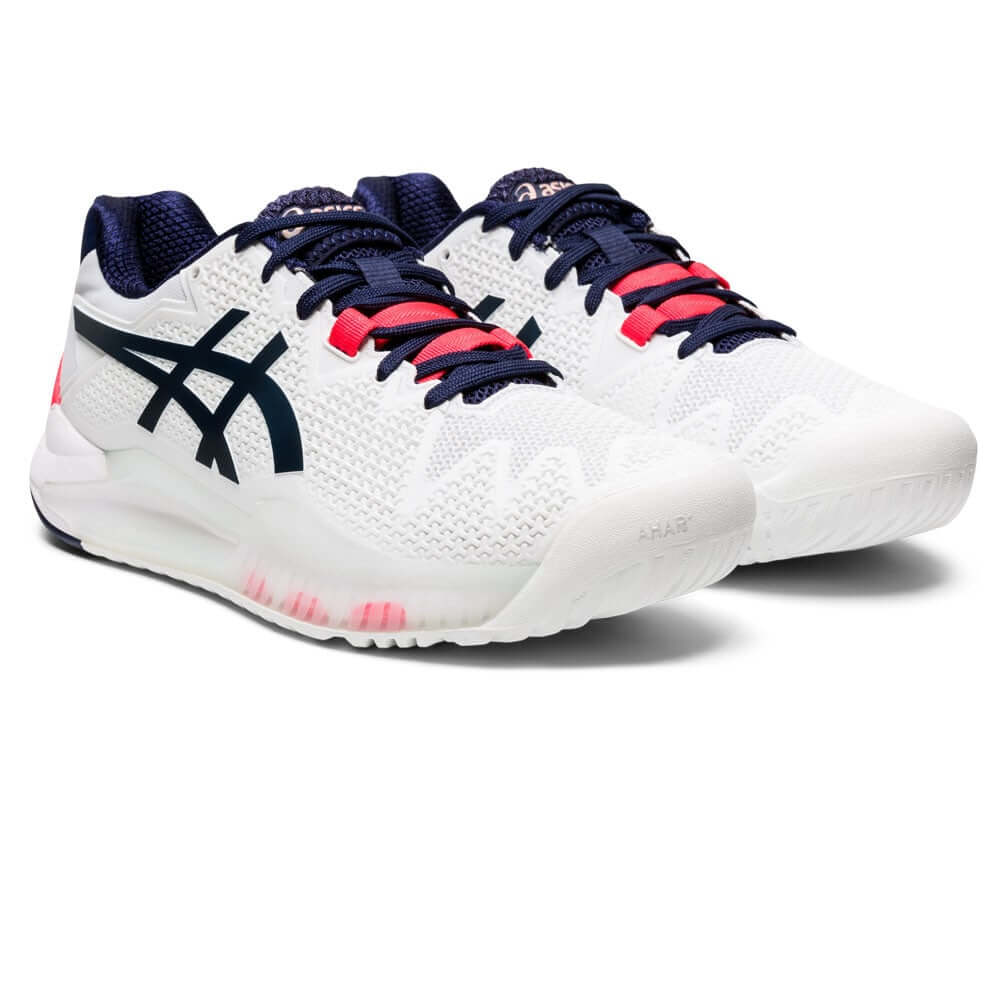 Also, the great thing about this shoe is how it comes in a variety of colours. It's worth checking which one you prefer and matches your tennis outfit.
Upper
The upper of the shoe is made of flexion fit. This is going to envelop your feet and make it breathable, comfortable and flexible to wear.
In addition, the synthetic overlays encase the foot in a firm fit, reducing in-shoe slippage for a smooth and distraction-free ride.
Midsole and Outsole
It's made of SpEVA. This makes the shoe lightweight, durable and responsive cushioning.
The outsole, on the other hand, is made of a trusstic system to increase torsional rigidity without adding weight. This is a big advantage in a tennis match because it allows you to move effortlessly on the court.
Furthermore, a pivot point is included to accommodate quick transitions and sharps without hurting yourself.
Adidas Stycon
Lacing System
One tennis shoe that is very close to the Barricade is the Adidas Stycon. This shoe is the first tennis shoe ever to have a laceless tennis shoe.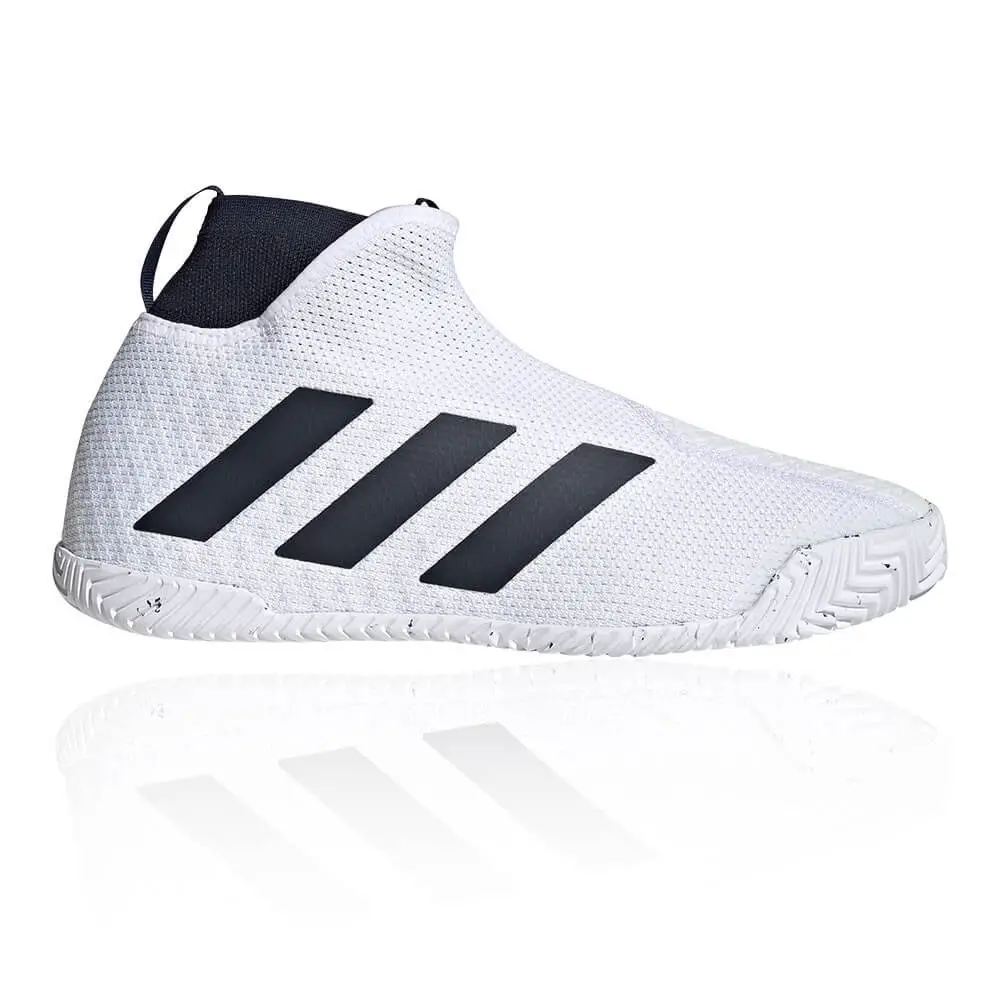 Despite the shoe, without having laces you are going to have excellent support and stability on the court.
This is because inside of this shoe there is an elastic strap over the top that is going to lock your foot down so that you can move around the court very easily.
Heel Area
The heel area of the shoe is packed with reinforcement of mesh material. This is a great idea by Adidas because it's designed to lock your heel in perfect position and give you a secure ride on the hardcourt surface.
Midsole
The midsole is made of multi-layered EVA. This is going to provide you with extreme comfort, cushioning and protection when on the court.
The EVA is very firm at the bottom which does a great job at absorbing all the bumps and shocks before they make their way to your feet. If you like this shoe make sure to read the full review.
New Balance Fresh
Design
You can't look at this shoe and fall in love with the design. It's brilliantly designed especially with the green colour. It is very simple but at the same time very attractive.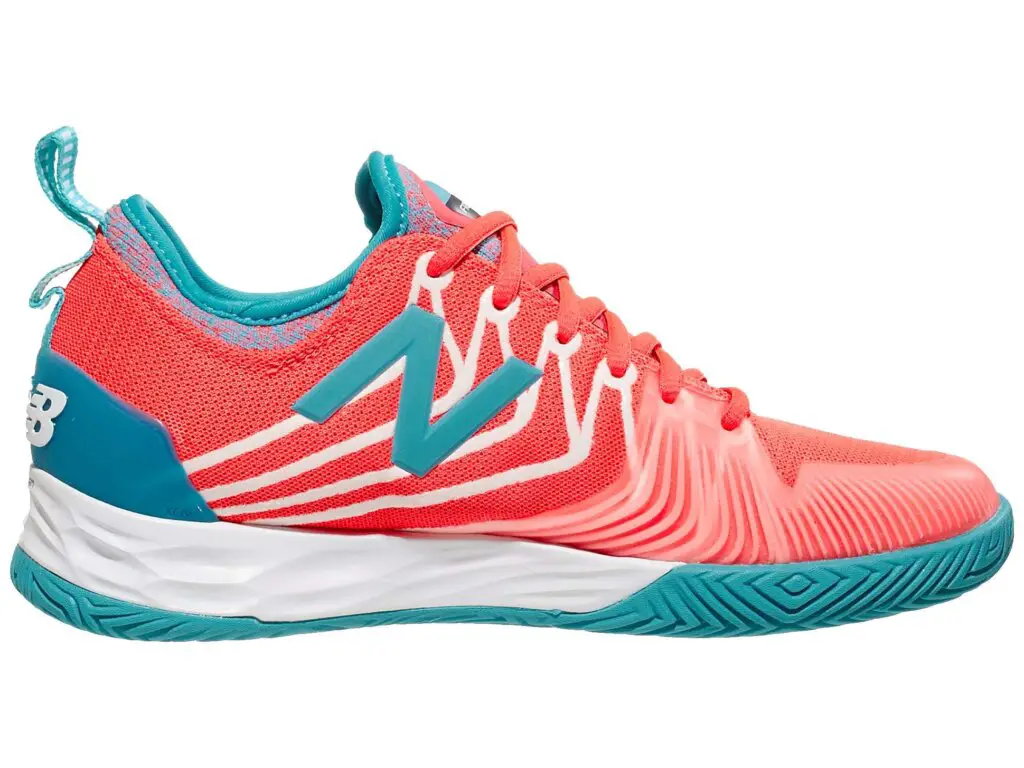 This is great because having a colourful shoe on the court can really boost your confidence and self-esteem.
Weight and Size
This shoe may appear bulky but in reality, it's lightweight.
For example, size 10.5 weighs 15.4 ounces. It may look big but when you wear and play with it, it feels lightweight to the point that you don't even notice that you are wearing a tennis shoe.
In terms of sizes, this shoe comes in different sizes which makes it easy to put your feet through them.
Toe Box and Heel Section
The toe box is beautifully constructed because it's going to provide you with protection when you hit against something. However, the drawback is that it lacks durability just like the outsole.
On the other hand, the heal area is designed with external TPU heel counter. This is great at keeping your feet stable and at the same time protecting it. If you like this shoe make sure to read the full review.
Air Zoom Vapor Cage 4
Lacing System
This tennis shoe is currently worn by the Kind of Clay Rafael Nadal. This shoe is the most durable shoe up to date with Nike's tennis shoes category. It was inspired by Nadal himself as a way to celebrate his amazing tennis career.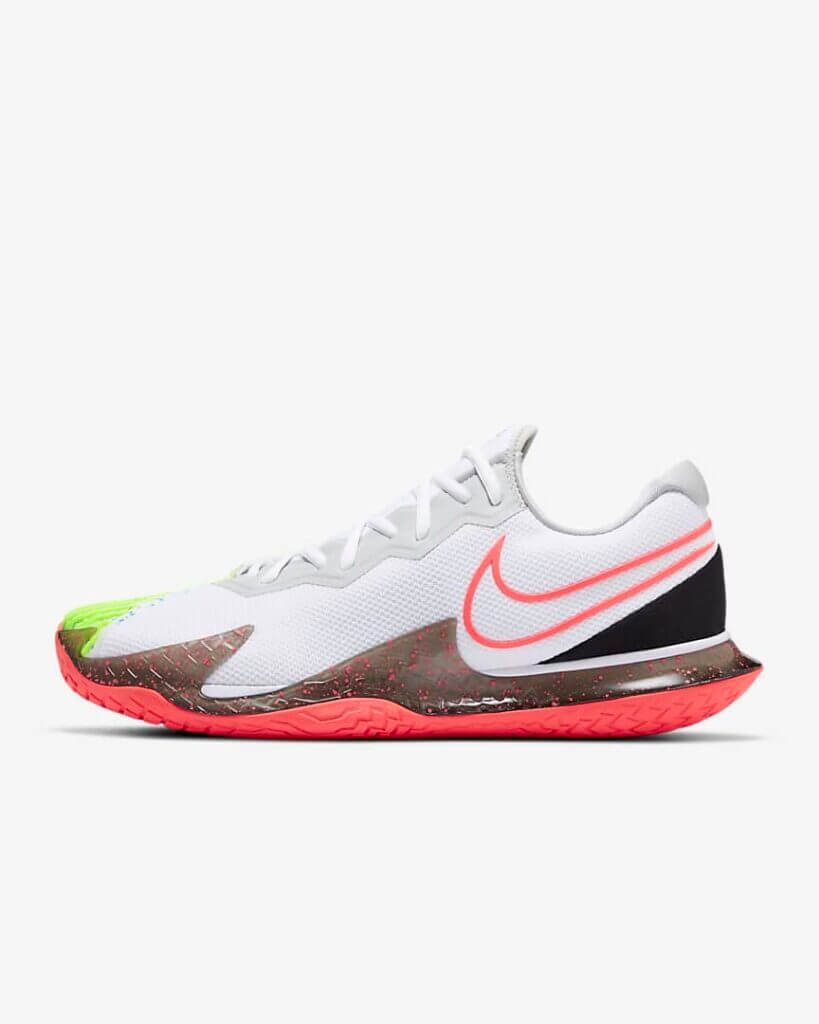 Another awesome feature of this shoe that is worth pointing out is the lacing system.
The lacing system keeps your feet secure and fits while sliding on the court. Moreover, the hidden laces make the shoe even more durable.
Secure Fit
If your playing style is at the baseline just like Rafa then you would love wearing this tennis shoe.
The upper is a wrap-around upper which envelops your foot and deliver stability and control across a full range of motion.
Design and Colour Options
The design of the shoe is superb and comes with plenty of colour options to choose from. All the colour options look great in my opinion and it's worth checking them out.
Adidas Gamecourt
Midsole
The sixth tennis shoe you can use to replace your Barricade series is Adidas Gamecourt. As you can tell this shoe is from Adidas and you know how good they are. For example, the midsole of this shoe is made of cloudfoam.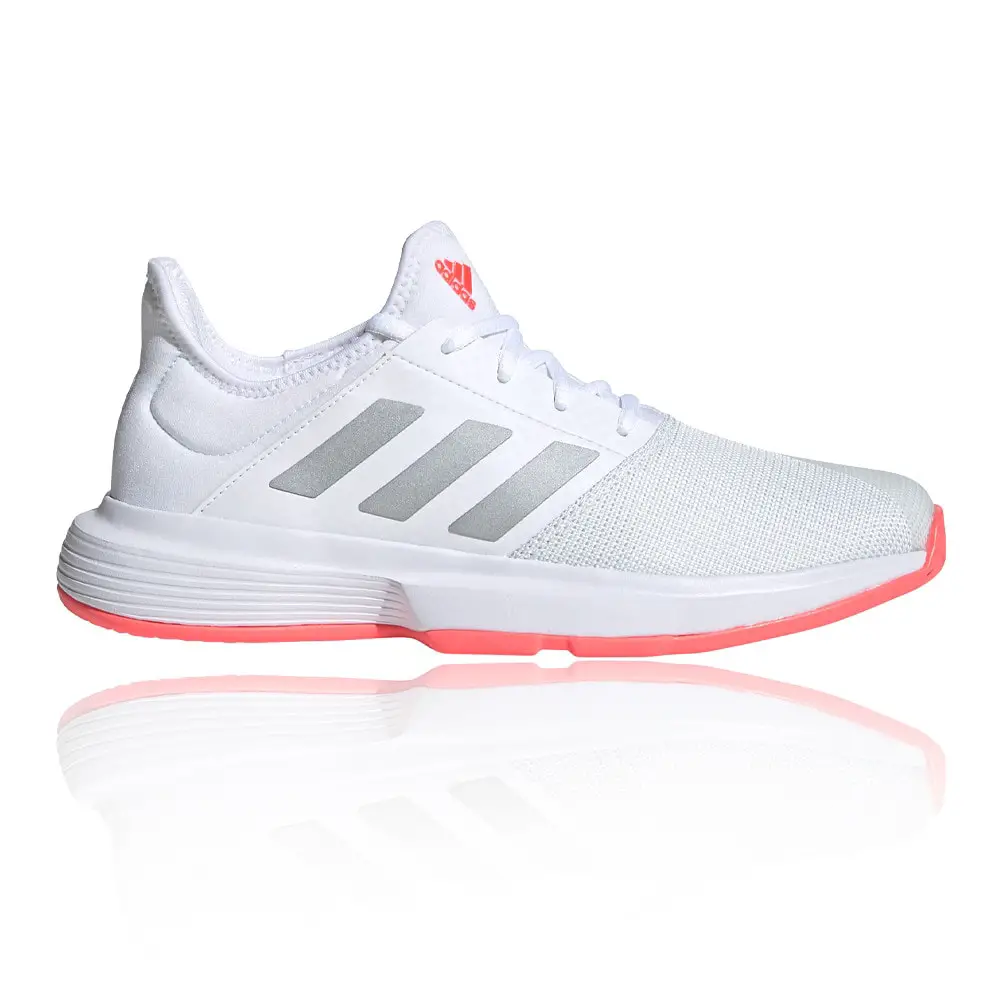 Basically, the Cloudfoam midsole includes memory foam that moulds to the shape of your foot for superior underfoot comfort from the moment you step in till the moment you step out.
If you think this technology is very cool from Adidas then make sure to read my full review on this shoe.
Tongue
The tongue is amazingly designed because it has a sock-line inside of the shoe. This is awesome because it gives you a glove-like fit when you wear the shoe. This makes your feet super comfortable and stable on the court.
Lacing System
The lacing system is nicely built to lock down your foot for a supportive fit. It may not be simple like other Adidas tennis shoes such as Adidas SoleCourt but it is still effective at keeping your feet stable on the court.
K-Swiss Ultrashot 2
Upper
The new updated K-Swiss Ultrashot 2 is loved by players and fans with the awesome features it has. The upper of the shoe is made of synthetic material. This material is going to make your feet comfortable during the match however, it lacks ventilation.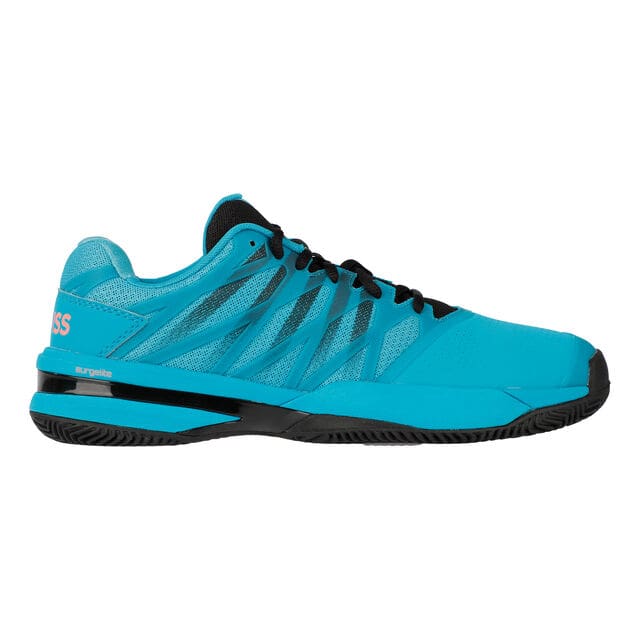 Tongue
One of the key areas that were improved from the old version was the tongue. It comes with a padded tongue which is going to provide you with comfort and nice cushioning as you move around the court.
Outsole
The outsole is made of tough Aosta rubber compound. This material makes the sole durable and can cope with long and intense matches without seeing any wore on it.
On top of that, it comes with a six-months guarantee which is awesome.
FAQ
What Happened To The Adidas Barricade?
Adidas did not specifically give any reason why they stop making the Barricade for this year.
However, as a tennis fan, I believe Adidas want to renovate how they make their tennis shoes since tennis has evolved over the years. A good example is their new Adidas Stycon which is the first laceless tennis shoes.
Are Adidas Tennis Shoes Still Good?
Although Adidas has stopped making the Barricade series for this year, however, I still think they are one of the best companies at making tennis shoes. Because they still have amazing tennis shoes that have stood the test of time.
Final Thoughts!!
In conclusion, I hope this post has helped you to find some of the best tennis shoes to replace your old Barricade series.
It is very sad to see the Barricade series go away; however, there are still some great tennis shoes on the market that is worth looking at.
With that said if you manage to pick any one of these shoes, I wish you the very best with your future matches.