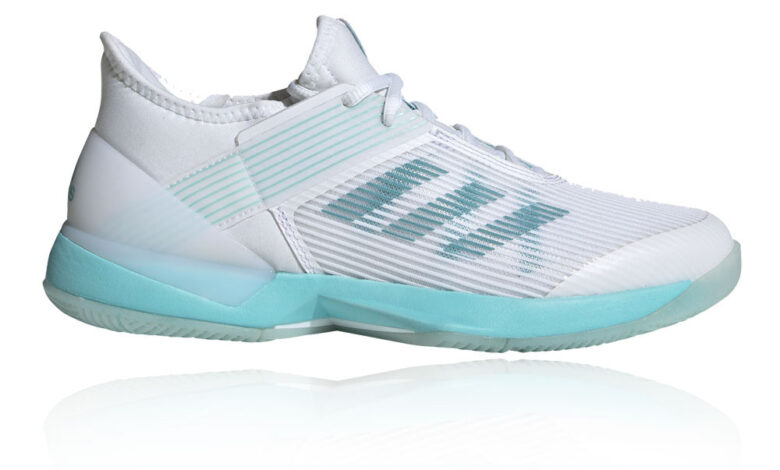 We're an affiliate
We hope you love the products we recommend! Just so you know, we may collect a share of sales or other compensation from the links on this page. Thank you if you use our links, we really appreciate it!
Product Overview
Comfort

Durability

Stability

Breathability

Weight

Fit and Size
Pros
Lightweight
Very comfortable
Excellent traction
Cons
The fit needs some improvement
Adidas has made themselves popular and successful over the years when they created the iconic Barricade line of shoes. Their tennis shoes have revolutionist tennis completely and benefited beginners as well.
The Adidas Adizero Ubersonic 3 for women is another amazing lightweight, and speedy shoe engineered for elite players. Below is a thorough analysis of the different parts of the shoe and how you can use it to your advantage on the court.
Design
In terms of design and aesthetics, Adidas did a great job with their choice of colours. The combination of colours was very simplistic and very attractive at the same time.
However, the colours of yellow and red were too bright from my perspective. Apart from that, Adidas did a great job with the design overall.
Lightweight and Breathability
As I said earlier, this shoe is very lightweight which is a bonus on the court because you can run quickly. Also, they have a breathable mesh upper that hugs the foot to lock you in for every shot. This provides your feet with stability and comfort whiles hitting every shot.
Stability, Durability and Flexibility
Around the upper area of the shoe is an engineered interlocking fibre system. This system plus the 3 x Parley Women's Tennis Shoes makes the shoe more flexible and provides you with a snug, locked-down fit.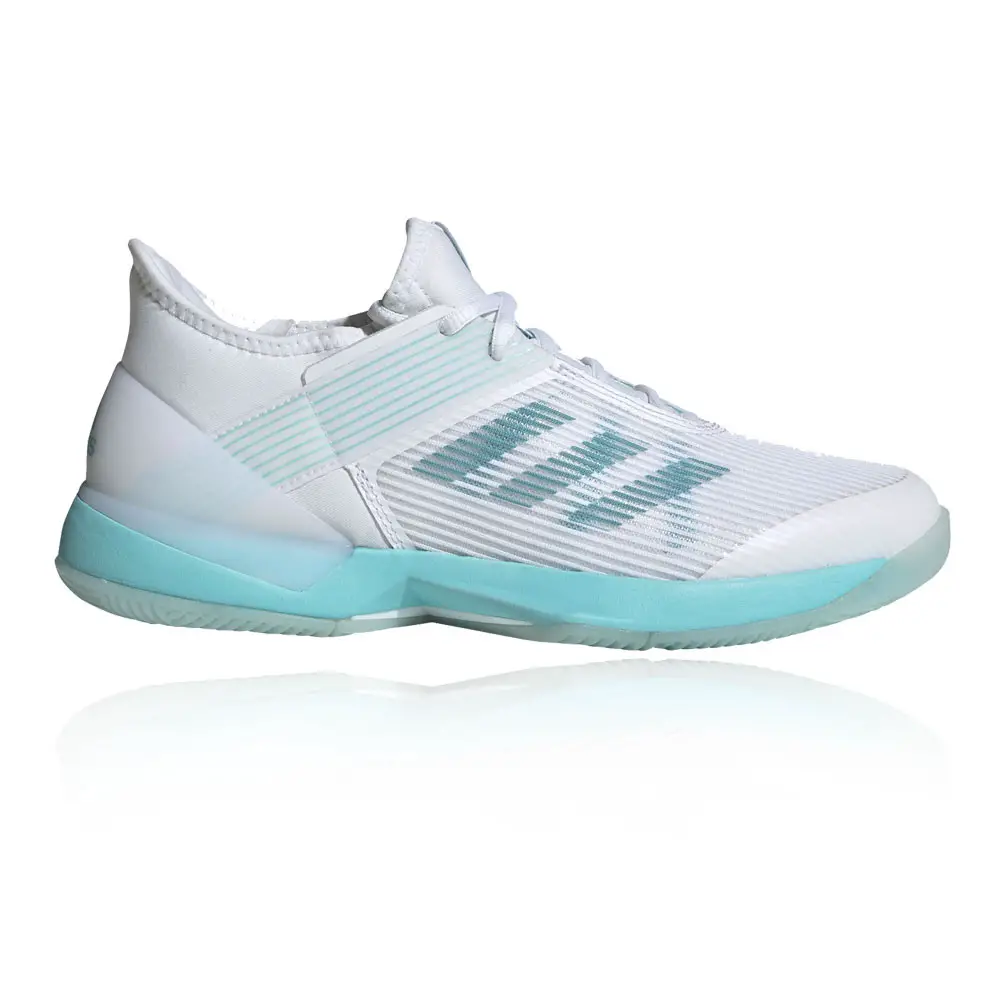 This gives you an advantage in rallies because your feet would be locked in a perfect position and provide you with stability.
This way you can hit the ball with enough power and comfort without putting too much pressure on your feet.
In addition, the shoe is woven with yarn fibres in collaboration with Parley for the Ocean to provide you with durable support during dynamic movements.
This is awesome because it allows you to move side by side with great stability without hurting yourself.
Performance and Environmental Friendly
What makes this shoe very special is how it is environmentally friendly and increases your performance on the court. Some of you may be thinking how can a shoe be environmentally friendly?
Well, the use of yarn features Parley Ocean Plastic engineered from recycled waste helps the environment to stay clean and easy to recycle the shoe. On top of that, it allows you to perform better on the court.
Support and More Stability
Furthermore, the shoe has a Sprintframe which allows you to make aggressive shot-making and fast-paced movement. Whiles at the same time being able to maintain your balance on the court.  
It even gets cool when Adidas included a supportive chassis that makes the shoe ultra-lightweight for increase speed and agility, without putting too much pressure on your ankles.
Comfort
The added bootie construction from Adidas is going to provide you with excellent comfort and cushioning. Whiles at the same time wrapping your foot in a sock-like construction for snug during aggressive and dynamic movements.
This is encouraging from Adidas because they assure you that you are likely to experience little or no pain with this feature.
Furthermore, an ADITUFF abrasion-resistant material is included in the shoe for increased durability, especially on clay court surfaces. This makes the shoe perfect for toe draggers and extreme lateral movements.
Lacing Structure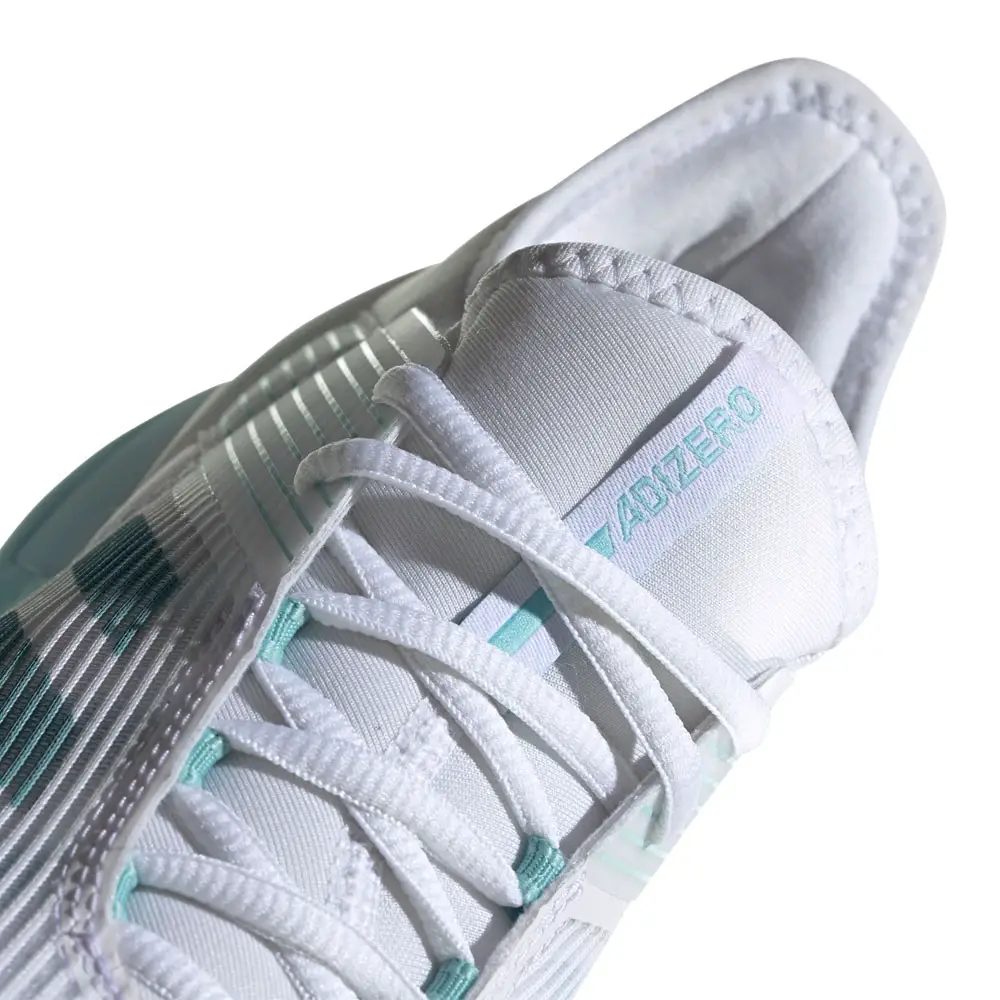 This shoe comes with a normal lacing structure.
This provides you with a secure and stable locked-down fit during intense matches. And even dynamic movement during matches.
Fit
The toe box may not be the best area when it comes to this shoe.
This is because it can be a little uptight if you have a wider foot. This, as a result, can make it a little uncomfortable on the court to play.
Grip and Traction
The way Adidas made the outsole was brilliant.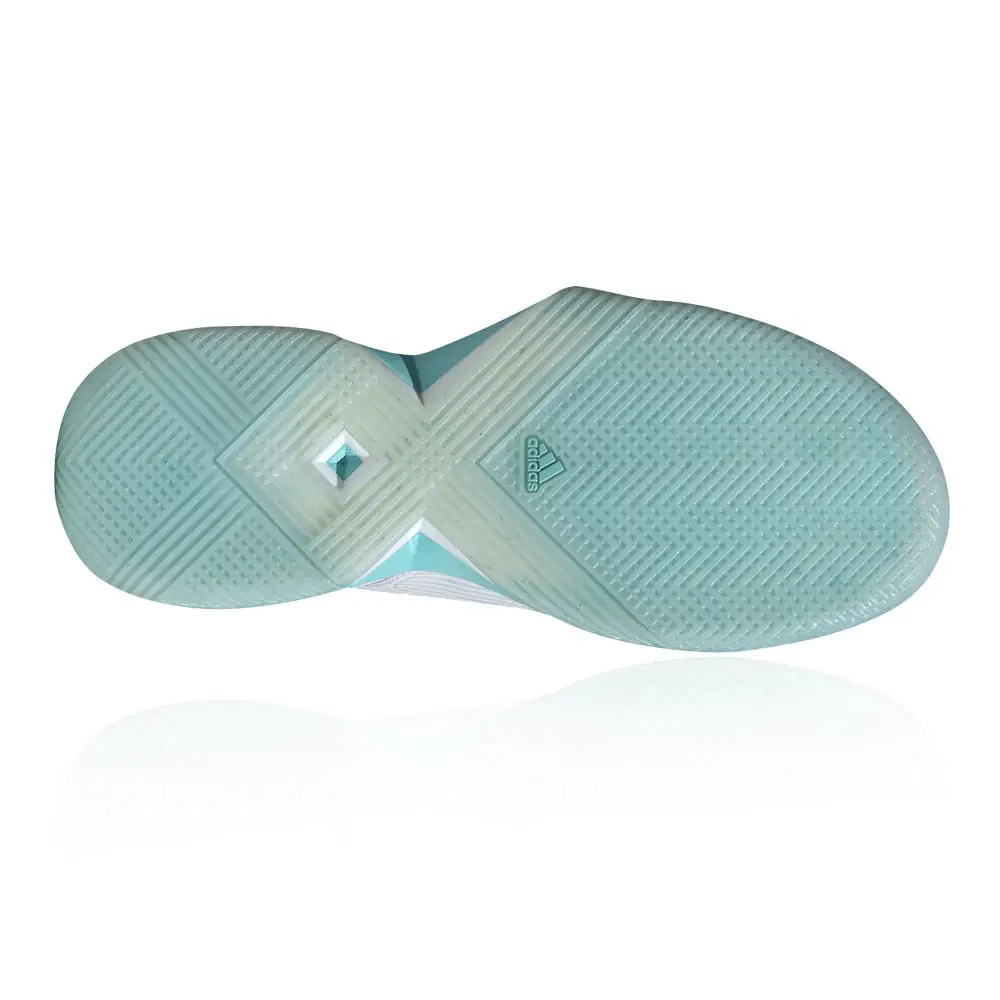 They used a durable ADIWEAR 6 outsole to provide you with high-wear durability even on clay surfaces.
Moreover, the non-making rubber gives you excellent grip and traction on the court surfaces.
Cushioning
The midsole area is constructed with a full-length PU midsole to provide you with ultra-responsive and resilient cushioning.
This PU midsole would react with cushioning when you take-off and land. Also, it's unlikely to wear out quickly even after match after match.
An additional moulded sock liner increases the comfort whiles providing cushioning between the foot and the insole. And at the same time increasing breathability to help maintain a regular temperature.
Ideal Surface To Play On
This shoe is more suitable for hard court. However, the red and white/orange/grey shoes are specifically designed for clay courts.
Colour Options
In terms of colour options, this shoe comes in different colours.
Final Thoughts!!
In conclusion, it's pretty obvious that Adidas has really done their homework very well. The speed, comfort, and durability of this shoe are unbelievable.
If you are a player who is looking for such features in a shoe then you would surely enjoy wearing it. On the other hand, a little improvement in the fit, especially in the toe area, would be great. Overall, this is such a great shoe from Adidas.