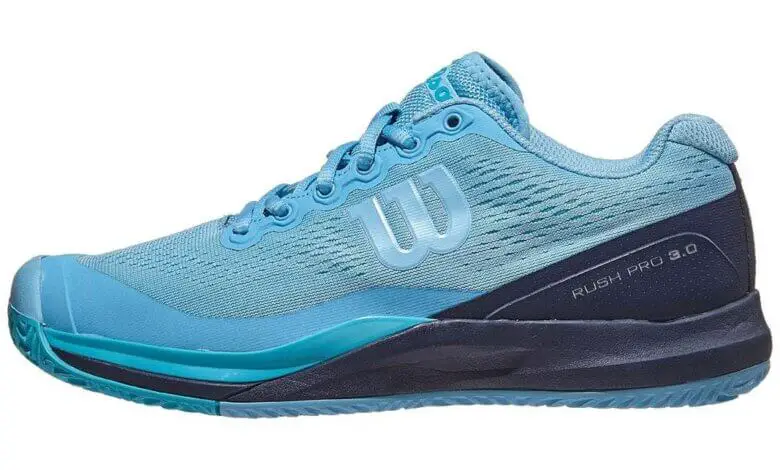 We're an affiliate
We hope you love the products we recommend! Just so you know, we may collect a share of sales or other compensation from the links on this page. Thank you if you use our links, we really appreciate it!
Product Overview
Comfort

Durability

Stability

Breathability

Weight

Fit and Size
Summary
Wilson has updated the Rush Pro series, however, the update was minor. The shoe is going to provide you with excellent comfort and breathability on the court whiles maintaining the outsole durability. 
However, there are some areas that need some improvement in the next updates such as fixing the toe jamming issues. It's such a great shoe for players looking for a comfortable, light shoe with top-notch durability
Pros
Nice looking design
Excellent breathability
Stability
Outsole is durable
Cons
Likely to experience toe jamming
Not suitable for narrow feet
In terms of making excellent tennis shoes for professional tennis players, Wilson and other companies such as Asics has built a reputation for themselves.
They never fail when it comes to producing high-quality tennis shoes for both professional and recreational players. The Wilson Rush Pro 2.5 is a classic example. It was a fan favourite because of its awesome features such as comfort and durability.
Wilson recently released the Wilson Rush Pro 3.0 for women and with such high expectation, would this shoe leave up to it? If you want to find out, grab a chair and read on as I analysis the different parts of the shoe. Let begin with the design.
Design
Just like the men's version, the women's design and colour options are spots on. They are sleek and very attractive.
All the colours Wilson used for the shoe are awesome and colourful. For examples, the white, blue and red versions are spot on in my personal opinion.
Upper
Next up is the upper. Again credit to Wilson for creating a soft comfortable upper to wear. They used mesh and endo fit system to make the design.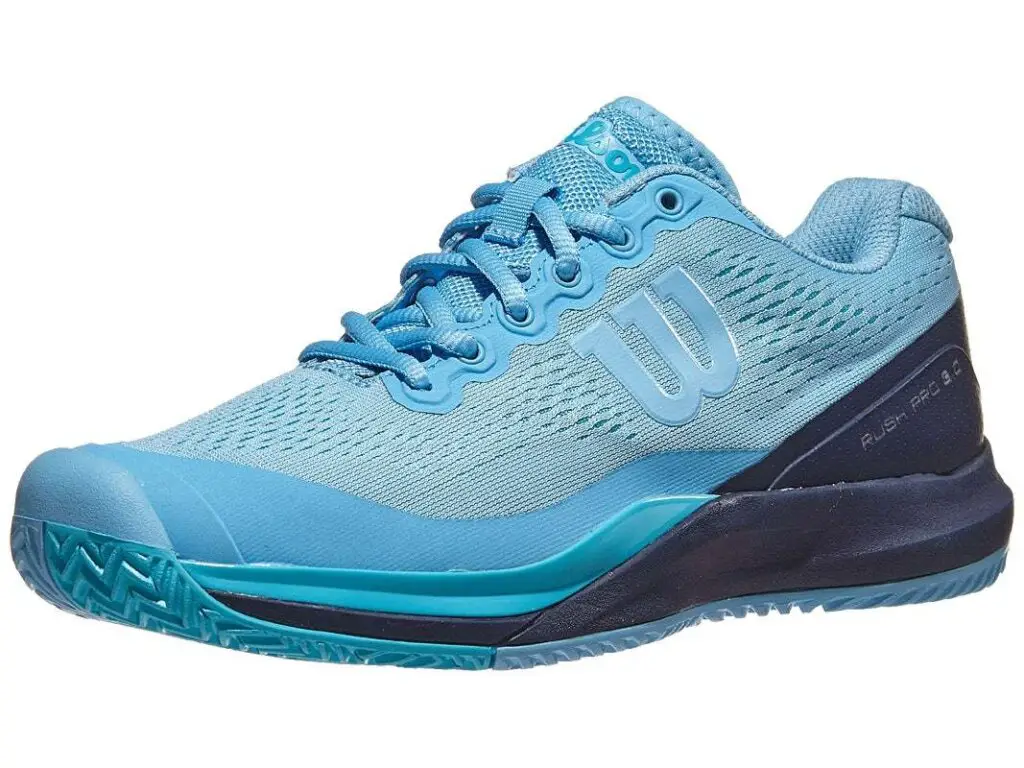 The use of the mesh material is going to provide you with excellent breathability on the court.
This allows air to flow in and out of the shoe and keep your feet fresh throughout the match.
The endo fit system, on the other hand, is specifically used to secure your foot in a perfect position as you play rallies and turn on the court.
The caveat to the upper is you are likely to experience some toe jamming due to lack of support. Also, if you have a wider foot you are more likely to experience the toe jam than someone with a narrow foot.
Fit
In terms of fit, you are going to enjoy wearing it if you have a narrow or small foot. Whiles a wider foot may be a little uncomfortable. However, it's super comfortable right out of the box and does not require any break-in period.
Lacing System and Tongue
The way the lacing system and tongue is designed is different from the usual tennis shoes such as Adidas SoleCourt.
Instead, both the lacing system and tongue are attached together to give you a glove like-fit when you wear it. It's a bit similar to the Adidas Adizero Ubersonic 3.
Not only that, but it's going to give you comfort and lateral support as you move aggressively on the court.
The downside to this glove like-fit support is it may be a little challenging to put your feet through it. Apart from that, the comfort and support it comes with it are amazing.
Midsole
Now let's talk about the midsole. The way the midsole is made is going to give you a lot of stability and support. It is made of R-DST+ Midsole compound.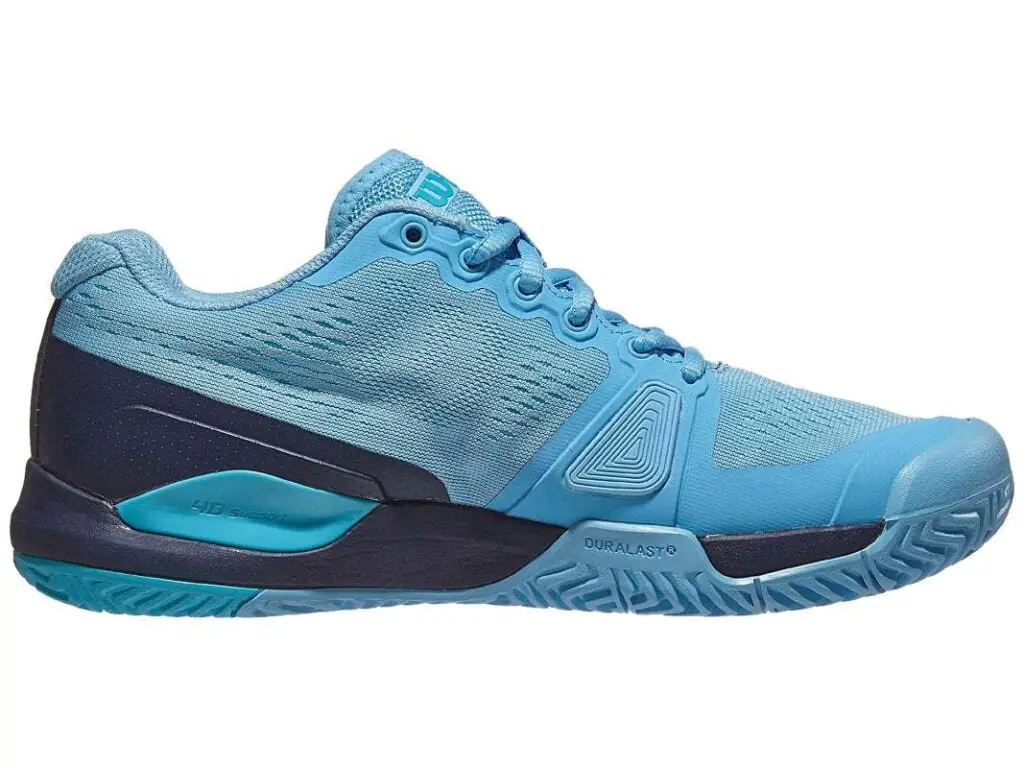 This unique R-DST+Midsole compound is specifically used by Wilson to utilize highly-compressed EVA material for a more dynamic performance.
This material is going to provide you with better stability, support and cushioning on the court.
Furthermore, there is a 4D support chassis on the midsole. This is designed to give you a secure and comfortable fit as you play on the court. Not only that but it enhances your speed when trying to get the ball.
Outsole
If you are someone who plays matches on a regular basis then you want to get this shoe. The outsole is super durable with the use of Wilson's Duralast outsole.
This material used on the outsole help to utilize rubber compound with enhanced abrasion resistance. Therefore giving you good traction on all court surfaces. If that's not impressive enough, the outsole also comes with a six months warranty.
Weight
This tennis shoe may not be the best lightweight on the market however, it's enough to increase your speed on the court. This shoe weighs about 12.7 oz which is fairly about an ounce and a half lighter than the 2.5s.
Clay Version
If you are going to play on clay court surfaces then you want to use their clay version. Click here to see their clay version.
Final Thoughts!!
Once again Wilson did an awesome job with the new Wilson Rush Pro 3.0. It has good lightweight, durability, comfort , and stability. It seems they did their homework very well.
However, there are still some areas that need some improvement such as the toe jamming effect. This can put people off in wearing this shoe despite its awesome benefits.
Apart from that, it's still a great shoe to have in your arsenal moving forward. Hopefully wearing this shoe is going to give you more success in the future.