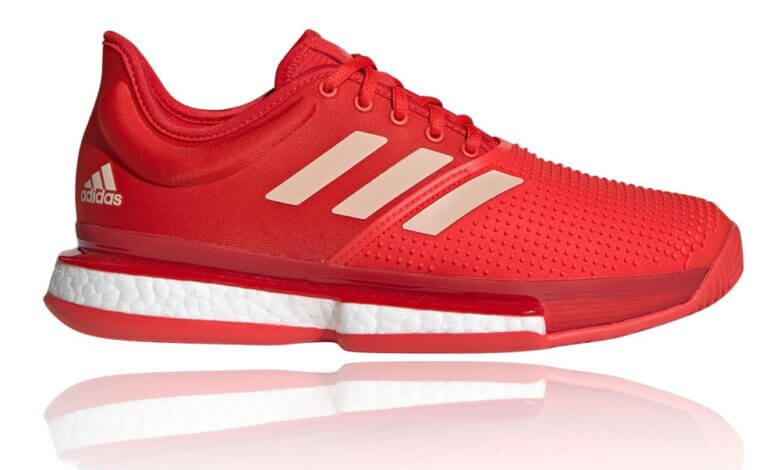 We're an affiliate
We hope you love the products we recommend! Just so you know, we may collect a share of sales or other compensation from the links on this page. Thank you if you use our links, we really appreciate it!
Product Overview
Comfort

Durability

Stability

Breathability

Weight

Fit and Size
Summary
The Adidas SoleCourt Boost is a new addition to the Adidas tennis shoe family. This shoe is going to provide you with excellent stability, durability and traction. If you are a player looking for such features then you would enjoy wearing this shoe. 
However, there are some important areas of the shoe that needs improvement such as the wide toe box and the comfort of the shoe. With that said it's still a good shoe to play with it on the court. 
Pros
Good stability
Durability
Excellent traction
Cons
Needs improvement in the toe box area
Comfort needs improvement
When it comes to making quality tennis shoes for both professional and recreational tennis players, Adidas is one of the companies that does not fail to disappoint.
Ubersonic and Barricade are classic examples of how amazing Adidas tennis shoes can be. This post is an in-depth review of the Adidas SoleCourt for women.
This tennis shoe is another collection of Adidas's arsenal of stability, durability and traction. The ultimate question is, would this tennis shoe leave up to the high expectations that everyone has been waiting for?
If you want to know then get a cup of coffee/tea, sit down and read on.
Design
Just like the men's version, I'm not a big fan of the ladies' design and aesthetic. Although I got to admit that the red look very colourful and attractive.
Apart from that, I feel that Adidas should have invested a little bit of time and resources into making the shoe look more stylish.
They could get some inspiration from Asics tennis shoes or even these yellow awesome tennis shoes.
Upper
Next is the upper of the shoe. The upper is designed in a lightweight format to allow you to move with ease due to the less weight of the shoe. This enables you to move freely on the court and make sharp movements from sudden bursts of pace.
Another awesome feature of the upper is breathability. Air is able to transfer from the inside of the shoe to the outside.
This means that if your feet get sweaty within the shoe, they would get dry quickly. This helps your feet stay fresh throughout.
Outsole
Without a doubt, the outsole is one of the best outsoles you would ever get with a tennis shoe. It is made of a modified herringbone outsole pattern which is going to give you excellent traction and durability.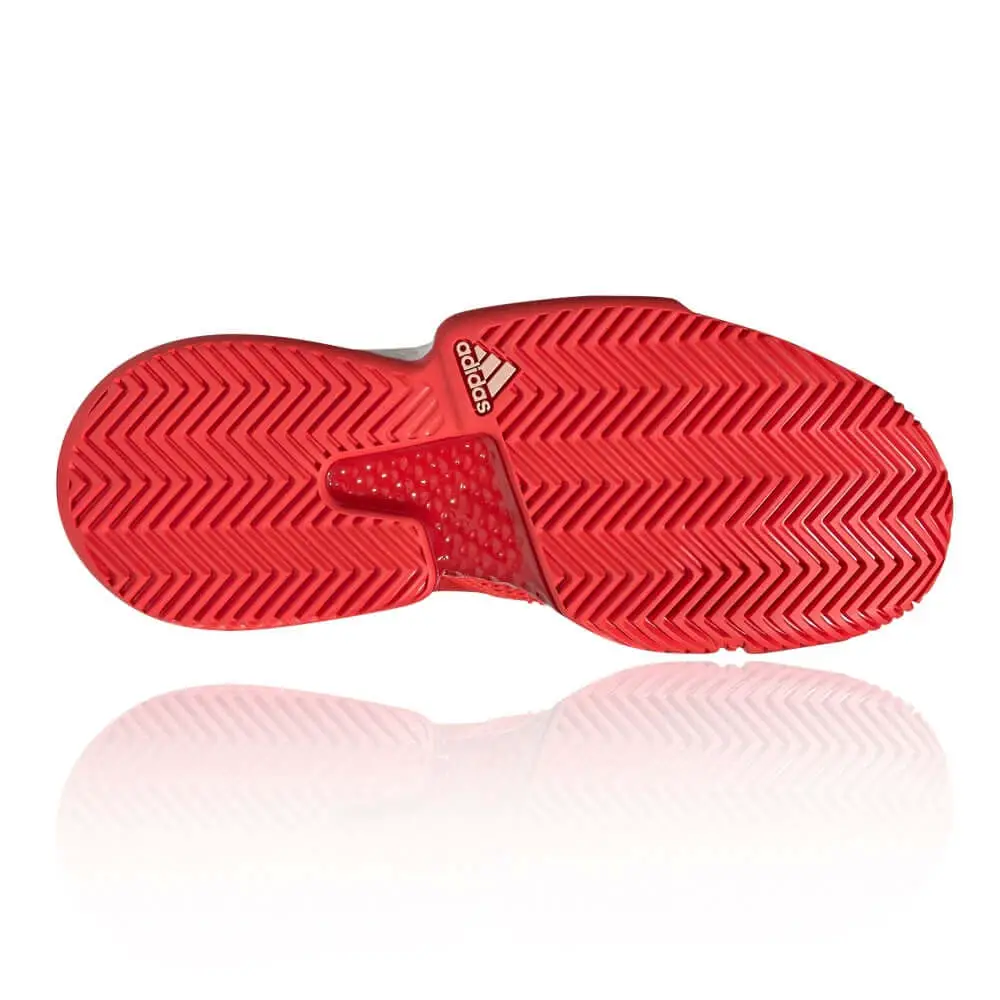 Furthermore, the grooves on the bottom are multi-directional, which will assist your control when moving around and making quick turns.
Despite how many matches you play, this shoe would take a lot of time to wear out.
So have no fear when you play long matches or consistent matches over a short period of time.
Moreover, the rubber is able to form a solid connection between the shoe and the court. This means that you will always be in a firm and strong position when playing a shot.
Midsole
The midsole is made of Adidas own boost midsole to provide you with excellent cushioning and protection from shocks and heavy contacts.
Adding on to that, towards the bottom of the sole, the EVA used in the boost midsole is extremely firm and strong. Again it protects you from bumps, shocks and even limits your chances of you getting a serious injury.
Toe Box
Now let's talk about the toe box. The shoe comes with a wide toe box with a lot of room. If you have a wide foot you would enjoy wearing it.
However, if you have a narrow or small foot, it can get a little uncomfortable because you may not get the perfect lock-in that you want.
A top recommendation is, if you have a narrow/small foot try to wear double socks so that your foot is locked in perfectly.
Heel and Forefoot Area
An abrasion-resistant adituff is instilled in the Adidas SoleCourt to wrap around your toes and medial forefoot. This protects the foot drag that occurs during serves, volleys and extreme lateral movements.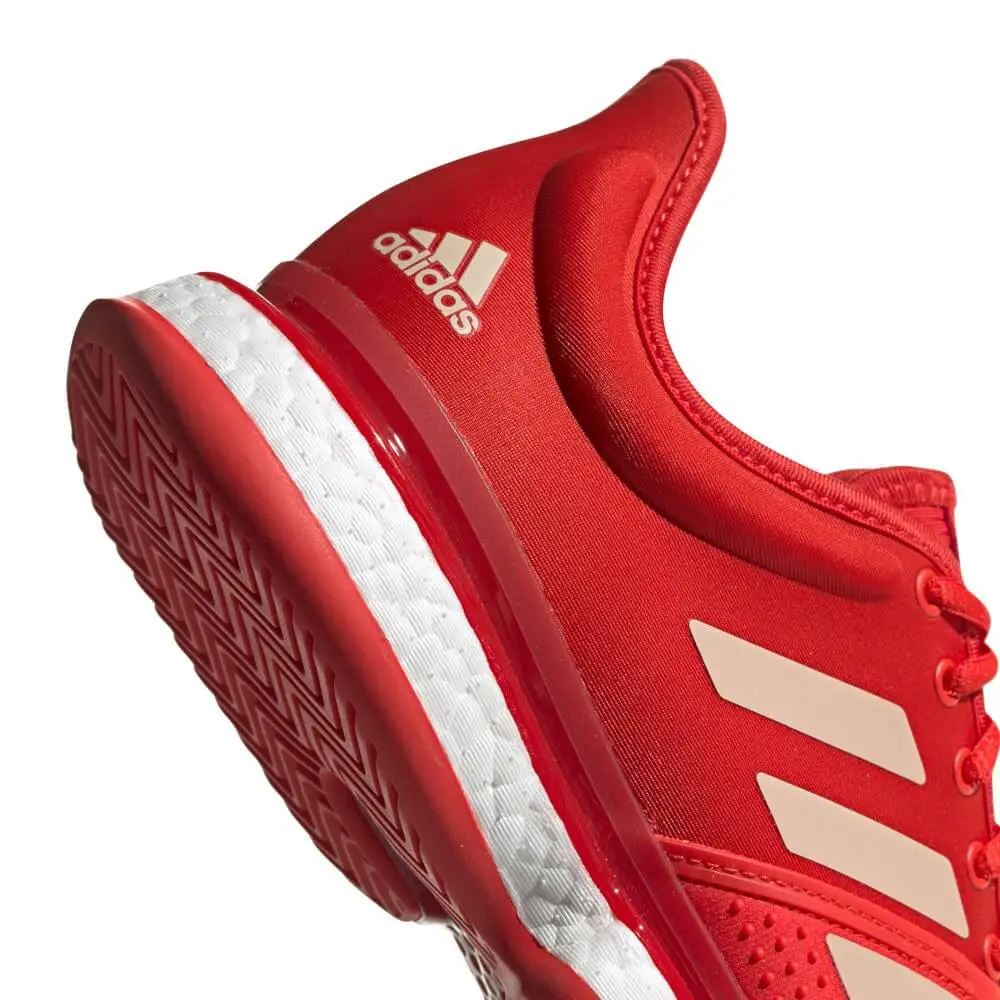 Also, your heels would be held in a secure and stabilised position, which will try and prevent injuries from occurring as well as holding you in a firm position.
Lastly, in terms of the heel and forefoot area, the foot laces and a flat-lying tongue will ensure that you will always be able to find a comfortable, non-restrictive and secure fit.
Lacing System
The lacing system is very simple when compared with some tennis shoes that are complicated to lace.
The caveat to this lacing system is how it loosens up often when playing a match despite the many lacing holes it has. So make sure you give it a nice grip before you step onto the court.
Weight and Fit
Coming at a weight of 13.7 ounces with a size of 8.5. The weight of the shoe is not that lightweight and it's not that heavy either. I would say it's in between. You are still going to get some benefit from the weight and size of the shoe.
In terms of fit, this shoe may require some break-in period which is not that bad because after a couple of hours your feet can adjust to the shoe quickly. In addition, this shoe is more suitable for players with a narrow and medium foot.
Colour Options
In terms of colour options available, it comes with limited colour options to choose from which can be a little disappointment for some players who like to select shoes that suits their tennis outfit. Apart from the red they also have the grey version.
Price
The last point worth talking about is the price of the shoe. It comes around the $100 price point which is a fantastic deal when you consider how great this shoe is.
However, there are some areas that need a lot of improvements such as stability and support. If you want less expensive shoes then you want to check out NikeCourt Lite 2. This shoe is not expensive like the Adidas SoleCourt and it comes with great features as well.
Final Thoughts!!
In conclusion, I hope you have found this post very useful. It's very clear that this shoe is going to provide you with good stability, durability, and traction on the court.
However, there are some areas that need some improvements such as the toe box area, design and even making the shoe more comfortable. Especially when wearing it for the first time.
Although, with everything being said it's still a great tennis shoe to have and would hopefully give you more success on the court if you look after it.