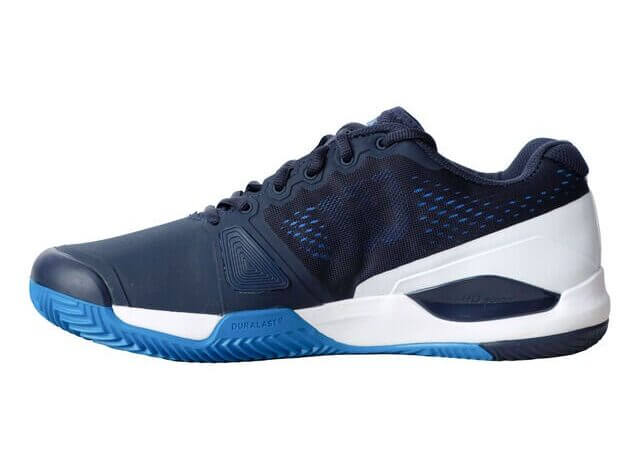 We're an affiliate
We hope you love the products we recommend! Just so you know, we may collect a share of sales or other compensation from the links on this page. Thank you if you use our links, we really appreciate it!
Product Overview
Comfort

Durability

Stability

Breathability

Weight

Fit and Size
Summary
Wilson has updated the Rush Pro series, however, the update was minor. The shoe is going to provide you with excellent comfort and breathability on the court whiles maintaining the outsole durability. 
However, there are some areas that need some improvement in the next updates such as fixing the toe jamming issues. It's such a great shoe for players looking for a comfortable, light shoe with top-notch durability
Pros
Sleek looking design
Excellent breathability
Nice stability
Great durability
Cons
When it comes to wearing one of the best tennis shoes, Wilson has developed the go-to company after their awesome Wilson Rush Pro 2.5.
Not only was this shoe very popular but it was that type of shoe that gets the job done day in and day out. With that said, Wilson released a new shoe this year and it's the Wilson Rush Pro 3.0.
What Wilson has achieved in the world of tennis in terms of making quality products are remarkable. The question that is at the forefront of everyone's mind is, 'is the Wilson Rush Pro 3.0 very good like the old version?'.
If you are curious to know the answer, I suggest you get a cup of coffee/tea, sit down and read the full review.
Design
In terms of the design of the shoe, Wilson ticked all the boxes. When you first look at it, the shoe looks sleek, simple and attractive at the same time.
All the colours Wilson used for the shoe are awesome and colourful. For examples, the blue and black version are spot on in my personal opinion.
Toe Box
The first little improvement in the Wilson Rush Pro 3.0 is the toe box. This version comes with a wider toe box which is a big advantage for players who have a medium or wide foot.
This is because it's going to give you a glove-like fit when you wear the shoe and make you comfortable. On the other hand, if you have a narrow foot it may feel a little uncomfortable wearing it. But with that said it's still a great update from Wilson.
Upper
Wilson has done an amazing good with the upper of the shoe. They did it with a combination of mesh and their endo fit system. Let's me break both materials down and see it function.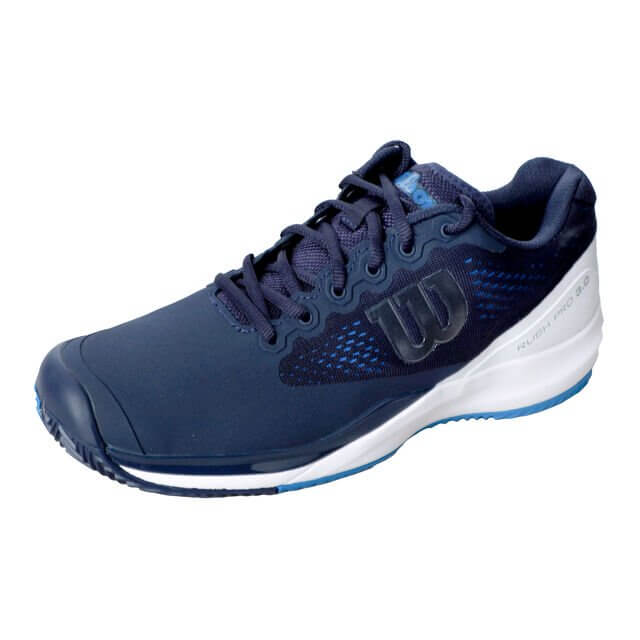 Firstly, the use of mesh material is going to provide you with excellent breathability on the court.
Even if you are playing in a very hot condition, the upper does a great job at keeping your feet ventilated, fresh and comfortable.
And secondly, the endo fit system is going to secure your foot in a perfect position as you play on the court.
Midsole
Next up is the midsole. The way the midsole is made is going to give you a lot of stability and support. It is made of R-DST+ Midsole compound.
This unique R-DST+Midsole compound is specifically used by Wilson to utilize highly-compressed EVA material for a more dynamic performance. This material is going to provide you with better stability, support and cushioning on the court.
Furthermore, there is a 4D support chassis on the midsole. This is designed to give you a secure and comfortable fit as you play on the court. Not only that but it enhances your speed when trying to get the ball.
Lacing System and Tongue
Both the lacing system and tongue are combined to give you a glove-like fit on the court. This is going to give you a nice comfort as you wear it and secure your foot in a perfect position.
This, as a result, would enhance your confidence and allow you to be stable on the court. In addition, the tongue is not going to be moving around which is a bonus.
Outsole
When it comes to the outsole, you are going to get your money worth. The outsole is made of Duralast outsole. Some of you may be thinking what the hack is Duralast outsole? It's very simple.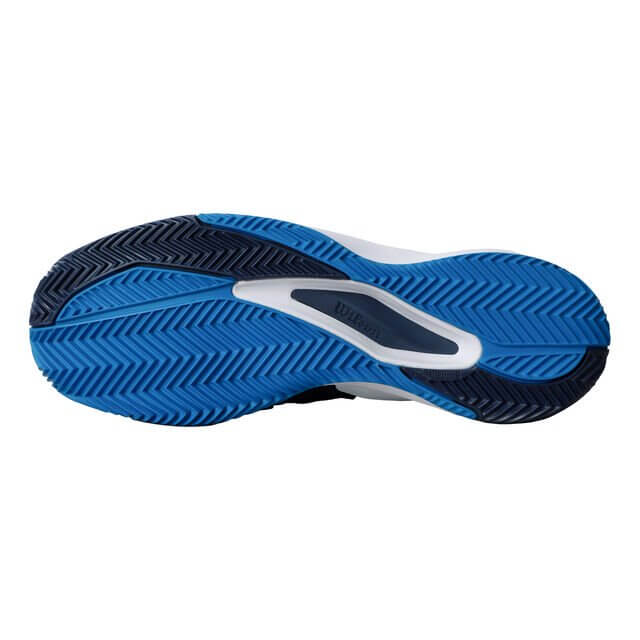 Basically it's an outsole specifically designed by Wilson that utilizes a rubber compound with enhanced abrasion resistance.
This means the outsole is very durable and it's going to give you excellent traction on all court surfaces.
If you think that it isn't cool, the outsole also comes with a six months warranty.
Weight
Another key point of the shoe that is worth pointing out is the weight of the shoe. This version weighs about 12.7 oz which is fairly about an ounce and a half lighter than the 2.5s.
This tells you that this model is lightweight which as a result, is going to give you an advantage in terms of speed and movement on the court.
Colour Options
In terms of colours to choose from, Wilson has a variety of them to choose.
Clay Version
The Wilson Rush Pro 3.0 also has a clay version. They have orange, black and dark blue. All of them look superb in my opinion.
Final Thoughts!!
In conclusion, Wilson has managed to live up to the expectation of the new shoe. They have done an incredible to produce a tennis shoe that is lightweight, stable, comfortable, and at the same time durable.
For me, this shoe is at the top of most categories when it comes to different parts of tennis shoes. I highly recommend this tennis shoe for anyone who is serious to take their game to the next level. I wish you all the best with this amazing tennis shoes on the court.