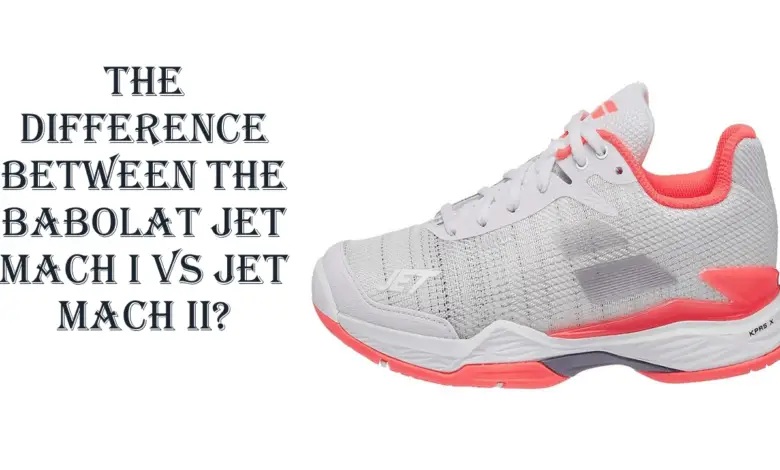 We're an affiliate
We hope you love the products we recommend! Just so you know, we may collect a share of sales or other compensation from the links on this page. Thank you if you use our links, we really appreciate it!
When both players and fans think of Babolat they immediately think about speed. This is because one of Babolat's key elements at making tennis shoes is lightweight. If you have ever worn Babolat tennis shoe you would have felt and enjoyed their lightweight shoe.
When the Jet Mach I came to the market, many players fell in love with it because of its awesome features. Babolat took positive feedback and some of the criticisms from the public and even made it better when they released the Jet Mach II.
Despite the amazing success for both shoes, most people sometimes get confused between the first and second version. In this post, I'm going to make your life easier by clarifying some of the features between these shoes and allow you to select which one that suits your style of game.
I would do it by breaking the different parts of each shoe to allow you to see the major differences. With that said let's dive in by starting with the design and cosmetic of the shoe.
Design
Editor Rating:
Jet Mach I – 4/5
Jet Mach II – 3.5/5
In terms of design and cosmetic, right out of the box both shoes look good but it's not the best on the market when you compare it with other shoes such as New Balance Fresh Foam Lav or Nike Air Zoom Vapor X Kyrie 5.
Although, I have to admit the colour options for both shoes that Babolat selected and the combination of them are spot on.
If I were to pick which shoe has the best design out of the two I would say the Jet Mach I. With that said Babolat deserves a lot of credit for the awesome looking shoes.
Upper
Editor Rating:
Jet Mach I – 4/5
Jet Mach II – 4.5/5
The first clear distinction between the Mach I vs the March II is the upper. The March II comes with a one-piece upper which is constructed from Kevlar and Polyamide fibre.
The purpose of this material is to enhance lateral stability and durability. Also, it has four straps of stiff mono threads for a nice comfortable fit.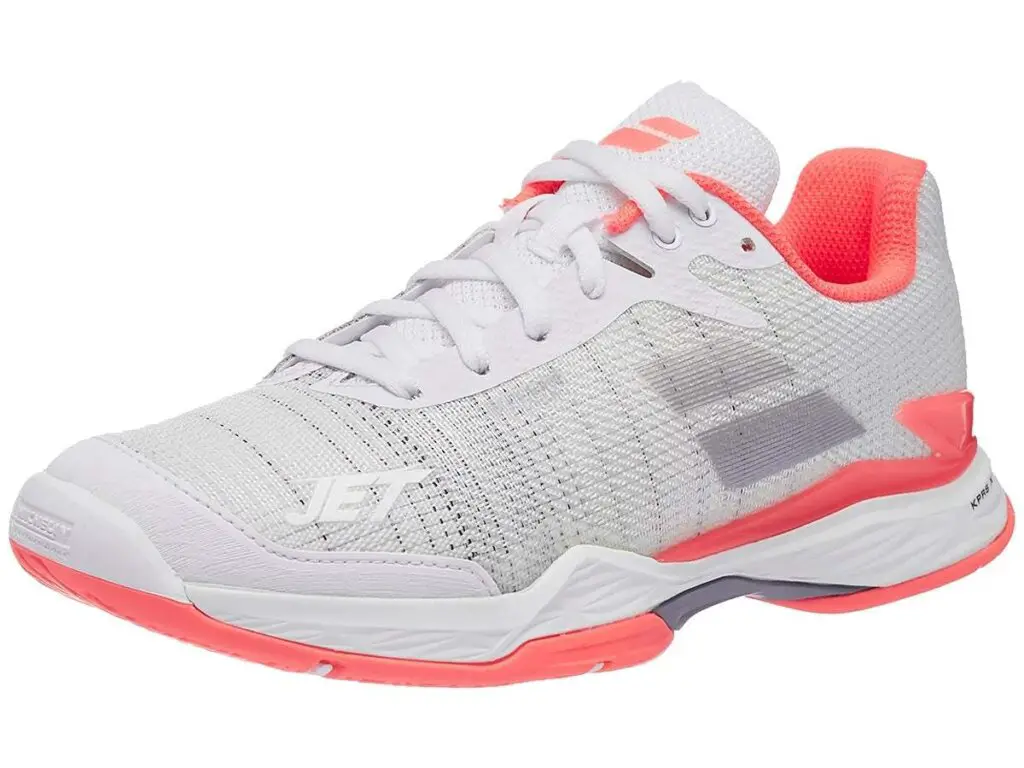 Therefore, if you are a player that likes to slide a lot and are very hard on your upper then you would prefer the March II.
The March I on the other hand comes with a soft mesh upper which is going to offer you with lightweight support and breathability.
If you are a player looking for these features then the March I is for you.
Overall, both uppers are well constructed and have its' unique features and benefits. But I have to make the verdict and I would pick the March II due to the strength of it.
Midsole
Editor Rating:
Jet Mach I – 4.5/5
Jet Mach II – 5/5
Another major difference between the Mach I and Mach II is the midsole. Honestly speaking the March I is nicely made and it's going to give you good support and stability on the court.
However, the Jet March II is a lot better and it's going to provide you with excellent features. It is made of KPRS-X technology which is an EVA foam pad which is specifically used to protect your heels and provides you with good cushioning.
On top of that, you would enjoy the little responsiveness that comes with it. This is great to have because you would enjoy the benefits of it when playing rallies and making quick stops. Without a doubt, the Jet March II comes on top when it comes with the midsole.
Outsole
Editor Rating:
Jet Mach I – 4.5/5
Jet Mach II – 5/5
Next up is the outsole. The outsole may look very similar when you look at the surface level. However, you truly notice and feel the impact when you play with each of the shoes on the court.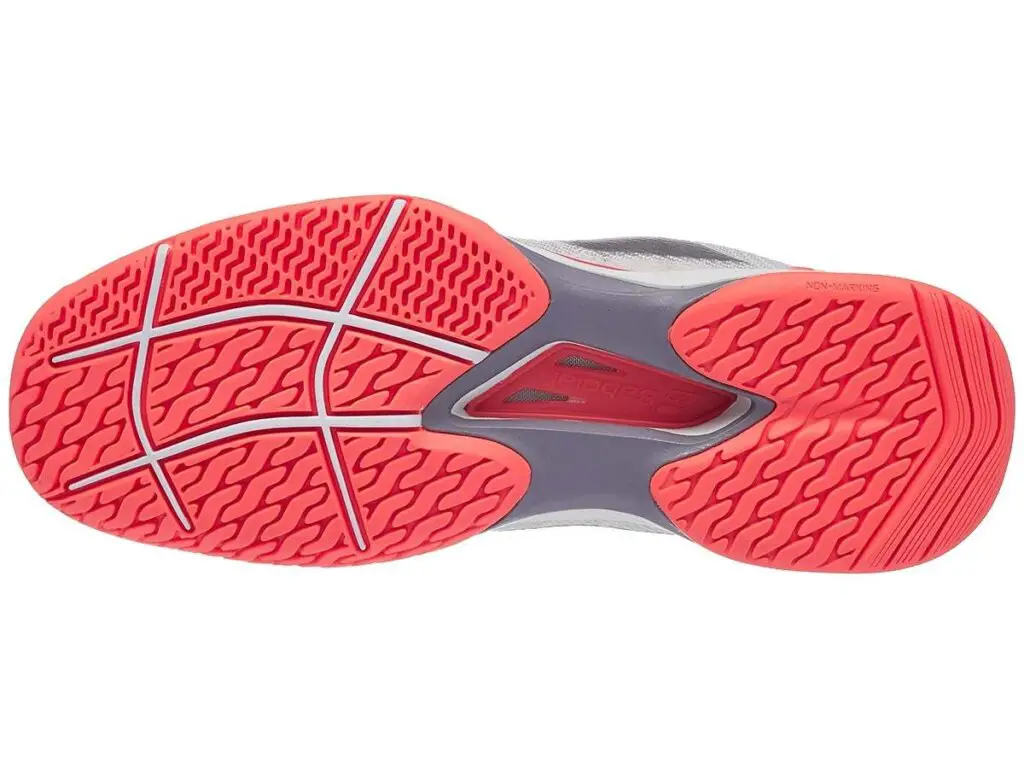 When you play with the Jet March II you are going to enjoy the awesome durability compared to the March I.
This is great for aggressive players and players who likes to slide on the court frequently.
In addition, the Jet March II is going to provide you with excellent traction on all court surfaces.
This is great for your game because it would keep you grounded on the court when hitting the ball or even sliding. As you can tell the March II comes on top once again.
Weight
Editor Rating:
Jet Mach I – 4.5/5
Jet Mach II – 5/5
As we all know, when it comes to making lightweight tennis shoes, Babolat never fails to disappoint and they are right at the top of the list. Both versions are in the lightweight categories but the March II is even lighter.
This is really good at helping your game because you would be able to move quickly and swiftly on the court. If you like a speedy game then you would definitely enjoy wearing the second version. Again, the Jet March II has the upper hand when it comes with the lightweight.
Colour Options
Editor Rating:
Jet Mach I – 5/5
Jet Mach II – 5/5
If you are a player that loves design and colour options then you would like either one of the shoes. Both shoes come with lots of colour options to choose from and select the one that suits your tennis outfit. With this colour options rating, I think it's fair to say that it's equal on both sides.
Price
Editor Rating:
Jet Mach I – 4/5
Jet Mach II – 4/5
Another similarity between the first and second version is the cost of the shoe. Both shoes come around the $100 price point.
This may sound very expensive but it's really not when you think about it. This is because both shoes come with great features that would benefit your game tremendously. Overall, it's an equal point on both sides.
Final Thoughts!!
As this post comes to its conclusion about what is the difference between the Jet Mach I vs the Jet Mach II, I hope you have gotten enough clarity on what each shoe is and their features.
As you can see, the March II outperformed the March I in many areas of the categories I listed in this post. However, it's important to note that just because the Jet March II came on top of the ratings means the March I is a terrible shoe.
It just means that the March II has been updated and improved from the last version. Hopefully, anyone of the shoe you decide to wear on the court would bring you a lot of success.