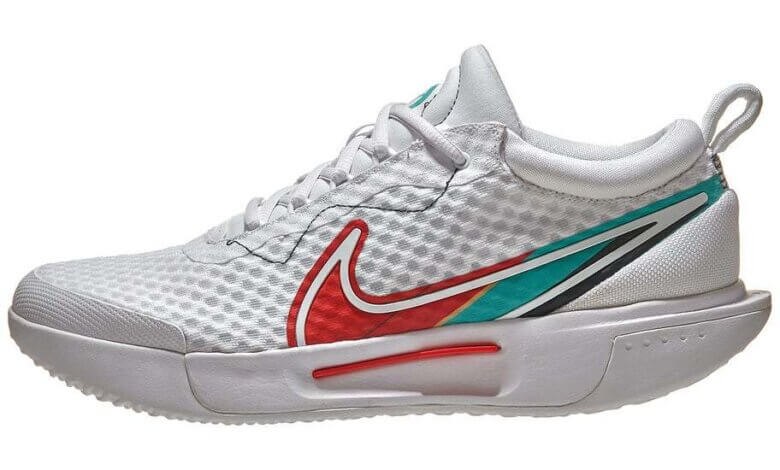 We're an affiliate
We hope you love the products we recommend! Just so you know, we may collect a share of sales or other compensation from the links on this page. Thank you if you use our links, we really appreciate it!
Product Overview
Comfort

Durability

Stability

Breathability

Weight

Fit and Size
Summary
The NikeCourt Zoom Pro is specifically designed to provide you with comfort, performance and breathability. If you are a player looking for these features in a tennis shoe then you need not look any further.
These core features would help you take your game to the next level. Not only that but you would enjoy the amazing looking shoe on and off the court. 
Pros
Comfortable
Breathable
Nice looking shoe
Good performance
Great durability for the toe cap
Many colour options to choose from
Cons
Expensive
Not suitable for players with ankle sprainers and plantar heel pain
There is another Nike tennis shoe on the market and it's called the NikeCourt Zoom Pro. The way the shoe is built is slightly different compared to some of the recent tennis shoes released by Nike.
Not only is it built differently but even the design of the shoe looks and feel different. In this post, I'm going to analyse in-depth the different parts of the shoe and see how the features can benefit your game and take you to the next level.
Design
Just like the NikeCourt Zoom Nxt, the design and cosmetics of the shoe look amazing, simple and sleek straight out of the box.
Also, they are streamed line looking and the colour scheme that Nike selected are spot on. The way Nike combined the colour scheme reminds me of the Nike Air Zoom GP Turbo which is flamboyant.
Furthermore, the Zoom Pro has a street looking style which makes it fun to wear them outside of the court to places such as the gym.
Upper
Let's take a closer look at the upper with its waffling pattern. Firstly, it comes with a lot of mesh honeycomb material which is going to provide you with excellent breathability.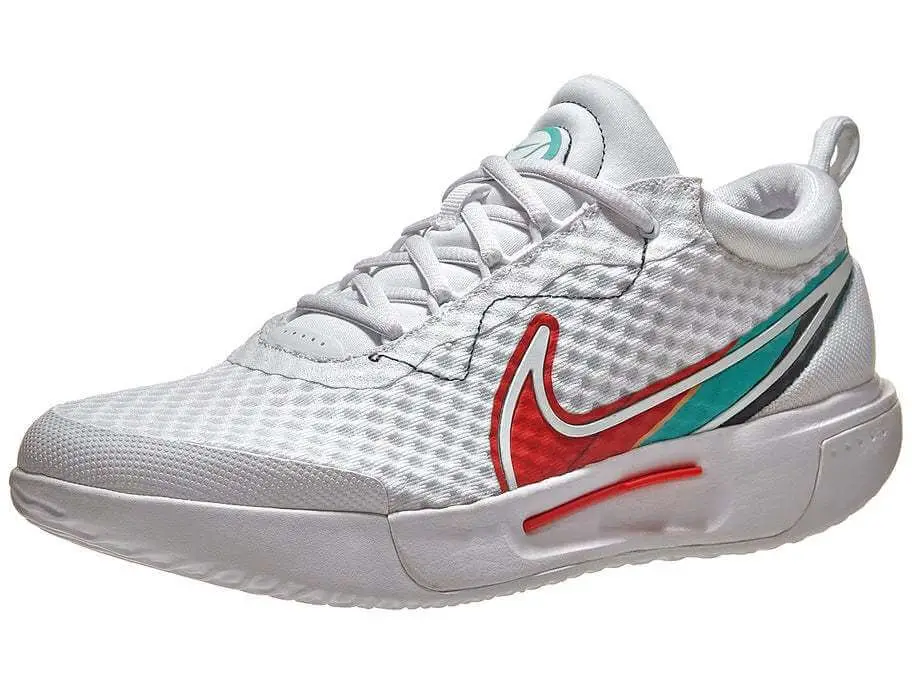 This means moisture is going to leave the shoe quickly whiles allowing fresh air.
This is great because it helps you to deal with the hot weather conditions and prevent you from getting blisters.
Secondly, the honeycomb material is going to provide you with nice comfort and cushioning when playing in these shoes. This is very useful when playing long and intense matches.
In addition, Nike placed a synthetic suede reinforcement around the lace line.
And lastly with the upper is how it is shaped. Unlike previous Nike tennis shoes, this shoe is moulded differently to give you the best fit possible when moving and sliding on the court.
Toe Box and Heel Counter
Are you someone who tends to wear their toe cap? If the answer is 'yes' then the NikeCourt Zoom Pro is the perfect answer for you.
The toe box comes with a dura-guard which is going to provide you with excellent durability. This means you have no worries about your toe cap-wearing out from sliding on the court.
Also, the toe box has enough space to give you comfort for your toes compared to other tennis shoes that make your foot tighten when you wear them.
Now speaking of the heel counter, it has a unique padded ring that is going to perfectly lock your heels in place and prevent you from getting heel slippage.
Arch
At the arch area, Nike placed a soft foam so that it makes it easy to align your ankle with your foot. This is great at helping with your movement and sliding on the court.
Furthermore, since your ankles are in a perfect position, this would limit your chances of you getting any serious injury.
Lacing System and Tongue
Next up is the lacing system. It comes with a unique outrigger pattern that can help you a lot with your game. Firstly, the holes of the lacing system are a little bigger than normal tennis shoes' laces, this makes it easy to lace them quickly.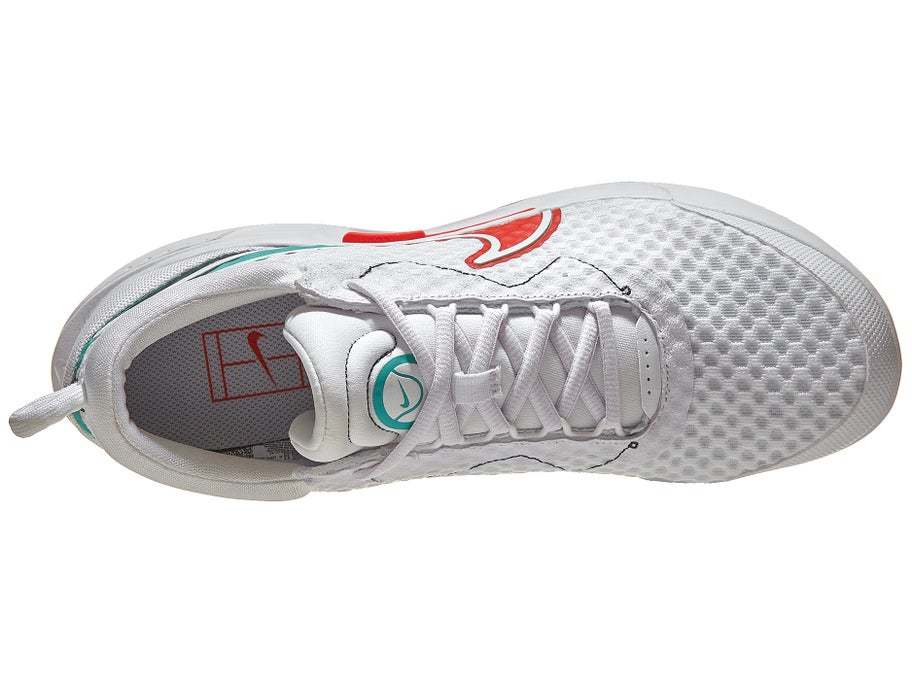 Secondly, when you tie the laces you are going to get a good grip and security. This helps in keeping your feet stable when playing rallies for example.
And thirdly, it has an extra lacing hole at the top of the shoes for more grip if you need it.
The only downside to the lacing system is how loosely the lacing holes are.
This means they can tear down easily. Therefore, it's important to be mindful when using the lacing holes.
The tongue, on the other hand, is nicely designed to provide you with a plush and padded feeling when playing in them.
Insole and Midsole
The NikeCourt Zoom Pro comes with a removable insole. The insole is nicely made to provide you with comfort and cushioning.
Moreover, since it's a removable insole you can replace it with your prefered insole that suits your foot and size. Nike did a really good job with the midsole area again.
It comes with different foot loaded zoom air which are standard dense foam, forefoot zoom air and long flexible shank. The purpose of this is to provide you with loads of response, cushion and extra bounce during movements and sliding on the hard courts.
On top of that, the midsole does really well as acting as a springboard plate for energy return, and stability. This allows you to play well on the court and help you to reserve your energy.
Weight
The shoe comes with a weight of 14.5 ounces with a size of 10.5. I would put it in the lightweight category although I wouldn't say it's the lightest tennis shoe on the market.
Fit
The fit of the NikeCourt Zoom Pro is more flexible and forgiving to wear compared to a lot of shoes on the market. This makes the shoe great for players who have narrow, medium and even 2E if you go a half size.
Moreover, it's suitable for players who have foot issues such as Achilles Tendonitis, flat, neutral and high arch. If you are someone who has Achilles Tendonitis and wants to see the best tennis shoes on the market that suits you then make sure to read the full review.
However, the Zoom Pro is not suitable for players with ankle sprainers and heel pain. If you have any of these issues then you can try other tennis shoes such as K-Swiss Ultrashot 3.
Outsole
Another part of the shoe that is worth looking at is the outsole. Unlike the usual herringbone tread pattern, this shoe comes with a full-length waffle pattern.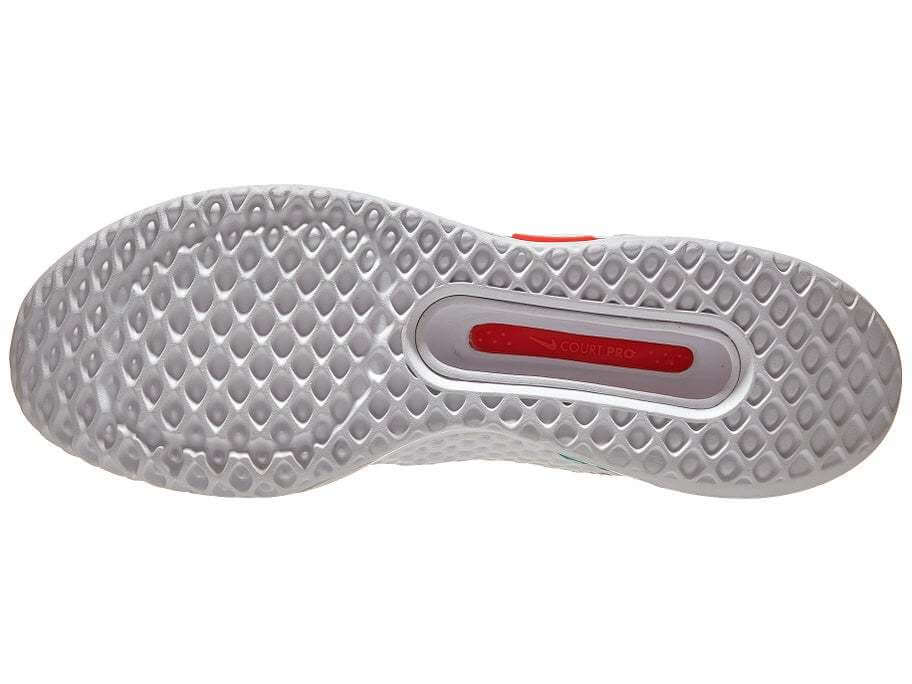 This idea was first originated by one of Nike's co-founders Bill Bowerman.
If you want to learn more about how he came up with this idea then I highly suggest that you read this article. You would find it fascinating but a bit weird.
The purpose of this outsole structure is to provide you with good grip and traction on hard court surfaces.
Furthermore, if you look closely at the outsole you would notice that it has a ring around the forefoot area to provide you with tactile feedback. In terms of durability, it's not the best or worst on the market either.
Colour Options
Another great thing about this shoe is the colour option. It comes in different colours for example pearl white/coral to choose from. This allows you to select a colour that suits your outfit on the court.
Price
The last key factor to talk about with this shoe is the price. It comes around the $100 price point which is expensive for most players to afford. However, if you have the budget for it then it's worth buying it because you would benefit tremendously from the features.
If you are someone who can't afford this shoe then I would suggest that you try other shoes such as the NikeCourt Vapor Lite. Not only is this shoe affordable but it has great features.
Wrapping Up!!
As the post comes to its conclusion, we can see that the NikeCourt Zoom Pro is designed to provide you with comfort, breathability and performance. This would enable you to play better on the court whiles enjoying yourself.
However, there are some drawbacks to the shoe such as not being suitable for players with ankle sprainers and plantar heel pain and it's expensive for most players to afford. Overall, it's a great model from Nike once again. It's worth trying them on the court.