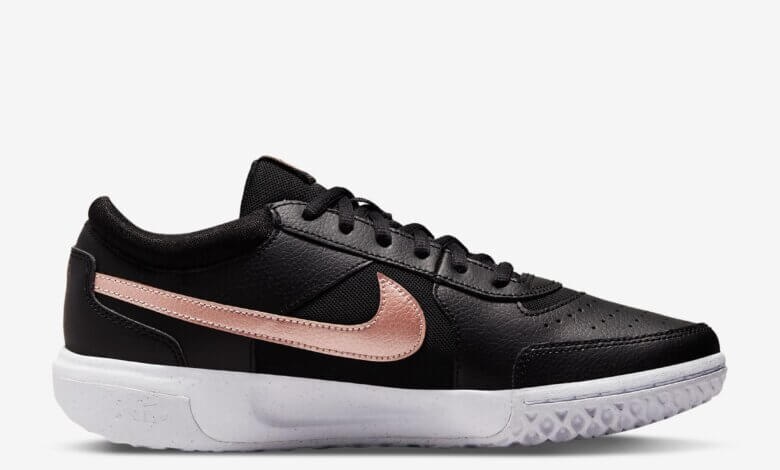 We're an affiliate
We hope you love the products we recommend! Just so you know, we may collect a share of sales or other compensation from the links on this page. Thank you if you use our links, we really appreciate it!
Product Overview
Comfort

Durability

Stability

Breathability

Weight

Fit and Size
Summary
The NikeCourt Lite 3 is similar to the NikeCourt Vapor Lite in many ways. However, there are still some differences.
The Lite 3 is specifically designed to get the best out of you by providing you with comfort, lightweight and breathability. If you are a player who looks for these features in a tennis shoe then you want to check the Lite 3 out.
Pros
Breathable
Nice looking shoe
Very comfortable
Lightweight
Inexpensive
Cons
Lack of colour options
Lack of durability
Nike has kicked 2022 in the best possible manner by releasing the inexpensive NikeCourt Zoom Lite 3. This is the latest edition of the NikeCourt Vapor Lite. The Lite 3 comes with amazing features such as comfort, lightweight and breathability.
In this post, I'm going to provide you with a thorough in-depth review of this update and compare it with the previous version. If you are ready let's start off with our usual format by beginning with the design.
Design
Right out of the box, the shoe looks sleek and simple. It has a street-style look and feeling towards it. This makes it great to wear both on and off the court.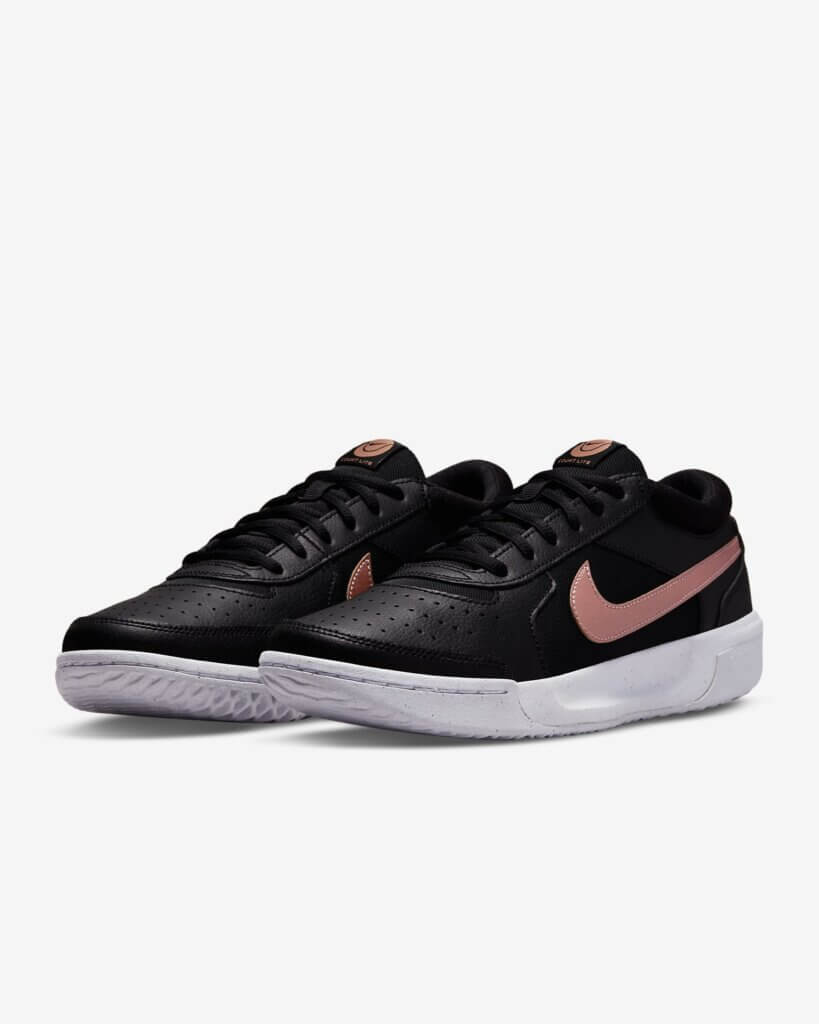 However, the Lite 3 does not have the same flamboyant as some of Nike's previous tennis shoes such as the Nike Air Zoom Vapor X Knit and Nike Air Zoom GP Turbo.
Upper
Next's up is the upper. Let's dissect that area of the shoe and see what we find.
Firstly, the leather material used is going to provide you with nice comfort and cushioning playing in this shoe.
Secondly, the little holes at the upper are going to provide you with breathability. This means moisture is going to leave the shoe quickly and allow fresh air to come inside.
And lastly, the upper is lightweight and incredibly comfortable to wear. This allows you to move with ease and adapt to the court quickly.
Toe Box and Heel Counter
The toe box is going to provide you with good protection. Also, the heel counter may not have the longest height but it still does very well to keep your heels stable and secure whiles moving aggressively on the court.
Arch and Ankle Support
At the arch area, Nike placed a soft foam so that it makes it easy to align your ankle with your foot.
On top of that, a harder foam is used along the outside of your foot to help you push off during fast movements so that you can get to the ball as fast as possible.
And lastly, the ankle area is well padded to provide you with good ankle support and stability as you move around the court.
Lacing System and Tongue
The NikeCourt Zoom Lite 3 comes with a lacing system that is down in a simplistic way compared to the Wilson Kaos Mirage which comes with a laceless tennis shoe. Let's dive deep to take a closer look at the lacing system of the Lite 3.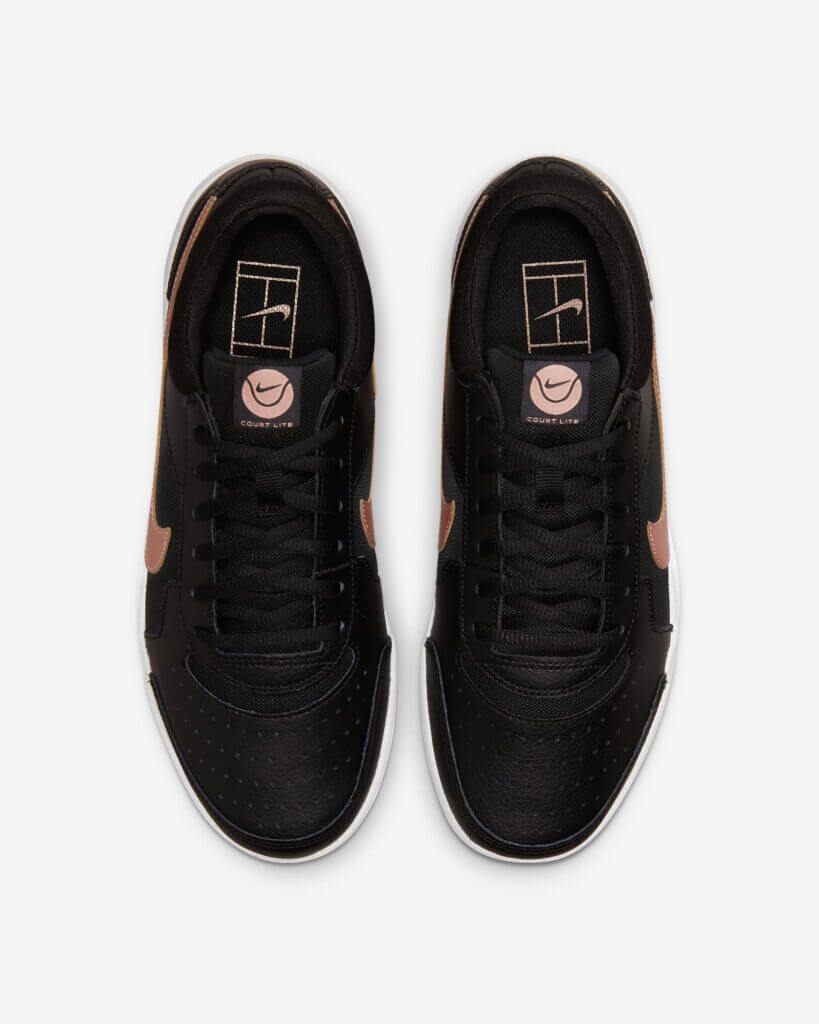 Firstly, it has six lacing holes on both sides of the lacing structure. This is going to provide you with good support and stability when you lace the shoe.
Secondly, the lacing structure is made with leather material to make it durable, smooth, and presentable.
And thirdly with the lacing holes, come at a reasonable size which makes it easy to lace through quickly and efficiently.
Now let's look at the tongue also. The tongue is well padded to provide you with cushioning and comfort. This makes running on the court smooth and enjoyable.
On top of that, there is a small netter hole connected to the tongue. This helps to keep the tongue stable when moving around the court.
Insole and Midsole
The Lite 3 comes with a removable insole. The insole is nicely made to provide you with comfort and cushioning.
Moreover, since it's a removable insole you can replace it with your prefered insole that suits your foot and size. The midsole is nicely done to provide you with nice cushioning and responsiveness on the court.
Weight
In terms of weight, I would personally place this shoe in the lightweight category. This is great at giving you an advantage in the game because it allows you to move quickly and effectively on the court. This helps to increase your speed on the court.
Also, after washing the shoe you can take it out for it to dry quickly. The midsole is going to provide you with nice cushioning and responsiveness on the court.
Fit
The Nike Court Zoom Lite 3 is more suitable for players who have narrow to medium feet. If you have any of these foot sizes then you would feel comfortable and at ease playing in this shoe.
If you have a wide foot then I suggest that you check out the post best tennis shoes for wide feet to find out some of the best tennis shoes that suit your size.
Furthermore, this shoe may require some degree of break-in period. Therefore, I encourage you to be a little patient with the shoe when you wear it for the first few times.
Outsole
Next up is the outsole. This shoe is more suitable on hard courts than any other tennis court surface. It comes with a herringbone outsole which is going to give you excellent grip when sliding and moving on the court.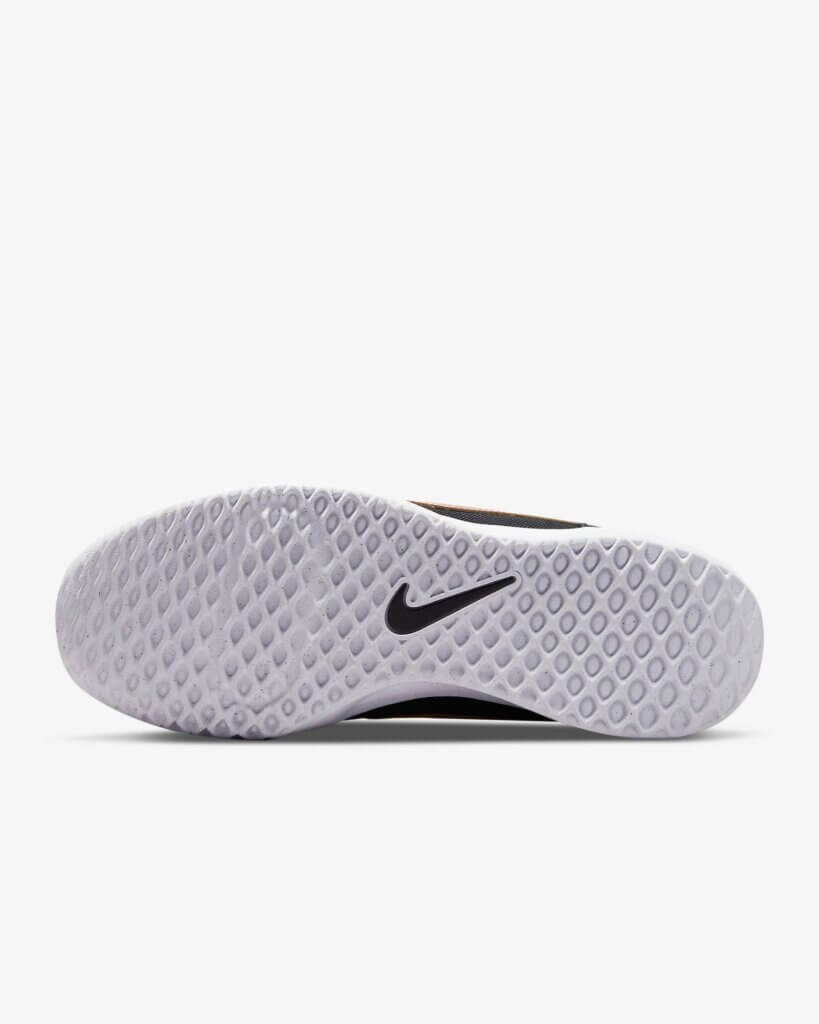 This is awesome because it allows you to move confidently on the court.
However, the downside to the outsole which usually relates to most of Nike's tennis shoes is the lack of durability. It's not going to be the best durable outsole on the market.
If you are a player that tends to wear your outsole quickly then I wouldn't recommend this shoe.
Instead, I would recommend that you try other shoes such as Asics Solution Speed FF 2. This shoe is a beast at handling the conditions on the court.
Colour Options
Another downside to this tennis shoe is the lack of colour options it has. It only comes in two colours which are black and white.
As a big tennis fan, I would have loved Nike to provide varieties of colour options. This allows players the opportunity to choose which colour suits their tennis outfit.
Price
Another important point to talk about is the price. Without a doubt, this is one of the cheapest tennis shoes that Nike has produced on the market. It comes under $100 which makes it affordable for many players to buy.
Not only is it cost-effective but it comes with amazing features that can take your game to the next level. Also, I would say this shoe is more oriented towards players who are beginners or intermediate.
What Is The Difference Between NikeCourt Zoom Lite 3 vs NikeCourt Vapor Lite?
When I compared the NikeCourt Zoom Lite 3 with the Vapor Lite, personally there are no major differences with the shoe. For example, both shoes are lightweight, breathable and very comfortable to wear.
On the other hand, some of the differences between these shoes include how the shoe is shaped. For example, the Vapor Lite is shaped like a racing car with most of its features under the bonnet.
In terms of pricing, the Vapor Lite is slightly expensive than the Lite 3. Therefore, if you are on a lower budget then you would want to consider the Zoom Lite 3.
Final Thoughts!!
As this post comes to its conclusion, it's interesting how Nike made this shoe and the little adjustment they made when compared with the Vapor Lite.
The NikeCourt Zoom Lite 3 is a great shoe for players who are looking for lightweight, breathability and comfort at an affordable price. This is going to help you to move well on the court and perform at your very best.
However, there are some areas of the shoe that needs improvement such as the durability of the shoe. Add varieties of colours to the shoe.