We're an affiliate
We hope you love the products we recommend! Just so you know, we may collect a share of sales or other compensation from the links on this page. Thank you if you use our links, we really appreciate it!
Product Overview
Comfort

Durability

Stability

Breathability

Weight

Fit and Size
Summary
Are you looking for a responsive, and super comfortable tennis shoe? If the answer is 'YES' then you want to check out the NikeCourt Zoom NXT.
This shoe is going to supply you with energy return as you sprint towards every shot. On top of that, you would enjoy the lightweight of the shoe which is going to boost your speed and allow you to move better on the court. 
Pros
Super comfortable
Quick
Responsive
Lightweight
Good durability
Cons
Expensive
Not ideal for players who have heel pain and painful flatfoot
The NikeCourt Zoom Nxt is the second tennis shoe released by Nike in 2022 after the NikeCourt Zoom Lite 3. Whiles the Zoom Lite 3 was primarily built on comfort, lightweight and breathability.
The Zoom Nxt on the other hand was built to provide you with the best responsive, quick and super comfortable feeling on the court.
In this post, I'm going to analyse in-depth the different parts of the shoe and see how they are good on the court. If you are ready let's start off with the design and cosmetics of the shoe.
Design
One of the things I really love about this shoe and model is the look. Right out of the box the Zoom Nxt looks amazing, attractive yet simple. The colour scheme that Nike selected is spot on and makes it look classic.
On top of that, it got a nice street style feeling towards it. This makes it great to wear both on and off the court to places such as the gym. Also, since the shoe is super comfortable you can wear it around without experiencing much pain.
Upper
Now let's take a closer look at the upper material. Firstly, it has a two-layer ventilated mesh and woven upper material. The purpose of these combined materials is to keep the shoe as light as possible and at the same time making it breathable.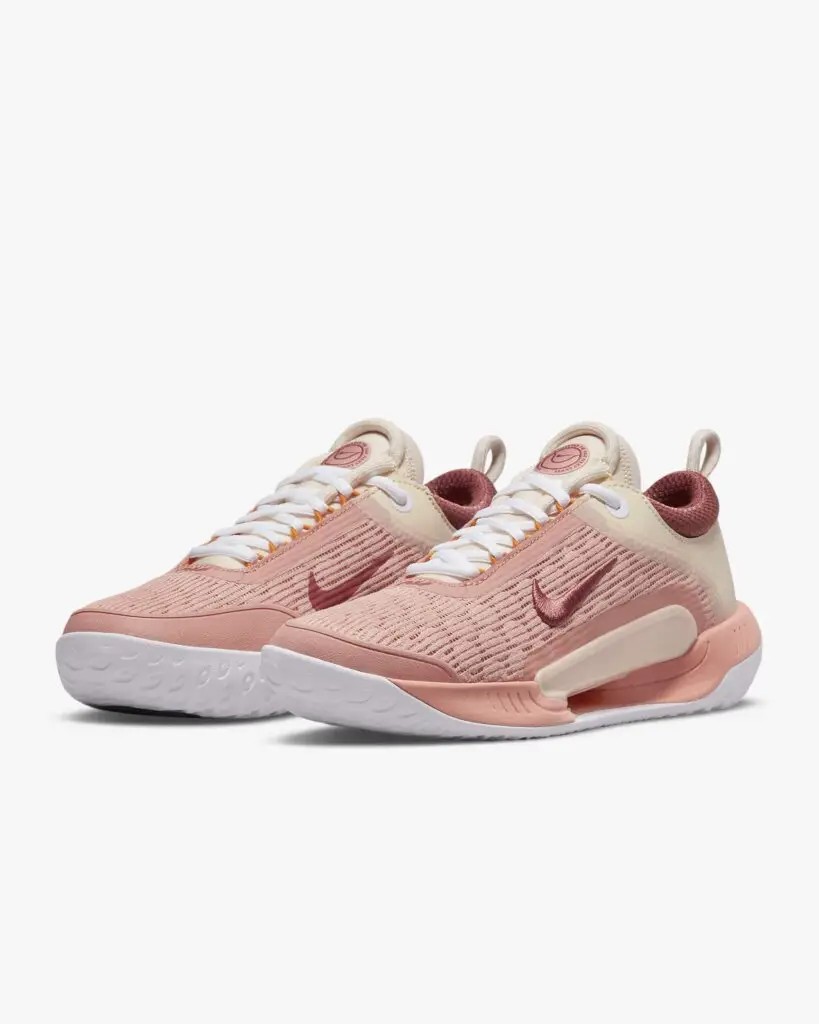 This is awesome from Nike because you are able to keep your feet cool even during tough matches and hot weather conditions.
This is because moisture is going to leave the shoe quickly and allow fresh air to come inside. Moreover, the material makes it comfortable and nice to play inside.
And secondly, the way Nike constructed this upper makes it unique and better compared with their previous tennis shoes.
Toe Box and Heel Counter
Nike did a really good job with the toe box by making it durable to play with. Therefore, if you are a toe dragger then you would enjoy playing in these shoes.
In addition, the toe box comes in a reasonable size which is great because you can fit your toes perfectly without experiencing any discomfort.
The heel counter comes with reinforced stitching which is going to provide you with great support and allow you to move better on the court.
Arch and Ankle Support
At the arch area, Nike placed a soft foam so that it makes it easy to align your ankle with your foot.
The ankle on the other hand comes with a padded ring. This is great at securing your forefoot and heel in the shoe. This is awesome for allowing you to move well and with ease on the court.
Lacing System and Tongue
Next up is the lacing system. It comes with a unique outrigger pattern. There are many benefits to this so let's dive in to find out more.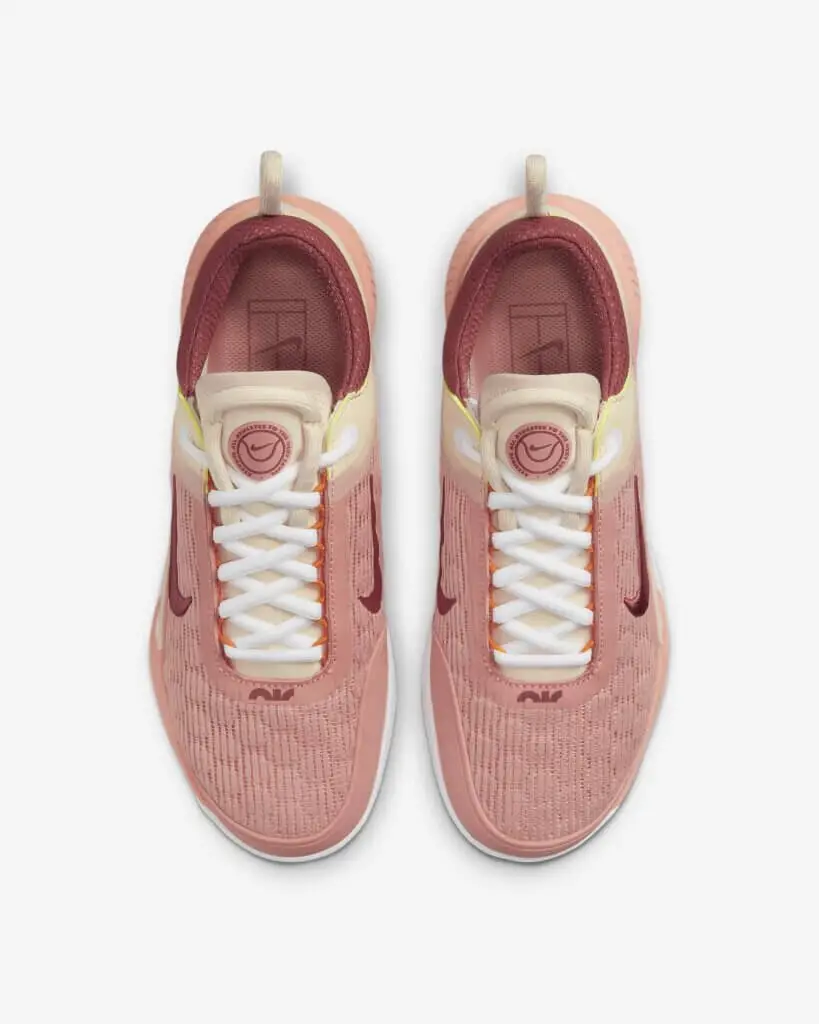 Firstly, since the holes of the lacing system are a little bigger than normal tennis shoes' laces, it makes it easy to lace them quickly.
Secondly, when you tie the laces you are going to get a good grip and security. This helps in keeping your feet stable when playing rallies for example.
And thirdly the padded tongue prevents the laces from digging into your foot. This helps to reduce the distraction whiles on the court.
Another great thing about the shoe is the tongue. It is the same neoprene tongue that Nike used in the NikeCourt Air Zoom Vapor Pro.
The purpose of the tongue is to keep the upper light and provide you with nice cushioning when moving around the court.
Insole and Midsole
The NikeCourt Zoom Nxt comes with a removable insole. The insole is nicely made to provide you with comfort and cushioning.
Moreover, since it's a removable insole you can replace it with your prefered insole that suits your foot and size. The midsole area is where Nike is starting to step up their game.
The way the midsole is designed has the same structural format when compared to the Jordan 36. The NikeCourt Zoom Nxt comes with Nike flat plate when compared to the Jordan eclipse plate.
This interesting feature is going to improve your game in so many ways. For example, since the flat plate is incorporated into the shank underneath and the tread bridge. This helps to limit the lateral movement which as a result makes the shoe stable.
Furthermore, it's going to provide you with a lot of support and the tread bridge below it connects the forefoot and rearfoot making the shoeless flexible although increasing the responsiveness of the shoe.
Weight
This shoe is going to be one of the lightweight tennis shoes on the market in 2022. Nike purposely reduced the weight of the shoe to help you feel lightweight when moving around the court.
This is a great advantage to have on the court because it allows you to move quickly and effectively on the court without compromising durability.
Fit
The fit of the NikeCourt Zoom Nxt is more flexible and forgiving to wear compared to a lot of shoes on the market. This makes the shoe great for players who have narrow, medium and even wide feet. Although, if you have a 2e then I would suggest that you go a half size.
On the other hand, if you have heel pain or painful flatfoot then I wouldn't recommend this shoe. However, if you think you still want to wear this shoe because you like its features then I recommend that you put on a heel cup to give you a little bit of plush and cushioning.
Outsole
Another part of the shoe that is worth looking at is the outsole. Unlike the usual herringbone tread pattern, this shoe comes with a full-length waffle pattern. This idea was first originated by one of Nike's co-founders Bill Bowerman.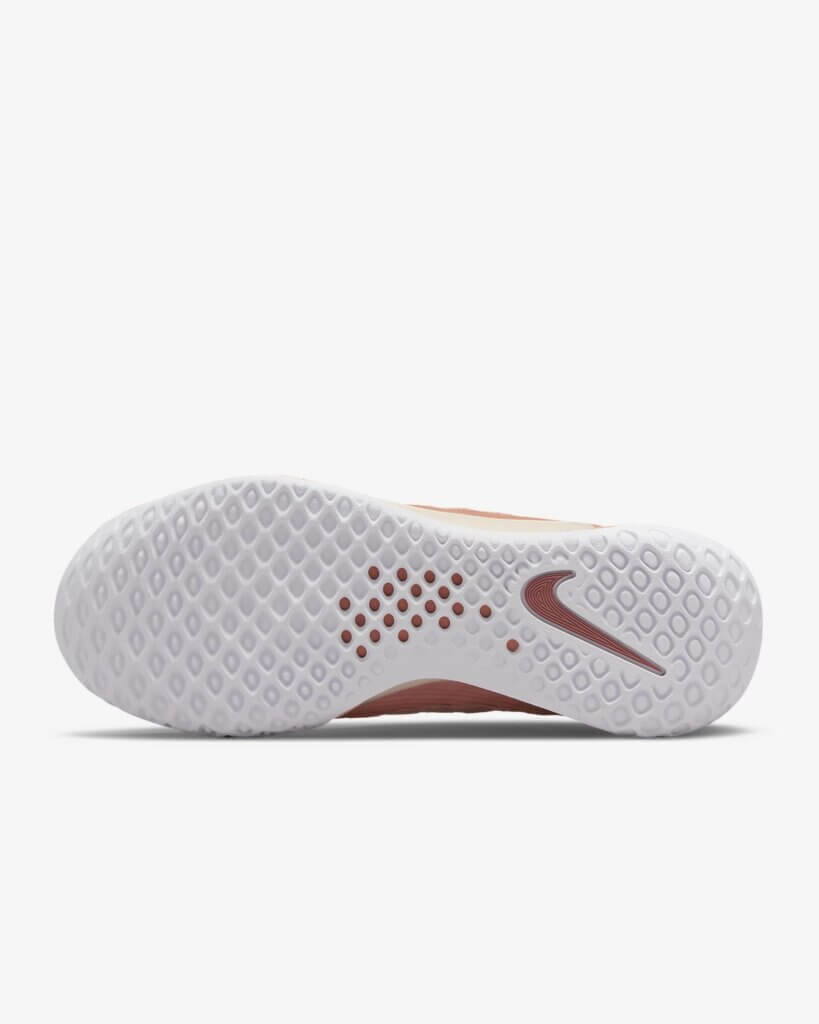 If you want to learn more about how he came up with this idea then I highly suggest that you read this article. You would find it fascinating but a bit weird.
The purpose of this outsole structure is to provide you with good grip and traction on hard court surfaces.
This enables you to move and adjust well on the court without putting pressure on your foot and body.
Colour Options
At this point in time, the shoe comes in only three colours. They are white, black and Light Madder Root/Pearl White/Canyon Rust.
All three colours look great but I wish Nike would release more colours as the season progresses.
Price
The last key factor to talk about with this shoe is the price. It is nearly $150 which is very expensive compared to other shoes on the market. However, if you have the budget for it then it's worth buying it because you would benefit tremendously from the features.
If you are someone who can't afford this shoe then I would suggest that you try other shoes such as NikeCourt Vapor Lite. Not only is this shoe affordable but it has great features.
Final Thoughts!!
As this post comes to its conclusion, it's pretty clear that NikeCourt Zoom Nxt is another shoe you don't want to miss. It's a great shoe that comes with amazing features such as durability, lightweight and comfort to take your game to the next level.
On the other hand, the fit of the shoe may not be suitable for players who have heel pain or painful flatfoot. Also, it's such an expensive shoe if you are on a lower budget. All in all, it's a great shoe to add to your tennis shoe collection.