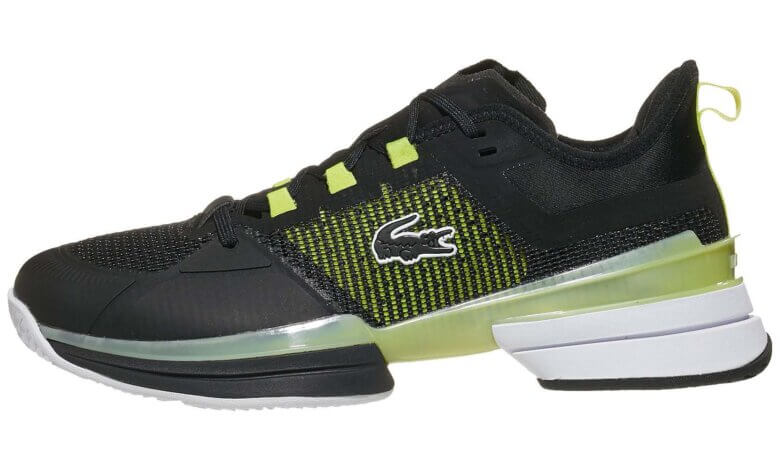 We're an affiliate
We hope you love the products we recommend! Just so you know, we may collect a share of sales or other compensation from the links on this page. Thank you if you use our links, we really appreciate it!
Product Overview
Comfort

Durability

Stability

Breathability

Weight

Fit and Size
Summary
The new Lacoste AG-LT 21 Ultra is built for players who like to move quickly and aggressively on the court. You are going to enjoy the awesome features that come with this shoe such as lightweight, breathability, stability and comfort. 
However, it's very expensive to afford. With that said, the pros of this shoe overwhelmingly outweigh the cons which makes it a fantastic shoe to wear on the court. 
Pros
Lightweight
Very comfortable to wear
Stable
Nice cushioning
Great responsive shoe
Cons
Lacoste has collaborated with ATP player Daniil Medvedev to make the awesome fast tennis shoe called Lacoste AG-LT 21. The shoe is well built to stand the toughness and aggressive movement on the court. On top of that, it is sure to keep you feeling agile around the court, supported, and well ventilated.
If you are the type of player looking for these kinds of features in a shoe then you are going to enjoy wearing this shoe. In this post, I'm going to provide you with an in-depth review of the Lacoste AG-LT 21 Ultra and how you can benefit from it. Let's start off with the design and cosmetic of the shoe.
Design
Right out of the box, the design and cosmetic of the shoe are sleek and simple looking. However, I wouldn't say it's the best looking tennis shoe I have seen on the market when you compared it with other shoes such as the NikeCourt Vapor Lite and Diadora Speed Blushield 5 AG.
With that said, I still like the white/green and black/yellow colour version. It would be very interesting how Lacoste continues to make new designs in its next iteration.
Upper
Let's take a closer look at the upper material. It's made of Helix-woven mesh material. This makes the shoe very breathable to wear. This means that moisture would leave the shoe quickly and allow fresh air to enter the shoe. This helps to keep your feet fresh throughout the match.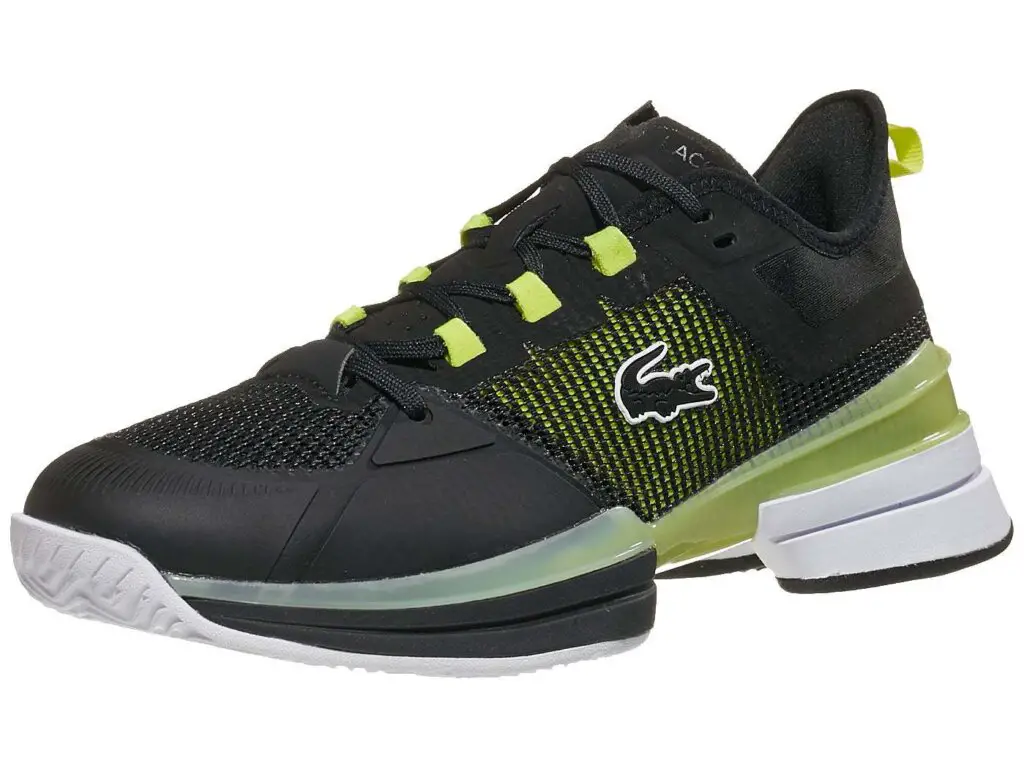 On top of that, the use of the Helix-woven mesh material makes the shoe firm when you are making a lateral movement.
It holds your foot really well and prevents you from losing your balance and control on the ball. Also, you are going to enjoy the support, comfort and lightweight it comes with it.
Moreover, a Kurim forefoot material is included in the upper material to provide you with good protection especially if you are an aggressive player.
Ankle Support, Collar and Toe Box
The height of the ankle is long enough to keep your ankle and heel in perfect position and locked in. It makes your movement on the court smooth and comfortable. On top of that, the collar is going to provide you with a comfortable and secure fit.
And lastly is the toe box. If you are a toe dragger you are going to really enjoy wearing this shoe because it's very durable and would really protect you. However, you are likely to experience a slightly roomy toe box if you have a narrow foot.
Lacing System and Tongue
The way the lacing system is made is fascinating. Firstly, it has got extra lacing holes for extra grip and stability on the court. And secondly, the lacing holes are made of leather instead of metals. Leather holes can be tricky to lace through but the way it's woven into the upper material is going to make it last very long.
Next is the tongue. The top of the tongue has the shape of a V which makes it easy to wear the shoe. Also, the tongue has a really nice padded feel when you wear it and it's going to protect you on the court.
Insole and Midsole
The insole is well made to provide you with nice cushioning. Once you put your feet inside of the shoe, you are going to enjoy the wonderful comfort that comes with it. This would really help with your game and movement on the court.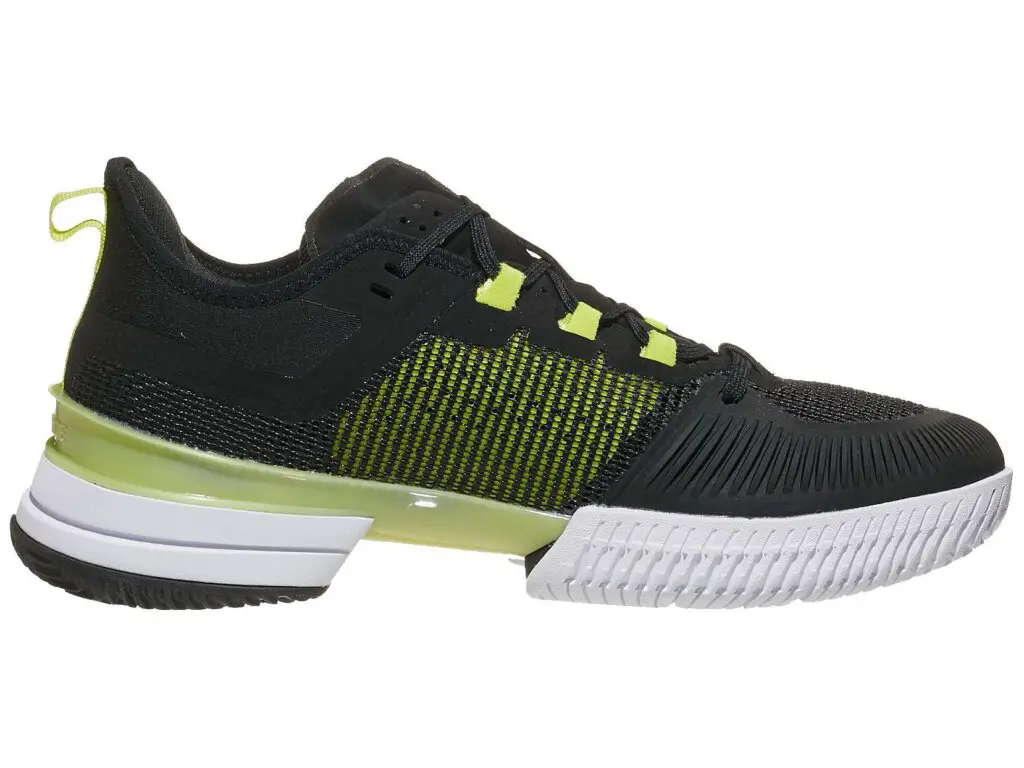 The midsole is made of EVA foam to provide you with a plush feeling and a lot of cushioning on the court. Also, Lacoste included a Pebax bridge inside of the midsole to increase lateral stability and provide you with a lot of energy return during running gait.
Weight and Size
The shoe comes with a weight of 14.5 ounces with a size of 10.5. This is in the lightweight category which is great because it would allow you to move quickly on the court. In terms of size, it comes with different options which allow you to select the size that suits your fit.
Fit
This shoe is more suitable for players who have a medium to wide foot. If you have a narrow foot you can still wear it but it's recommended that you wear two pairs of socks to give you a nice fit. Also, the shoe is true to length but it does require some break-in period. Although, I have to say the break-in does not take very long.
Outsole and Shank
Next up is the outsole. Firstly, it has got two-piece rubber compound Goodyear outsole. This is going to provide you with excellent durability. If you are a player that is very hard on their outsole then you would benefit a lot from wearing this shoe.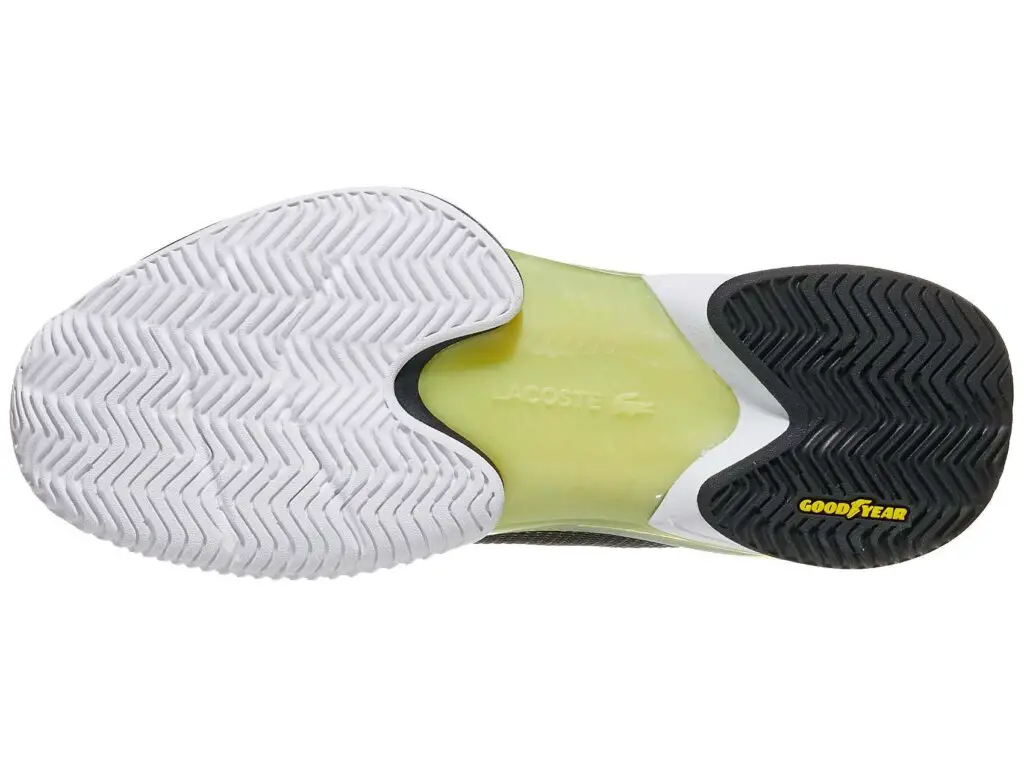 On top of that, the modified herringbone pattern is going to provide you with good traction on all court surfaces. This would enable you to move effectively on the court whiles maintaining your balance.
Also, the way the outsole is shaped would allow you to pivot and change direction in a comfortable way. This way you can maintain your stability throughout the rallies.
And lastly is the shank. The shank is connected to the midsole area to provide you with a stable feel and keep your feet locked in when you make an aggressive move.
Colour Options
This shoe comes in a variety of colours to choose from. This is great because you have countless colours to select and match your tennis outfit.
Price
And lastly is the price point. This shoe is very expensive. It's close to $200 which makes it difficult for a lot of players to afford especially beginners. The price of the AG-LT 21 Ultra is on the same wavelength as other shoes such as NikeCourt Air Zoom Vapor Pro and Asics Solution Speed FF 2.
This shoe may seem very expensive but on the other hand, it comes with amazing features that can take your game to the next level.
Final Thoughts!!
In conclusion, I hope you have enjoyed the in-depth review of the Lacoste AG-LT 21 Ultra. This is a shoe well built to take your game to the next level by providing you with excellent comfort, cushioning, stability and lightweight. The only major drawback to this shoe is that it's very expensive.
Apart from that, it's an amazing tennis shoe to withstand the toughness and high tempo of today's game. If you manage to buy this shoe, I wish you the very best of luck and success on the court.