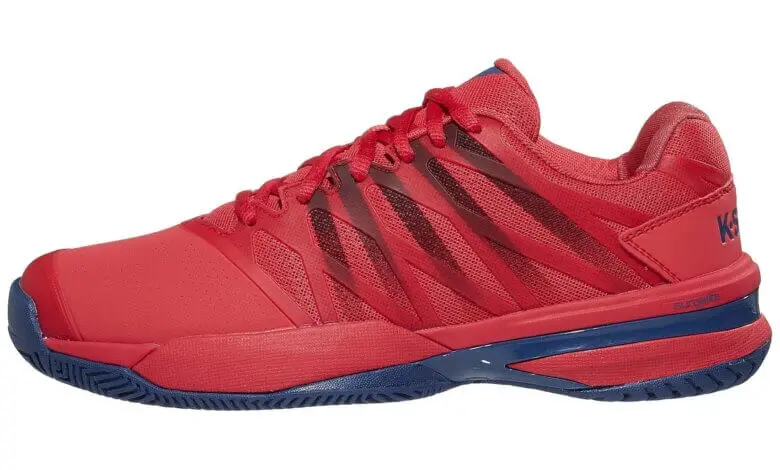 We're an affiliate
We hope you love the products we recommend! Just so you know, we may collect a share of sales or other compensation from the links on this page. Thank you if you use our links, we really appreciate it!
Editor's Review
Comfort

Durability

Stability

Breathability

Weight

Fit and Size
Summary
The K-Swiss Ultrashot 2 is gaining a lot of traction on the market at the moment. Players and fans are loving the durable, comfort and stable of the shoe. If these are features you look for in a shoe then you would enjoy wearing this shoe. 
However, the drawback to this shoe is how it has poor breathability and it's not suitable for players with a narrow foot. Overall it's still a fantastic shoe to have and the ratings sum up everything about this shoe. 
Pros
Nice looking design
Lightweight
Padded tongue
Good stability
Durability
Cons
Poor breathability
Not suitable for narrow foot
When the K-Swiss Ultrashot 1 first arrived on the market, it was such a big hit. It was loved by both players and fans across the board. Now a new update is released and it's called the K-Swiss Ultrashot 2.
Since the first version was such a big hit, the big question that everyone wants to know is, can this second version leave up to the expectation?
This post is going to answer this question by diving in-depth into the different parts of the shoe and see how they perform. If you are ready let's start with the design aspect of the shoe.
Design
I wouldn't say I'm a big fan of the design and cosmetic of this shoe. There is not much interesting design going on with this shoe.
However, it's not the worst either on the market but I think K-Swiss can learn one or two from top brands such as Nike and Adidas. This is because these types of brands know how to make fashionable and attractive tennis shoes.
Upper
The upper of the material is made up of a combination of mesh, synthetic and Durawrap X PU materials for excellent comfort. However, the downside to the upper is how it has a poor ventilation system.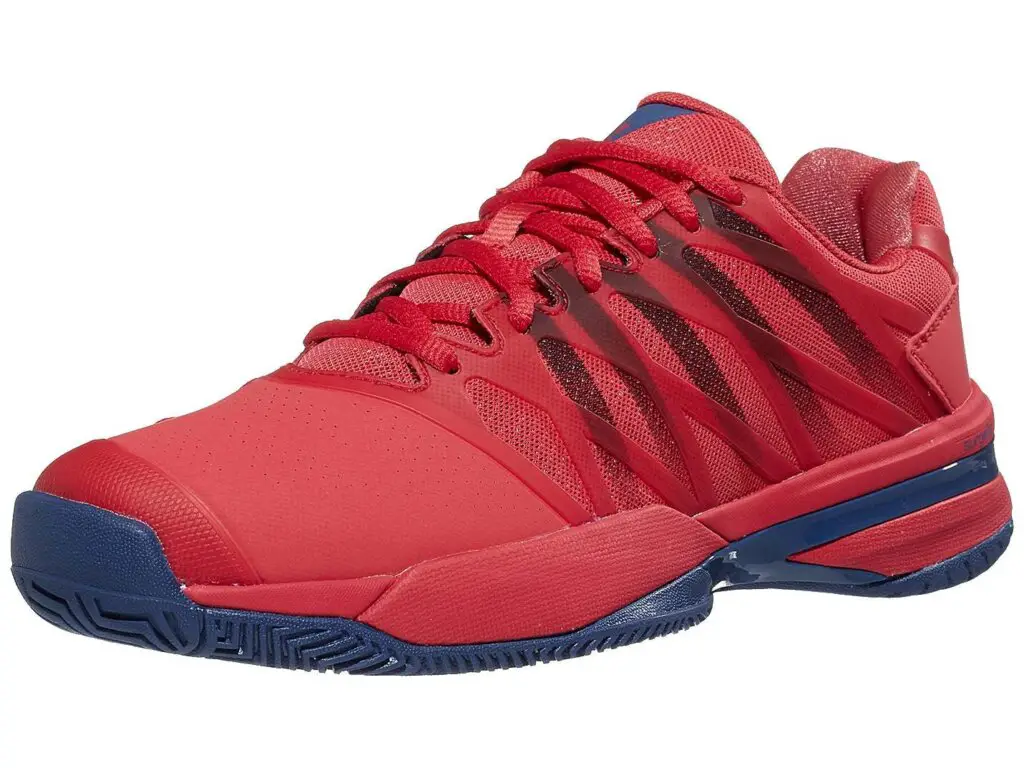 If you play in hot condition or long matches then you would struggle with this type of shoe because your feet would get very hot quickly straight into the match.
If you want a shoe that is breathable then you want to check out Diadora Speed Blushield 4 AG.
It's such a great breathable shoe to play with. Despite the Ultrashot 2 having a poor ventilation system in the upper, it is going to provide you with good support and durability.
Toe Box and Ankle Support
The outsole material comes up to the front of the toe box area. This is going to provide you with excellent protection and prevent it from wearing out quickly. If you are a toe dragger or a player that tends to slide a lot then you would enjoy wearing this shoe.
When you put your feet inside of this shoe, you are going to get nice ankle support and stability. This would help you with your movement around the court.
Lacing System and Tongue
The lacing system is very basic but it's very effective at providing you with good support. Firstly, it has a total of four extra lacing holes that you can use for extra grip and support.
Just like the Mizuno Wave Exceed Tour 4 lacing system, this shoe has got one leather hole on top of the tongue to help keep it stable when you are moving around the court. Moreover, the laces have a bubble structure which is going to allow you to get a firm and secure fit.
The tongue is an updated version from the old one which is going to provide you with a nice padded feeling. And Lastly, the lacing holes are woven into the leather of the upper which is fantastic because it's going to keep it durable.
Outsole
The way K-Swiss made the outsole is very fascinating. Firstly, it is designed in a variable angle herringbone pattern.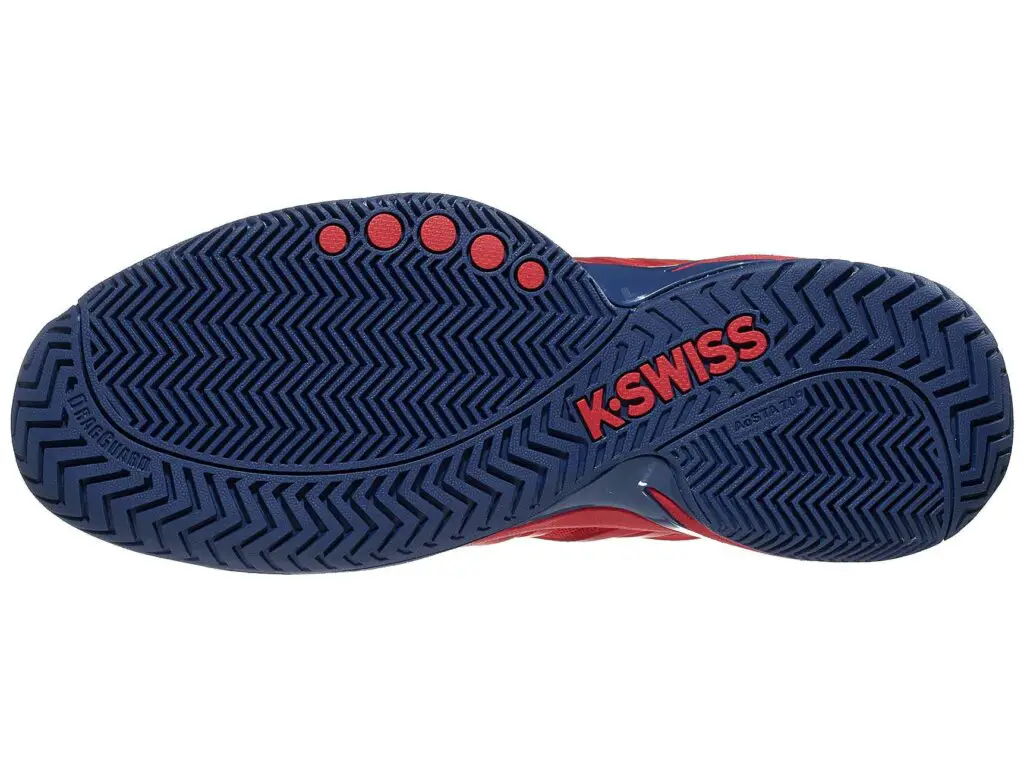 What this means is the herringbone that is facing straight horizontal is going to give you an excellent grip on both hard and clay courts. Although, the traction is going to be on the sticky side.
Secondly, if you take a closer look at the outsole you would notice the middle of the outsole is shaped like a snake.
The purpose of this is to help you slide more easily on the court. If you are a player that tends to slide a lot then you would enjoy using this outsole.
And lastly, the outsole is very durable and comes with a six months outsole durability guarantee. This is awesome for players who are very hard on their outsole and like to slide a lot.
Weight and Fit
This shoe comes with a weight of 15.3 ounces in a 10.5 size. This is a little heavy than you would expect due to how big the midsole is made.
This, as a result, is likely to slow your speed down in the match which can be frustrating to experience. Moreover, it is likely to weigh you down when you are walking in them before or after a much.
If you are a player that speed and lightweight are your number one priority in selecting a tennis shoe then I would recommend Babolat Jet Tere and Babolat Jet Mach II. These shoes are incredibly lightweight and would really help your speed.
Next up is the fit of the shoe. Firstly, it's true to the length which is nice to have as a player because you don't have to waste your time and struggle to find the perfect size for your feet.
Secondly, it comes with little to no breaking in period. This is another bonus feature to have because you can adapt to the shoe quickly and start playing your game style.
And lastly, for the fit, this shoe is perfect for players who have a medium and wide foot. If you have a narrow foot I wouldn't recommend this shoe to you because it could feel uncomfortable on your feet.
If you have a narrow foot and you are looking for the perfect shoe then I highly recommend that you read these best shoes for narrow feet. It would be of great value to you.
Midsole
When you take a closer look at the midsole, you will notice that it's massive than the usual tennis shoes. The heel section is even bigger but there are a lot of benefits to it.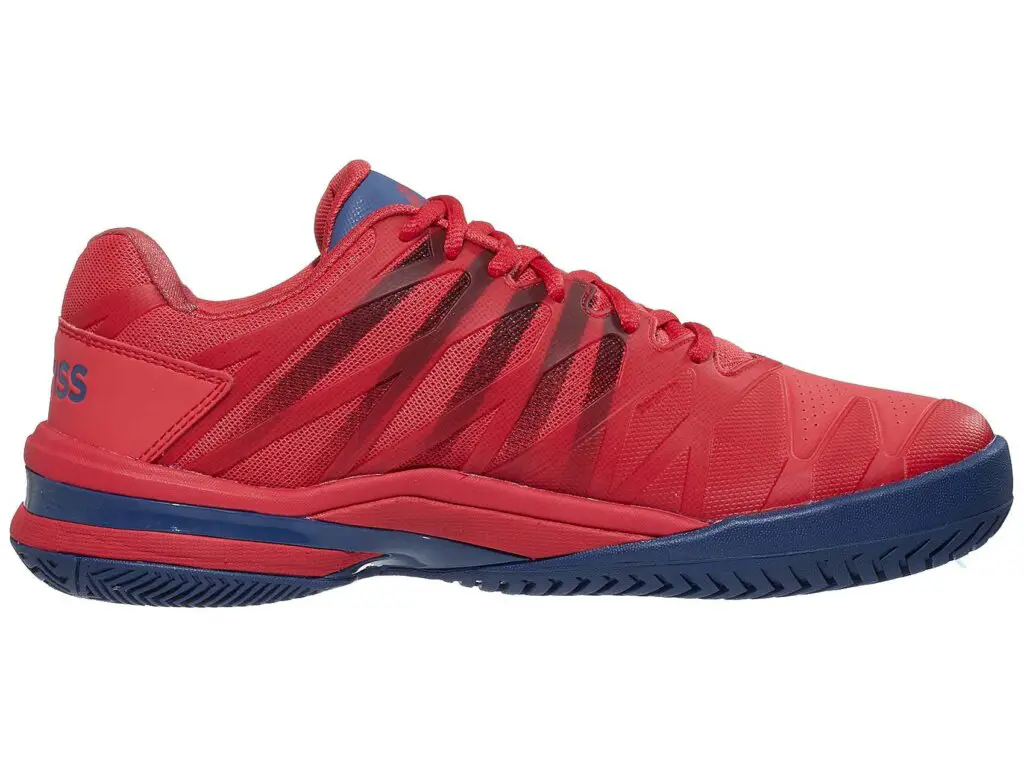 The big heel area at the midsole feels bounces like a trampoline which is going to act as energy return when moving around the court.
In addition, the midsole is made of Ortholite X-40 sockliner which provides you with good moisture management as you move around the court.
And lastly, the use of surge light midsole allows your feet to keep in perfect position and add stability on quick movements.
Colour Options
Unfortunately, this shoe has a limited colour option to choose from. It would be great to see KSwiss produce more different colours for this shoe because it's loved by many players and fans. Also, having more colour options to choose from allows you to select which one suits your tennis outfit.
Comparing The 2 and 1
Overall, there wasn't much improvement from the previous version. But there were some subtle updates to keep the winning formula going. Some of the small improvements that they made are:
Firstly, they updated the padded tongue. Like I said earlier in this post, it's going to provide you with comfort and stability on the court.
And also, they added a surge light midsole to provide players with a bouncy feeling on the court whiles remaining locked in and stable. In terms of similarity, the ventilation of the shoe needs some improvement because it gets hot quickly.
Price
The last point that is worth pointing out is the price range. It is possible to get this amazing shoe under $100 which is such a great deal. The engineering and innovation of this shoe is spot on and it's worth even more than the price itself.
However, if you are someone who is on a low budget and want a good shoe then I suggest you check out my previous posts on tennis shoes under $100 and even under $60.
Final Verdict!
In conclusion, it's pretty obvious that K-Swiss has taken the first version and even make it a better one with the second update. The Ultrashot 2 is going to provide you with stability, comfort and durability. If you are a player looking for these features then you would really enjoy wearing this shoe.
However, some of the issues that need attention and serious improvement are ventilation. Having poor ventilation in a shoe can be very annoying and make your feet very hot quickly.
Also, as someone who loves design, I would like K-Swiss to make the shoe look more attractive in their next version. Despite these criticisms, I think it's such a fantastic shoe to have.
Another way to think about it is that Kwiss took a good shoe and made it even better. I wish you a lot of success on the court with this shoe.